Recently, Luxeplace.com was invited to attend the latest "Blancpain-Imaginist Literary Prize" award ceremony. At the event, we saw some well-known figures from the humanities, such as Blancpain's cultural ambassador Leung Man-tao, and judges Tang Nuo, Ma Boyong, Ye Zhaoyan, etc.
However, what touched us the most were the young, relatively unknown authors on stage.
Listening to them calmly share their journey in writing novels, their serene and composed demeanor reminded us of the 18th century in the Jura Valley of Switzerland, the cradle of high-end watchmaking. In winter, when snow isolated the farmers from big cities, they would focus on their workbenches under natural light, studying watchmaking.
In today's more restless and noisy era, full of temptations of profit, sticking solely to writing, just like the dedication to complex mechanical watches, it's hard to say whether it is a blessing or a hardship.
Just like this year's first prize winner, Yang Zhihan, author of Yi Tuan Jian Bing, (loosely translated to mean A Lump of Firm Ice), was somewhat surprised but also very calm when she received the 300,000 yuan prize and a Blancpain V-series watch. She candidly said, "Actually, I prefer to write in a relatively quiet and isolated environment, but my family must have been worried about me for quite some time."
Blancpain has maintained its complex watchmaking for 288 years. The award initiated by Blancpain in China has also entered its sixth year: "We are the only prize targeting authors under the age of 45, and we welcome all kinds of novel genres," said Jack Liao, Vice President of Blancpain China, at the award ceremony.
We often see luxury brands choosing to strengthen brand recognition in the humanities field through forms like movie narratives, event sponsorships, and support for the arts, building deeper emotional resonance with their audience.
Why did Blancpain choose the literary field? What has it invested and gained through this event? How has the prize initiated by Blancpain become a highly regarded IP in the literary world in just a few years? Luxeplace.com will analyze this successful case of brand building from an industry perspective.
How Does Blancpain Understand Literature?
When we try to find the connection between Blancpain and literature, we discover that one of the brand's most classic watch models, the Fifty Fathoms, is closely linked to a play by Shakespeare.
The Blancpain Fifty Fathoms, considered the progenitor of modern mechanical dive watches, was first produced and marketed in 1953.
When the then-CEO, Jean-Jacques Fiechter, was devotedly developing this watch, he was inspired by Ariel's song from Shakespeare's masterpiece "The Tempest": "Full fathom five thy father lies; Of his bones are coral made; Those are pearls that were his eyes…"
A fathom is a unit of length in the British and the US customary systems, equivalent to approximately 1.83 meters. The first Fifty Fathoms was water-resistant up to 100 meters, the limit of human diving capability at the time. Fiechter named this watch Fifty Fathoms, drawing from this poetic verse.
"The Tempest" is Shakespeare's last play, encapsulating his profound understanding of life and creation, and his composed attitude. Similarly, the birth of the Fifty Fathoms reflects the brand's spirit of innovation and exploration, as well as Blancpain's pure and meticulous watchmaking philosophy.
Founded in 1735, Blancpain's establishment marked the watchmaking industry's transition from the artisan era to the brand era. Blancpain boasts significant expertise and robust capabilities in technology.
Generations of Blancpain watchmakers have been devoted to capturing and understanding time through watches. Blancpain's history is a significant part of watchmaking history. However, it has not declared its achievements loudly but has always been at the center of watchmaking, diligently studying and maturing. It is quiet yet powerful, much like literature.
As Shuang Xuetuo, the winner of the third Blancpain-Imaginist Literary Prize once described literature in his acceptance speech: "I believe that literature is not a noisy existence, but it is always in the center of art. Just as the center of a storm is always quiet, so is literature."
For Blancpain, literature, like watches, is an art form used to measure and record time.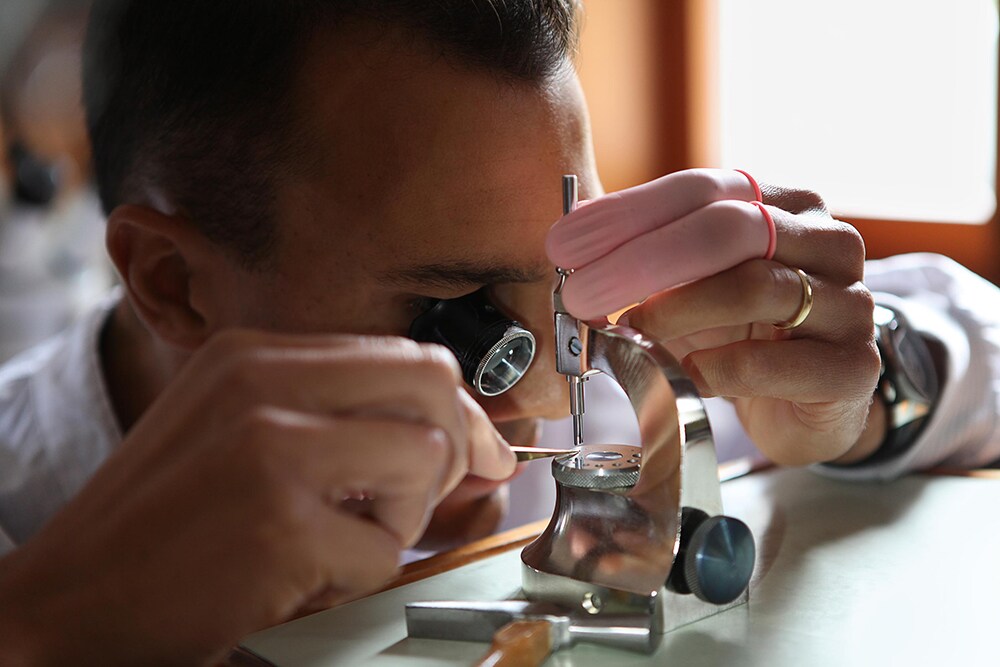 The establishment of the Blancpain-Imaginist Literary Prize in 2018 marked China's first literary award initiated by a commercial brand in collaboration with a publishing entity.
Liao explained the original intention of the Blancpain-Imaginist Literary Prize: "If we look back upon the goals set at the time of inception, the first is to make sure our prize is fresh, clean, innovative, to make it impartial, authoritative, professional – the growing number of participants each year proves that we did it; the second is to put talented young writers under spotlight… We hope to keep running this award for 5, 10, 20 or even 50 years. When we look back at it at that time, we will clearly see the growth rings of literature, and the changes in times in the landscape of literature."
Blancpain and the "Blancpain Prize": Crafting Two Major IPs in High-End Watchmaking and Chinese Writing
Luxury brands often engage in cultural projects by sponsoring established cultural IPs. Blancpain, however, stands out by taking six years to create a literary award from scratch in China, investing time and resources to let it mature into a new, independent IP. This process allowed Blancpain to be deeply involved, achieving a more multidimensional brand communication.
Now, Blancpain has acquired a significant new identity outside of high-end watchmaking — that of a literary award. In the youth literary circles, many commentators directly refer to this Chinese fiction literary award as the "Blancpain Prize."
Unlike traditional literary awards that only announce winners annually, the Blancpain-Imaginist Literary Prize strives to create a year-round cultural event:
The process, spanning half a year from launch to the award ceremony, engages readers through long and shortlists announcements, forums, live streams, podcast programs, etc. Beyond the final first prize winner, more valuable is the literary panorama and the chronicle of Chinese writing built through these activities.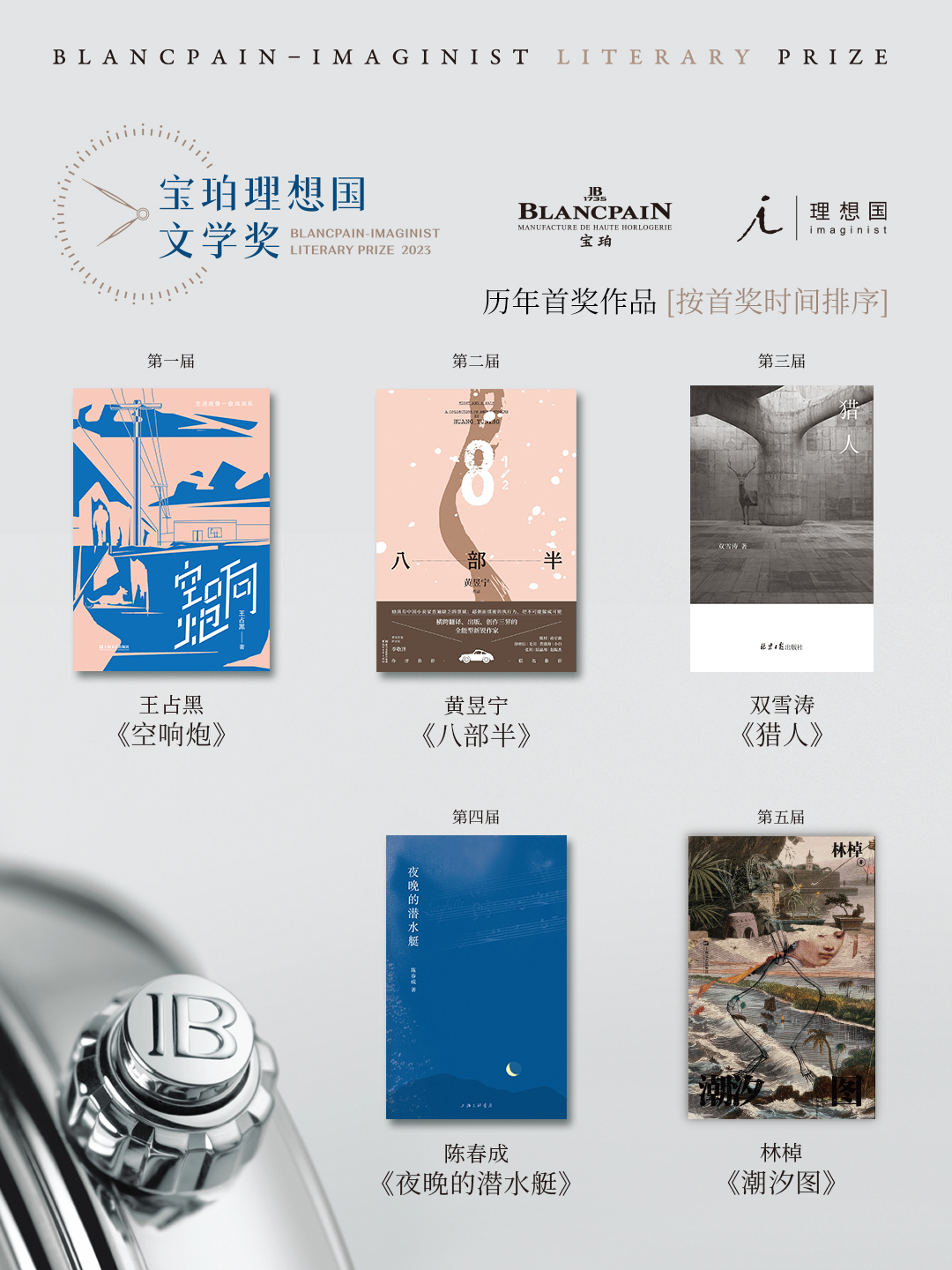 The "Blancpain Prize" has a clear value proposition:
For writers, Blancpain encourages "to journey deep into time, with literature as an extension of time";
For readers, Blancpain proposes "reading makes time more valuable."
The slogans are succinct and resonate deeply, tying Blancpain's watchmaking brand to literature and responding to the spiritual confusion of contemporary youth, making literature and high-end watchmaking relevant again in this era.
Writer Han Songluo once commented, "Today, Blancpain still records, consolidates, and crystallizes the era, becoming a method and a spark, a brilliant hand preventing the decline of the times."
Each year, the award presents a specific theme, engaging in timely dialogues with the public. This year's theme, "Stand up for Complexity," sparked a strong resonance. On social media, influencers spontaneously discussed this theme, and readers hand-copied interpretations of it.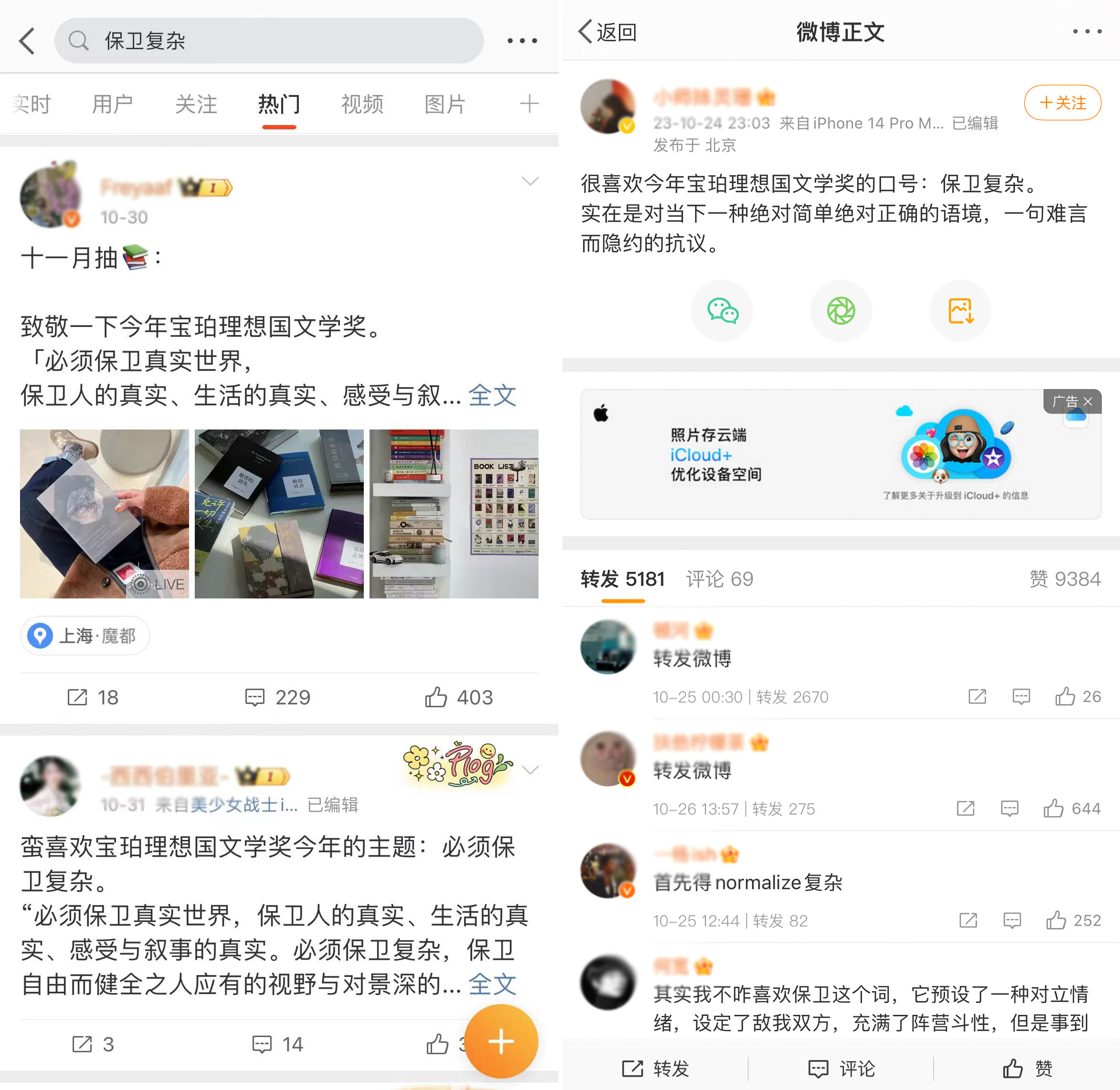 Over six editions, 30 leaders in the Chinese cultural field have participated in the award, including renowned Chinese writers like Jin Yucheng, Yan Lianke, Su Tong, Ge Fei, and crossover cultural figures like Li Zongsheng, Jia Zhangke, and Luo Xiang.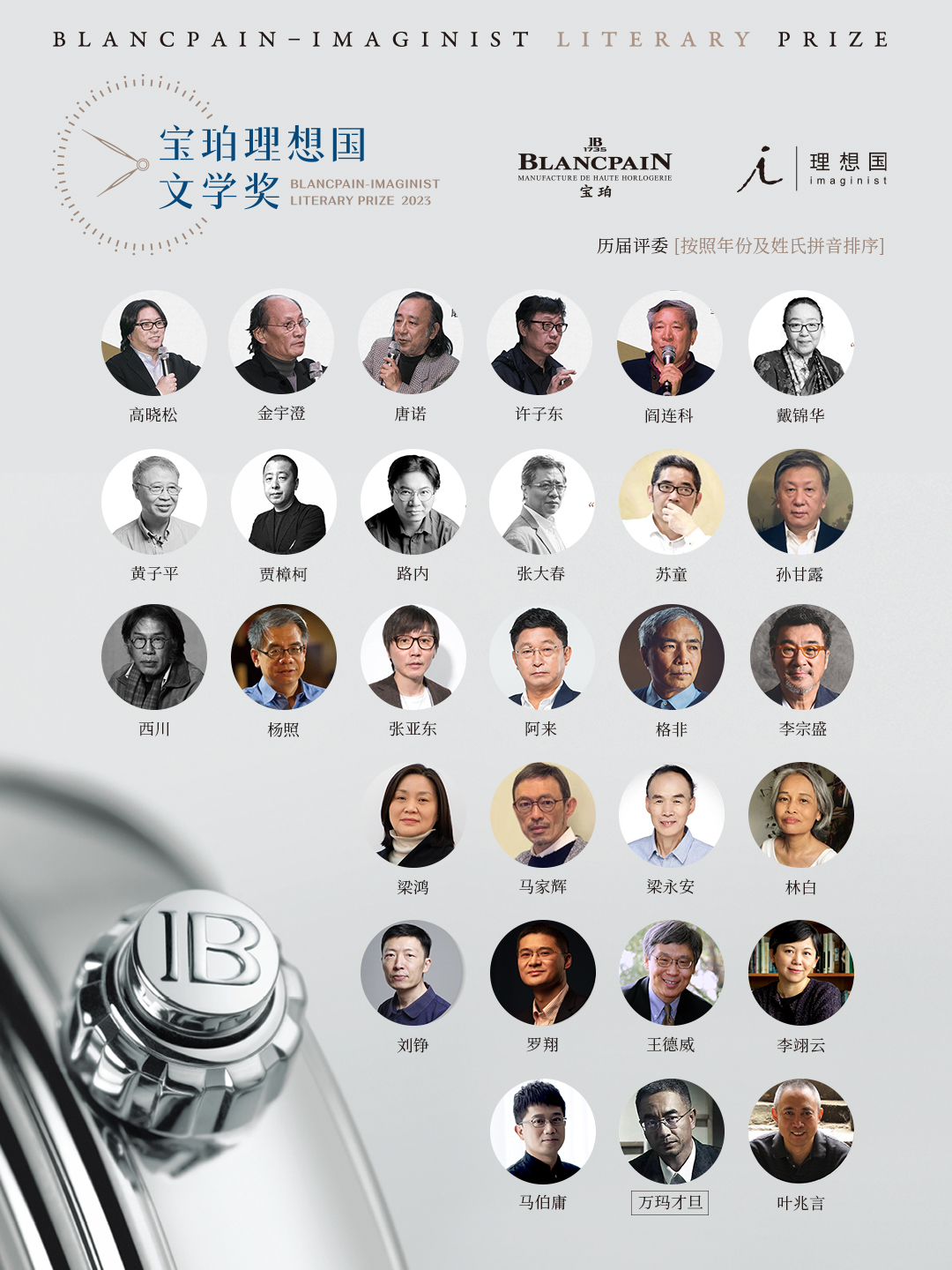 We are delighted to see that young people still care about literature and are continuing to create. More people are paying attention to young writers in the Chinese writing field.
Through gradual brand implantation, the "Blancpain Prize," a new IP of just six years, has established credibility and influence in the public mind. Readers actively compare it with other prestigious awards like the Mao Dun Literary Award and the Hugo Award, which have a rich history.
For participating authors, the "Blancpain Prize" IP has brought direct positive momentum to their works. On the day of the sixth edition's award ceremony, the first prize winner Yang Zhihan's winning work "A Lump of Firm Ice" quickly sold out on online platforms. Publishers participating in the competition revealed that many authors' books needed reprinting after making the shortlist, and many garnered interest from the film and television industry due to their nominations.
Today, past first prize winners like Shuang Xuetuo, Chen Chuncheng, Lin Zhao have become prominent figures in the field of Chinese writing. Zheng Zhi, Guo Shuang, Shen Dacheng, and other nominees have also gained significant attention due to the award.
The effectiveness of the "Blancpain Prize" IP is also evident on third-party platforms. Book websites and platforms set up special sections or pages during the literary award season. Cultural-focused social platforms like Bilibili and Xiaohongshu have invited it to be an official content partner. "Bloomberg Businessweek" featured the "Blancpain-Imaginist Literary Prize" on its cover in a special feature.
What Noteworthy Lessons Has Blancpain's narrative path Offered the Chinese Audience?
— Sincere Values, Resonating with the Times
During the 2022 "Blancpain Prize" ceremony, Liao shared a story about a Blancpain watchmaker's twenty-year dedication, inspired by the literary award theme "From this moment on."
"I always saw him at the same table in the factory, tirelessly polishing watch parts with tools made of gentian wood. For years, until I asked him, 'When do you plan to become a master watchmaker?' He said, 'I can only decide how I sit at my workbench today.' Years later, he became one of the two master watchmakers capable of making the world's most complex watch, the 'Blancpain 1735'… like the many writers present, meticulously crafting a story until it becomes a perfect work."
This story received positive feedback during the live broadcast.
At each year's award ceremony, stories and messages from Blancpain executives like Liao resonate with young writers and audiences, reflecting a mutual appreciation between the brand and the literary world.
Whether a brand's efforts can touch the audience and leave a positive impression partly depends on whether the topics discussed have timely value and genuinely interest the audience. It also depends on the brand's deep understanding of these topics and its sincere willingness to discuss them.
Combining high-end watchmaking with literature aims to offer a remedy for the spiritual emptiness of the digital generation. Blancpain's long-term accumulation in the field of watchmaking and its understanding of time become its capital to discuss the topic of "literature."
— Cross-Border "Soft Communication," Based on Brand Temperament
Today, brand cross-overs and sponsorship activities abound, and simple nominal collaborations struggle to capture consumer attention. Establishing a connection point between the brand and the crossover entity is essential to enhance the brand image.
Blancpain's link with literature is evident and worth revisiting. Often regarded as one of the most culturally refined brands by watch enthusiasts, Blancpain connects its brand temperament and story, disseminating and amplifying its "uniqueness" and "brand power" more subtly through award ceremonies, social media, and in-depth interpretations by literary giants and rising stars.

— Starting from Scratch, Practicing Long-Termism
Commercial brands entering the cultural field require substantial financial and time investment. Blancpain's choice to cross over in such a way is somewhat indifferent to immediate returns or, rather, the returns are unpredictable.
However, it is this long-term, in-depth participation from scratch that allows the brand to take the initiative in cultural activities, build reputation, and create lasting influence. Eventually, the brand's investment in the cultural field truly becomes a brand asset.
Tang Nuo, a literary critic/writer and judge of the first and sixth Blancpain-Imaginist Literary Prize, said in an interview: "Businesses naturally measure success by the profits they generate, but literature and cultural education are not profitable. They cultivate something beautiful that cannot be immediately translated into business and numbers. This beauty is not for one person's enjoyment but rises to a societal level of public and philanthropic significance."
Conclusion
Do we still need literature? A similar question was once posed to the watchmaking industry: Do we still need mechanical watches?
Liang Wendao's response to this was, "We have so many simple ways to know the exact time, so why do people still engage in making mechanical watches? I often joke that it's like playing Go nowadays. You can't beat artificial intelligence, so why play?
In my view, making complex mechanical watches today is just like still writing and reading novels. Maybe the world already has too many simplified things, and everyone hopes to live in a simpler worldview. But there are still people with the will to use complex methods to do things that others think are simple…"
High-end watch brands may have passed their initial phase of being technology-centric for over a century, but research and innovation continue, perhaps at a slower pace, requiring more patience. At the same time, brands need to focus more than ever on emotional interaction with consumers and building a spiritual resonance with them.
In the 1970s and 1980s, amidst the quartz crisis, Blancpain led the mechanical watch revival with a complete calendar moon phase watch. It is believed that as the Blancpain-Imaginist Literary Prize progresses through 10, 20, or more years, Chinese literature enthusiasts will remember Blancpain for building a spiritual high ground for young Chinese authors in a noisy world. They will remember its refined, professional, and steadfast brand spirit and the original intention of relentless creativity.
| Image Credit: Weibo, Xiaohongshu screenshots, Blancpain official website, Imaginist official website, provided by Blancpain
| Editor: Zhu Ruoyu