The highly developed digital landscape of the Chinese market has helped luxury brands to accelerate their pace and improve efficiency along the entire chain of "marketing" and "sales".
Remo Ruffini, Chairman and CEO of Italian luxury group Moncler, says that "If you do not understand China today you will not understand the rest of the world tomorrow … China is setting the pace, as the most innovative country with the most advanced platforms, each one with a different approach, identity and each requiring dedicated contents and strategies. Understanding Chinese culture and the identity of each of the platforms is crucial. "
Whereas in the past, the content that luxury brands put on all social platforms remained in one form; today, the marketing mode is being reversed. In China particularly, the most innovative and dynamic market with a strong digital ecosystem, luxury brands must understand the attributes of each social platform in-depth and create exclusive, creative content and strategies accordingly.
In 2022, LuxeCO and Weibo jointly focus on luxury brands' digital marketing in China and release the exclusive "2022 China Luxury Marketing Report".
This is the third release of the series, "2022 Q3 China Luxury Marketing Report: How to Locate the Fertile Land of Private Domain?"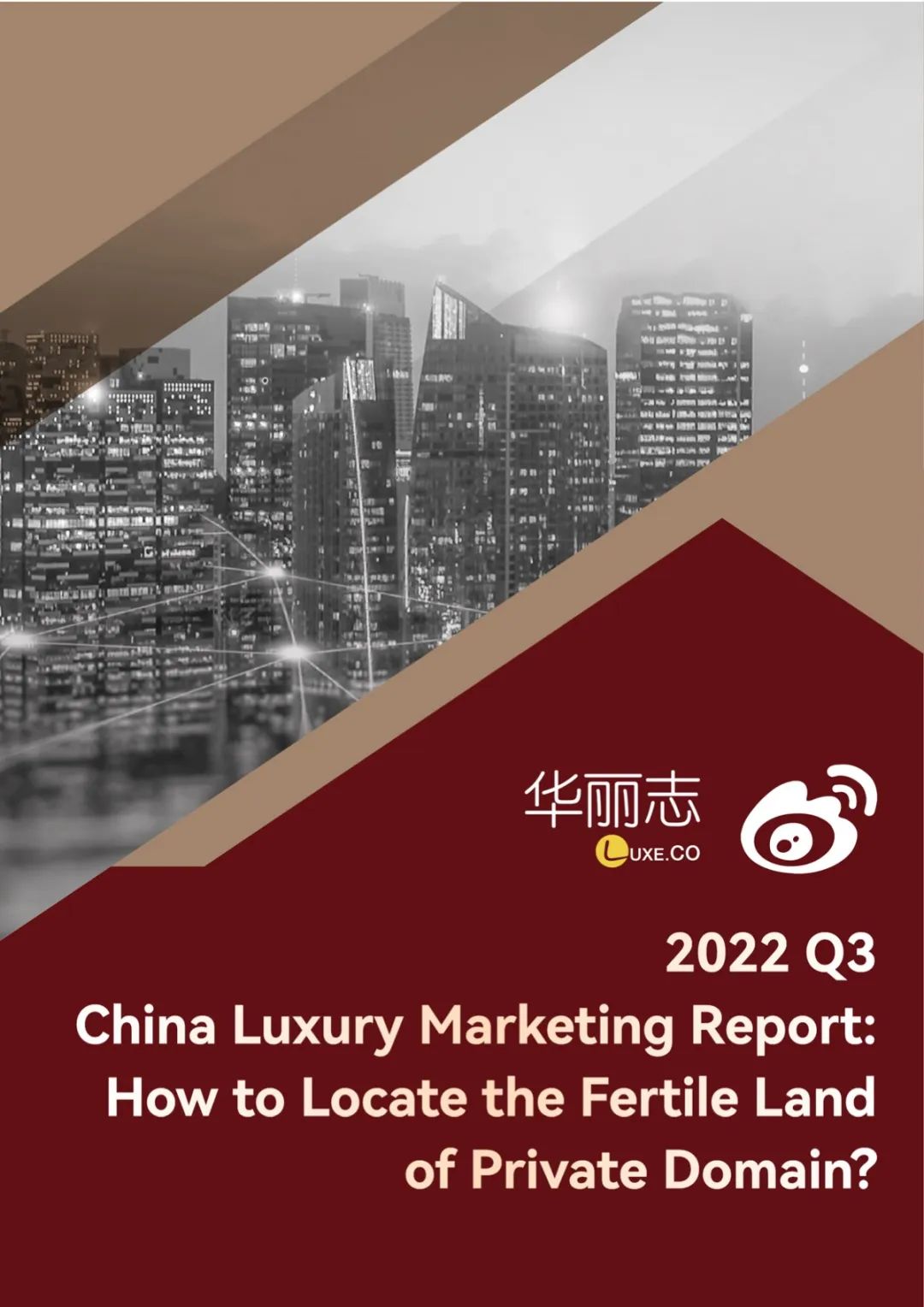 If the public domain provides brands with massive and abundant users and traffic, the private domain allows brands to have more autonomy in the whole chain of marketing and sales. Today, private domain operation has become almost a must for luxury brands, and many of them are already deep practitioners of the innovative integration of public and private domains.
For many luxury brands, Weibo is naturally a vast and fertile "black land" for public domain traffic. How to draw "nutrients" from Weibo's public domain "soil" to the brand's private domain has become an issue that luxury brands continue to explore.
In this report, SMART.FASHION digs into the dynamics of the luxury industry in the third quarter and summarizes three key words of luxury marketing. The report also summarizes the luxury private domain operation methodology through a comprehensive interpretation of eight key cases.
The report comprises of four chapters:
Weibo luxury consumer insight: how to effectively draw "nutrients" from the public domain?
Luxury industry's semi-annual marketing keywords on Weibo: cracking public domain keywords and revitalizing private domain traffic
Weibo luxury brand vitality ranking: the "source" that waters the private domain soil
Luxury brand highlight case studies/analyses: luxury marketing methodology
You can read the report in pictures below.
For PDF version, scan the QR code or click here to download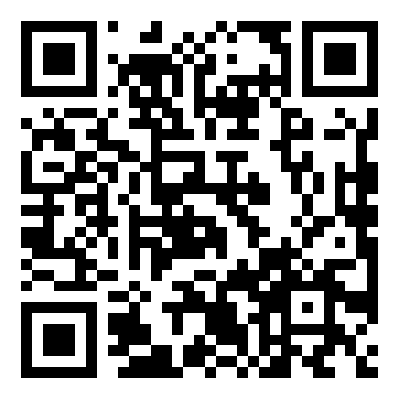 If you need help, add "LUXE.CO Assistant" WeChat ID: hualitea
Read the full report: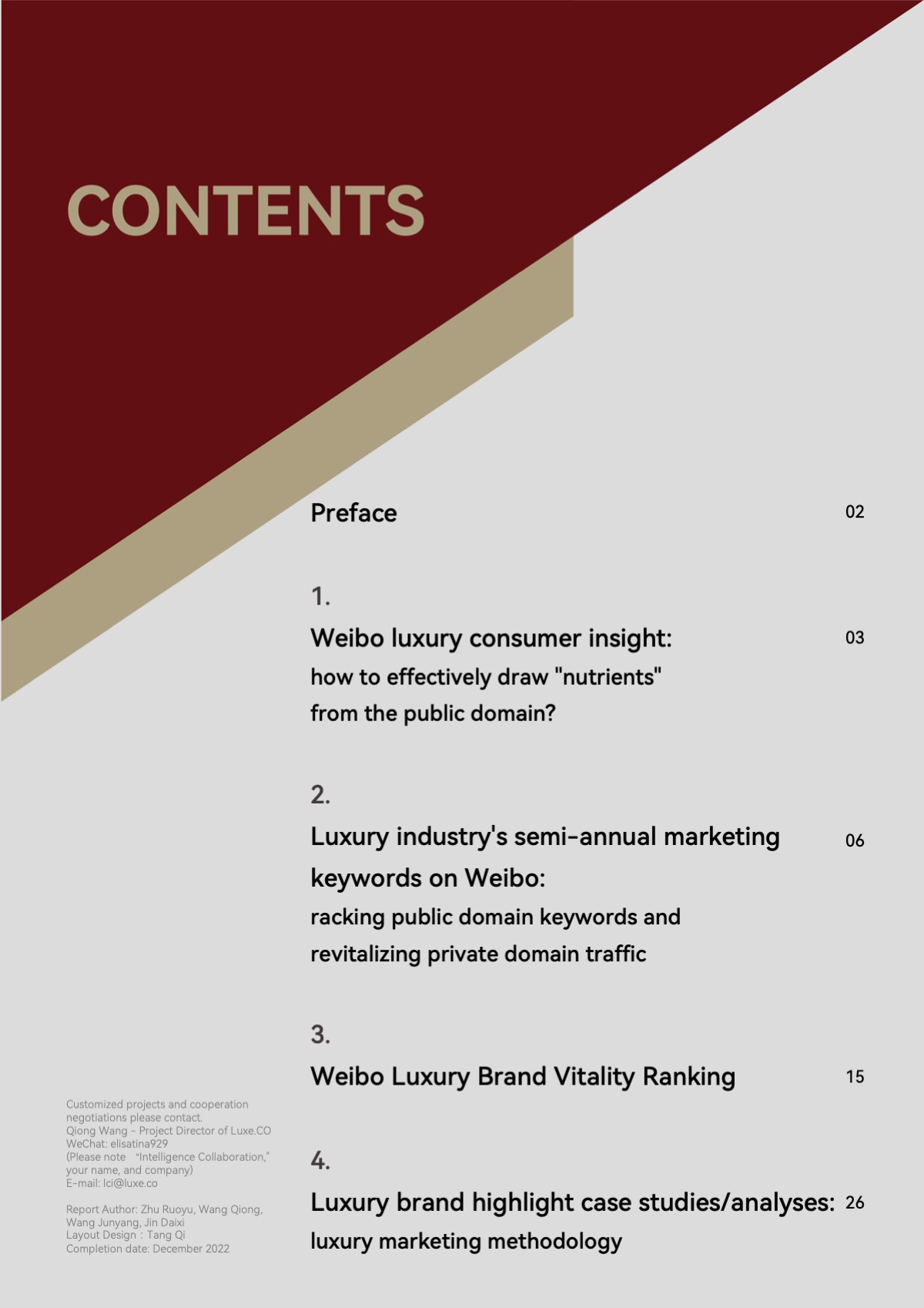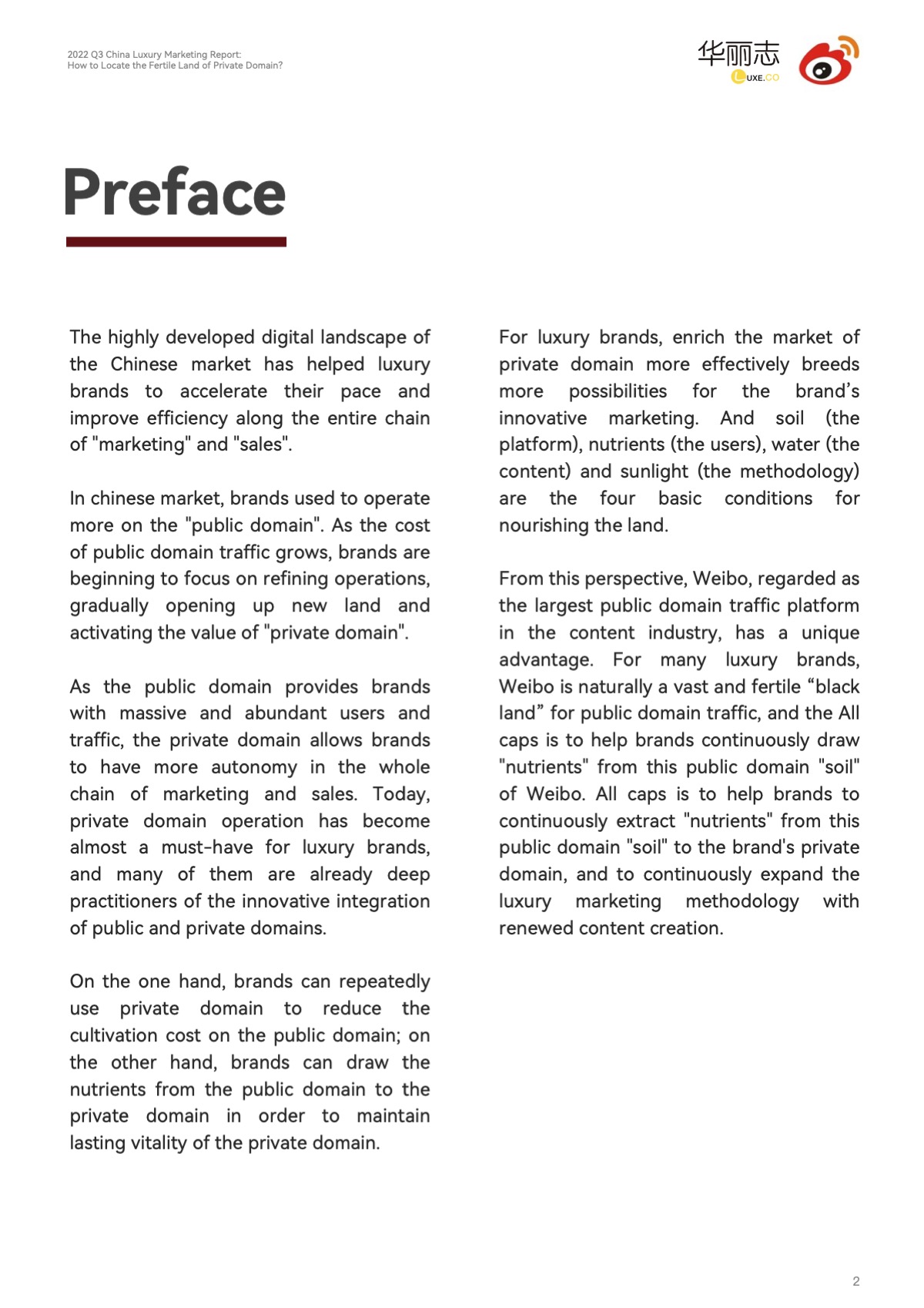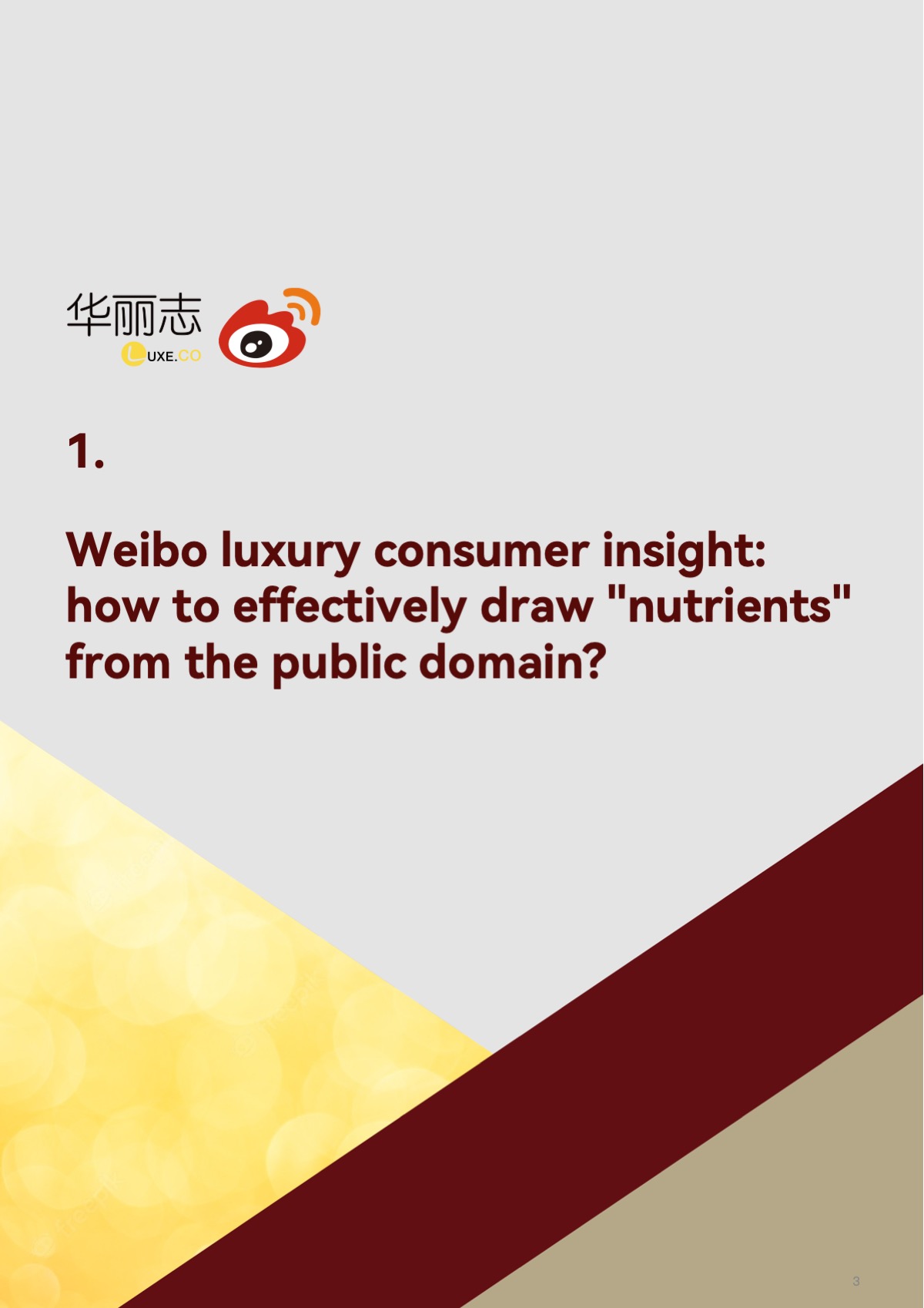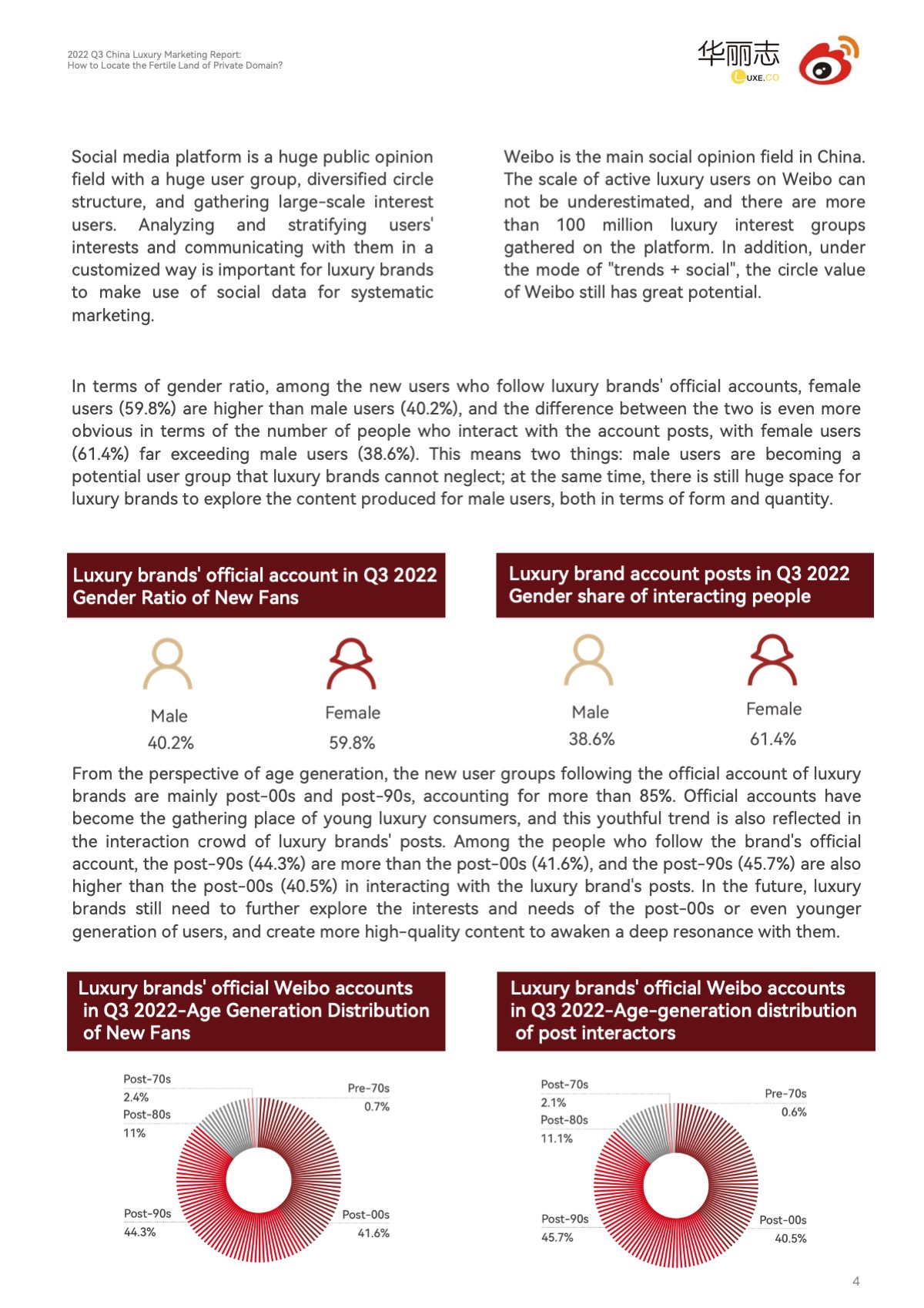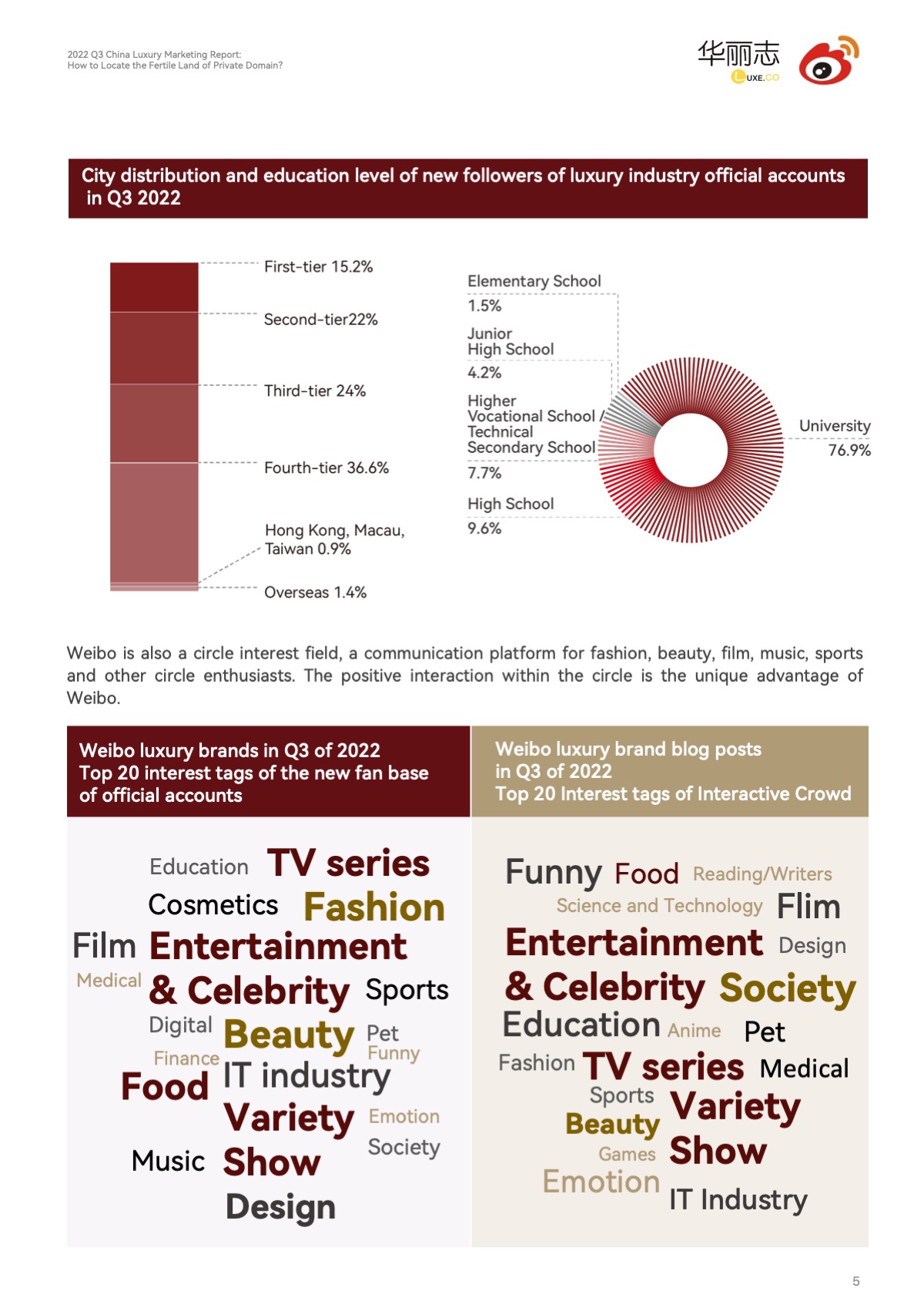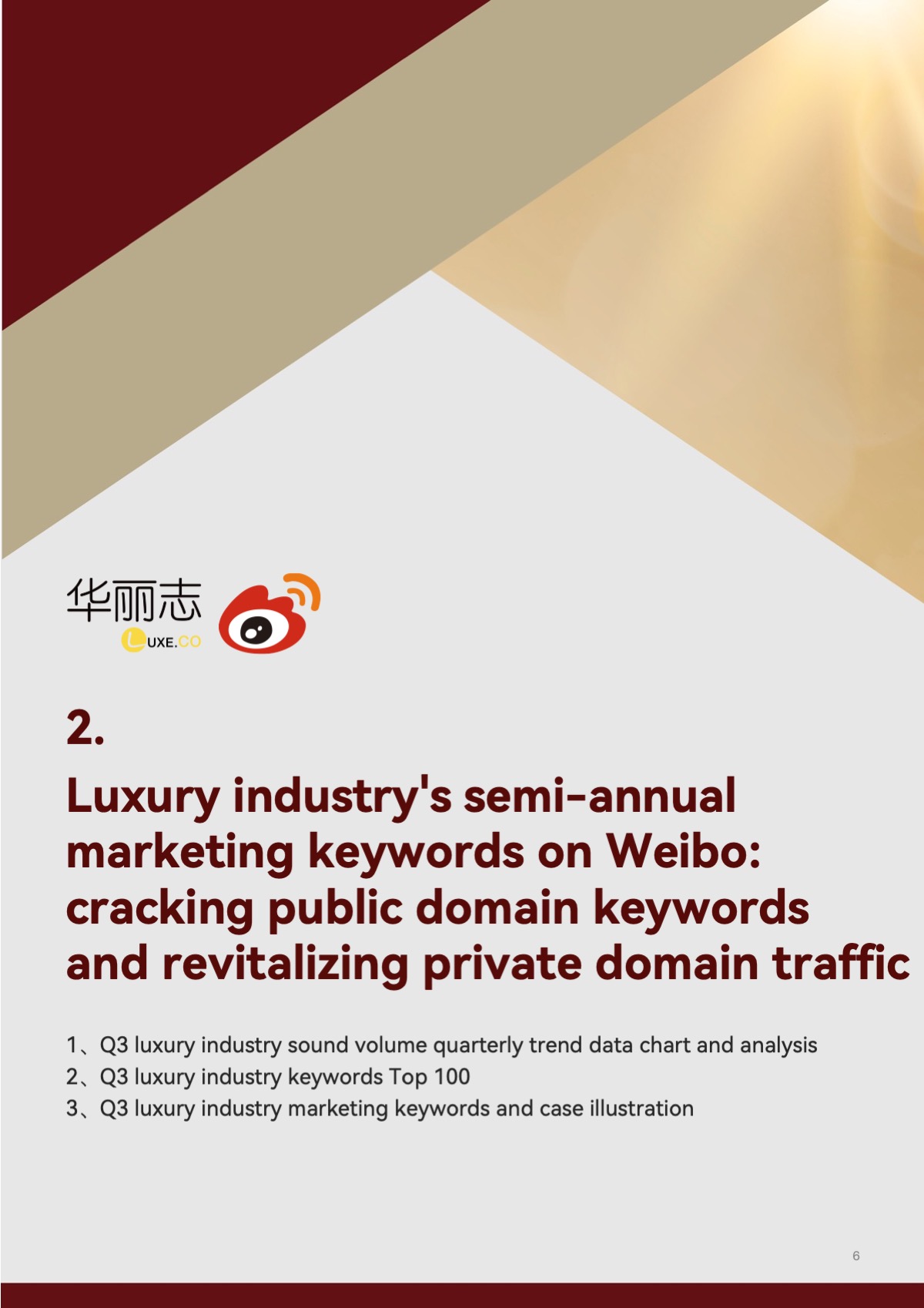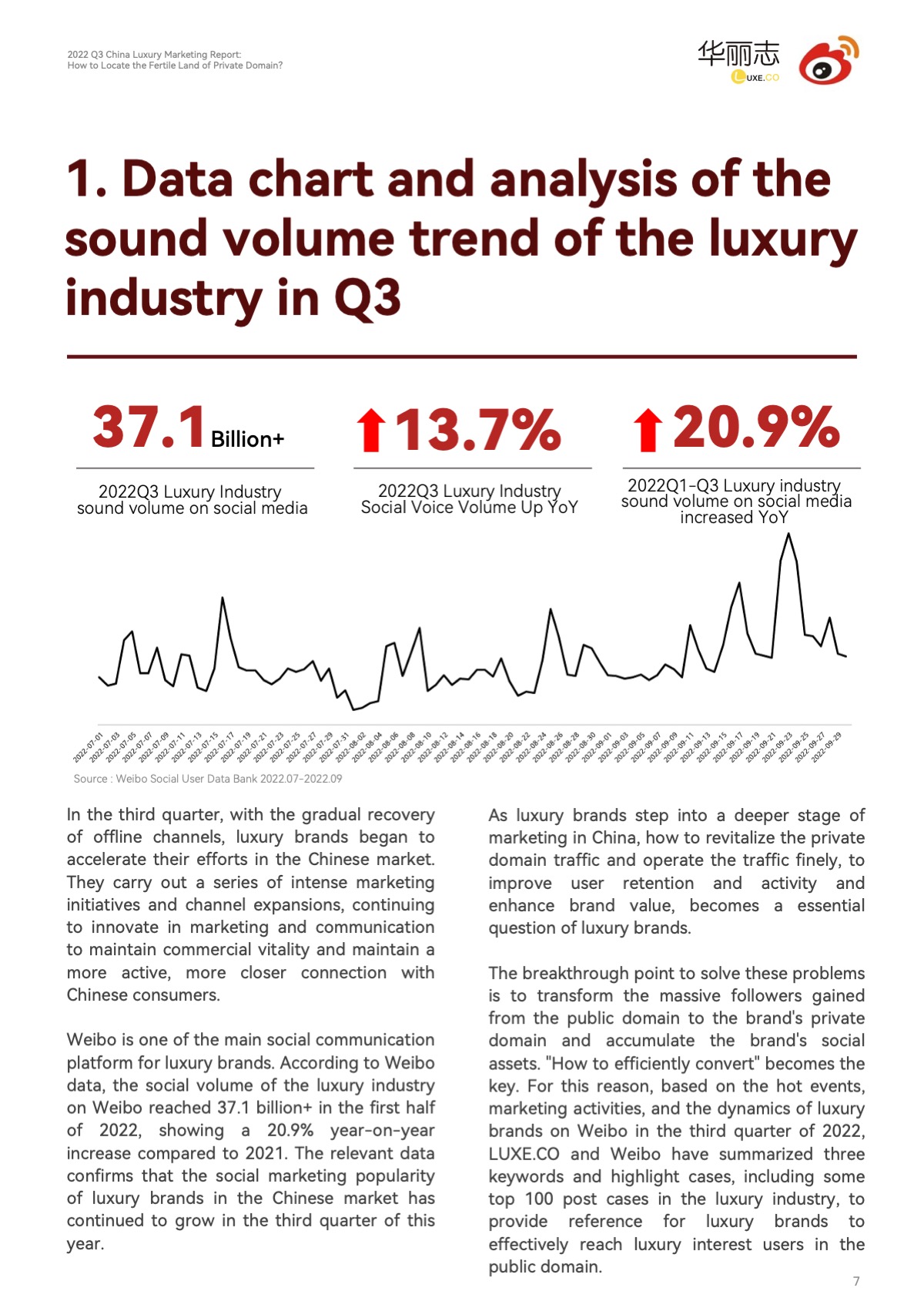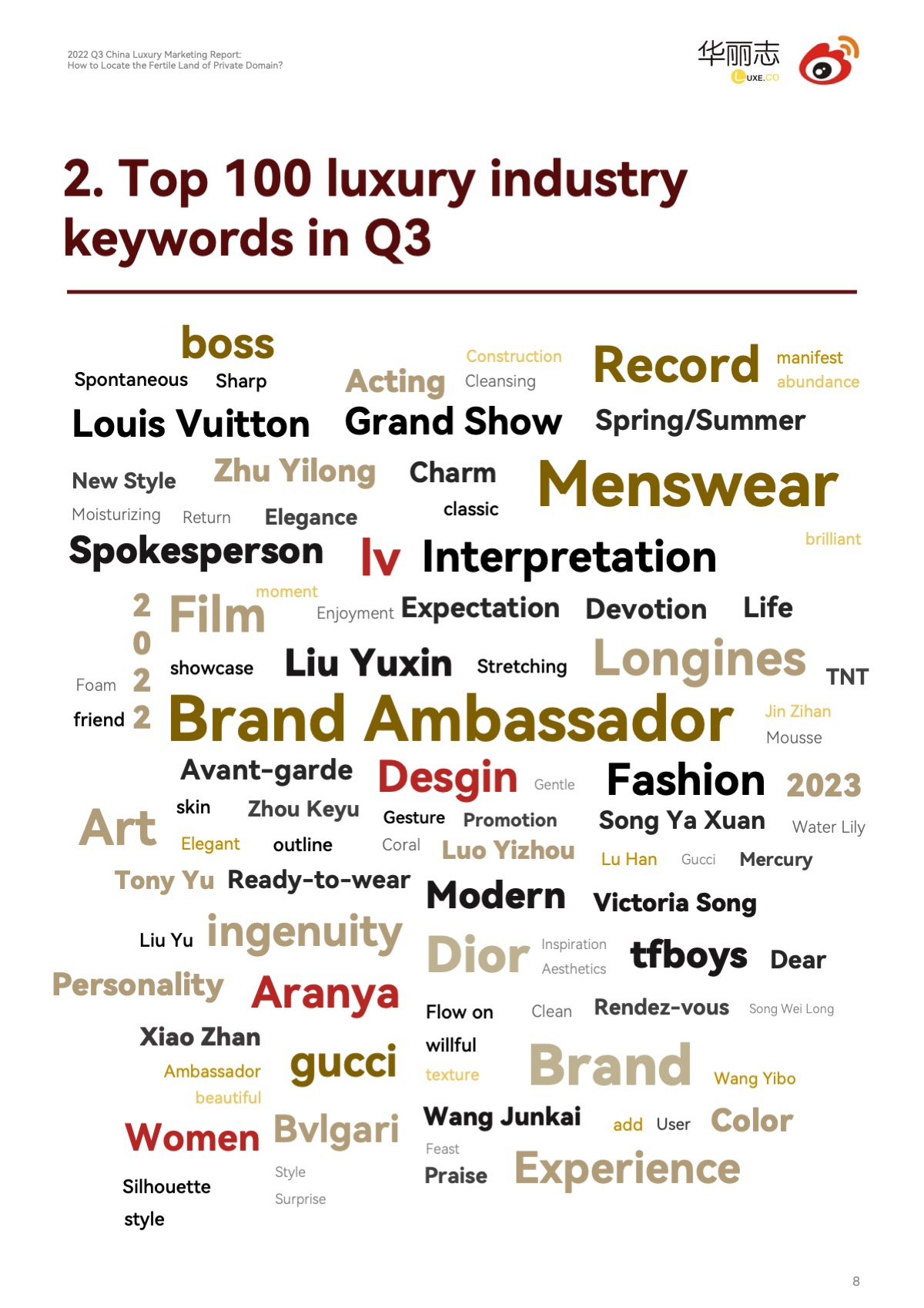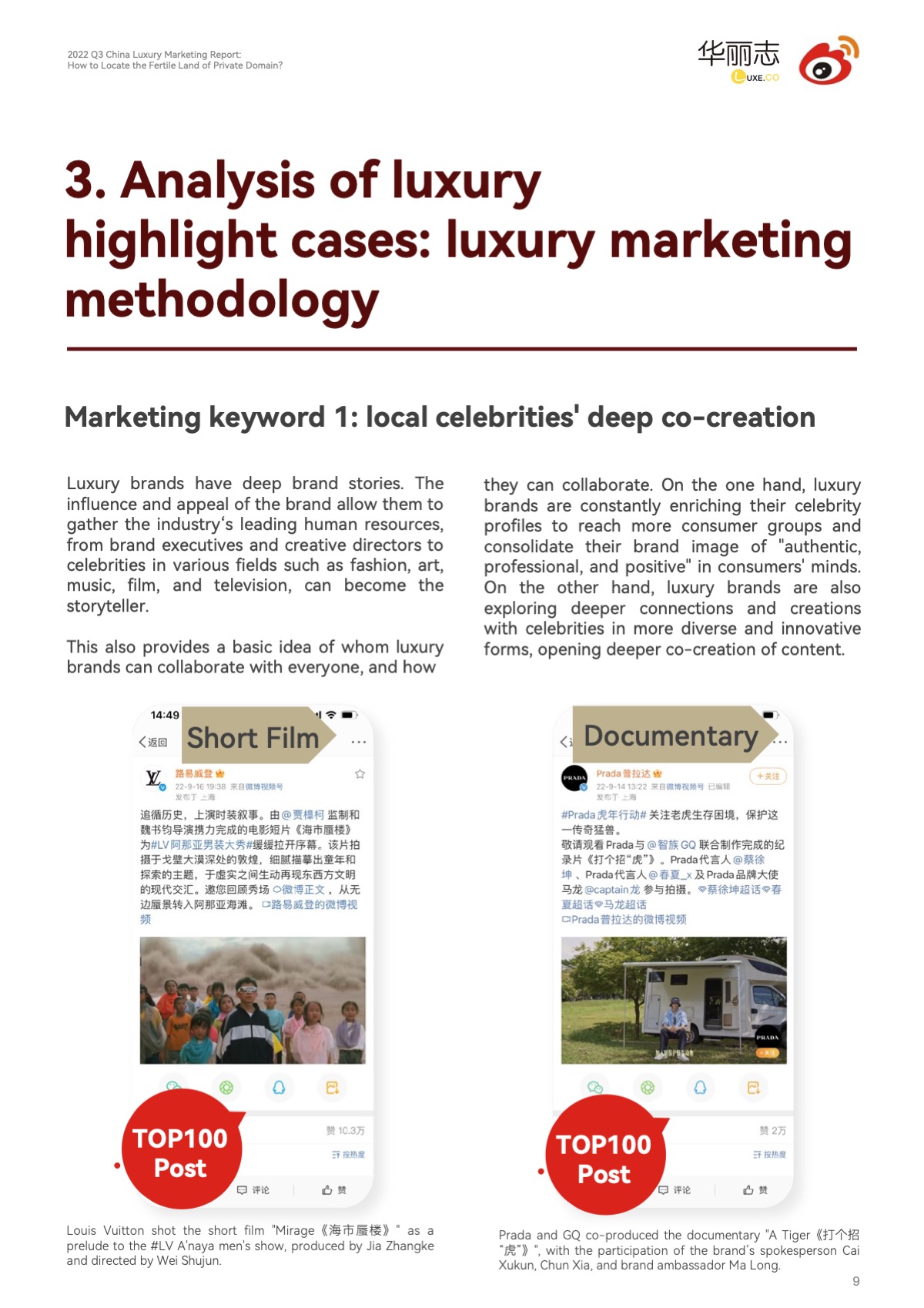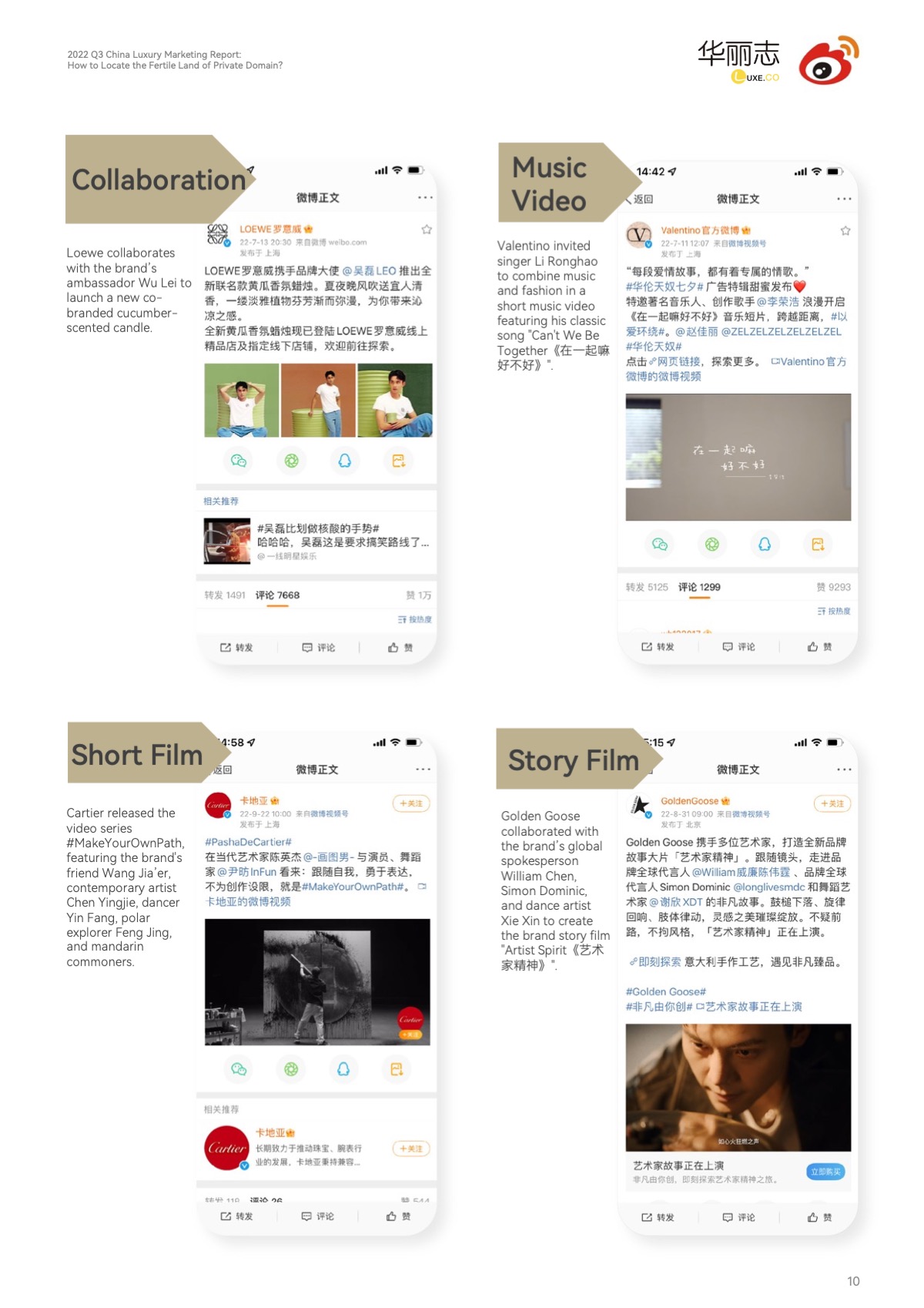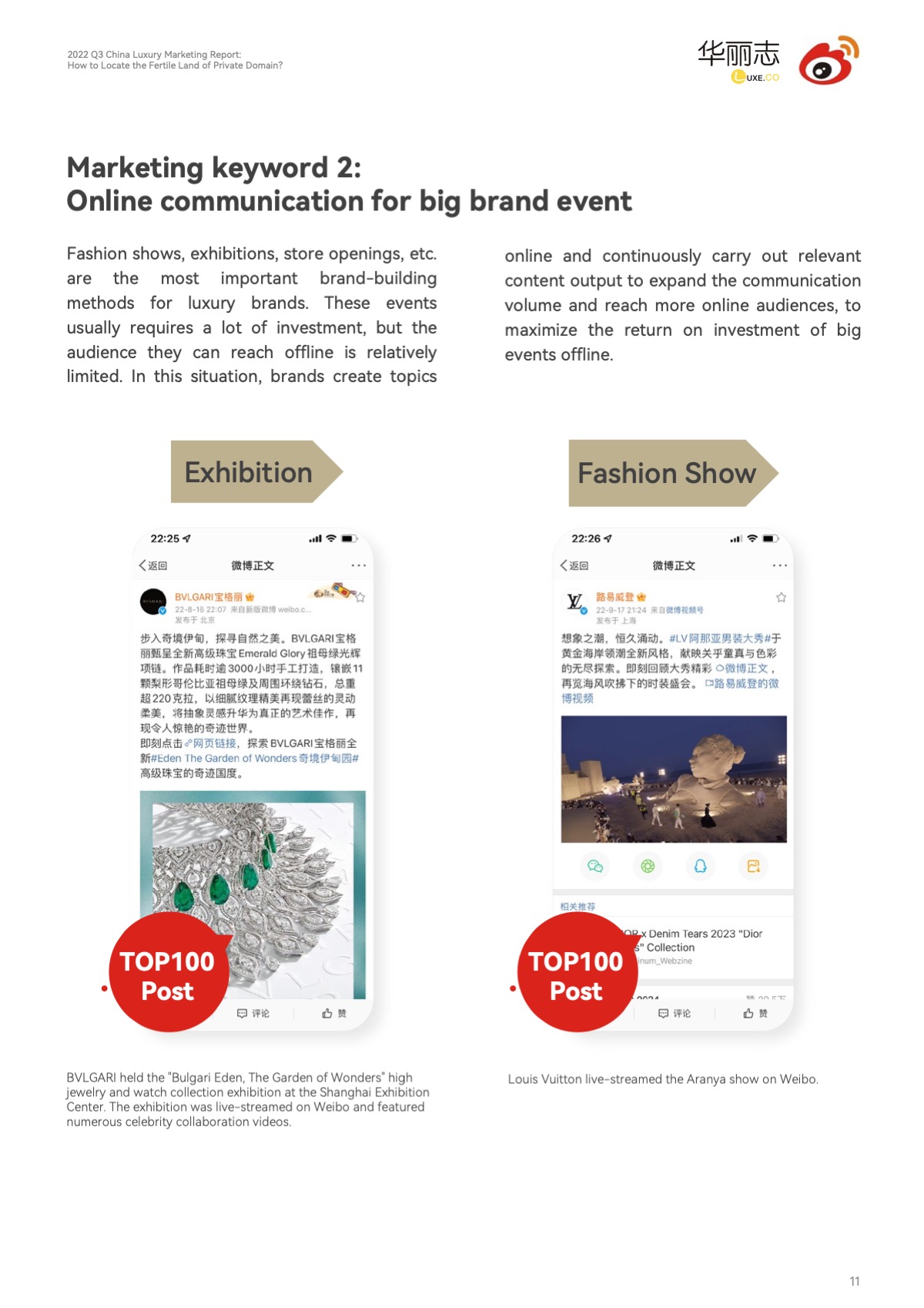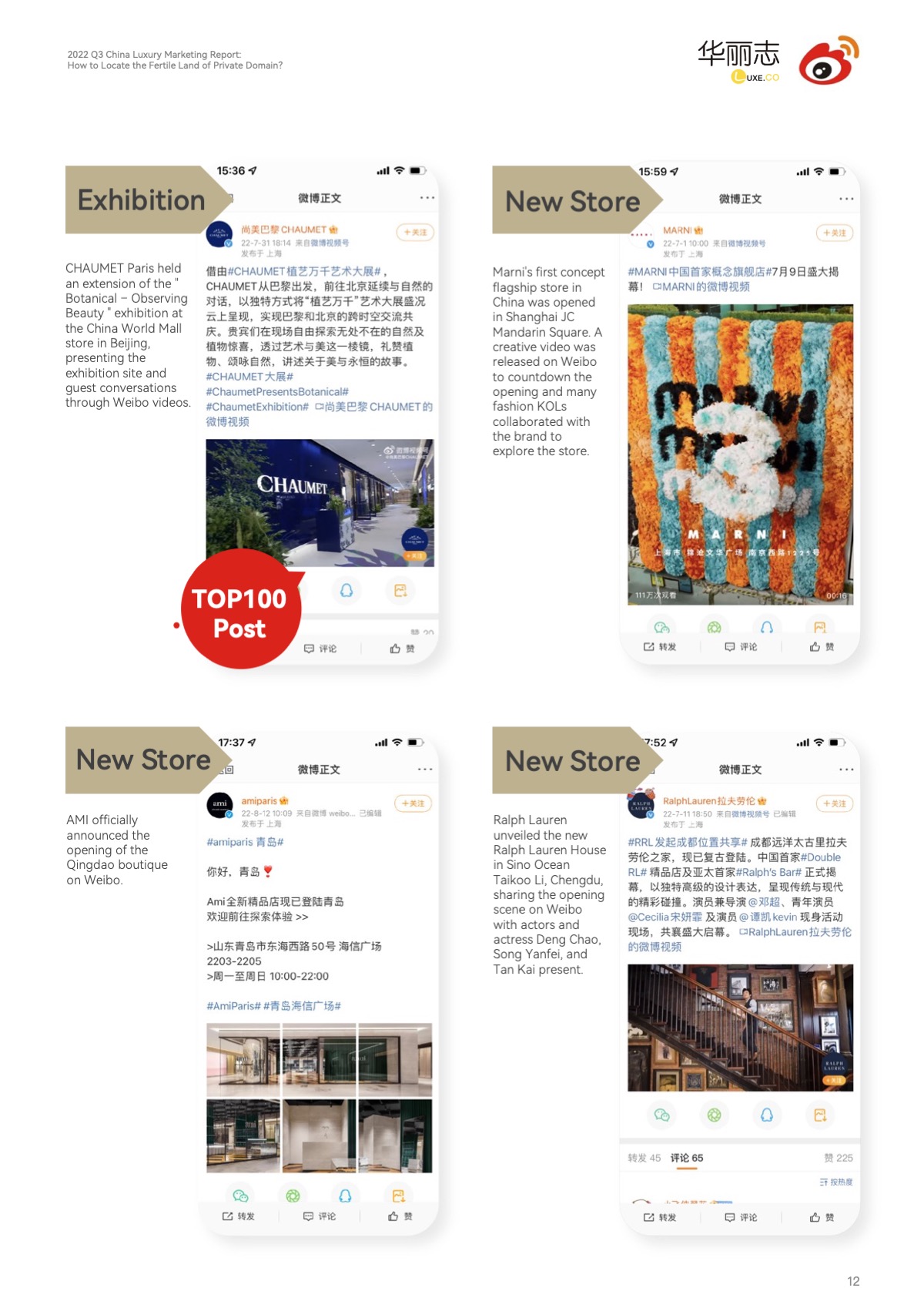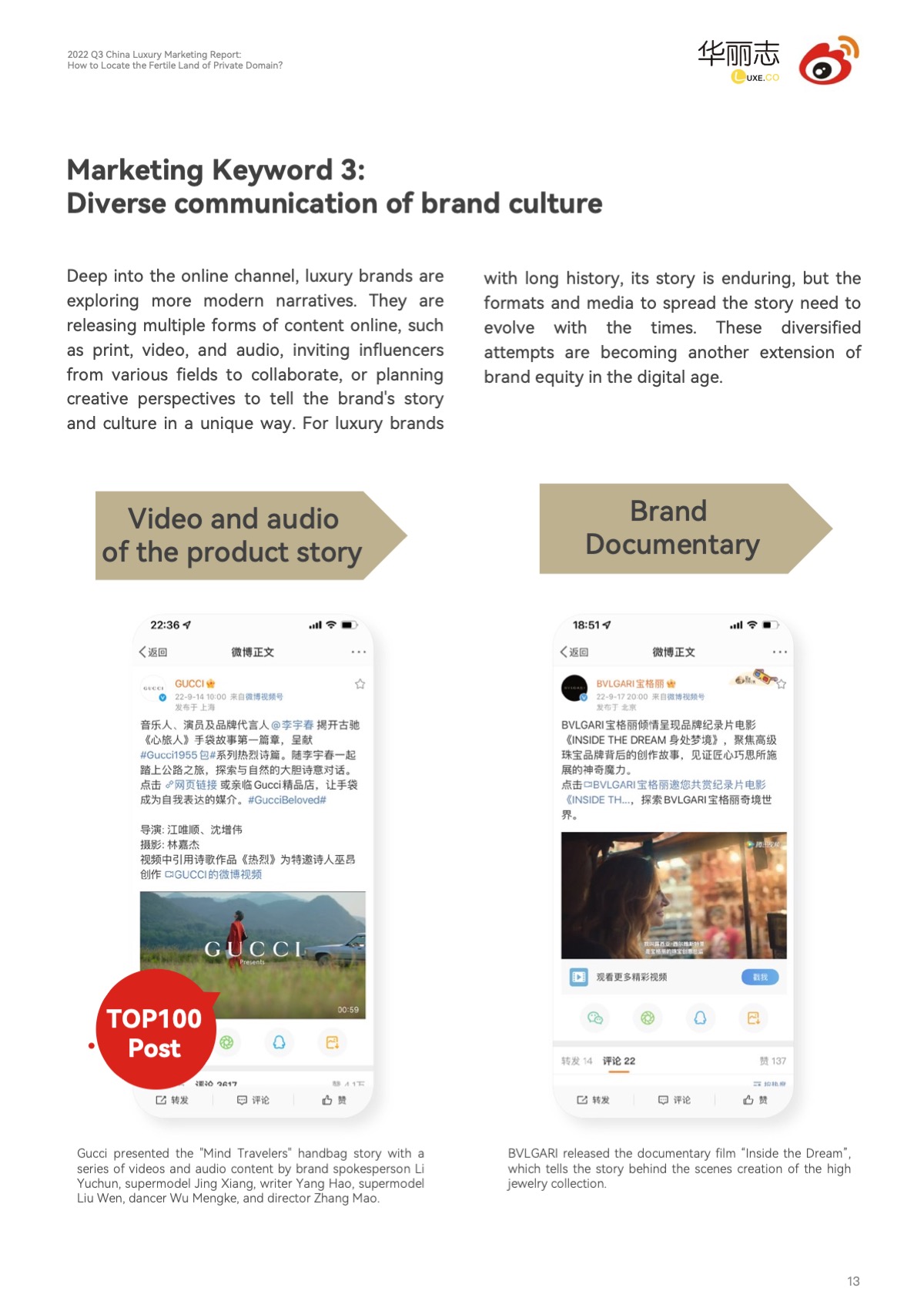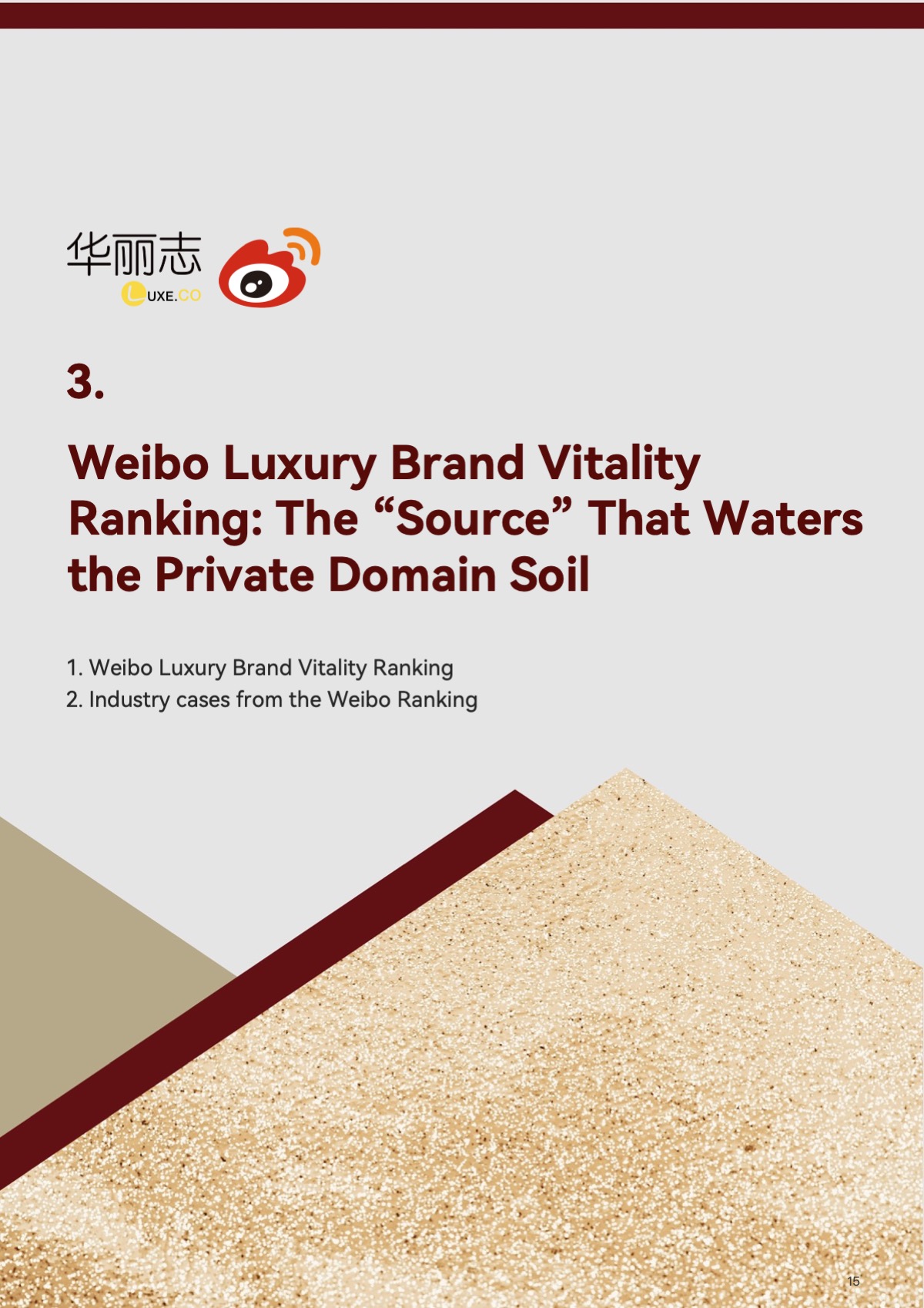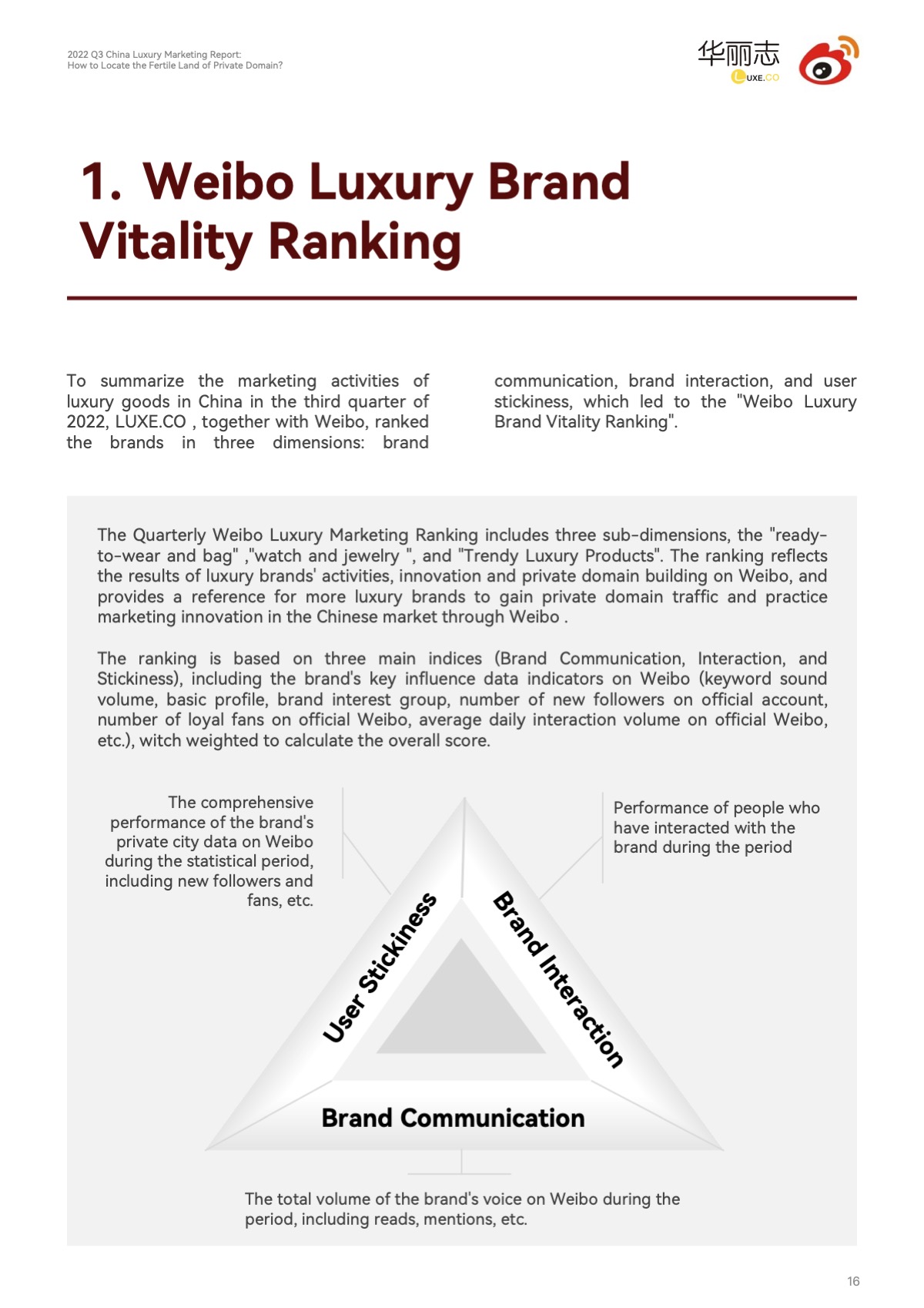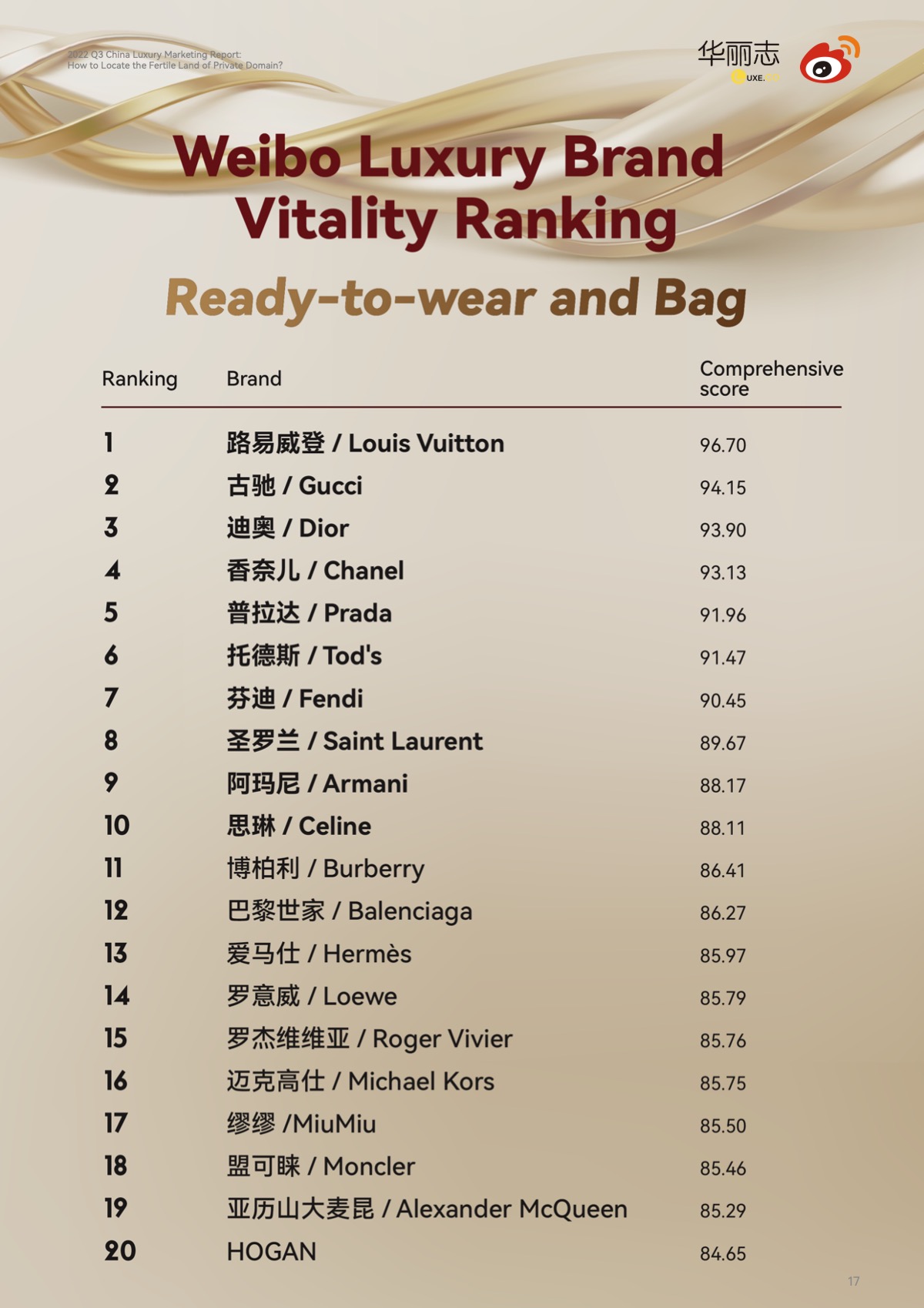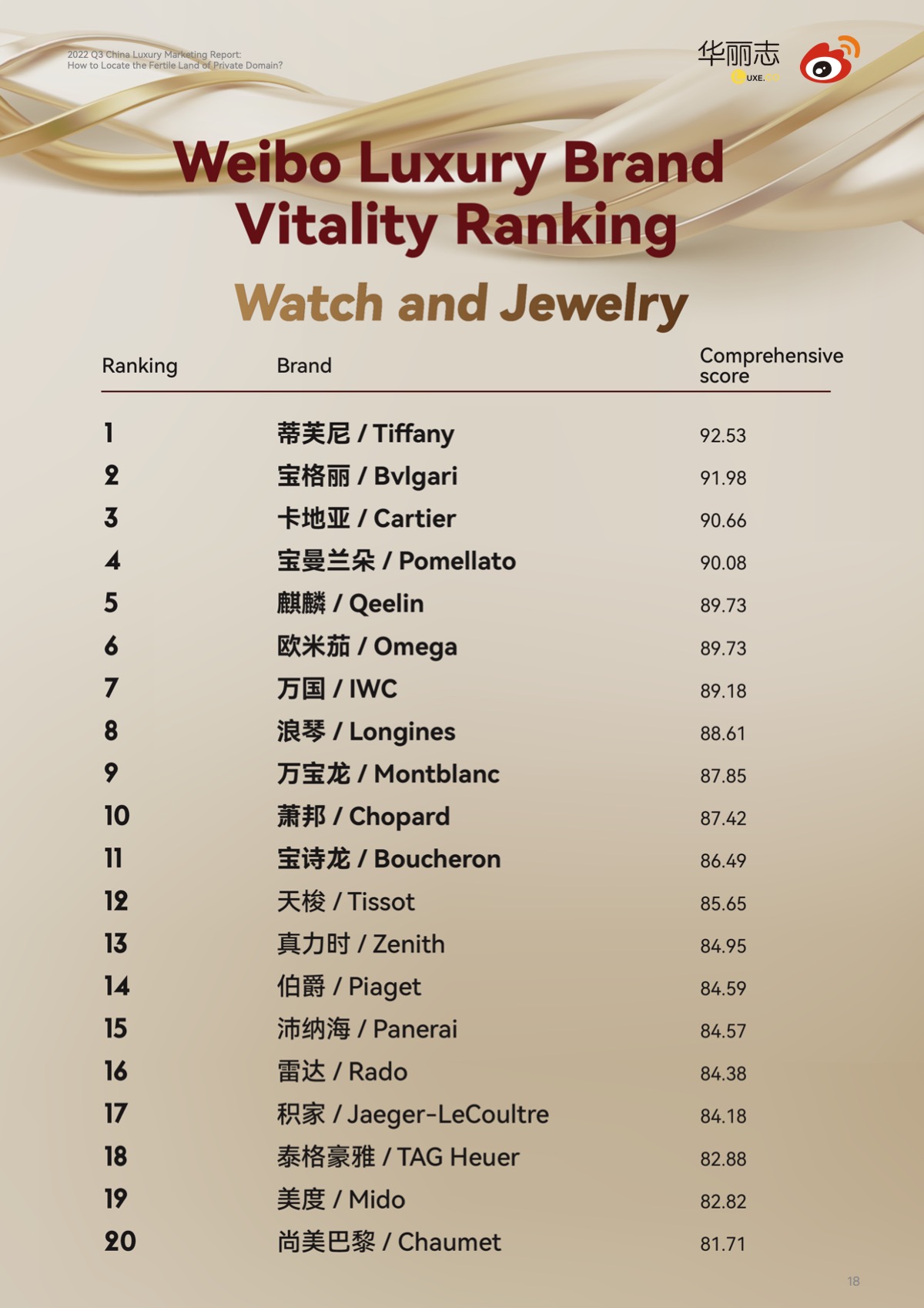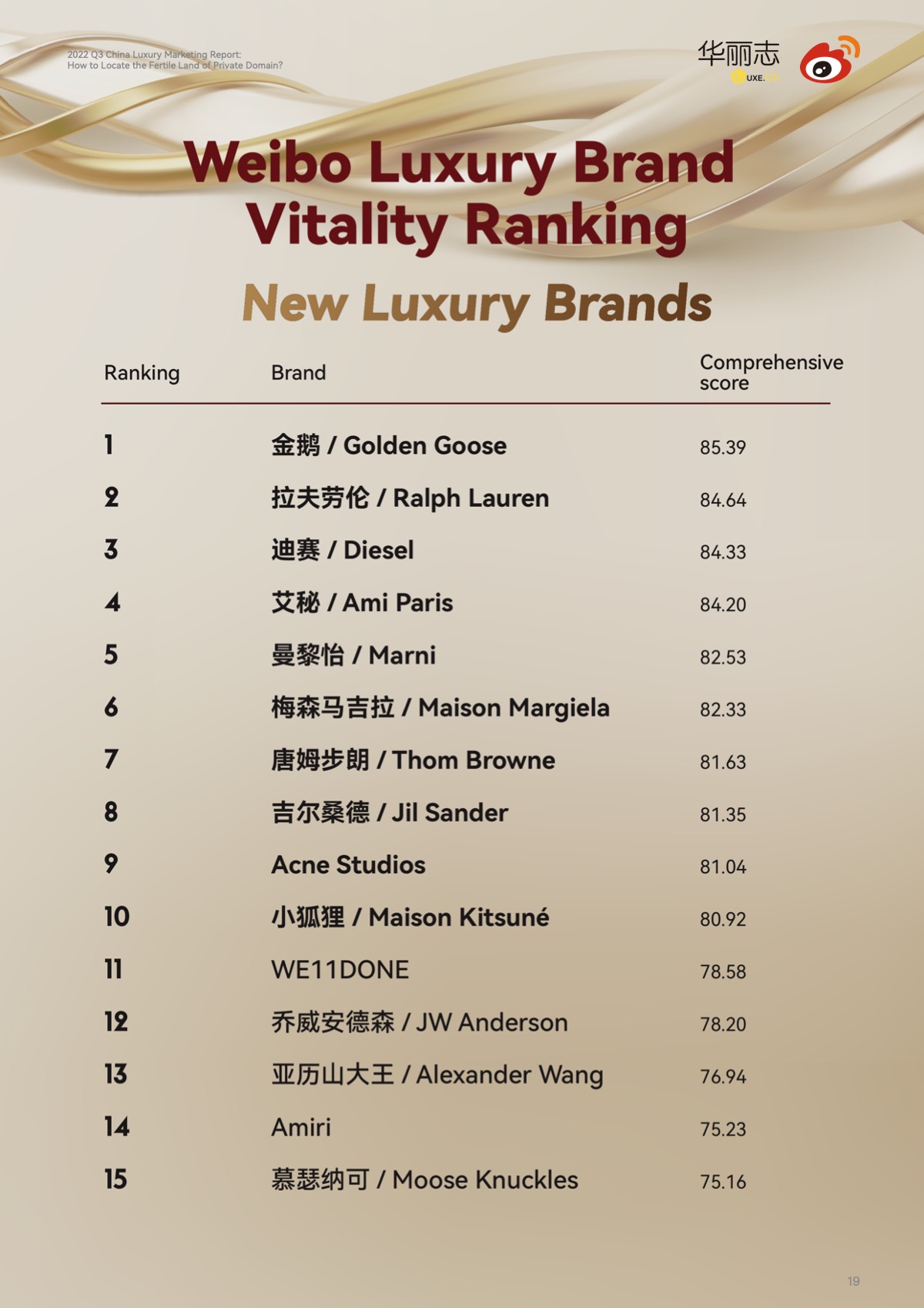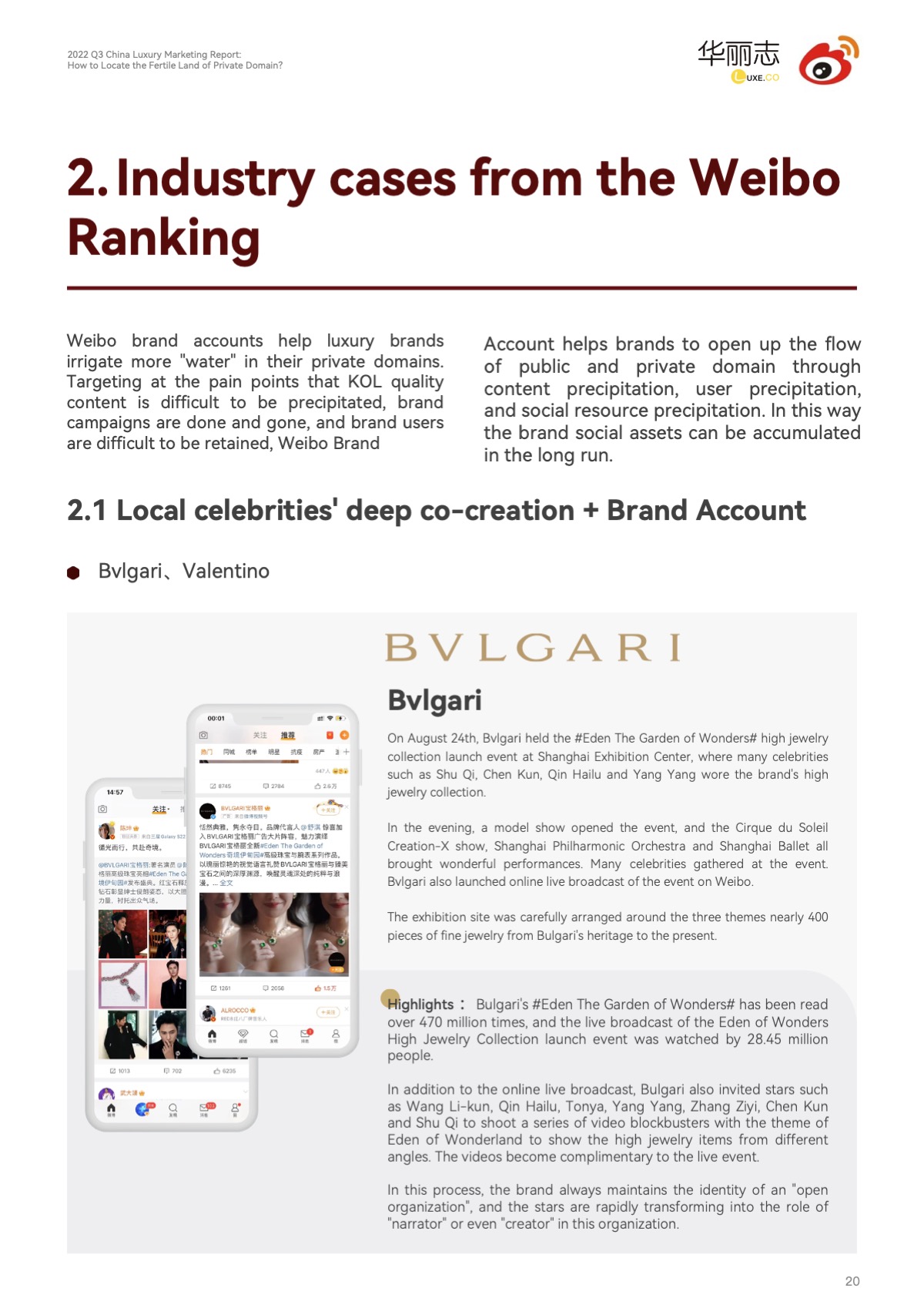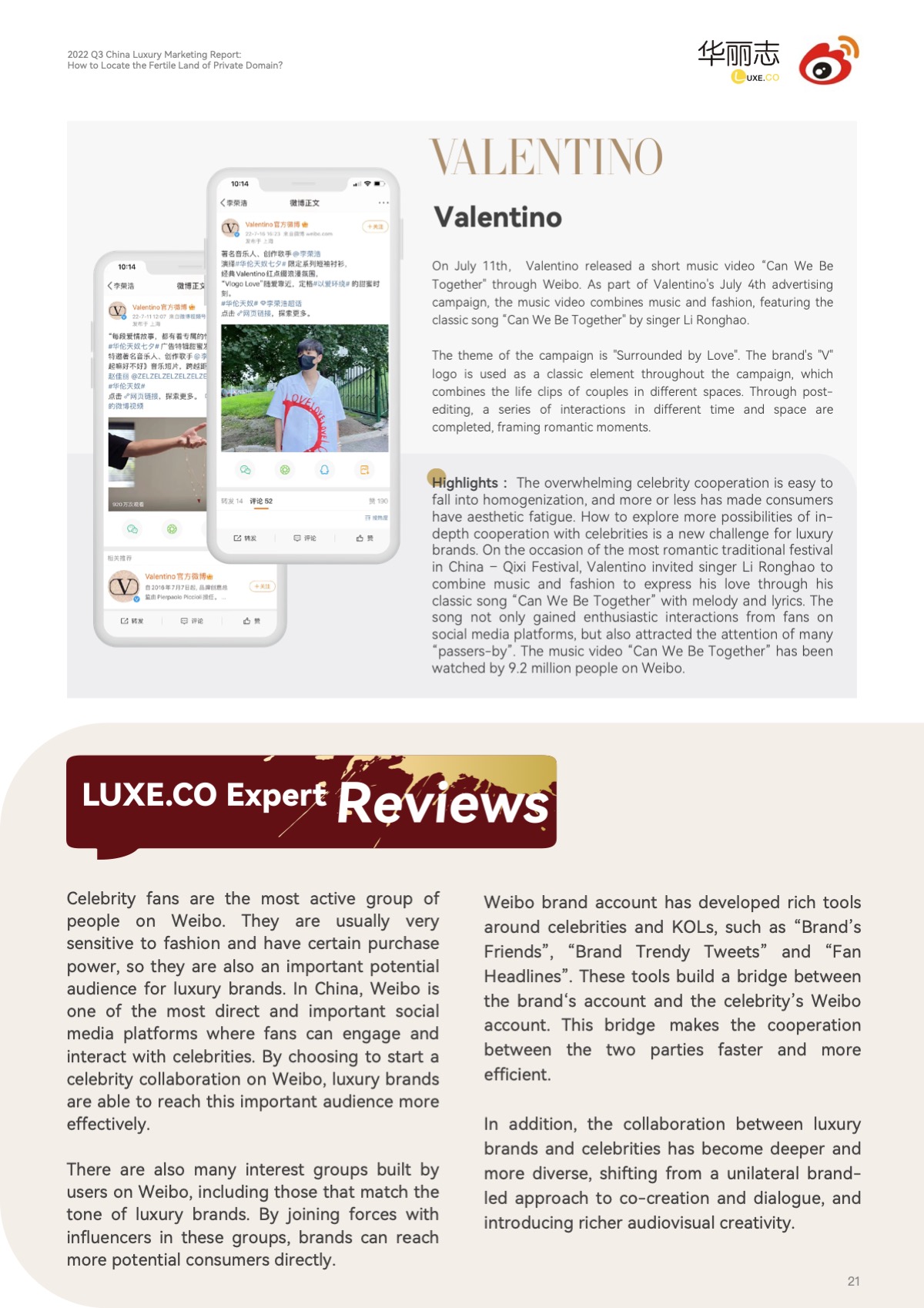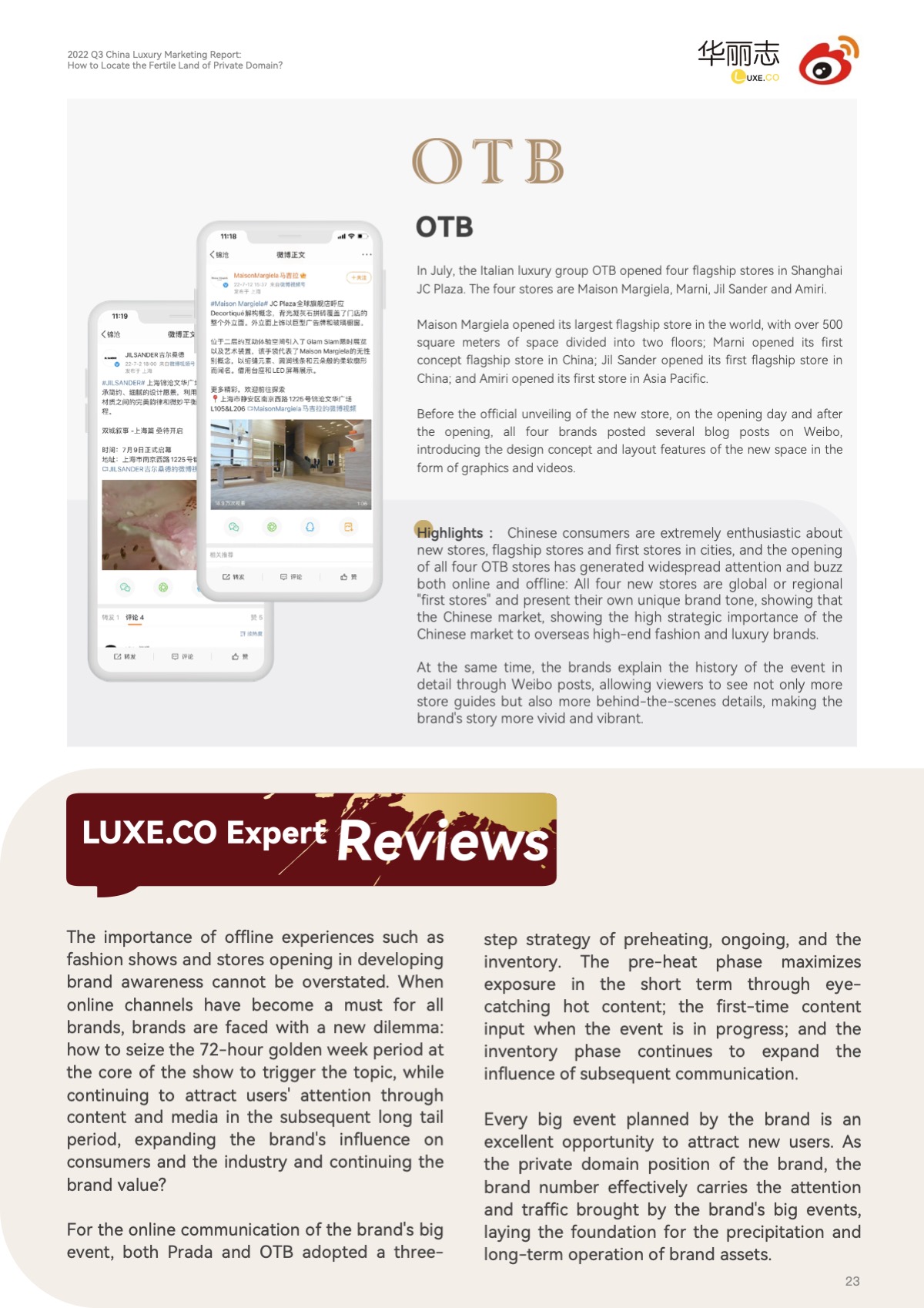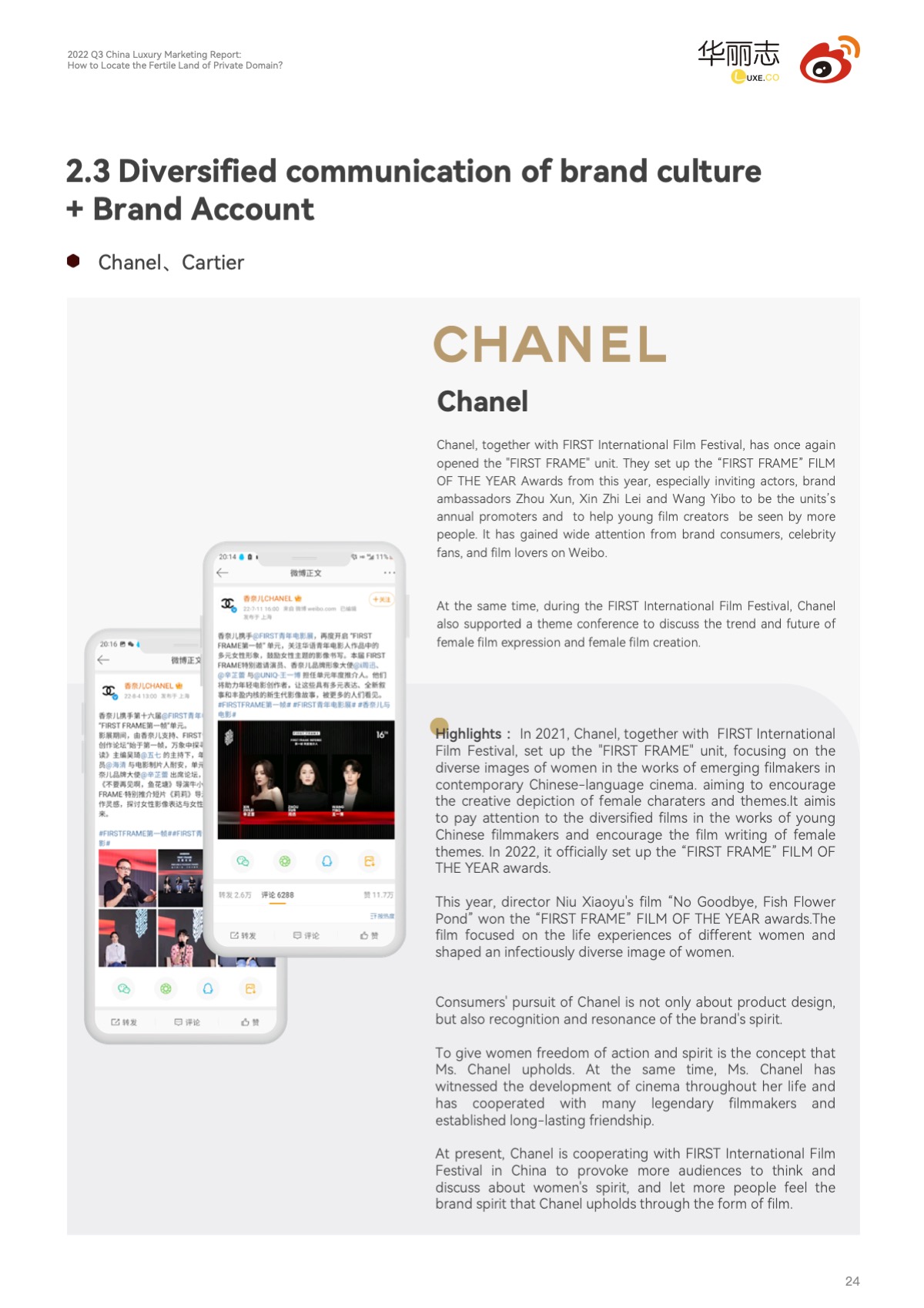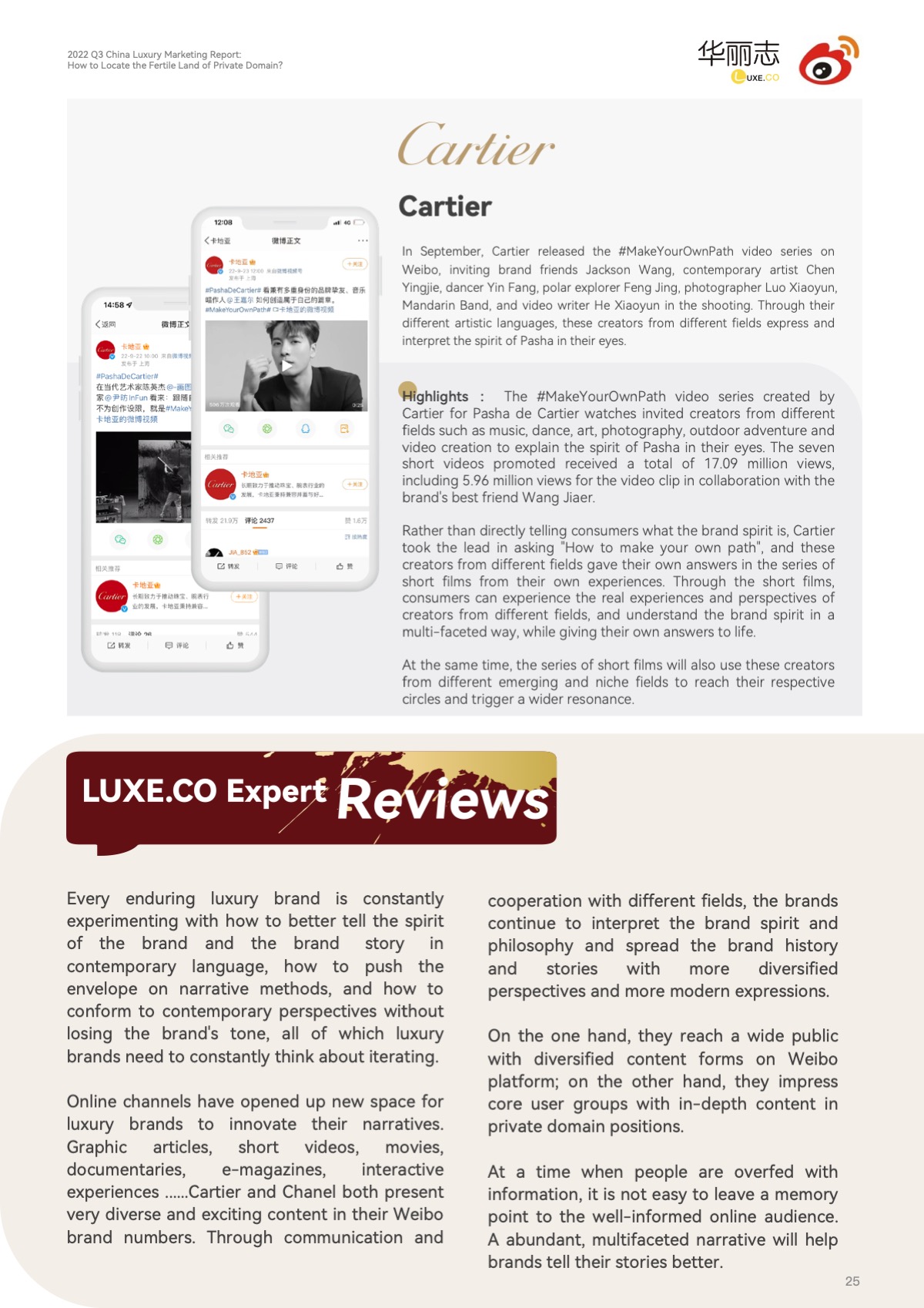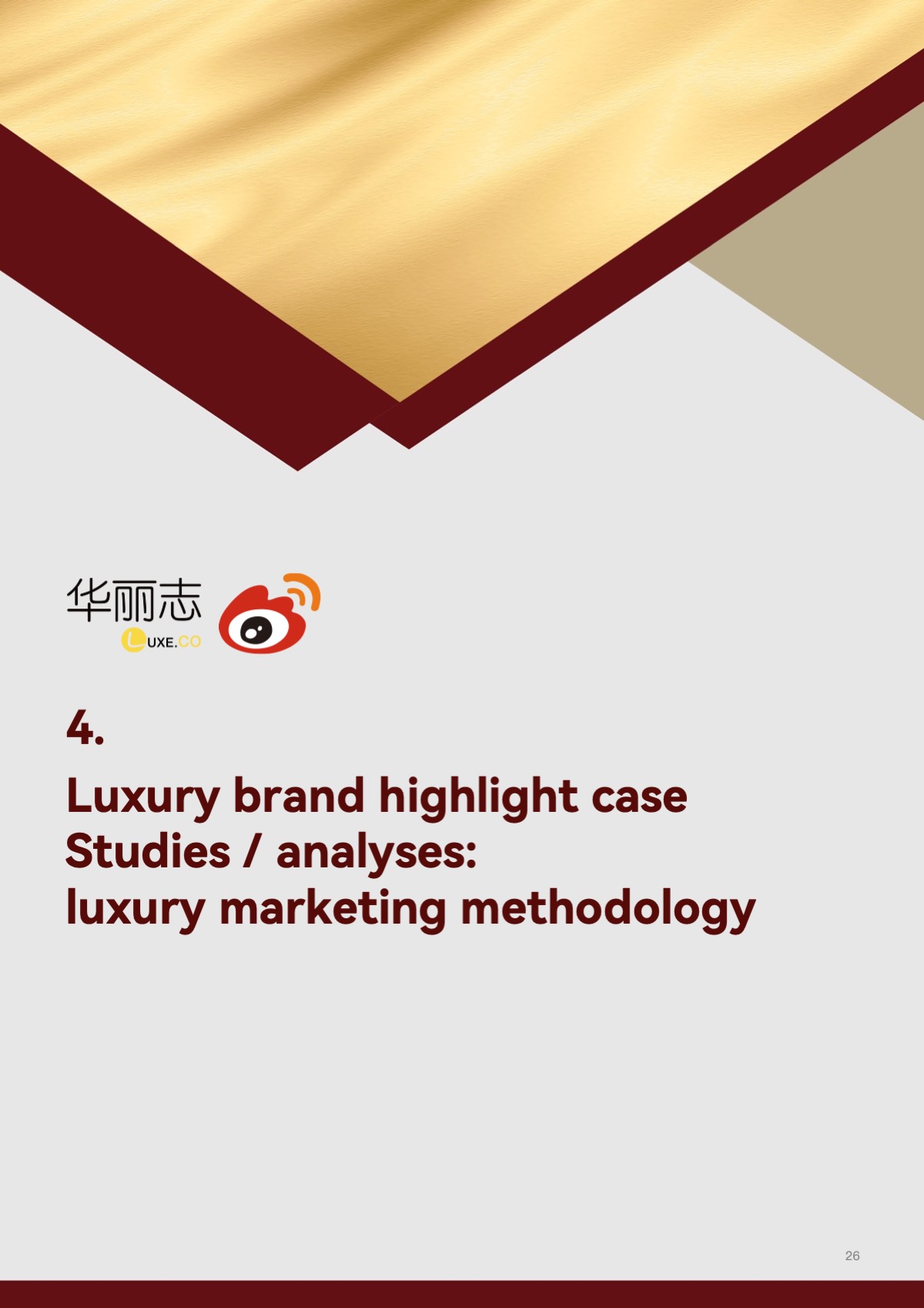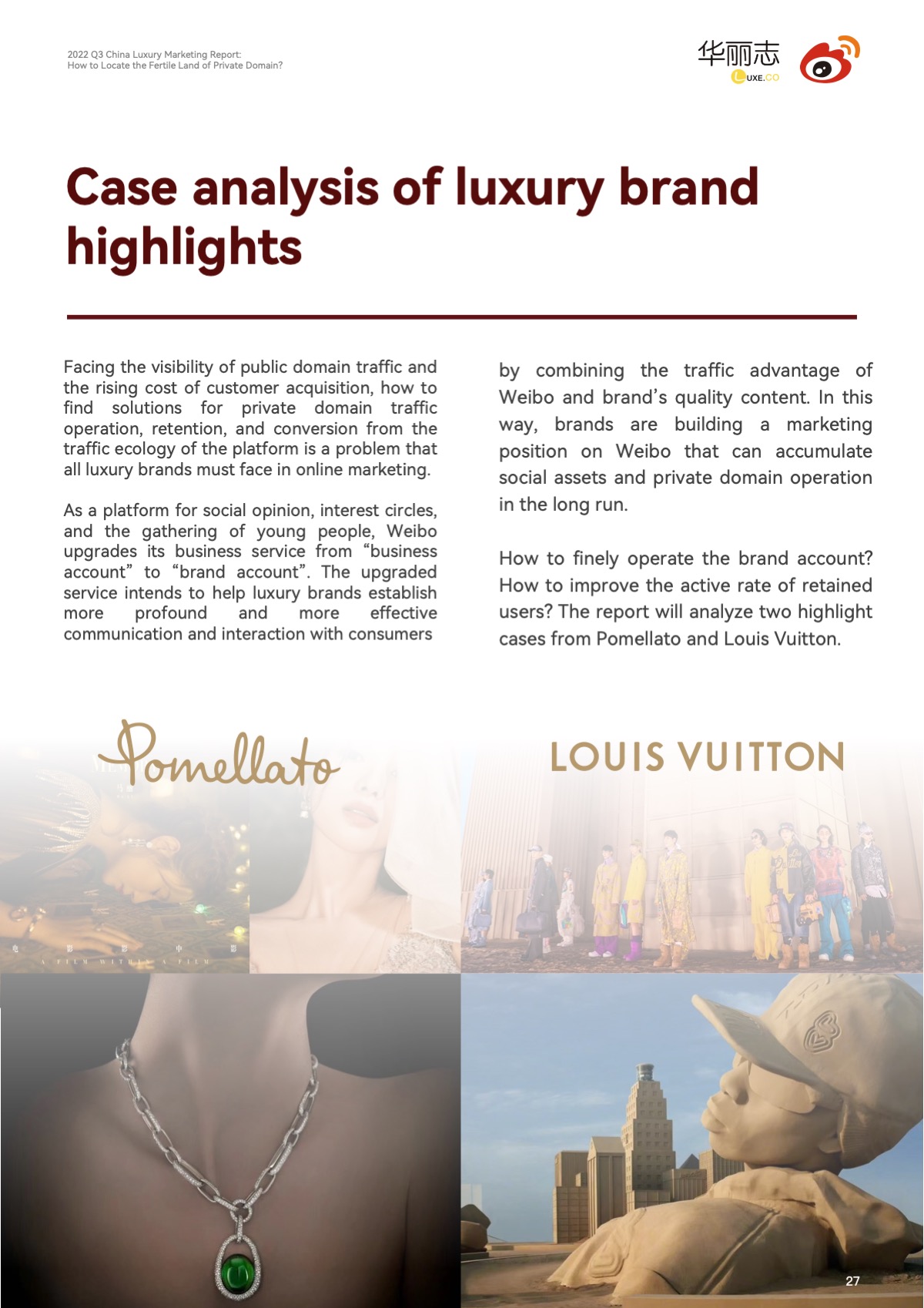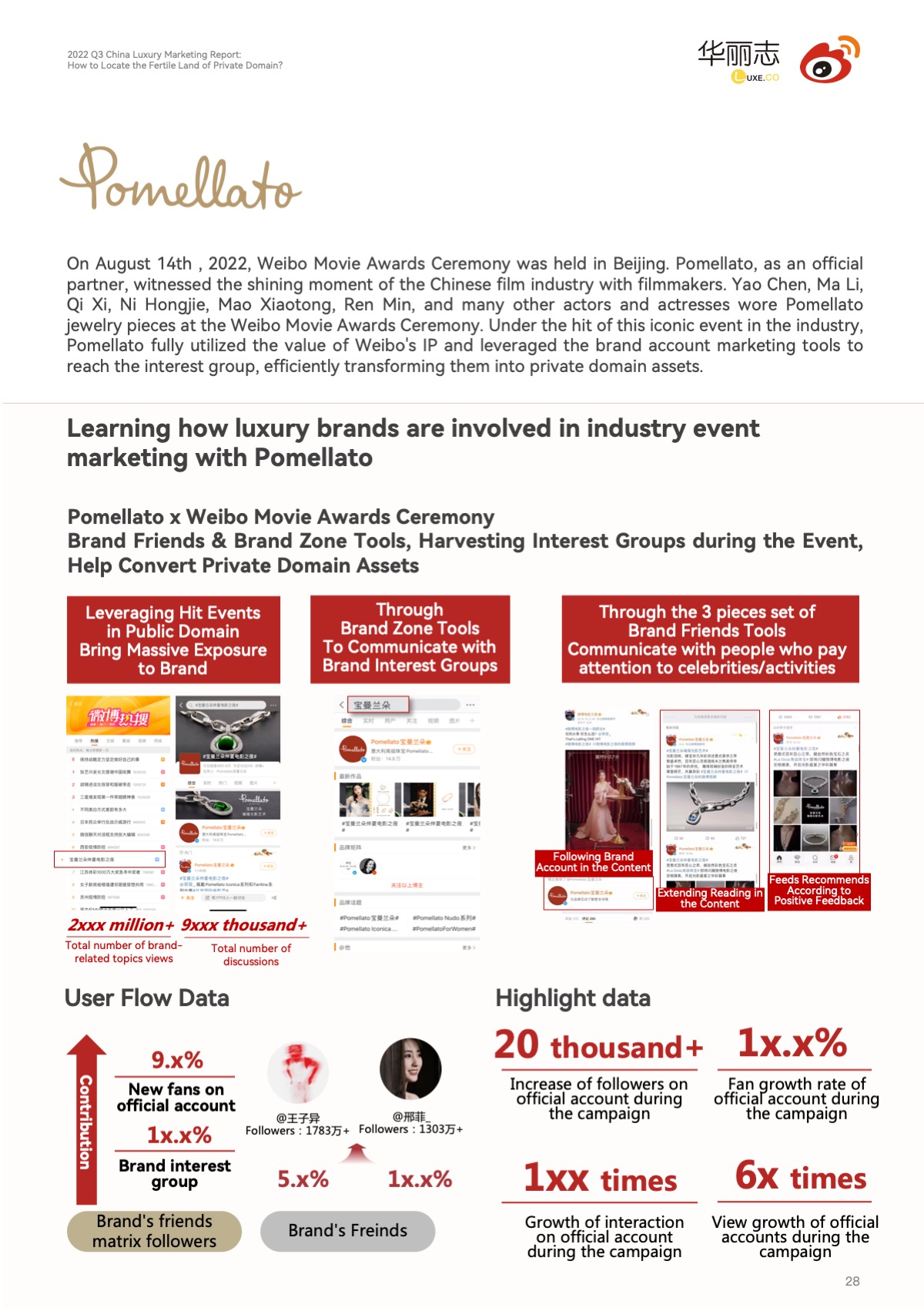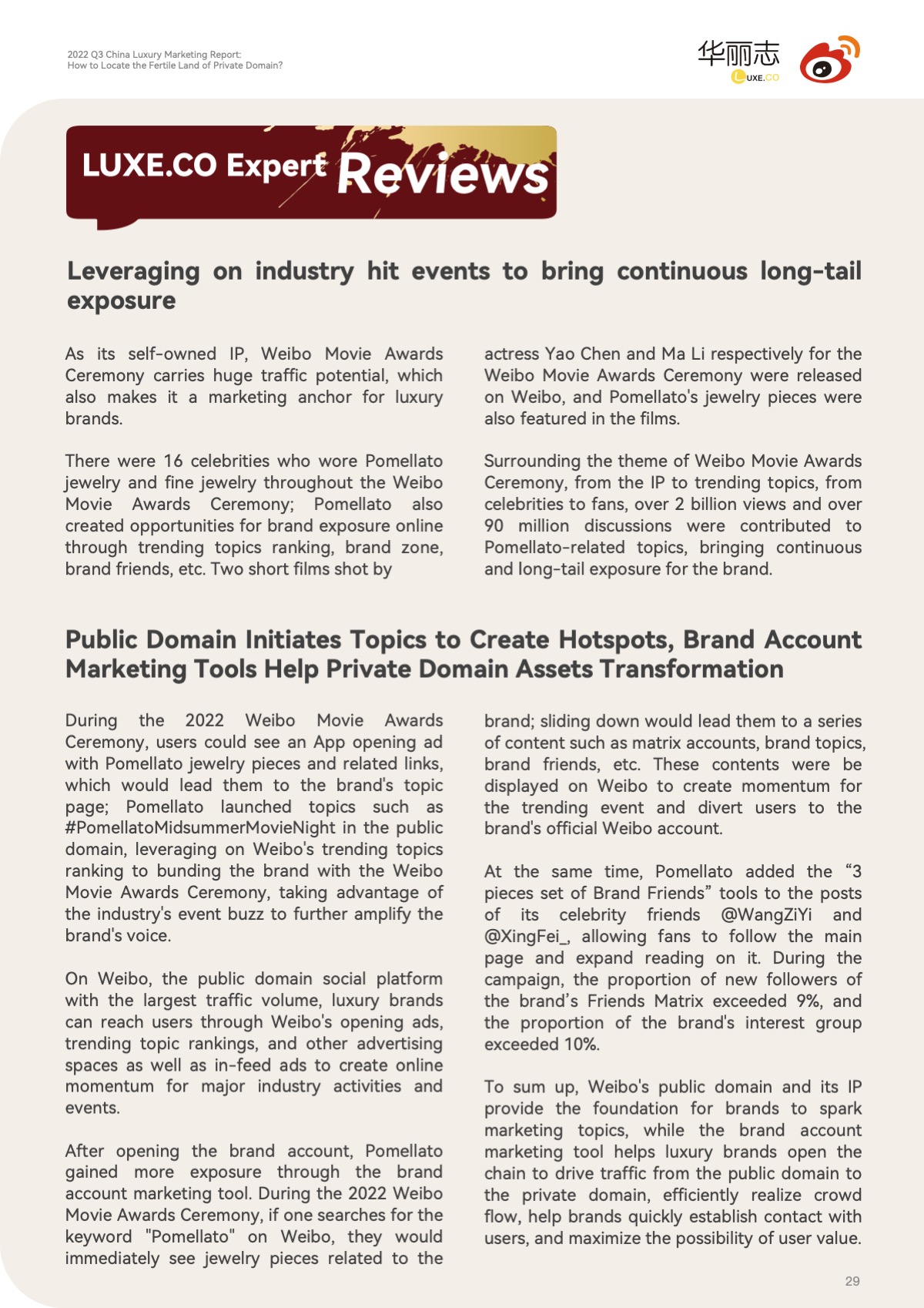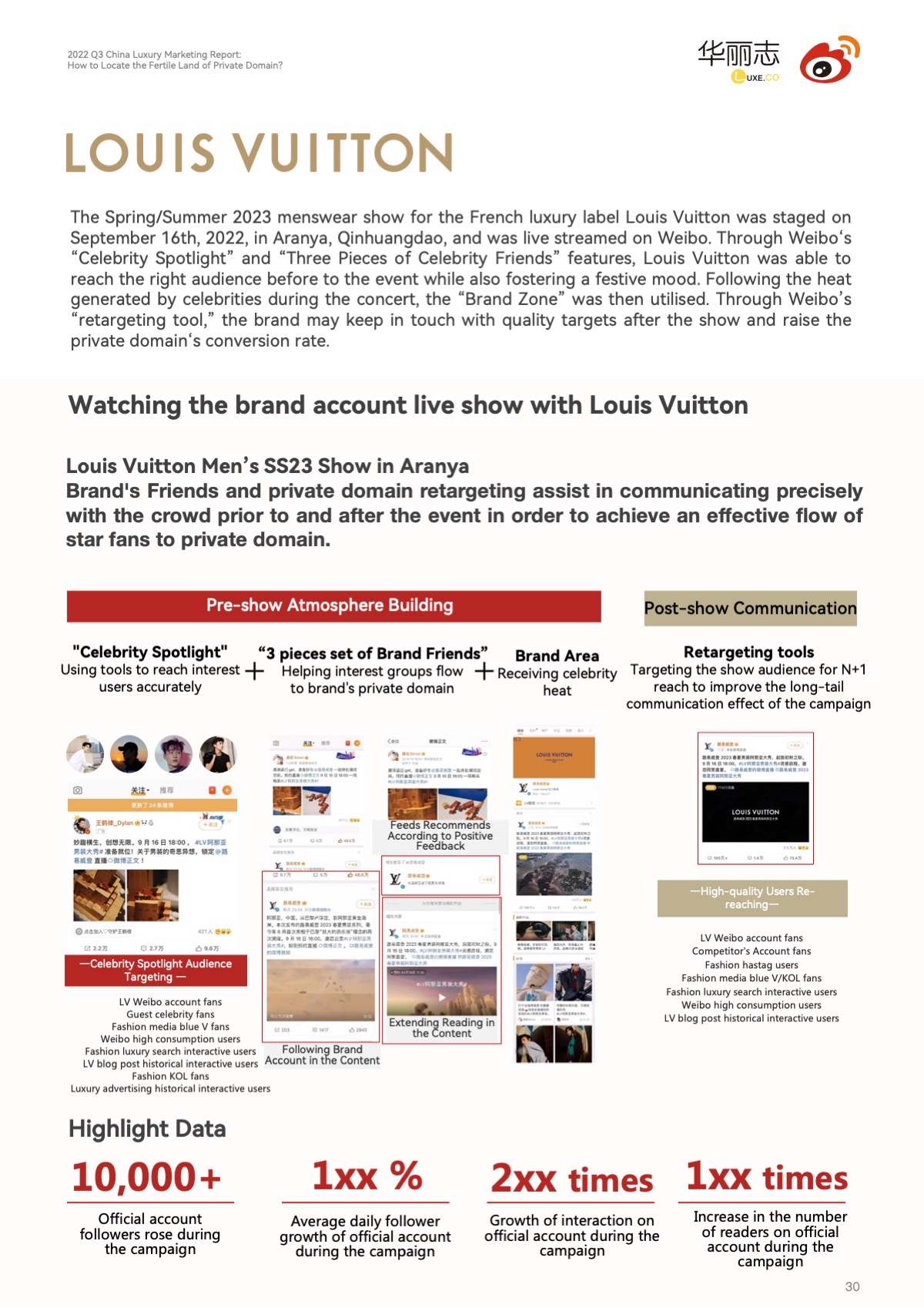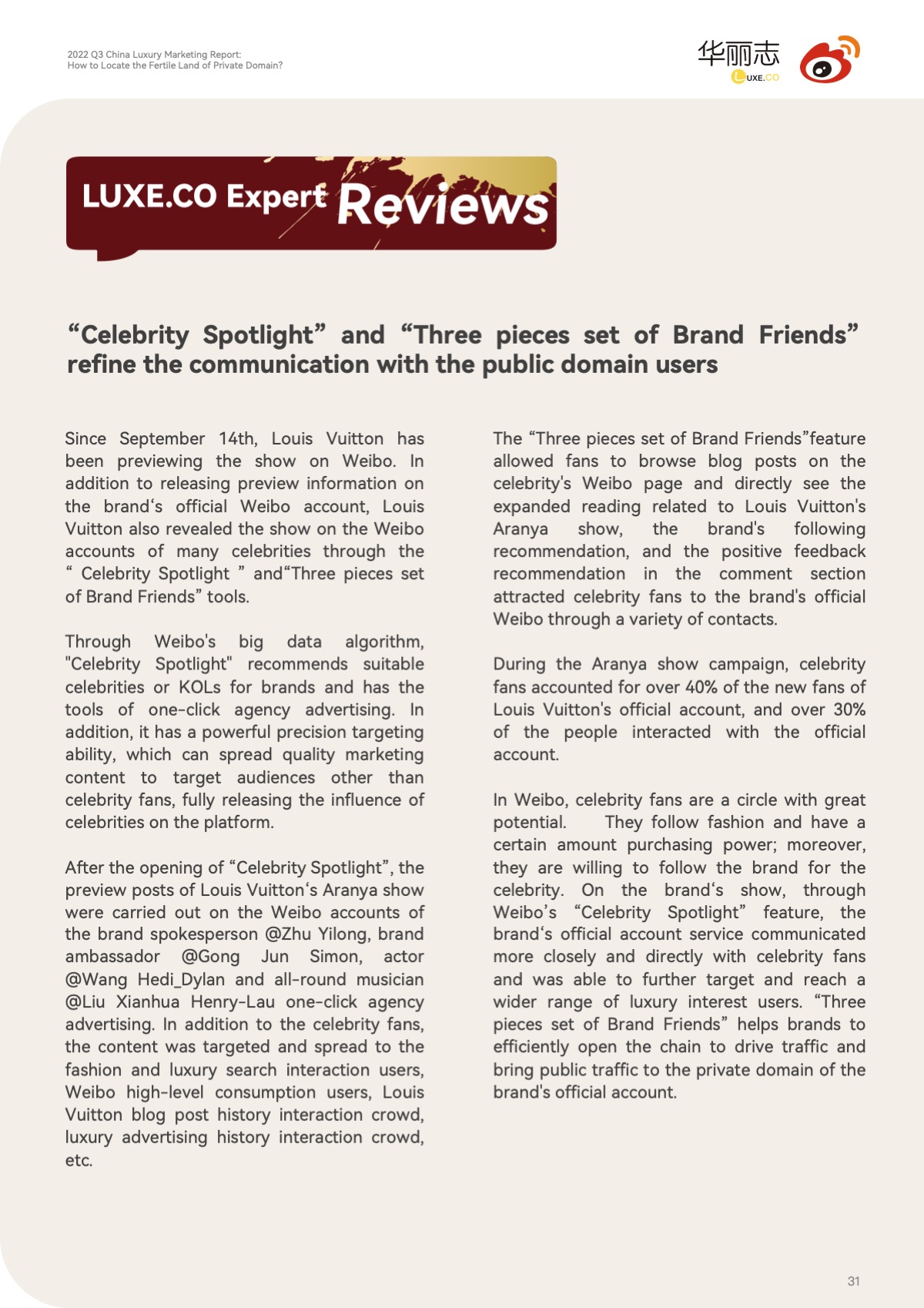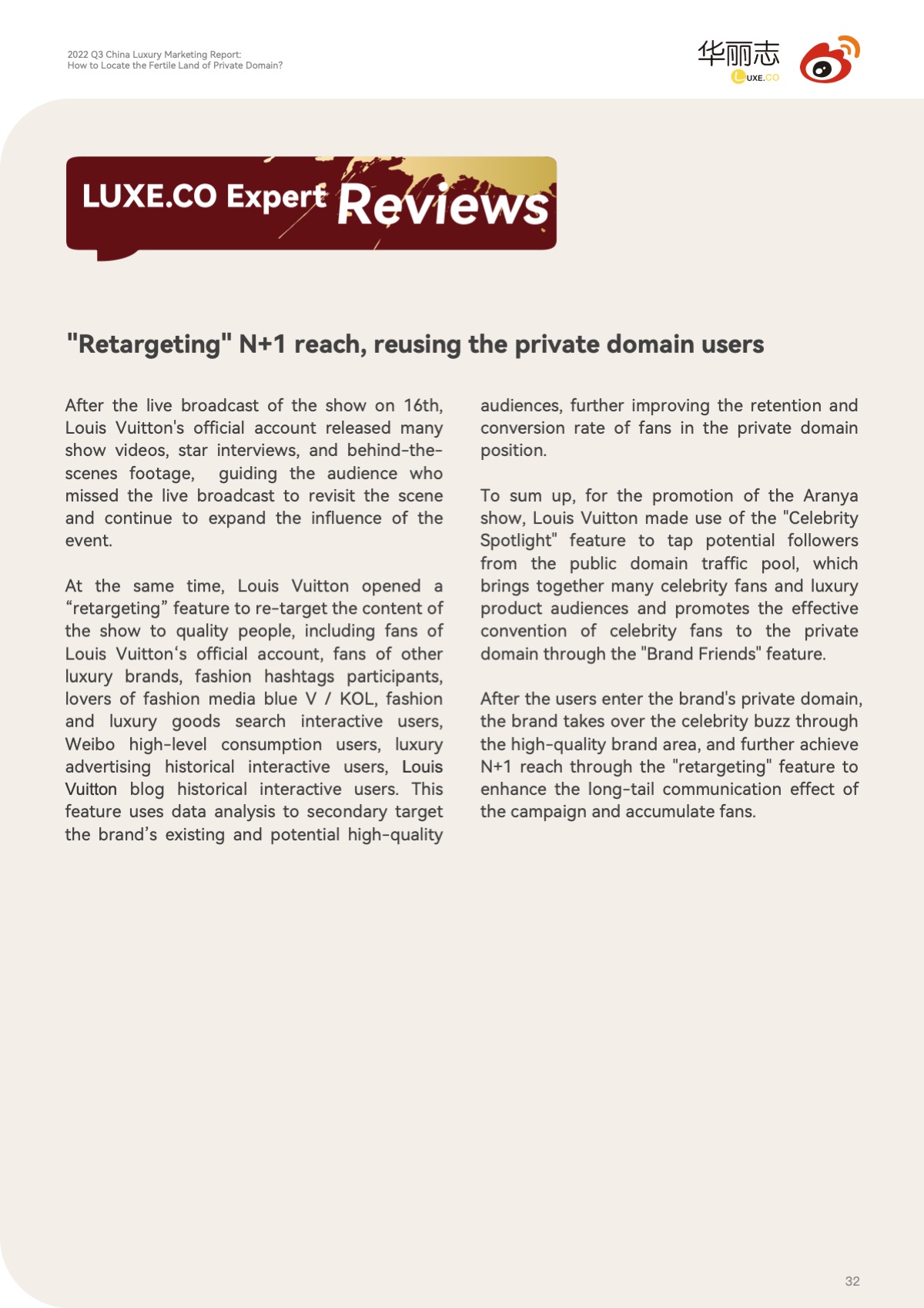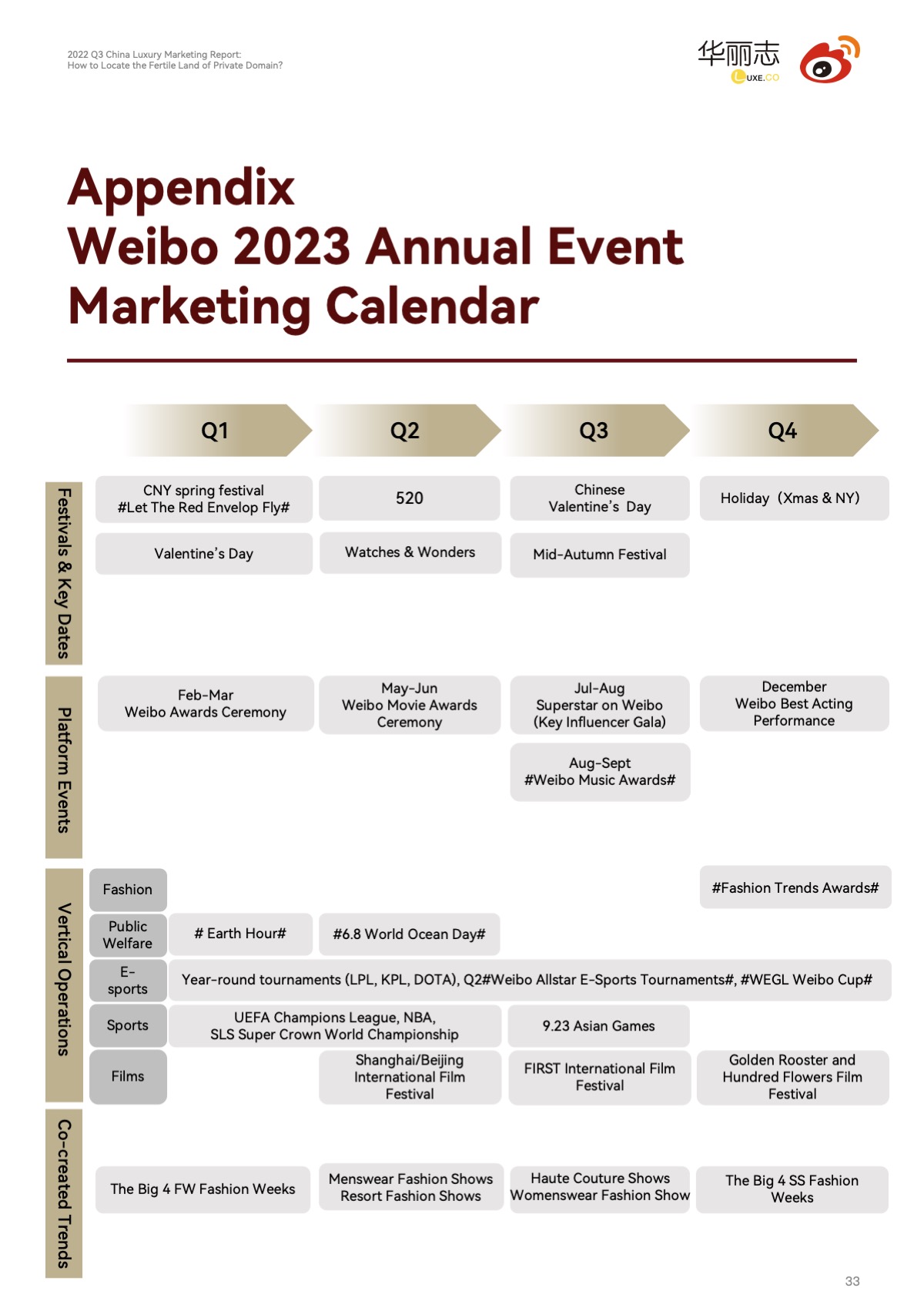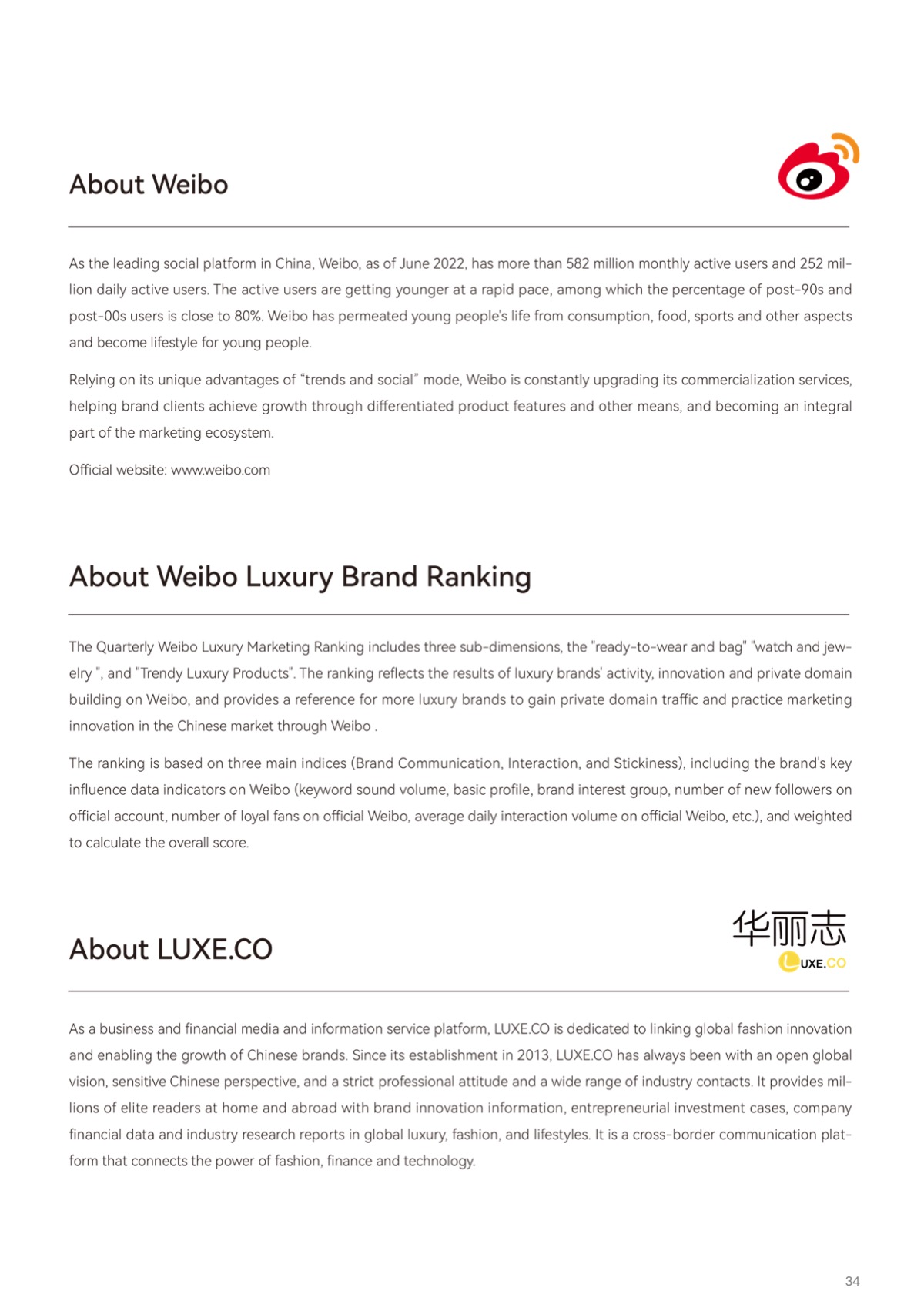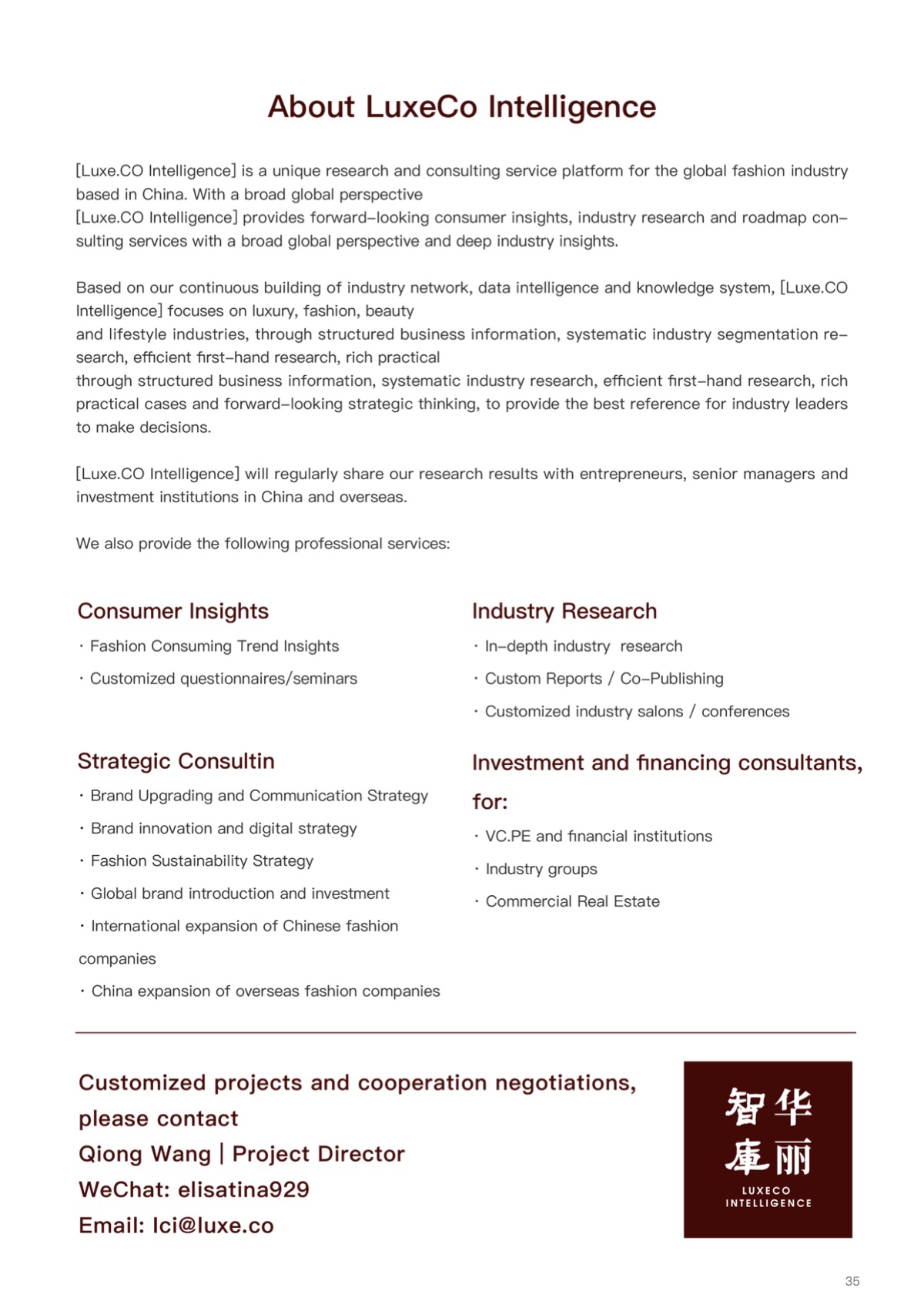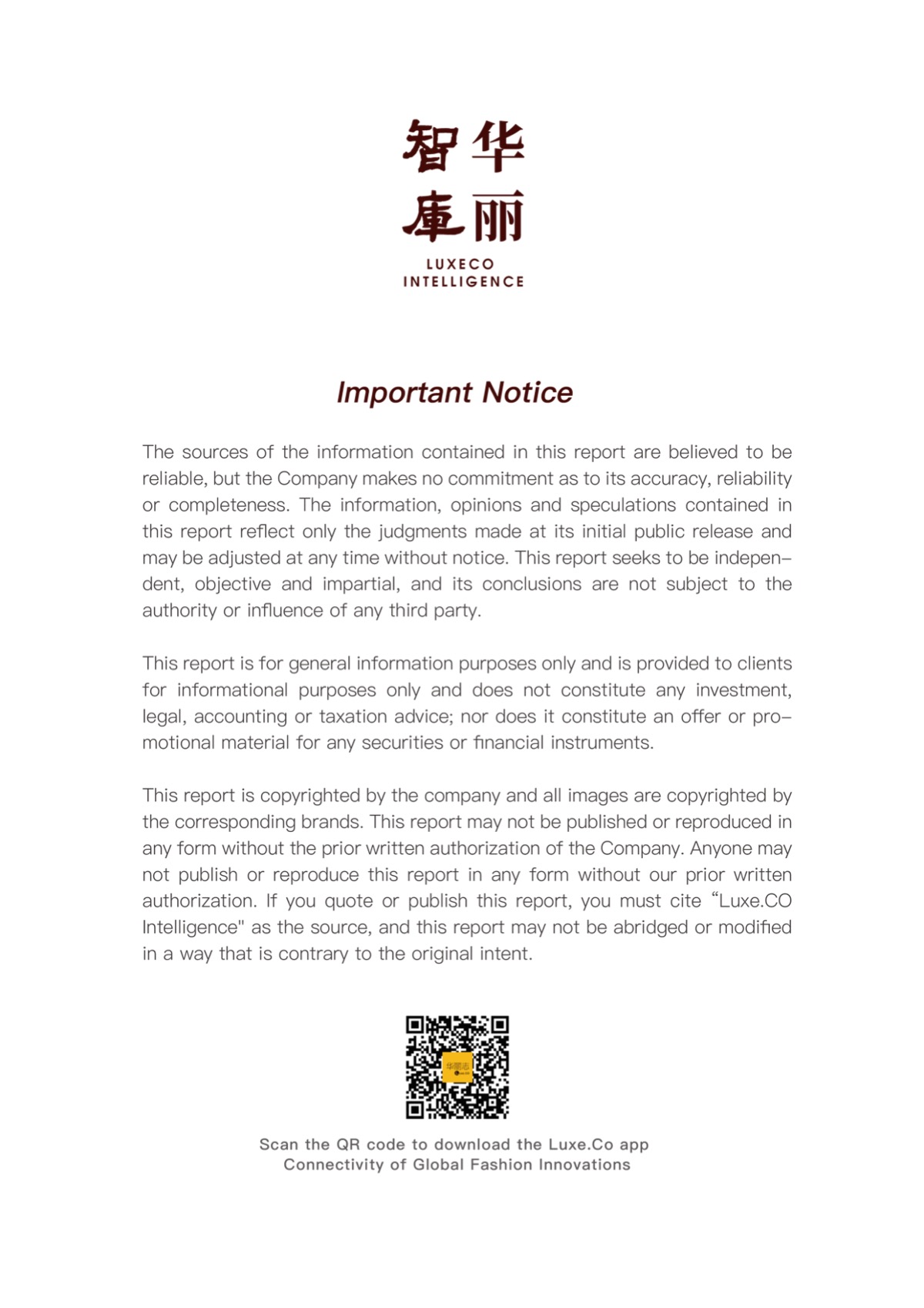 About Weibo
As the leading social platform in China, Weibo, as of June 2022, has more than 582 million monthly active users and 252 million daily active users. The active users are getting younger at a rapid pace, among which the percentage of post-90s and post-00s users is close to 80%. Weibo has permeated young people's life from consumption, food, sports and other aspects and become lifestyle for young people.
Relying on its unique advantages of "trends and social" mode, Weibo is constantly upgrading its commercialization services, helping brand clients achieve growth through differentiated product features and other means, and becoming an integral part of the marketing ecosystem.
Official website: www.weibo.com
About Weibo Luxury Brand Ranking
The Quarterly Weibo Luxury Marketing Ranking includes three sub-dimensions, the "ready-to-wear and bag" "watch and jewelry ", and "Trendy Luxury Products". The ranking reflects the results of luxury brands' activity, innovation and private domain building on Weibo, and provides a reference for more luxury brands to gain private domain traffic and practice marketing innovation in the Chinese market through Weibo .
The ranking is based on three main indices (Brand Communication, Interaction, and Stickiness), including the brand's key influence data indicators on Weibo (keyword sound volume, basic profile, brand interest group, number of new followers on official account, number of loyal fans on official Weibo, average daily interaction volume on official Weibo, etc.), and weighted to calculate the overall score.
About LUXE.CO
As a business and financial media and information service platform, LUXE.CO is dedicated to linking global fashion innovation and enabling the growth of Chinese brands. Since its establishment in 2013, LUXE.CO has always been with an open global vision, sensitive Chinese perspective, and a strict professional attitude and a wide range of industry contacts. It provides millions of elite readers at home and abroad with brand innovation information, entrepreneurial investment cases, company financial data and industry research reports in global luxury, fashion, and lifestyles. It is a cross-border communication platform that connects the power of fashion, finance and technology.