Despite the challenging path to recovery in Hong Kong, a series of recent movements show that the top luxury brands still value this strategic market. Next month, the French luxury brand Louis Vuitton will host its first-ever fashion show in Hong Kong, demonstrating their commitment to the region.
Louis Vuitton's connection with Hong Kong dates back to 1979 when they opened their first boutique in Tsim Sha Tsui East. Today, Canton Road in Tsim Sha Tsui remains the epicenter of luxury shopping in Hong Kong. Even after the recent "Golden Week" holiday, the streets are still teeming with tourists. As night falls, the prominent advertisements and storefronts of luxury brands along the streets become even more eye-catching.
According to data compiled by tong.luxe.co, from January 2022 to September 2023, a total of 23 luxury brands have opened 26 stores in Hong Kong.
The question remains: Can Hong Kong still be a haven for luxury shopping? The Luxeplace.com team delves into the streets and alleys of Hong Kong to provide you with firsthand observations.

Challenges and Advantages
Since the comprehensive border reopening between Hong Kong and mainland China in February of this year, more than six months have passed, and the flow of travelers and trade between the two regions has gradually increased. During the "Golden Week" holiday, there were approximately 1.1 million mainland Chinese visitors to Hong Kong, with an average of 140,000 arrivals per day. This level of recovery reached 85% of the average for the same period between 2017 and 2019.
However, the recovery process of the luxury goods market in Hong Kong remains uncertain, with multiple obstacles in its path.
Over the past few years, the luxury retail industry in Hong Kong has faced pressure due to the absence of mainland Chinese tourists, while luxury brands have been expanding aggressively in mainland China, opening more and larger stores.
Now, the Hong Kong luxury goods market faces an additional unfavorable factor: narrowing price differences due to exchange rate fluctuations. In the past, many mainland Chinese consumers preferred to buy hard luxury products such as watches and jewelry in Hong Kong, primarily due to the pricing advantage.
A manager of a luxury brand store told us that they are facing sales pressure in Hong Kong. Although there has been a return of mainland Chinese tourists, most of them come from cities near Hong Kong, such as Guangdong and Shenzhen, while customers from Beijing and Shanghai have noticeably decreased.
High rents in Hong Kong's core shopping districts have also discouraged many luxury brands. Since 2020, brands like Prada and Burberry have closed their flagship stores on Russell Street in Causeway Bay due to rental pressures, and Louis Vuitton also closed its store in Times Square.
Meanwhile, with the development of Hainan's duty-free business in the past two years, more convenient transportation, competitive prices, and the growth of online duty-free businesses have further diverted the original mainland Chinese customer base in Hong Kong.
Amidst these challenges, having a diverse product selection and offering unique brand services and experiences have become increasingly important. Perhaps, this is the long-term driving force behind business growth.
Our immediate impression during visit to several brand stores in Hong Kong was that they now feature a more comprehensive product range. Clothing, bags, shoes, jewelry, and more were available in various styles. Home goods and fragrances were also popular categories within the stores. Home fragrances at the LOEWE CASA LOEWE flagship store in Harbour City and home items at the Dior flagship store, including tableware and decorative pieces, created exclusive and personalized shopping experiences for customers.
Besides that, top-notch service has always been a hallmark of luxury stores in Hong Kong. Stores like Louis Vuitton, Chanel, and Dior often see long lines forming outside. This is partly due to their strong brand presence, but it's also because they implement a strict one-on-one service model within the stores, providing each customer with an ultimate sense of experience and ceremony.
According to a staff member at the Dior store, they have VIP areas in both the men's and women's sections of the flagship store that function as custom rooms. Even though they primarily sell ready-to-wear clothing, they can offer "semi-custom" options such as embroidery based on the customer's personalized requirements, and the products will be sent to Paris for production.
In conversations between Luxeplace.com and some sales personnel in luxury brand stores, it's evident that they pay close attention to mainland Chinese consumers. They frequently ask questions such as "What are the current wristwatch consumption trends in mainland China?" "What products are mainland consumers interested in?" and "What are the tourism purposes and changes of mainland tourists visiting Hong Kong?" These questions reflect their desire to gain insights and provide more targeted customer service. This indirectly underscores the influence of mainland Chinese tourists on the luxury goods market in Hong Kong.
Luxury Store Movements Within the Golden Shopping Circle
Since 2022, more and more luxury brands have returned with a fresh outlook. Louis Vuitton will hold its first-ever show in Hong Kong, presenting the 2024 Early Autumn Men's Collection on November 30th. De Beers, Loewe, Dior, BVLGARI, and many other luxury brands have also opened high-profile flagship stores, characterized by larger stores and a more extensive range of products.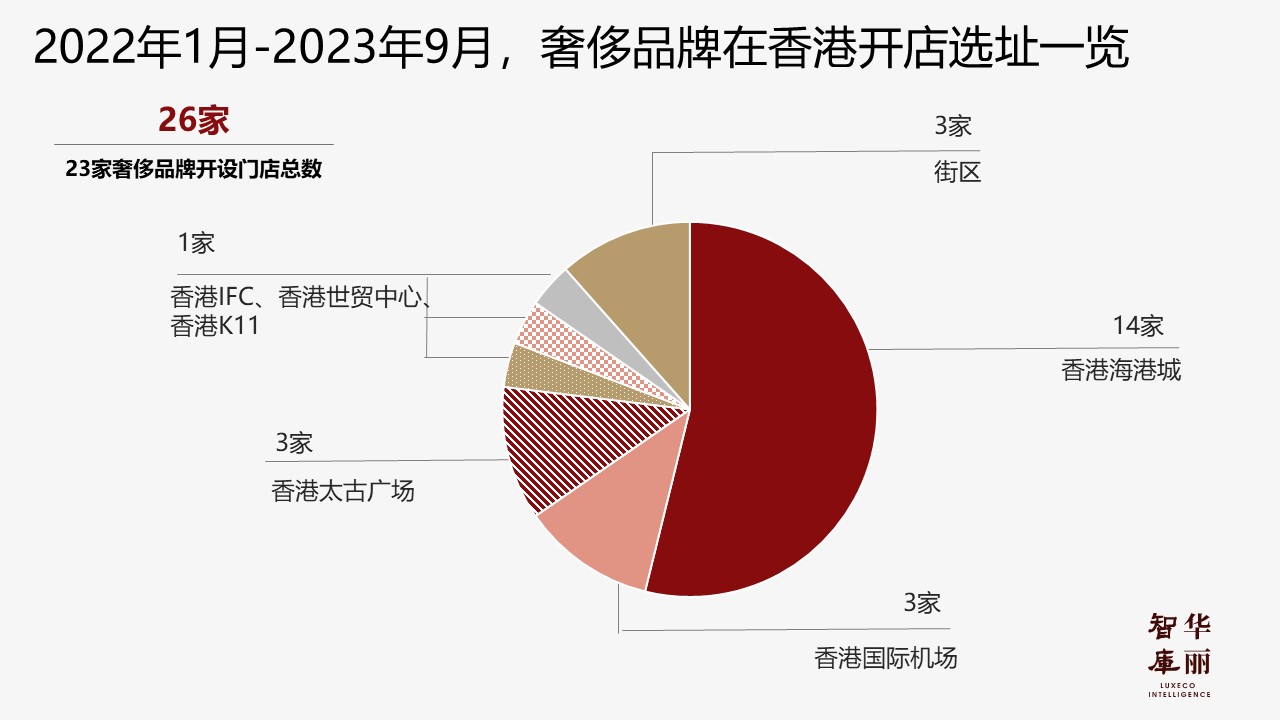 Harbour City has seen the most new luxury store openings in Hong Kong since 2022 (data source: tong.luxe.co, as shown above). De Beers' High Jewelry Salon Boutique, Loewe CASA LOEWE flagship store, and Dior flagship store are all located here.
The De Beers boutique, which opened in May this year, is the brand's third global and second Asian High Jewelry Salon Boutique (the first in Asia is in Shanghai's Times Square). This street-level two-story boutique covers approximately 170 square meters and features a brand-new exterior design concept that creates the effect of millions of diamonds set in metal textures.
Similarly located in Harbour City, the Loewe CASA LOEWE flagship store, which opened in May 2022, is the only CASA LOEWE flagship store in Hong Kong and spans 395 square meters.
In August 2022, Dior relocated from Beijing Road to Harbour City, opening the largest double-story flagship store in Hong Kong, covering 885 square meters. The exterior features the iconic cannage rattan pattern, and the interior includes a spiral staircase and a pink and white color palette, all reminiscent of the aesthetics of the Montaigne Avenue flagship store.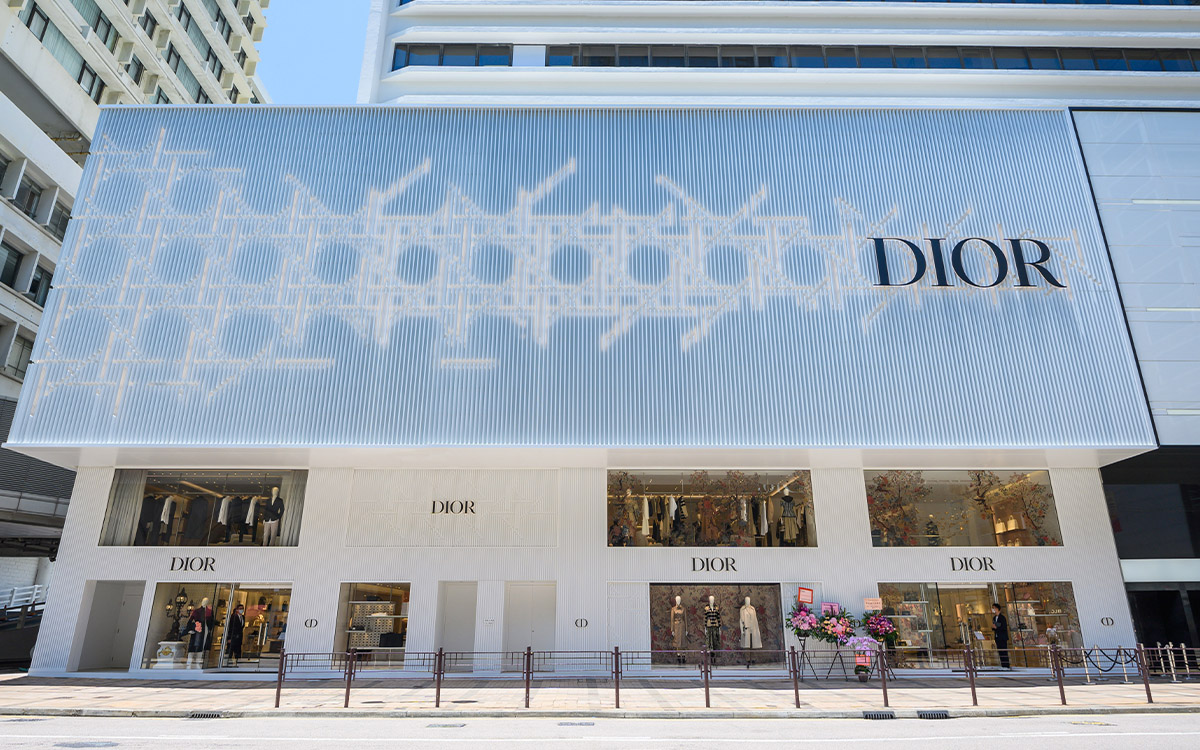 In the previous location of Dior, BVLGARI opened its first newly designed boutique globally. This standalone store spans three floors and draws inspiration from the historic Via dei Condotti flagship store, featuring the iconic Tubogas craftsmanship.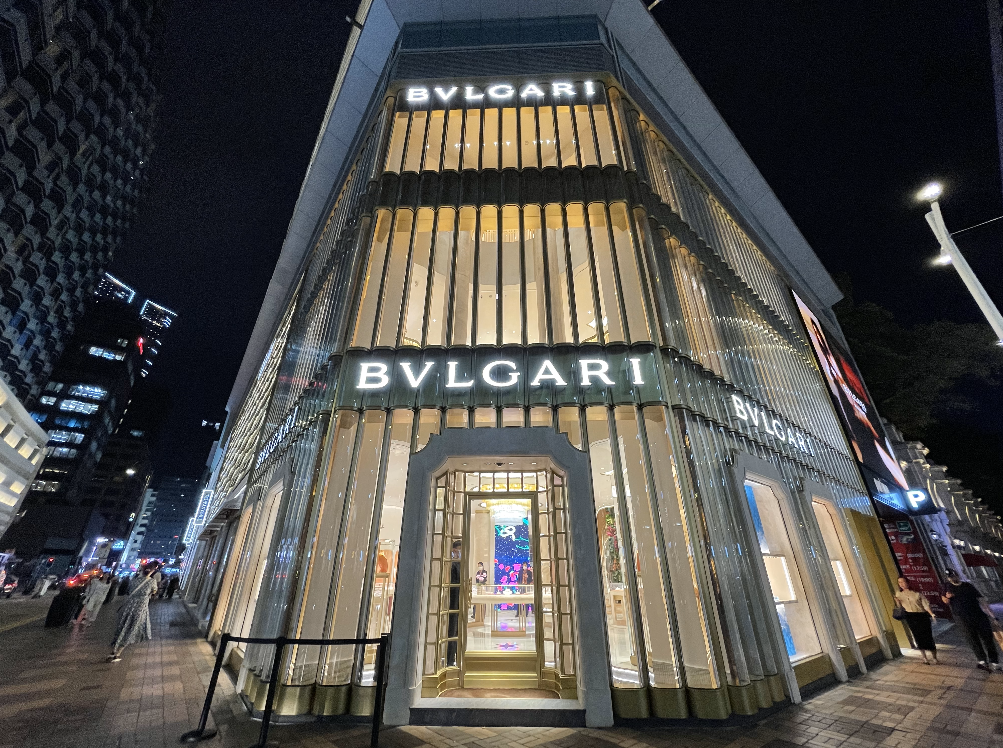 Luxury brands have strategically concentrated their presence in Hong Kong's prime shopping areas to enhance brand image and capture tourists' attention. Additionally, many luxury brands are exploring local culture to elevate the emotional value of their stores.
The Piaget flagship store, which opened in November 2022 at Harbour City, draws inspiration from the unique "bamboo scaffolding" architecture in Hong Kong's Kowloon district. The blue enamel tiles on the façade intersect with copper metal frames, and the metalwork reflects the brand's shared philosophy with Chinese traditional culture: craftsmanship and heritage.
The BVLGARI flagship store on Beijing Road also uses "bamboo" as a focal point, decorating the lobby with curved bamboo walls and bamboo flooring, harmonizing Western-style furnishings with local architectural culture.
Loewe has incorporated art by local Hong Kong artist Angus Ting, using bamboo and rattan to create the vase "SUN," which adds an artistic and natural touch to the store.
Artworks not only extend the brand's style but also open new avenues for communication between brands and consumers. The manager of the CASA LOEWE flagship store told us that these artworks often attract enthusiasts who engage passionately with store staff about a particular piece or an artist's style and features.
In Hong Kong International Airport, away from the city center, Louis Vuitton and Chanel have opened new boutiques, while Hermès has reopened its flagship store after renovation and expansion.
| Image Credit: Luxe.CO on-site photography, Harbour City official website
| Editor: Zhu Ruoyu