In 2023, Luxe.CO's China Luxury Brands Power Ranking enters its third year of selection. In order to more promptly reflect the ever-changing trends in China's luxury goods industry, we have created the mid-year list for the first time and released the 2023 H1 China Luxury Brands Power Ranking Top 10 brands two weeks ago. (See link)
Today, we are officially releasing the full text of the 2023 H1 China Luxury Brands Vitality Rankings White Paper, revealing the TOP 20 luxury brands selected for this edition of the ranking.
Luxe.CO 2023 H1 Luxury Brands China Power Ranking White Paper
Download for free here.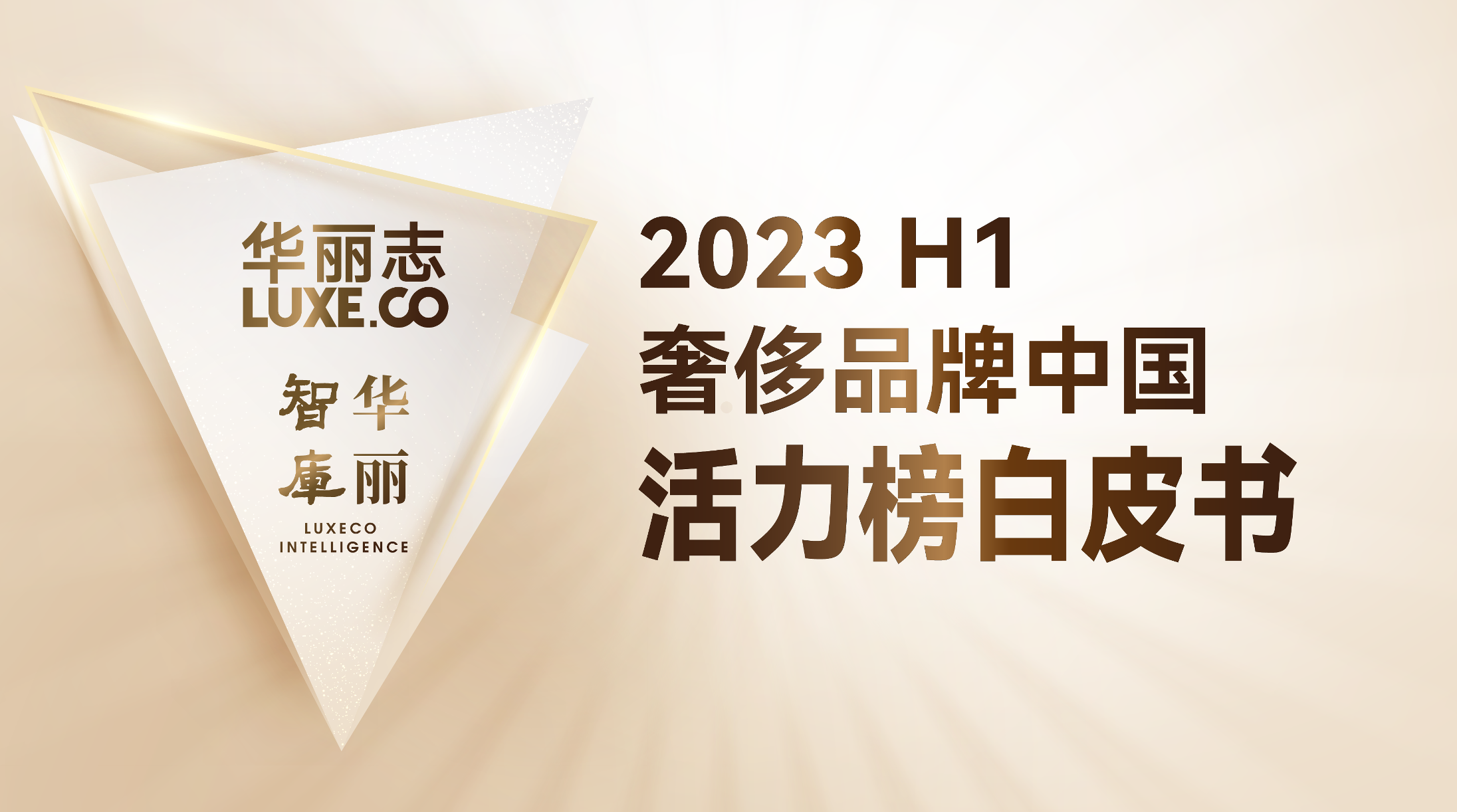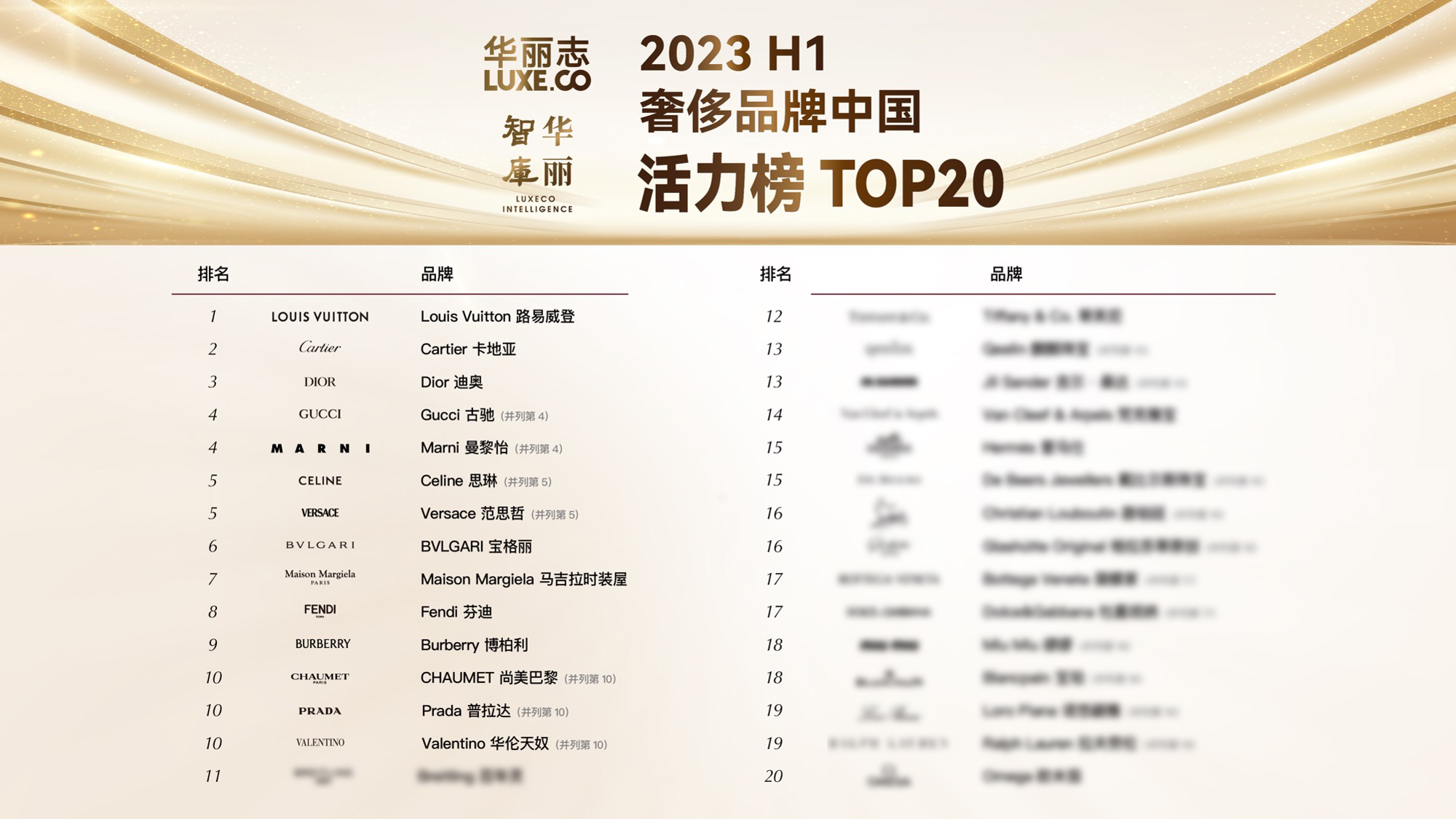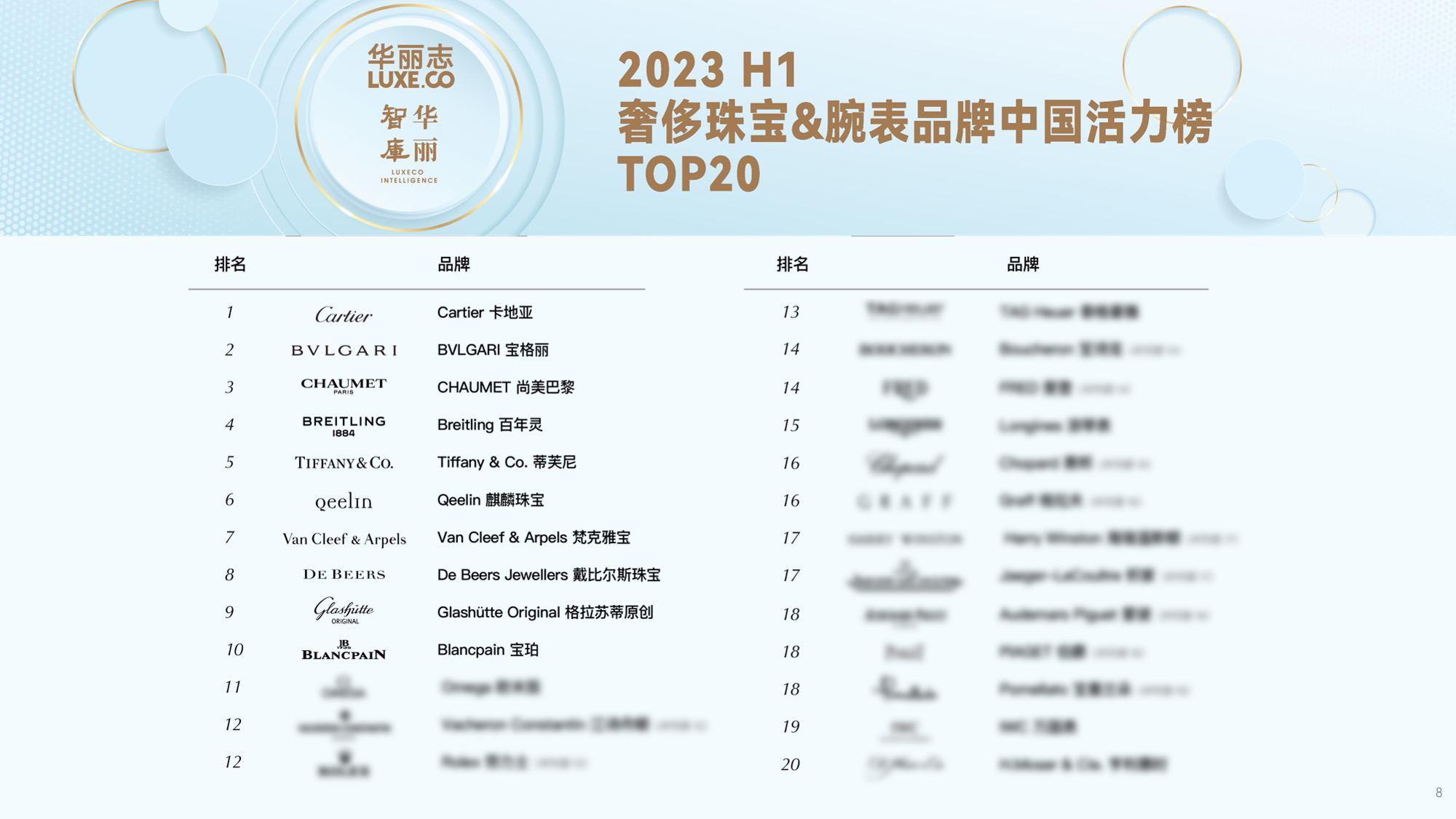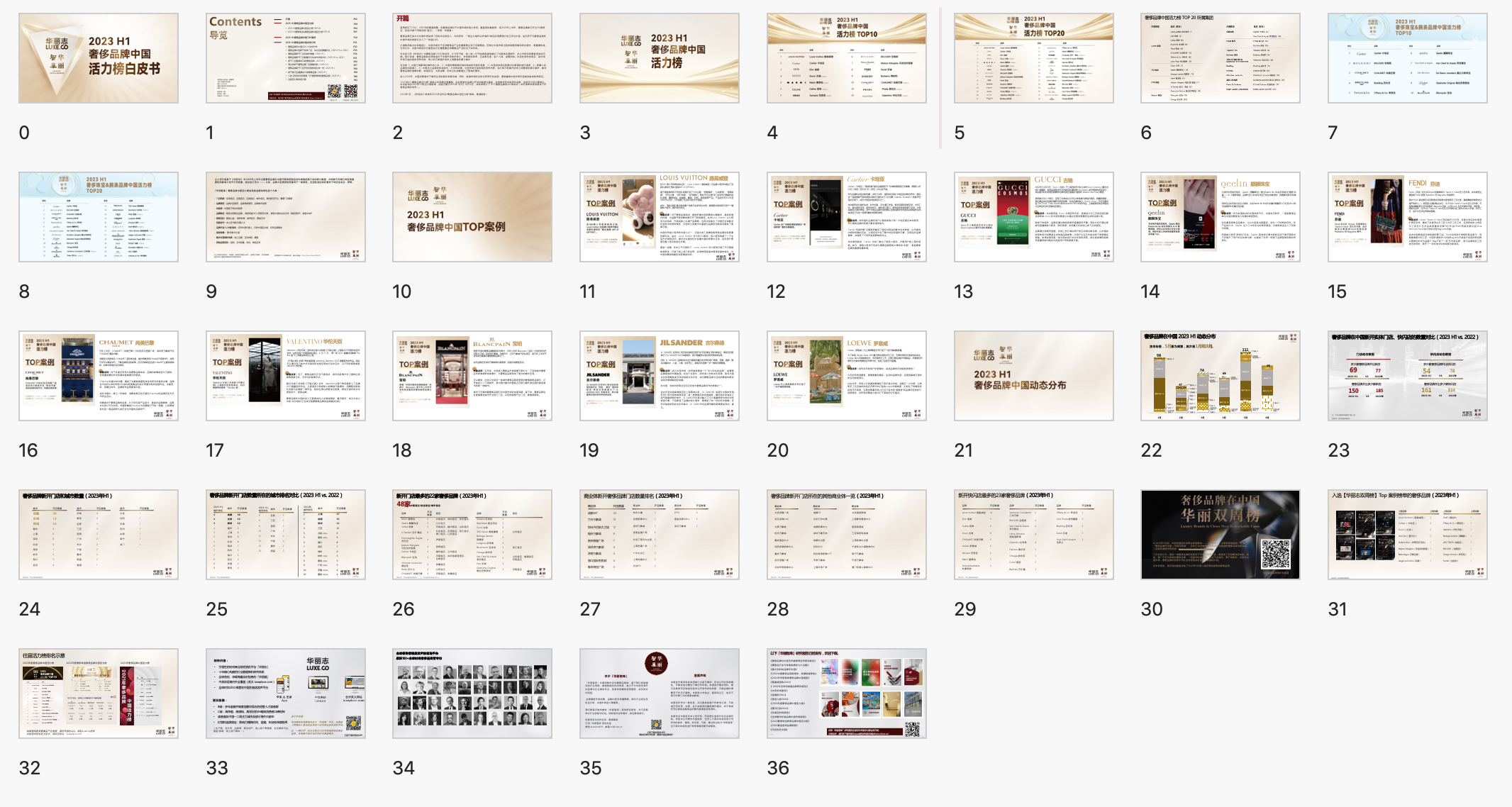 At the same time, this report also summarizes and takes stock of more exciting content, such as:
– Analysis and comments on the top 10 cases among luxury brands in China.
We have specially selected ten major cases worth industry reference from the 462 brand dynamics that occurred in the first half of the year. These cases reflect the strategic focus, execution power, and activity of luxury brands in the Chinese market. Among them, two key keywords stand out: digitization and localization.
Among the many initiatives in digitization, we can see a clear trend of more luxury brands increasing their links with private domains, such as launching specialized exhibition mini programs to achieve diverse online and offline interaction paths.
In terms of localization, we see luxury brands increasing their investment in the Chinese market, striving to make flagship stores cultural landmarks in people's hearts.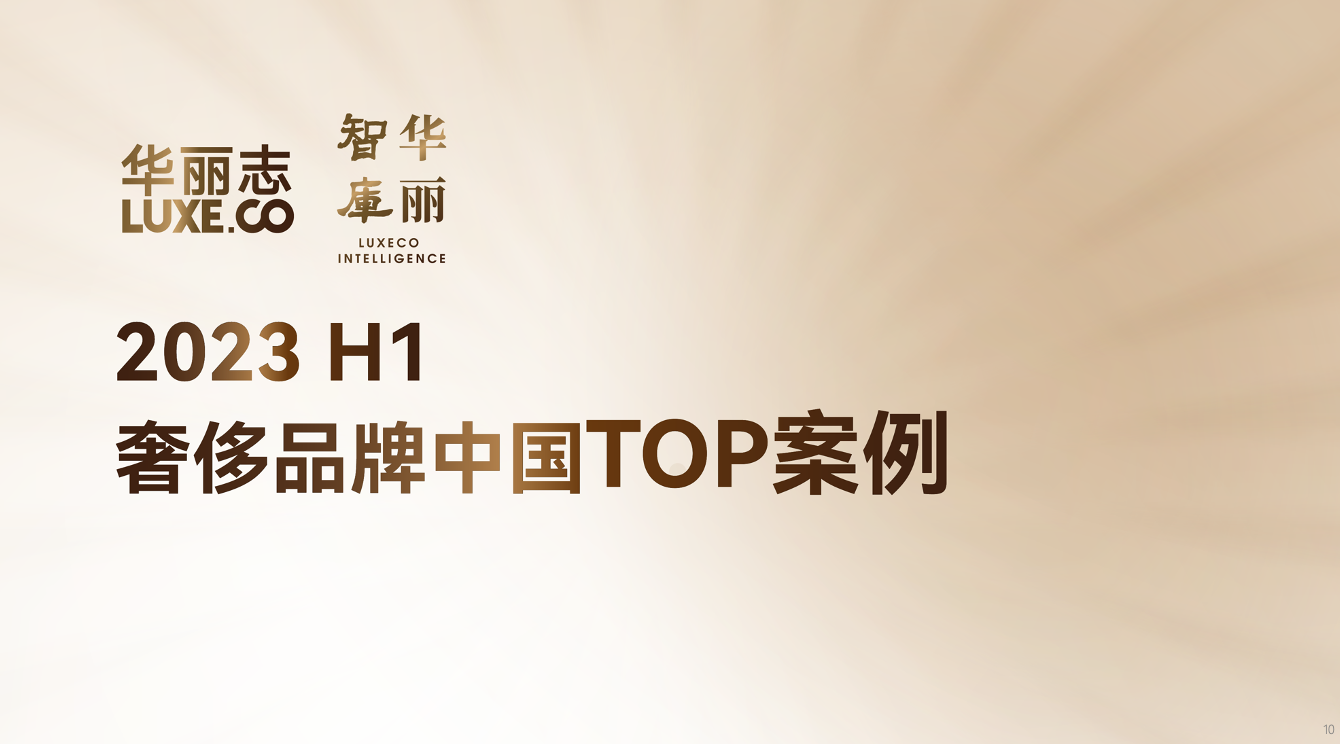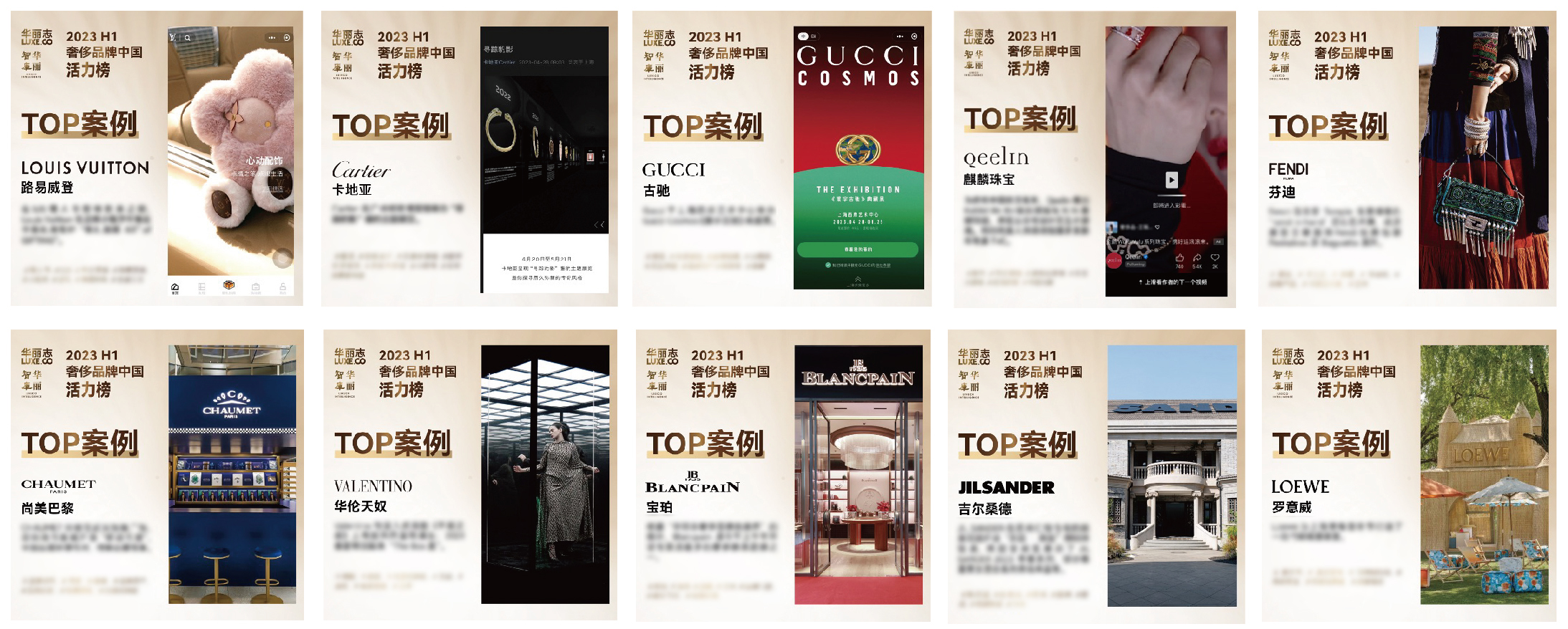 – How did luxury brands expand their offline channels in the first half of the year?
In the report, you will be able to see:
Which luxury brands opened the most new stores? Which luxury brands had the most new pop-up stores? In which commercial complexes did more luxury brand stores open? Through these data, it can be seen that:
Luxury brands are further increasing their store-opening efforts: In the first half of 2023 alone, 69 luxury brands have opened 150 stores, approaching the total number of store openings for the entire year in 2022.
Luxury brands have significantly upgraded their stores: In the first half of this year, a total of 25 luxury brands upgraded 30 stores in Beijing and Shanghai.
Luxury brands are expanding their geographic coverage and focusing on non-first-tier cities: Among the 150 new stores, there are 48 "first stores" at different levels, from regions and provinces to cities. Chengdu, Lanzhou, and Zhengzhou are the cities with the most new luxury brand stores. Compared to 2022, competition in non-first-tier cities is noticeably more intense.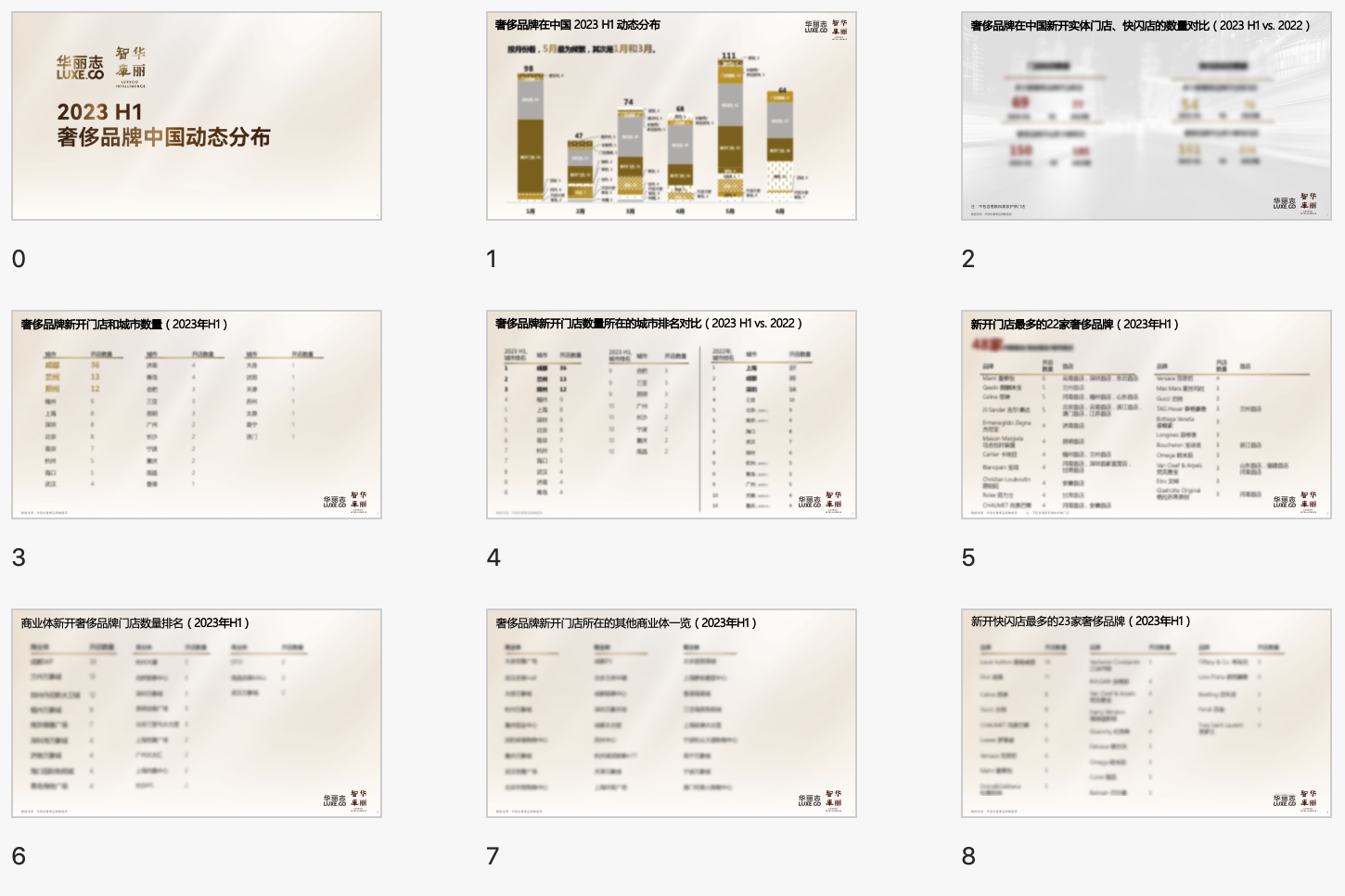 As we enter the second half of 2023, we continue to witness the confidence and investment of luxury brands in the Chinese market. Luxeplace.com will continue to closely monitor industry trends and engage in direct dialogue and communication with the management teams of major brands/groups:
– In September, we will delve into the Watches and Wonders Shanghai Luxury Watch Exhibition in 2023, capturing the latest trends in watch brands.
– In November, we will assemble the strongest reporting team in history to once again visit the China International Import Expo in Shanghai for on-site visits and exchanges.
Stay tuned as Luxeplace.com continues to deliver exclusive CEO interviews in the coming months. More international luxury brand executives will be visiting the Chinese market, and many of them will be featured in the CEO interview column of Luxeplace.com.
---
About the China Luxury Brands China Power Ranking
The China Luxury Brands Power Ranking White Paper objectively reflects the strategic focus, execution power, and activity of major luxury brands in the Chinese market in the form of data statistics, helping industry professionals understand how luxury brands communicate more deeply with Chinese consumers in a localized environment.
The 2023 H1 China Luxury Brands Power Ranking White Paper is based on the brand's public dynamic data with comprehensive coverage and real-time updates provided by Luxe.CO Tong. It is calculated based on weighted scores according to Luxe.CO's research results.
This edition of the 2023 H1 China Luxury Brands Power Ranking White Paper covers the period from January 1, 2023, to June 30, 2023, and includes statistics on 462 dynamics from 93 luxury brands (excluding dynamics in the beauty and personal care fragrance category).
The list covers ten major categories of brand activities: store expansion, Chinese fashion shows, brand exhibitions, visual communication, brand collaborations, cross-border activities, creative partnerships, brand spokespersons/ambassadors/brand friends, digital marketing and e-commerce, and other brand activities.
Top 10 most active luxury brands in the Chinese market in the first half of 2023: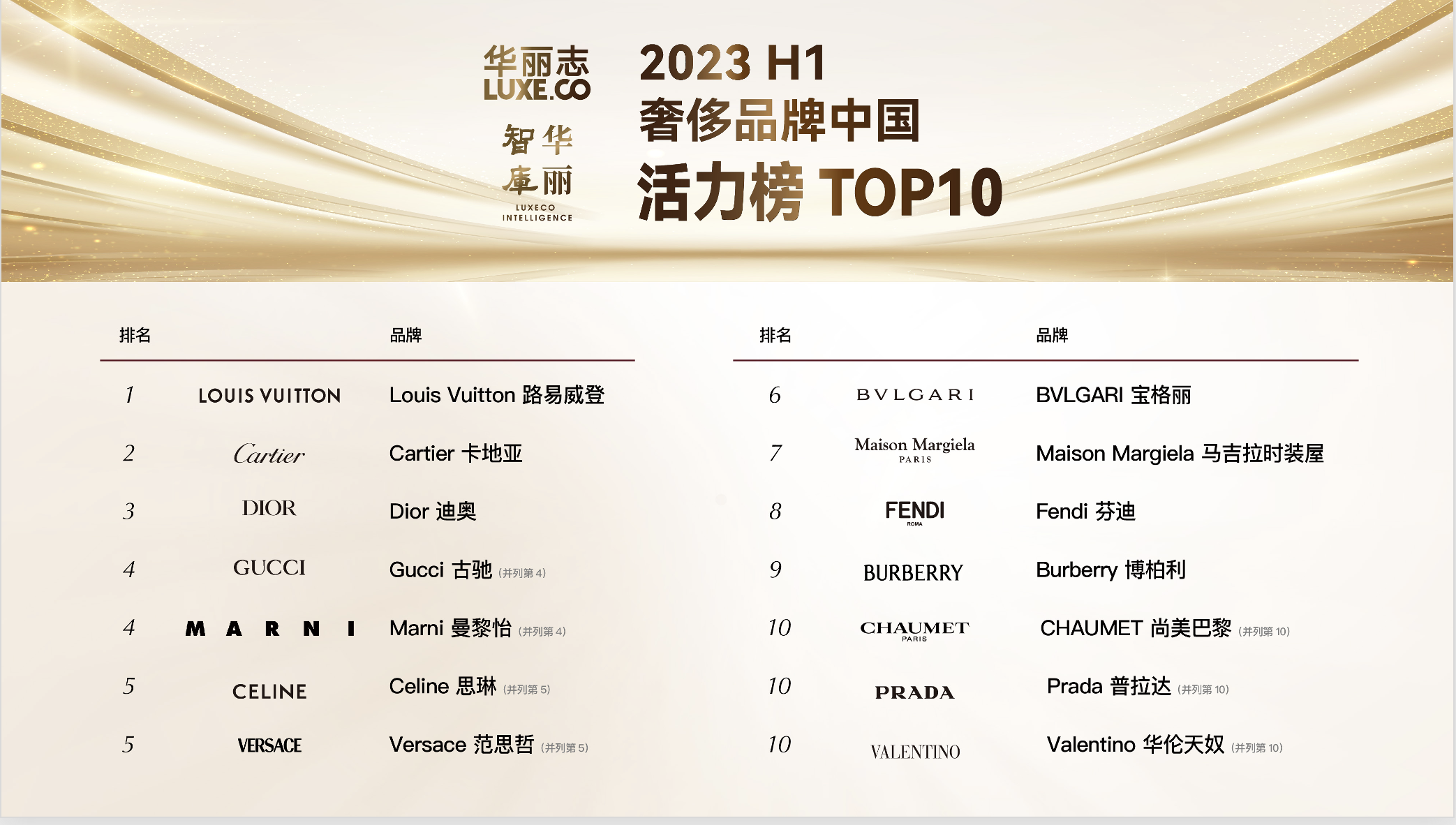 Top 10 luxury jewelry and watch brands with the most power in the Chinese market in the first half of 2023: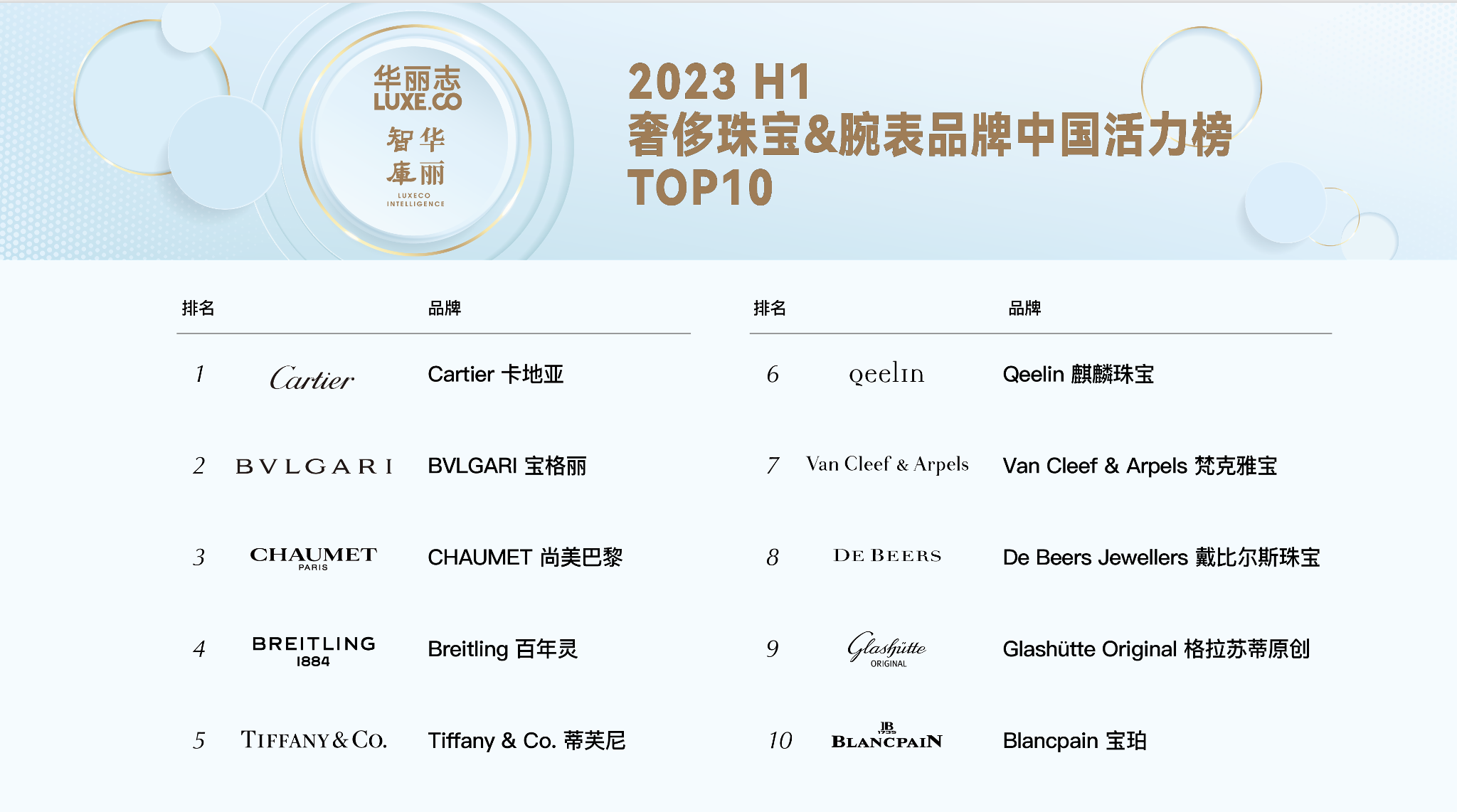 ---
About Luxe.CO Intelligence
Luxe.CO Intelligence is a unique research and consulting service platform in the global fashion industry. Based in China, with a broad global perspective and an in-depth industry perspective, Luxe.CO Intelligence continuously provides forward-looking consumer insights, industry research, and strategic consulting services.
Based on our continuously constructed industry network, data intelligence, and knowledge system, Luxe.CO Intelligence focuses on the luxury, fashion, beauty, and lifestyle industries. Through structured business information, systematic industry research, efficient primary research, rich practical cases, and forward-thinking strategic thinking, we provide industry leaders with the best decision-making reference.
Cooperation contact: lci@luxe.co
---
About Luxe.CO Tong
Luxe.CO Tong is a groundbreaking data service product officially launched by Luxe.CO in the early summer of 2022. As the world's first real-time dynamic platform for fashion business, Luxe.CO Tong has three major attributes: wide coverage, multi-angle, and data driven. It now covers more than a thousand brands and companies in six major sub-categories (fashion, beauty, technology, commercial complexes, internet platforms, and industry chains) at home and abroad. With its unique Brand Library and Keyword Cloud, it provides convenient information filtering functions, creating a comprehensive, real-time, and well-organized fashion business information platform for industry professionals.
Luxe.CO Tong averages more than a hundred daily graphic and textual fashion business news releases, covering multiple dimensions such as products, stores, marketing and promotion, community activities, as well as personnel, finances, strategies, and fashion industry trends.