The full text of the "Luxury Brand China Power Ranking 2023H1" has been released. This time, we are specifically focusing on the sub-category power ranking of "Jewelry and Watches" for industry reference:
The "Luxury Jewelry and Watch Brands China Power Ranking 2023H1" covers a total of 36 luxury jewelry and watch brands and 159 dynamics in China, outlining a clear silhouette of the marketing investment and business development of luxury jewelry and watch brands in the Chinese market.
The ranking involves ten major dimensions of vitality, including store expansion, brand exhibitions, visual communication, collaboration, cross-border activities, brand spokespersons/ambassadors/friends, digital marketing, and e-commerce.
In the report, you will find:
Which luxury jewelry and watch brands have opened the newest stores? Which brands have the newest pop-up stores? In which commercial areas have more new stores opened? Through this data, we can observe:
Luxury jewelry and watch brands are further increasing their efforts to open new stores. In just the first half of 2023, these brands have opened a total of 69 stores, almost matching the total of 70 stores opened throughout the entire year of 2022. Brands such as Qeelin, Cartier, Rolex, Blancpain, CHAUMET, Glashütte Original, and TAG Heuer have been particularly proactive in opening new stores.
Luxury jewelry brands are expanding their geographic coverage and focusing on non-first-tier cities. Among the 69 new stores, 62 have been opened in non-first-tier cities. Chengdu, Lanzhou, and Zhengzhou, among non-first-tier cities, have seen the highest number of new luxury jewelry and watch brand store openings.
For luxury jewelry and watch brands, the potential and strategic significance of the Chinese market are unquestionable. At the same time, the competition in the domestic market is intensifying. Brands need to increase their market investment and engage in more precise, sincere, and proactive communication with their target audience.
At the latest Watch and Wonders – Shanghai 2023, a global CEO of a watch brand shared his observations about Chinese consumers:
Compared to collector events from a few years ago, we have found that the user profile of Chinese collectors this time is more diverse and younger. They are more active and open in participating in brand activities. They not only pay attention to the value of watches but also want to learn about the brand's story. This also means that Chinese consumers will choose products based more on the brand rather than simply chasing bestsellers.
As we enter the fourth quarter of 2023, we continue to witness the unwavering confidence and investment of luxury jewelry and watch brands in the Chinese market. Luxe.CO will closely monitor industry trends and engage in direct dialogue and communication with the management of major brands/groups.
Luxury Jewelry and Watch Brands China Power Ranking 2023 H1
Click here to download the full report for free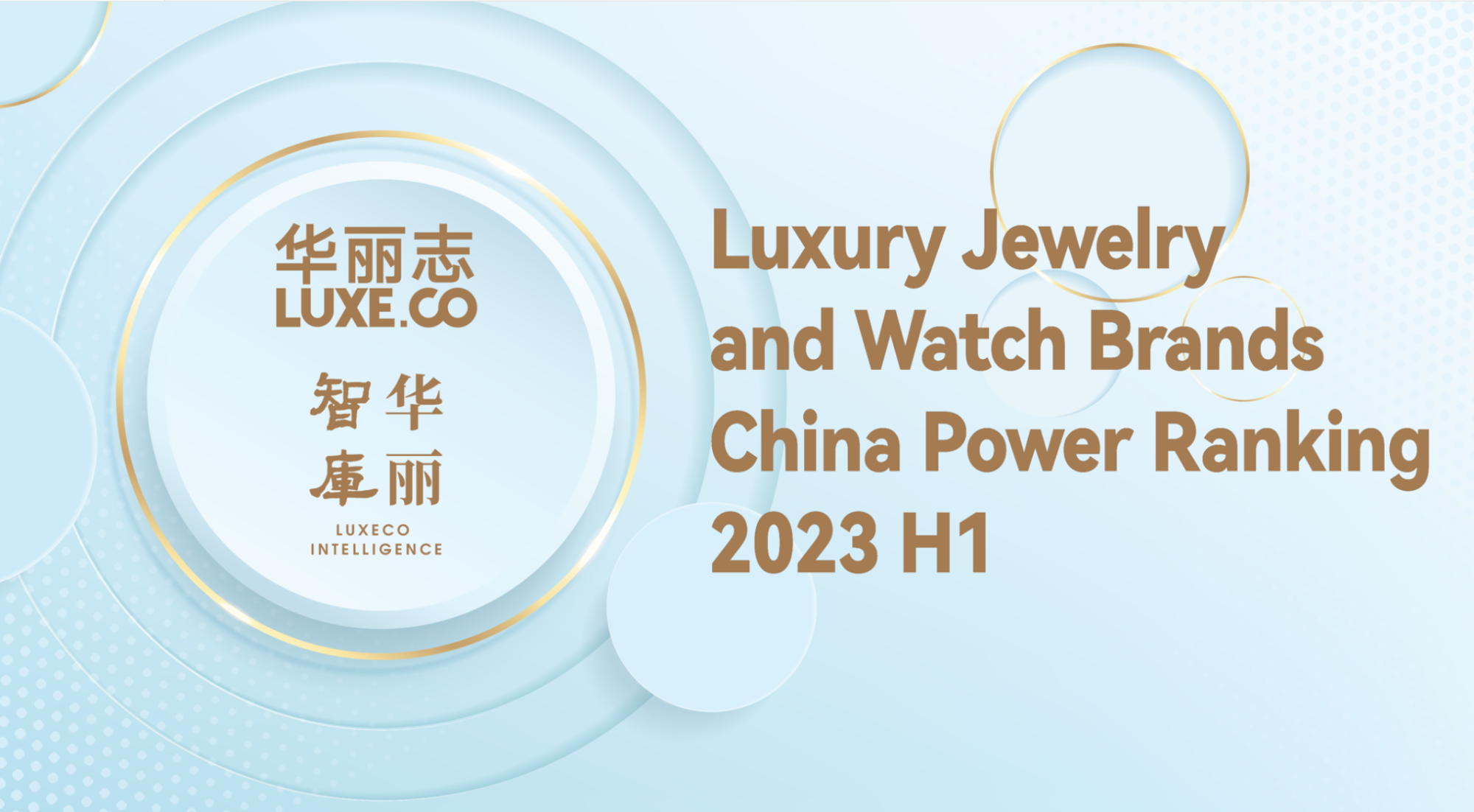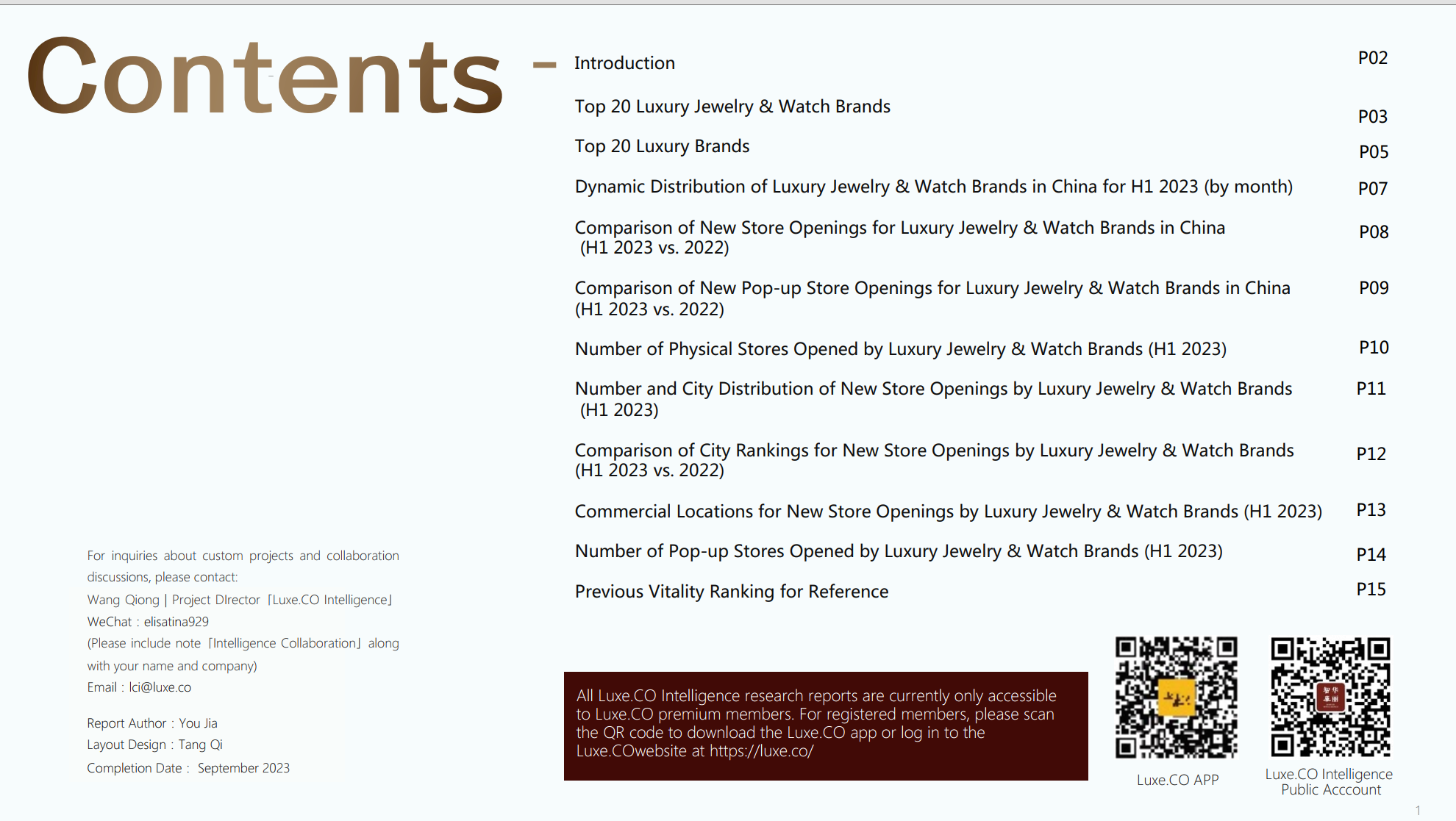 ---
The list of Top 20 luxury jewellery and watch brands most active in the Chinese market in the first half of 2023, according to the statistics and weighted scores of Luxe.CO Intelligence, is as follows: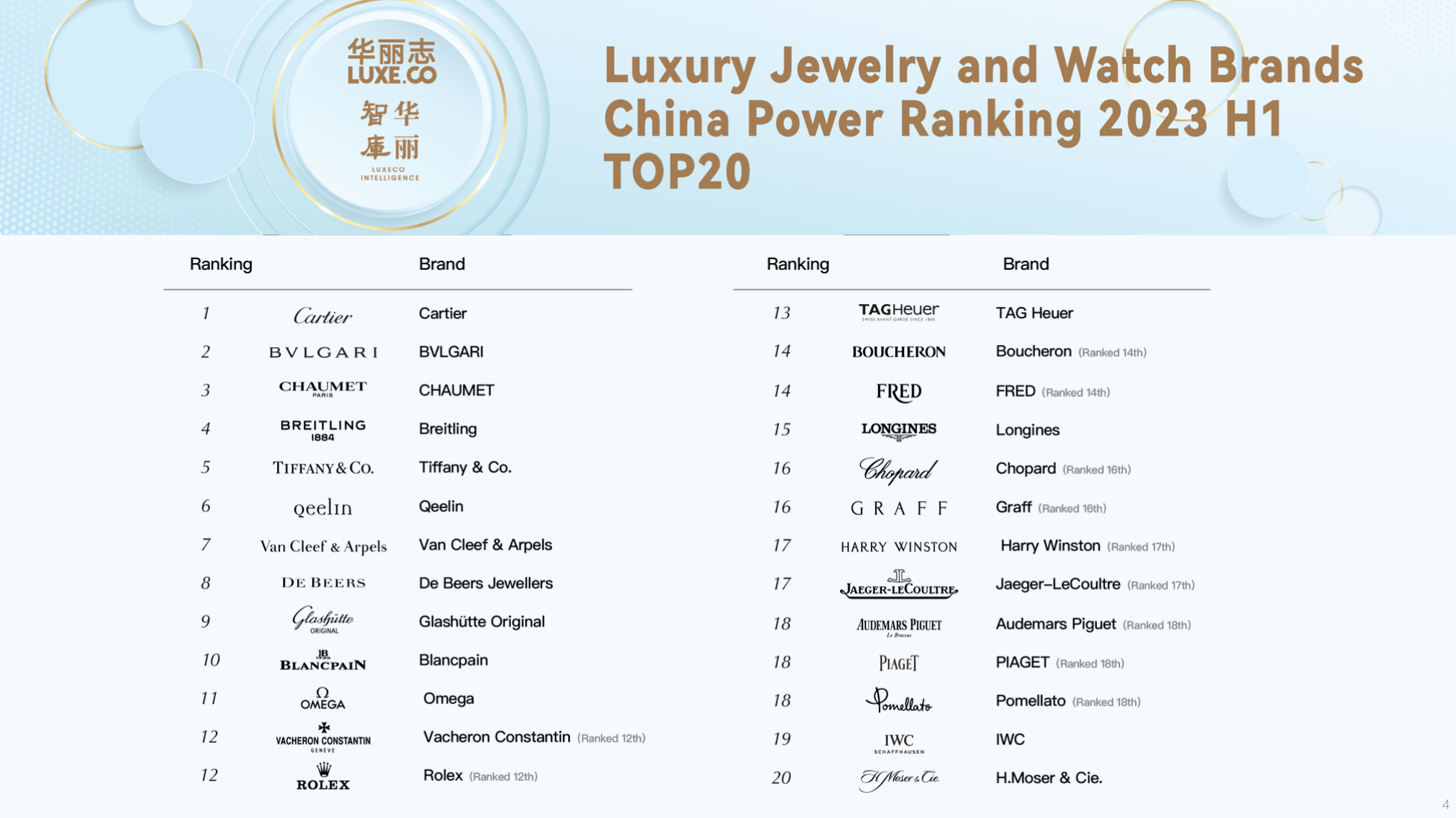 Click here to download the full report for free
About Luxe.CO Intelligence
Luxe.CO Intelligence is a unique research and consulting services platform in the global fashion industry. Based in China, it provides forward-looking consumer insights, industry research, and strategic consulting services with a broad global perspective and in-depth industry insight.
Drawing upon its continuously expanding industry network, data intelligence, and knowledge base, Luxe.CO Intelligence focuses on the luxury, fashion, beauty, and lifestyle industries. It offers industry leaders the best decision-making references through structured business information, systematic industry research, efficient primary research, rich practical cases, and forward-thinking strategic thinking.
For inquiries and collaboration, you can reach them at lci@luxe.co.
---
About  Tong.Luxe.CO
Tong.Luxe.CO is a groundbreaking data service product launched by Luxe.CO in the early summer of 2022. As the world's first real-time dynamic platform for the fashion business, Luxe.CO Tong has three main attributes: wide coverage, multi-angle, and data-driven. It has already covered over five thousand domestic and international brands and enterprises in six major categories (fashion, beauty, technology, commercial complexes, internet platforms, and industry chains). With its unique brand library and keyword cloud, Luxe.CO Tong provides convenient information filtering functions, creating a comprehensive, real-time, and well-organized fashion business information platform for industry professionals.
Since its trial operation in 2022, Luxe.CO Tong has been covering various dimensions such as products, stores, marketing promotions, community activities, as well as personnel, finance, strategy, and fashion industry trends.
丨reporter:You Jia
丨editor:LeZhi