Five years ago, in the autumn, Canada Goose, a high-end functional apparel and lifestyle brand from Canada, opened its first mainland China store in Taikoo Li Sanlitun, Beijing.
Today, Canada Goose boasts the largest network of direct-operated stores globally in China, with nearly 30 stores.
"China is a strategic market for us," states Dani Reiss, Chairman and CEO of Canada Goose.
The five years since Canada Goose entered the Chinese market have also been a significant phase of accelerated development in China's down jacket market. According to data from the China Apparel Association, the market size of down jackets in China was 96.4 billion yuan in 2017, and it is estimated to reach 176.2 billion yuan in 2022, nearly doubling.
Five years ago, most domestic consumers in winter only considered wearing a down jacket that was warm enough. Their understanding of the jacket's features had not yet refined to aspects like windproof, waterproof, and cold resistance to certain degrees below zero, not to mention fashion.
However, with the emergence of high-end overseas brands like Canada Goose, known for their professional and extreme functionality and luxurious fashion style, they subtly raised consumers' awareness and expectations of product performance, appearance, and pricing, changing their expectations of outdoor functional brands.
Over the past five years, changes in China's down jacket market are not only in the rapid expansion of its scale but also in the evolution and maturation of consumer demands and mindset, making the market increasingly competitive.
If we were to say that international brands like Canada Goose had influenced Chinese consumers five years ago, then today, the brand is continuously exploring more possibilities on top of functionality.
This year, the brand participated again in the 6th China International Import Expo (CIIE). Before the CIIE, the brand held a "Live in the Open: Experiencing New Horizons" 5th anniversary celebration of Canada Goose's launch in China in Shanghai.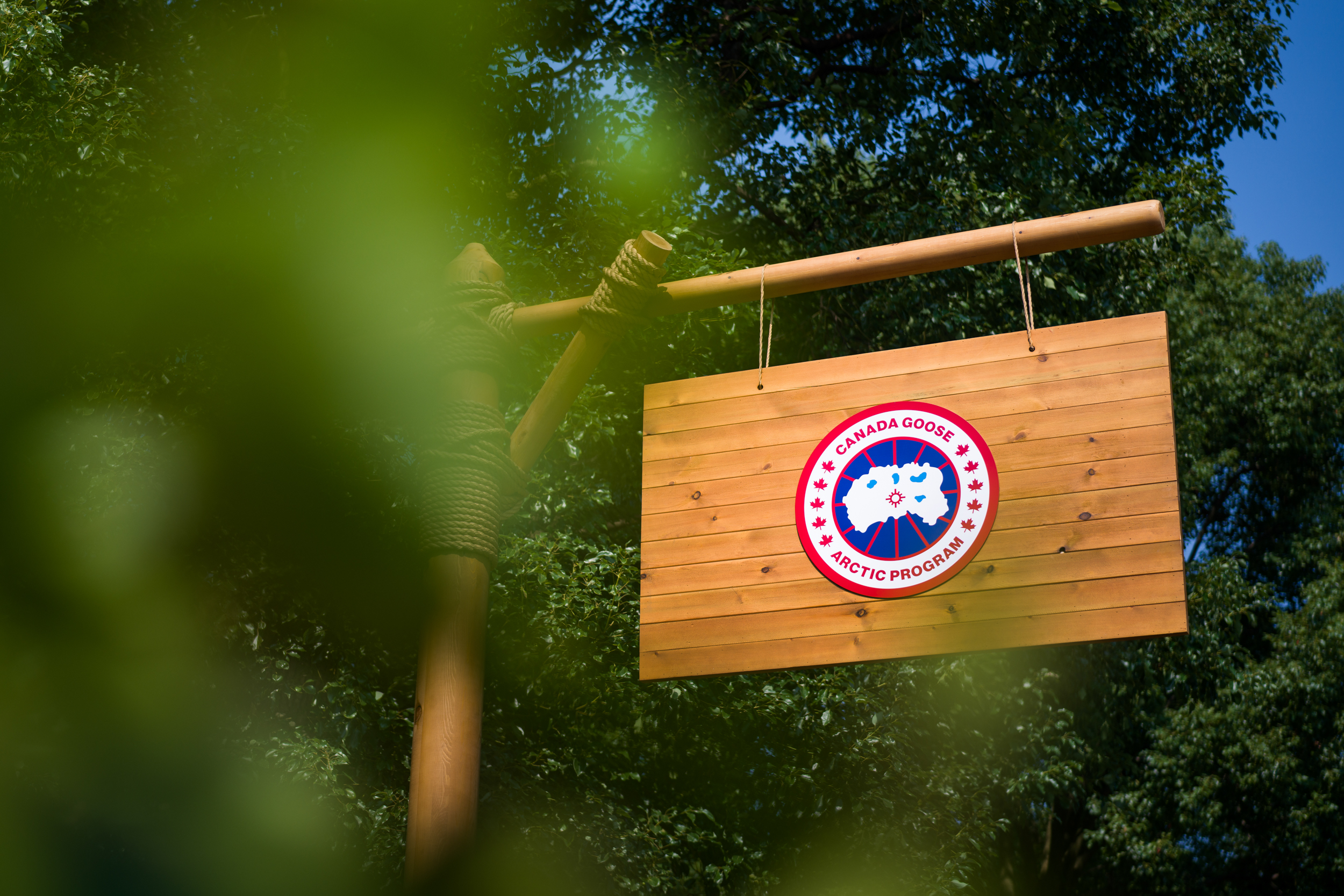 According to the brand's second quarter financial report for the fiscal year 2024 (ending October 1, 2023), released last week, sales in mainland China stores continue to grow, driven by the recovery of domestic consumption.
How will Canada Goose maintain its edge today? Can the brand once again influence consumer trends and mindset?
Expanding Outdoor DNA from Polar Regions to All Seasons
Canada Goose's development is closely linked to words like polar regions, extreme weather, and exploration, which are some of the core factors that once drove Chinese consumers' enthusiasm for the brand.
Born in Toronto, Canada Goose emphasizes the functionality of its clothing in extreme cold conditions.
In 1957, Polish immigrant Sam Tick founded Metro Sportswear Ltd., the predecessor to Canada Goose, specializing in wool vests, raincoats, and snow gear adapted to the local climate. With its "Made in Canada" fine craftsmanship and quality materials, Canada Goose's products gradually became known for their "high-end functionality." A series of classic parkas also became a hallmark of Canada Goose, and recognition from professional fields accelerated the brand's breakout.
As the brand expanded globally, a key challenge was how to maintain its unique DNA while being accepted by more diverse communities, which is crucial for breaking the brand's performance ceiling.
Canada Goose began developing new categories based on its outdoor DNA:
In 2015, it launched its first spring collection, including raincoats and windbreakers.
In 2017, the first knitwear collection using Thermal Mapping® technology.
In 2021, the first footwear collection debuted in China, including the Snow Mantra boots and Journey ankle boots.
In July 2023, the first sports shoe Glacier Trail was introduced.
Appropriate outdoor wear like windbreakers and raincoats, winter-friendly wool knit products, and footwear extend outdoor elements and performance to other seasons and settings.
According to Canada Goose's second quarter financial report for fiscal 2024, the company's revenue exceeded expectations for the quarter, with non-parka categories growing faster than parkas.
Today, entering a Canada Goose store, one finds a variety of all-season apparel: from lightweight down jackets, raincoats, and clothing to the newly introduced Glacier Trail sports shoes and other footwear series. By expanding its product range, Canada Goose is actively building its outdoor lifestyle.
The expansion of categories centered on outdoor DNA will continue to extend Canada Goose's brand story and style, enriching the lifestyle the brand portrays.
Leveraging Independent Designers to Blend into Urban Fashion
Outdoor has become one of the hottest lifestyles among the youth, giving rise to a fashion style that combines outdoor functionality with urban fashion. Canada Goose has also opened up more scenarios through collaborations, reaching a broader potential audience.
For instance, since 2020, Canada Goose announced Chinese designer Angel Chen as the brand's first-ever guest designer. In 2022, the brand collaborated with Feng Chen Wang and artist Xu Zhen to launch a co-branded capsule collection, reinterpreting the brand's classic items.
In April 2023, Canada Goose joined forces with Korean designer brand Rokh and contemporary artist Matt McCormick to announce a limited edition co-branded capsule collection.
In October, the brand launched a co-branded series with American fashion brand Pyer Moss and held the "Live in the Open: Experiencing New Horizons" 5th anniversary celebration of Canada Goose's launch in China in Shanghai, where collaborations with Angel Chen, Feng Chen Wang, Xu Zhen, and others were showcased again.
These collaborations, with their variations in color, silhouette, and style, have added a youthful and vibrant touch to the brand, earning praise from a more diverse style-conscious audience.
Five Years Later, the First Store Reopens
"Our existing store, which was a different location, was much smaller, but we've really resonated with Beijing consumers in particular. This is the first one where we have snow, which has video and sound and brings another dimension to the experience. Seriously from day one, experience was what we want to put in," said Larry Li, President of Canada Goose China, in a video interview with 'The Luxury'.
In June 2023, the Canada Goose flagship store in Taikoo Li Sanlitun, Beijing, celebrated its renewal. This first store in the mainland market has now expanded to become Canada Goose's largest flagship store worldwide.
The new flagship store is located in a two-story standalone building. The interior design is inspired by the vast landscapes of northern Canada, and the space, close in color to ice and snow, exudes a warm and comfortable atmosphere with wooden decorations and green plants.
The flagship store displays a wide range of all-season clothing, classic historical products, and an extensive collection of designer collaborations, complementing the overall space design. The transformation of products is just one dimension; experiencing these products in the physical store allows one to fully appreciate Canada Goose's renewal.
The experiential aspect is a highlight of the new store. A cold room simulating a snowy environment lets customers personally experience the superior performance of the products. Art pieces in the store, from Inuit, Canadian, and Chinese artists, showcase the brand's connection from the polar north to China.
The renewal of the Sanlitun flagship store is an important step in Canada Goose's strategy to expand its DTC (direct-to-consumer) channels in the Chinese market.
This year, the brand has opened new stores in cities like Chongqing, Hangzhou, and Shenzhen. Currently, the brand has the largest network of stores worldwide in China, with nearly 30 stores.
As the brand gradually builds its reputation in China, it must find new growth points.
After expanding in East, Central, and Southwest China, Canada Goose, for the first time, ventured into the mainland South China region. In September, a new store was opened in Shenzhen Bay's MixC World.
Despite the warm winter climate in South China, outdoor down jacket brands still find ample opportunities here. On one hand, consumers in South China are enthusiastic about ice and snow, especially with the rise of winter sports in the country, making them potential audiences for outdoor brands.
On the other hand, Canada Goose's lightweight down jackets, clothing, and footwear are well-suited to the local climate. The market response to these non-parka categories in the region can indicate the effectiveness of the brand's transformation strategy and allow for timely adjustments.
Growing Together with the China Market
If the first five years saw the market and consumers' demands for down jackets shift from basic warmth to fashion and comfort, now, with the popularity of outdoor sports like off-roading, skiing, and camping, the expansion and integration of application scenarios have become new requirements for down jackets. At this point, the significance of products to users is no longer limited to functionality; consumers also seek to express their lifestyle and attitude through brands.
Whether it's the transformation and upgrading of domestic down jacket brands or the entry of more high-end overseas brands, the premiumization of China's down jacket market is a clear trend.
However, premiumization is not merely about higher prices. It requires maximizing product performance and fashion sense, coupled with brand value, to meet consumers' higher-level needs and even lead industry and market changes.
As the Chinese down jacket market enters the next phase, brands will face increasingly fierce competition and more discerning consumer demands. Establishing emotional connections and resonances with the audience may be a long-term strategy for brands to retain consumers.
This year, Canada Goose also announced a collaboration with the Nature Conservancy of China to initiate a natural experience and community participation project in the Yangtze River source region of the Sanjiangyuan National Park. This long-term project aims to support biodiversity and the harmonious coexistence of humans and nature through various activities like biodiversity monitoring and research, community development, policy research, and public engagement.
This is Canada Goose's first large-scale international corporate social responsibility project outside Canada, showing the brand's commitment to the HUMANATURE concept and its firm promise to support the communities where it operates.
From collaborating with local designers, launching the brand's first footwear collection in China, building a strong local operation team, and participating in the CIIE to local corporate social responsibility projects, Canada Goose has consistently expressed its ongoing commitment and long-term investment in the Chinese market.
In the future, the Chinese down jacket market will undoubtedly face a more diverse competitive landscape. Canada Goose, having been a step ahead, does not stay at the original point but thinks about how to maintain its identity in the trend and build a bridge of communication between Canada and China. As China's consumer economy further develops, these are also considerations for many other brands.
| Image Credit: Provided by the brand
| Editor: Zhu Ruoyu