After a three-year hiatus, China's outbound tourism market is finally fully open!
International luxury brands are eagerly awaiting the return of Chinese consumers. However, over the past three years, China's domestic high-end retail industry and duty-free shopping have thrived, leading to a significant influx of luxury consumption. Many people are curious:
Do today's Chinese consumers still desire to purchase luxury goods overseas?
Starting from the end of August, Luxeplace.com launched a survey through its WeChat public account, inviting our readers to answer eight questions related to outbound travel and overseas shopping.
Among the readers of Luxeplace.com who completed the survey, it is evident that 82% of respondents have a budget of over 10,000 RMB for shopping abroad, with 9% budgeting over 100,000 RMB. It can be said that the survey fairly accurately reflects the true profile of China's middle and high-end consumers.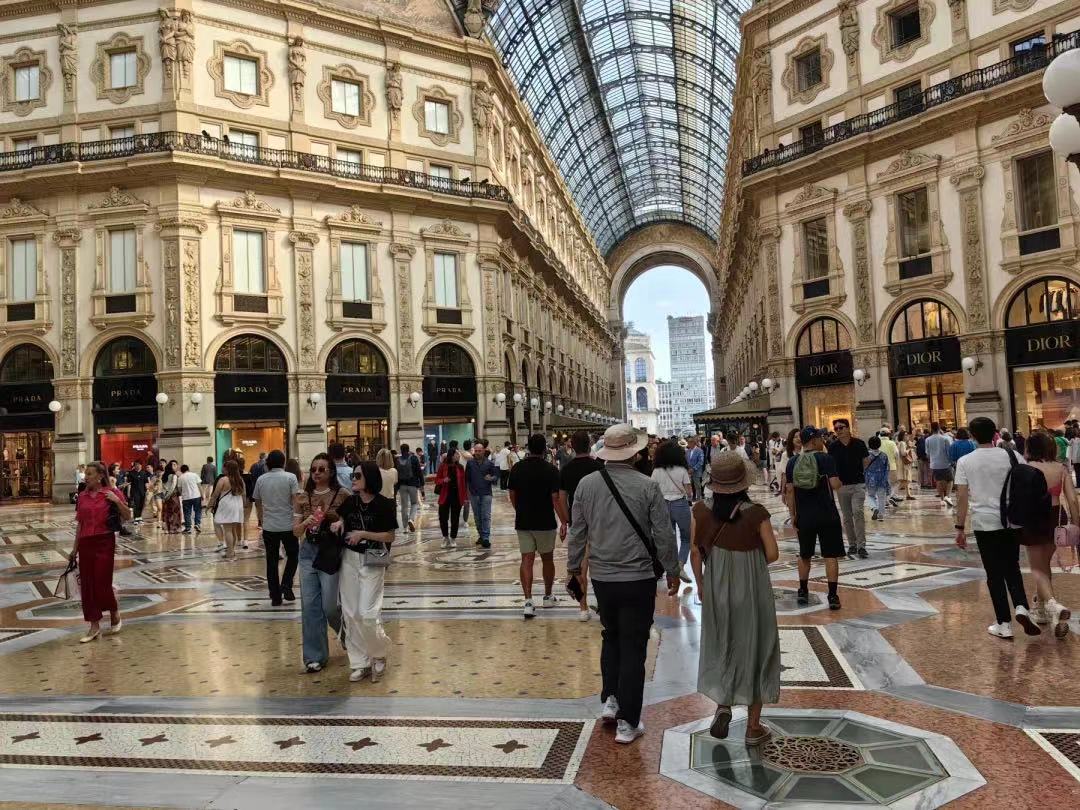 Note: On August 10th, the Ministry of Culture and Tourism of the People's Republic of China announced the third batch of countries and regions that will resume the outbound group tourism business for Chinese citizens. Prior to this, the first batch of 20 pilot destinations and the second batch of 40 pilot destinations had already reopened. With the announcement of the third batch of destinations for Chinese citizens' outbound group tourism, the total number of countries that have opened pilot destinations for outbound group tourism in China has increased to 138. At this point, major travel destinations around the world are essentially fully open.
Based on 181 valid questionnaires collected for this study, Luxeplace.com has created 5 charts to provide insights into the latest views of Chinese high-end consumers on overseas travel and shopping based on the following survey questions:
1. Are you looking forward to shopping overseas? Why?
2. What luxury product categories do you pay attention to when shopping abroad? What is your budget?
3. Do you pay more attention to hotel experiences when overseas?
4. Which country do you most want to travel to?
"Price difference" remains the primary reason driving most Chinese high-end consumers to shop overseas.
Over 60% of respondents express anticipation for overseas shopping, with 12% of them saying they are "very eager."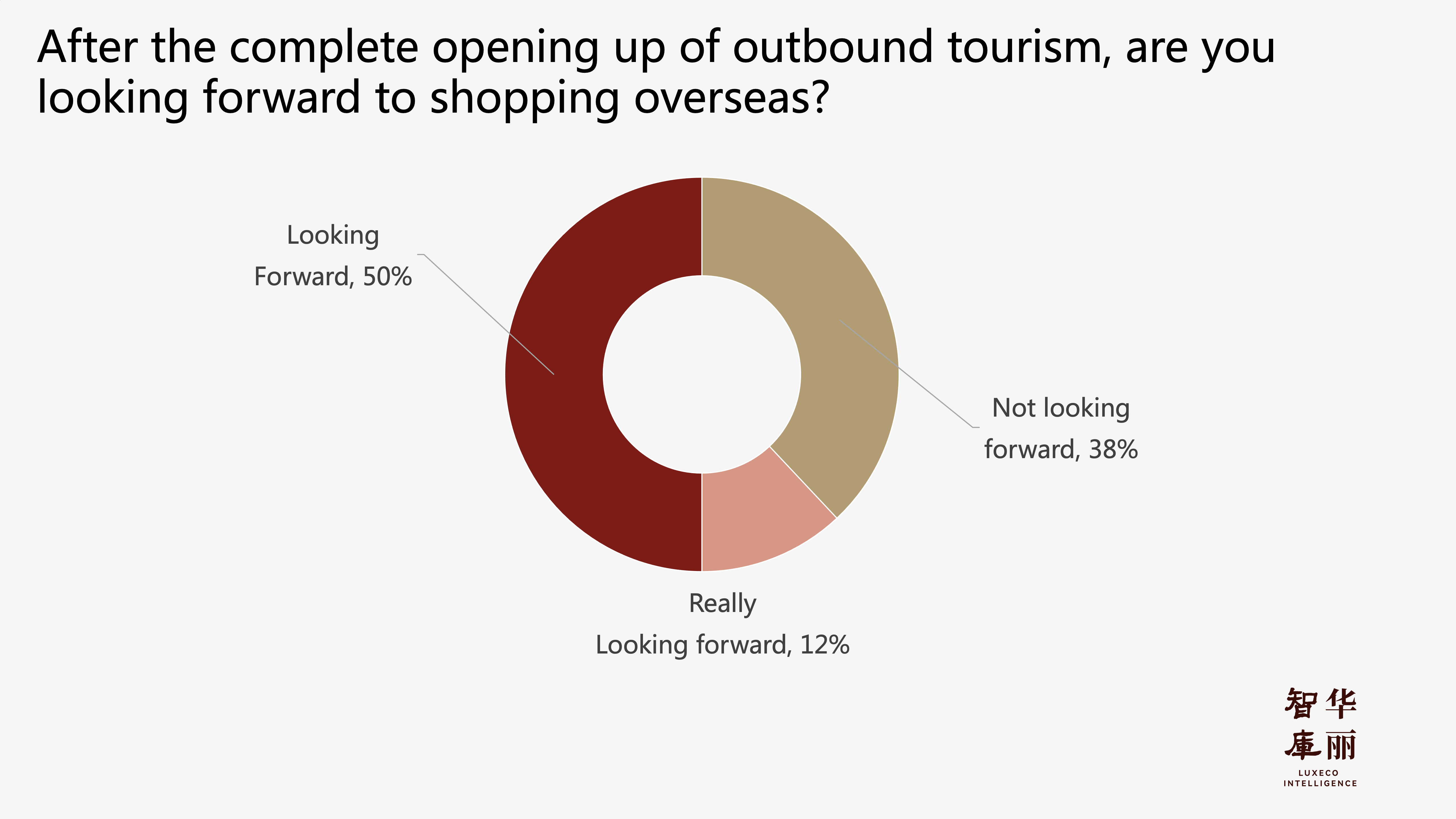 The price difference between domestic and overseas is the most significant factor contributing to respondents' anticipation of overseas shopping, accounting for 55%. Variety of products, duty-free products, and better experience follow as other significant factors.
Interestingly,61%of respondents believe that there is a significant difference between shopping in China and shopping overseas.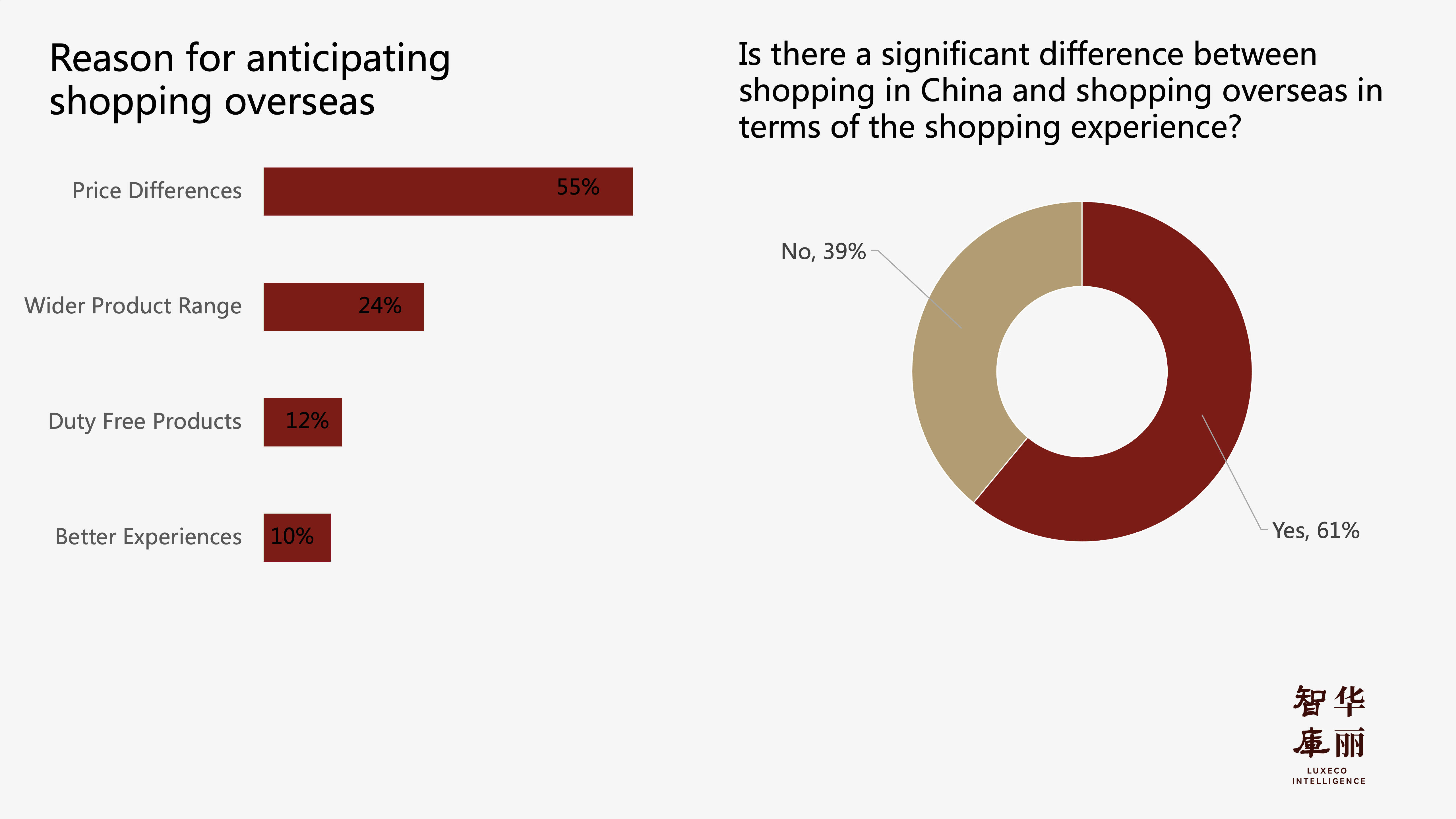 Leather goods are the luxury product category that Chinese high-end consumers are most interested in when shopping overseas.
Leather goods are the most focused luxury product category for high-end consumers when shopping abroad, accounting for 26%. This is followed by clothing (18%) and jewelry (15%), while interest in beauty and perfume products is relatively lower.
In terms of budget, 82% of respondents are willing to spend over 10,000 RMB on shopping abroad, with 9% budgeting over 100,000 RMB.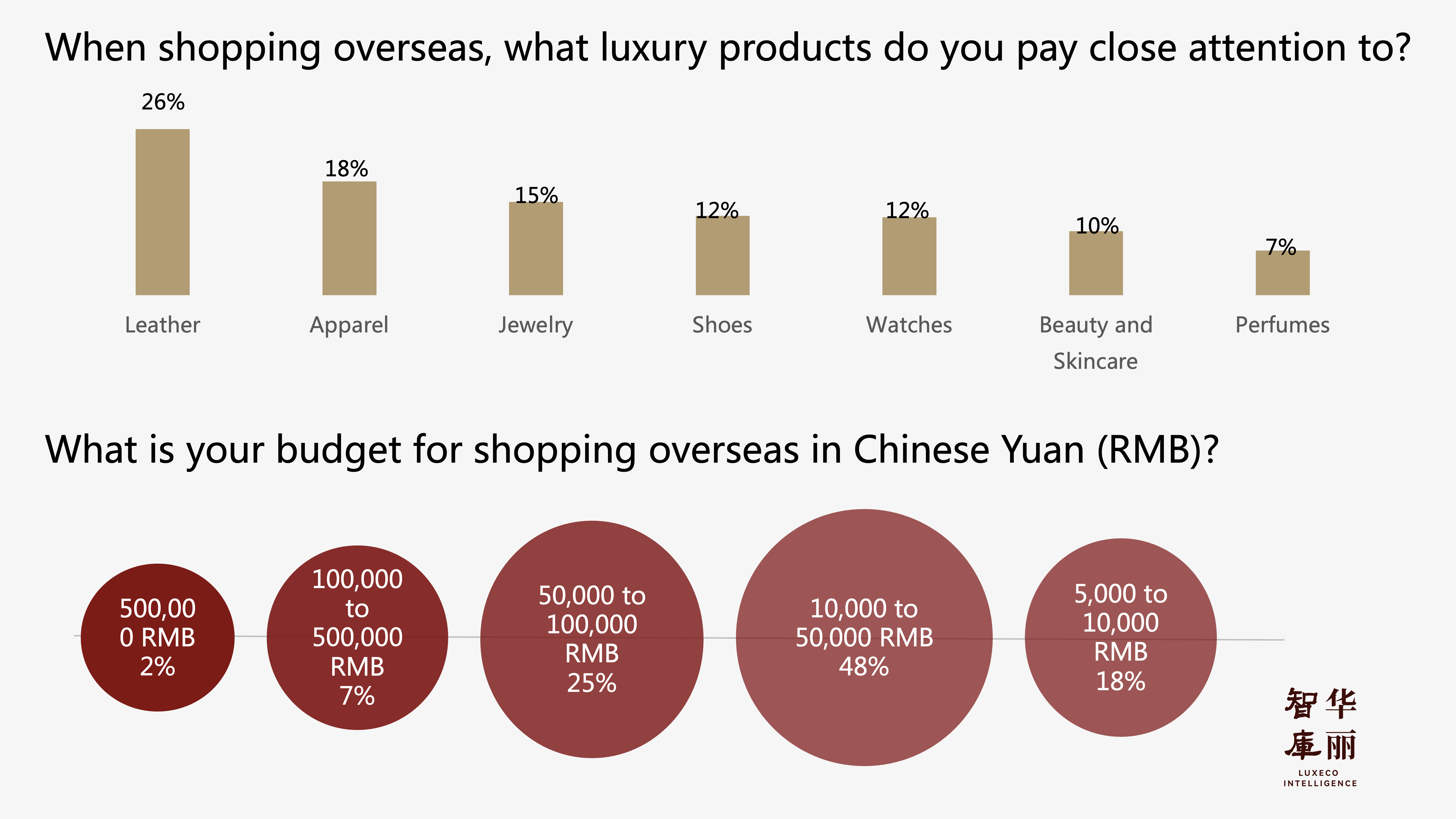 Chinese high-end consumers place a greater emphasis on hotel experiences.
For high-end consumers, the hotel experience is a crucial part of travel. 64% of respondents express willingness to allocate more budget to hotels during international travel.
Among them, luxury hotels are the first choice for high-end consumers (43%). These large brand hotels are backed by major corporate groups, have extensive recognition, and offer stable service standards, reducing uncertainties in overseas travel experiences.
In addition, smaller but more distinctive boutique hotels are also favored (38%). The high percentage of respondents choosing boutique hotels for overseas travel indicates that an increasing number of Chinese high-end consumers have higher and more personalized expectations for accommodation experiences.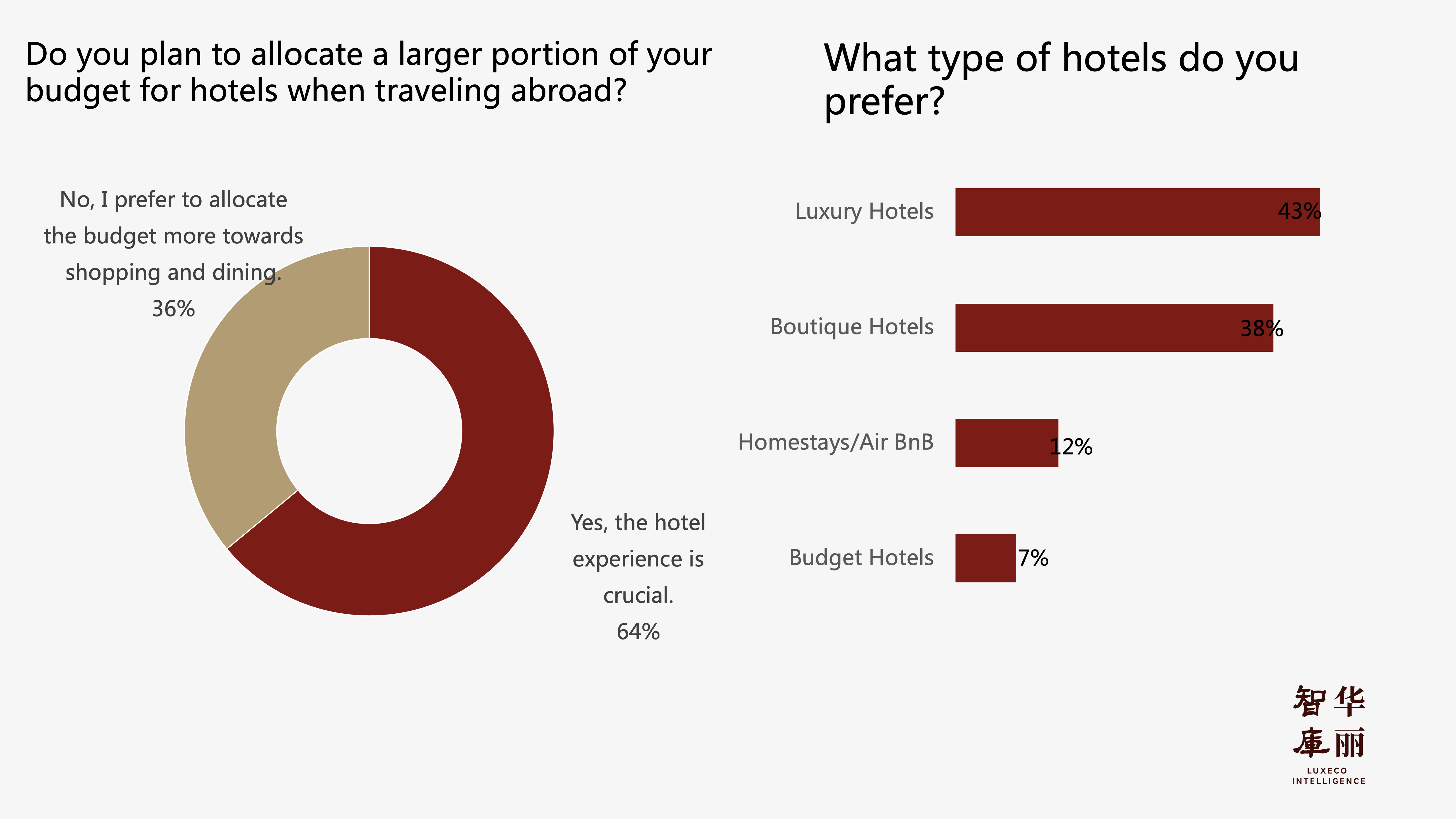 Europe is the most desirable destination for Chinese high-end consumers.
Italy, France, Japan, the UK, and Spain are the top 5 countries that high-end consumers most want to visit, with Italy and France being nearly equal and significantly ahead of the third-ranked Japan. The UK and Spain rank fourth and fifth, respectively.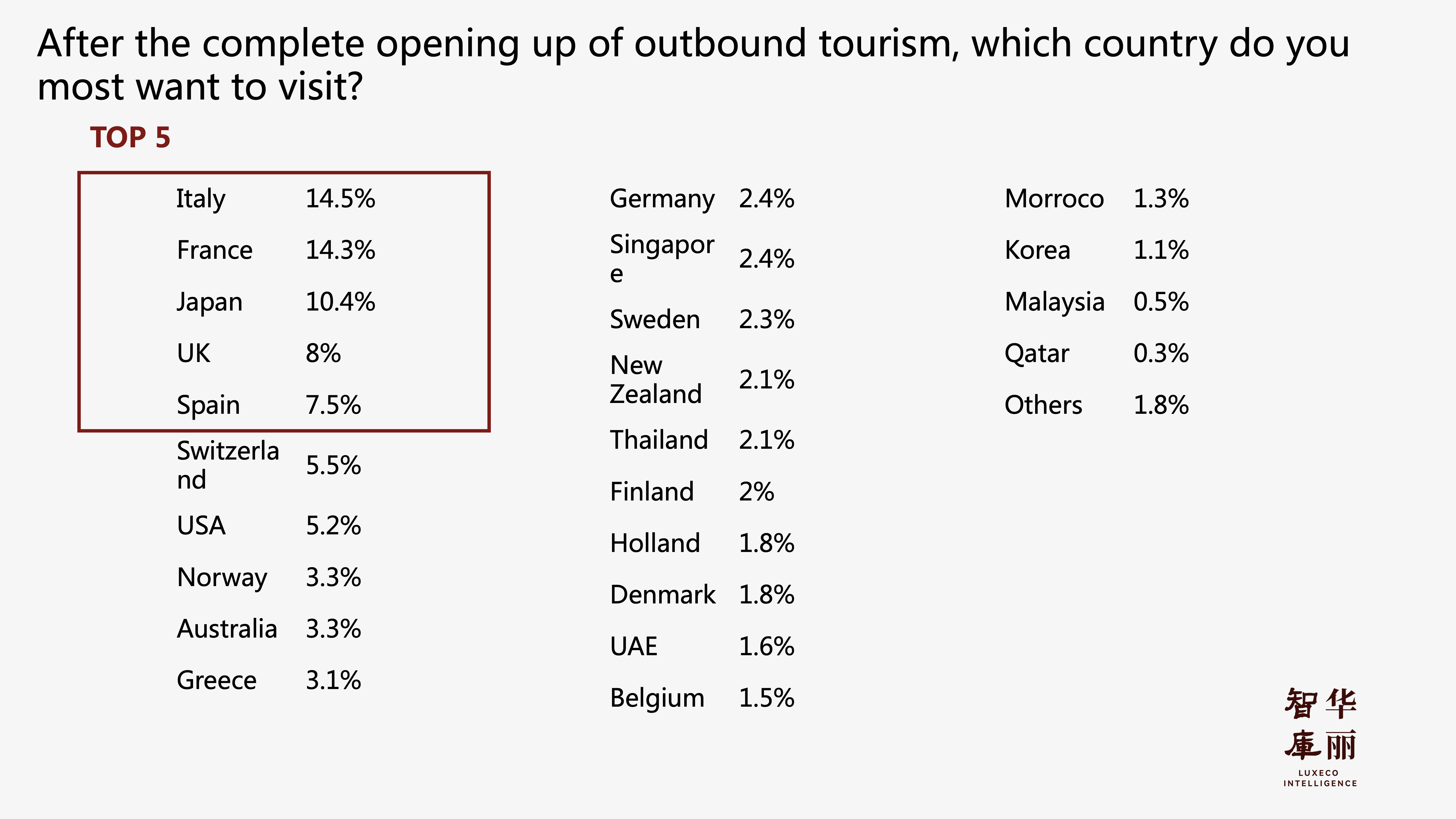 | Image Credit: Luxeplace.com , Luxe.CO on-site photography
| Editor: Zhu Ruoyu