During Milan Fashion Week in September, Luxe.CO hosted an industry salon event in the local area. Ms. Alicia Yu, the founder of Luxe.CO, delivered a presentation to the Italian industry about the latest exclusive report from Luxe.CO Intelligence titled "Italian Fashion Brands in China." She also shared the results of her investigation into the Italian industry during this trip. Together with the salon guests, they discussed the opportunities and challenges for Italian brands in the Chinese market.
This salon event received support from Attila&Co. Founder and CEO, Ms. Andreina Longhi and gathered guests from various brand groups and academic institutions, including Italian luxury brand Max Mara, Italian fashion group OTB, the Italian watch and jewelry department of the French luxury conglomerate LVMH, Bocconi University (Università Bocconi), and Politecnico di Milano.
The Luxe.CO Intelligence report provided a rare Chinese perspective on the Italian industry and received enthusiastic responses. This report used a unique methodology to research the true attitudes of Chinese consumers towards Italian brands. Italian media described this research as a "detailed exploration of the deep relationship between Chinese consumers and Italian brands," and the research data and significant findings garnered significant attention.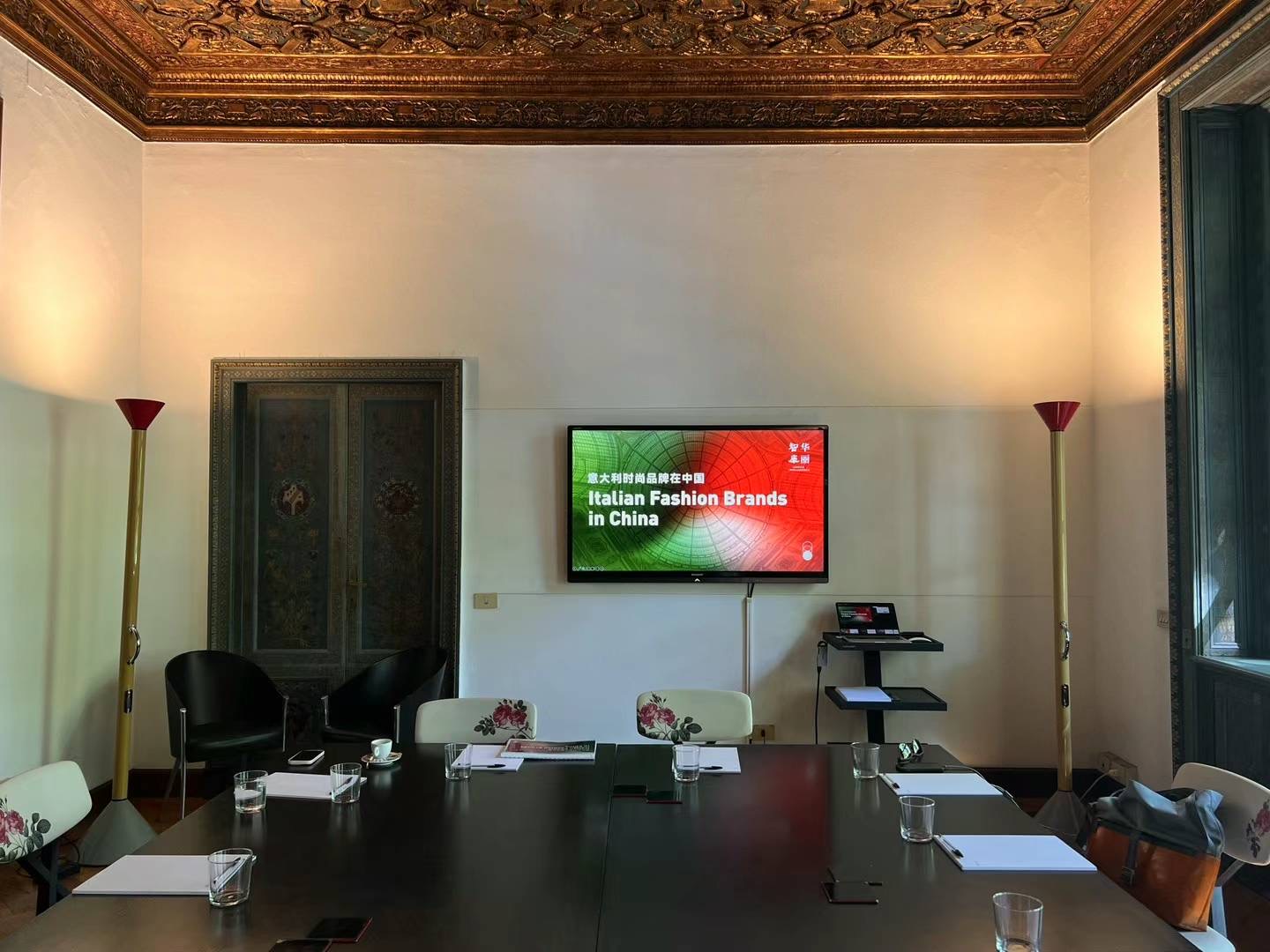 "In the past, there has never been a Chinese perspective to tell us how the Chinese view us."
In September 2018, Luxe.CO released its first research report titled "Italian Luxury Brands in China" in Milan. This report compiled publicly available business data for 50 Italian luxury brands in China and conducted a survey among Luxe.CO's readers.
In 2022, Luxe.CO Intelligence expanded its research scope from luxury to a broader fashion and lifestyle domain. They released a new research report titled "Italian Fashion Brands in China," covering 123 of the most representative Italian brands. The selection criteria included overall business scale, expansion in the Chinese market, category representativeness, and data availability. The report will be further updated in 2023 to reflect industry and market developments.
During the event, Andreina Longhi welcomed Luxe.CO's presence and sharing. She emphasized, "We have understood the development of Italian brands in China from our own perspective, but we have never had a perspective from China telling us how the Chinese view us. This is the most important point, and it's why we urgently hope to hear from you about how Chinese consumers perceive our brands, Italy, and the future development of Italian brands in China."
The Chinese market holds great significance for Italian brands. Longhi stated, "The Chinese market is very important to me, but it's not easy to develop in the Chinese market, and the costs are rising because almost all major investments are directed towards the Chinese market. 60%-70% of our marketing budget for our clients is spent in the Chinese market, with the remaining allocated to other regions worldwide."
The event's attendees were particularly interested in how Chinese consumers view Italian fashion. They noted a change in one data point: in Luxe.CO's 2018 survey, Italy ranked first among overseas fashion destinations preferred by Chinese consumers. However, in the latest report, it ranked second, with a marginal 1.2% difference, just behind France.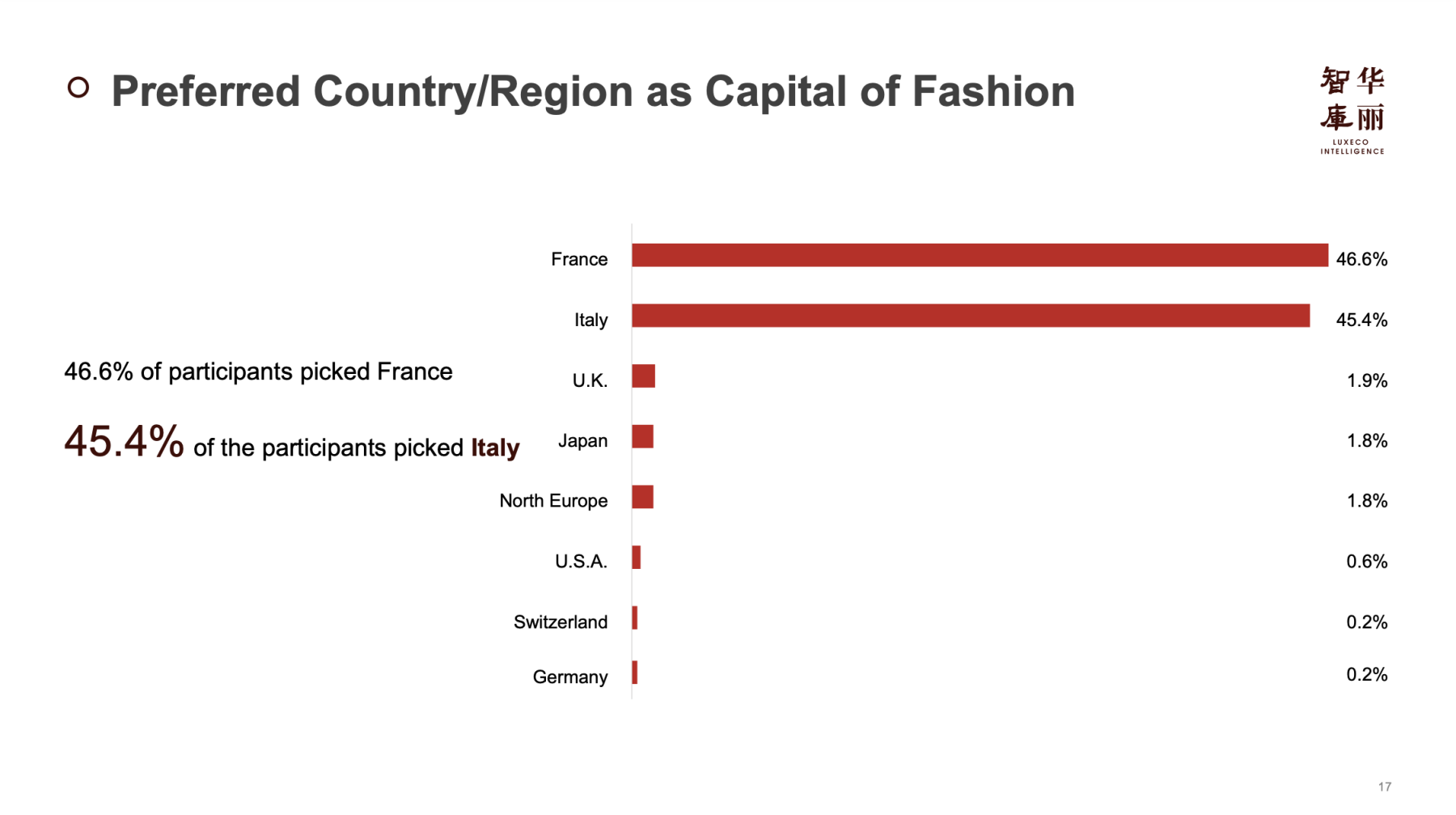 "Now, we are number two," Longhi added, "Paris, in this moment, is more attractive than Milan. The young designers, they want to show in Paris because they think that Paris is more trendy and cooler than Milan." She and the guests discussed the success of French fashion brands in China, particularly in the beauty sector, highlighting the absence of Italian brands in this domain. This raised concerns about the development of Italian fashion, with Andreina Longhi asking, "What can we do to reverse this situation?"
Yu remarked, "(The reason why France is the most attractive is the result of ) a collective effort. Everyone or every association invests a little bit more on marketing. They speak louder collectively." She reminded everyone to see the optimistic side, saying, "I want to say from this survey that the Chinese really want to know more about Italy. They view Italy as a treasure trove, and they want to explore it."
Longhi believed that the direction of Italian fashion aligns well with the perception of Italy by Chinese consumers, as shown in the report. This perception isn't just about Italian fashion brands but also encompasses the Italian lifestyle, including aspects like home decor, cosmetics, health, and more. She stated, "Personally, I believe in lifestyle. Lifestyle can be, home decor, can be, cosmetics, as well as wellbeing."
Download the report (only available exclusively to Luxe.CO Premium Subscribers)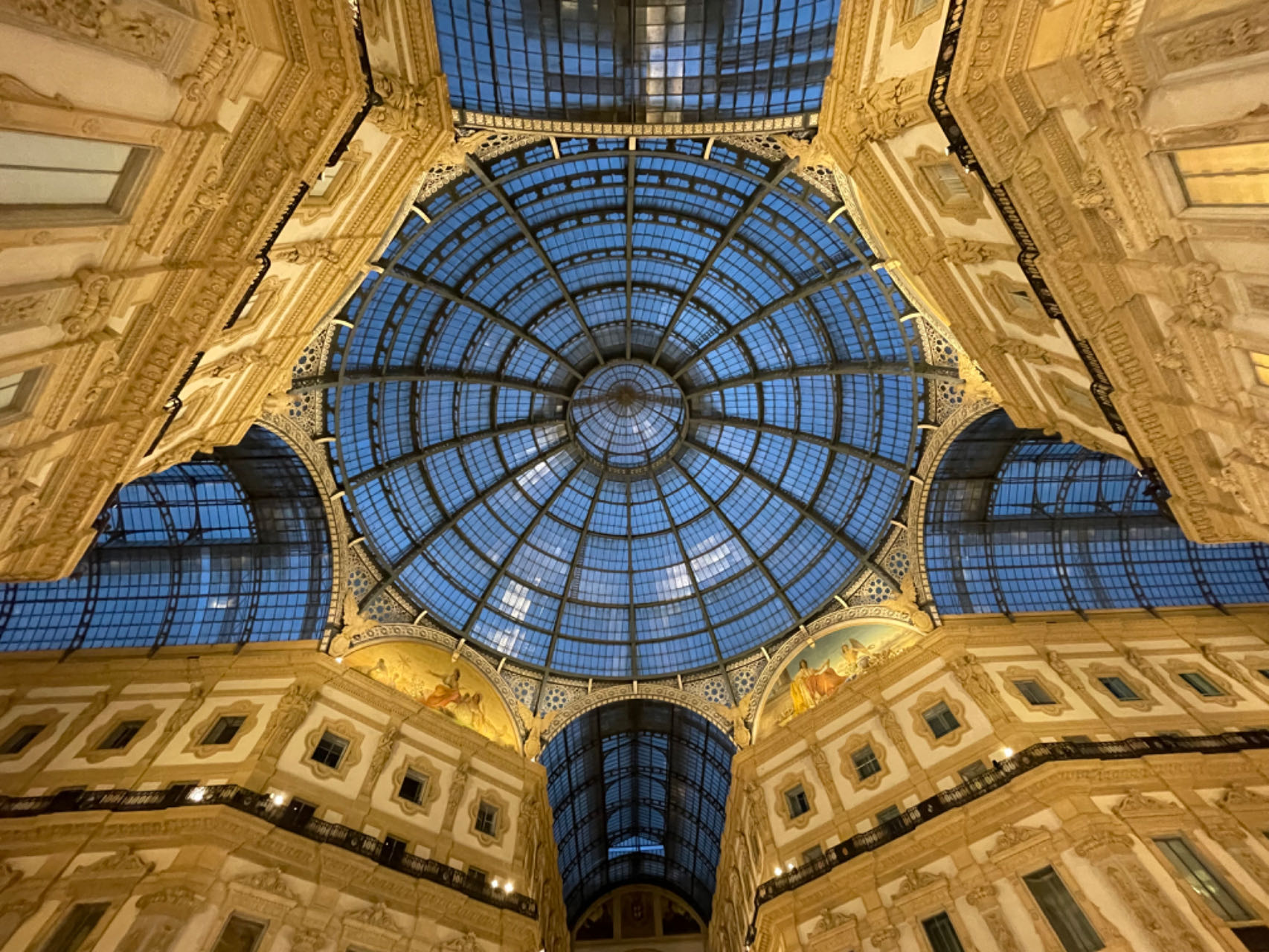 The Genuine Attitude of Chinese Consumers Towards Italian Fashion Brands
Regarding Chinese consumers' attitudes towards Italian fashion brands, Luxe.CO Intelligence conducted research on "liked" and "purchased" Italian fashion brands. They introduced an important metric for measuring customer loyalty, the "NPS" (Net Promoter Score), and delved deep into Chinese consumers' loyalty to different Italian fashion brands. This research also uncovered some "hidden gem" brands.
The diverse research results sparked enthusiastic discussions among salon guests. Regarding the NPS survey question, "Would you recommend this brand to others?" attendees expressed surprise and affirmation, with one guest noting, "I don't often see this kind of question in fashion research, perhaps it's more in line with Chinese consumers' cultural habits. I think it's great because it's a way for you to express your love for something."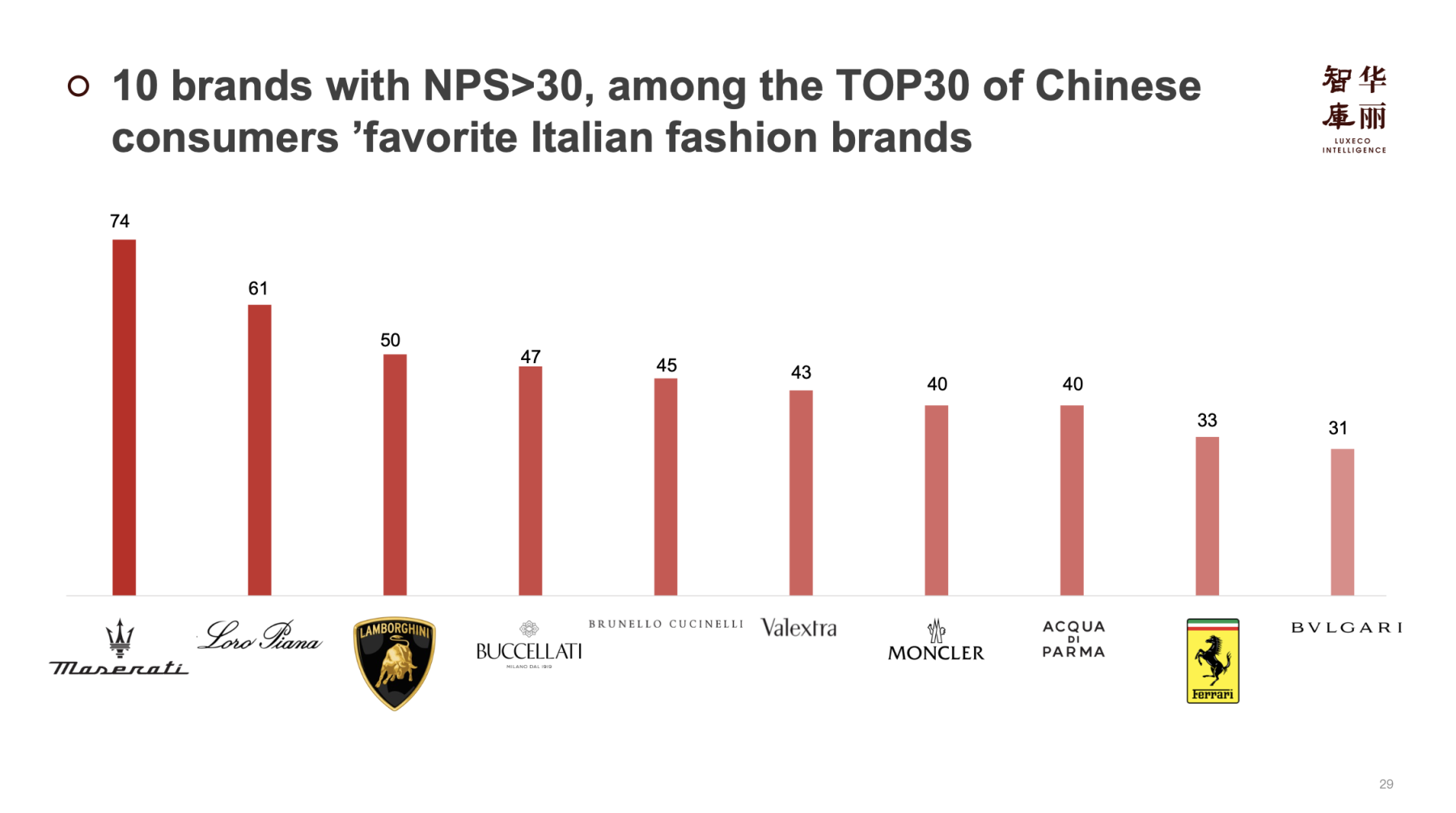 "Alof of brands are so-called niche brands, meaning they don't have big marketing budgets, and word of mouth is the best way to break the ice in the Chinese market. Brands that receive proactive recommendations must be exceptionally unique and possess a strong characteristic," responded Yu.
Longhi described the Chinese market and consumers in the following way, "The Chinese market has undergone significant changes, and if you want to succeed in China, you need to surprise them. They will accept you and be very eager to embrace your brand."
Italian fashion and finance media, MF Fashion, reported on the event, noting that Luxe.CO Intelligence research "detailedly explores the profound relationship between Chinese consumers and Italian brands." They mentioned several key research data and findings from the report, including rankings of the most liked brands among Chinese consumers, market share rankings of Italian brands in China, product categories purchased by Chinese consumers, distribution channels, keywords that Chinese consumers associate with Italian brands, and the level of affection Chinese consumers have for Italy, among other insights.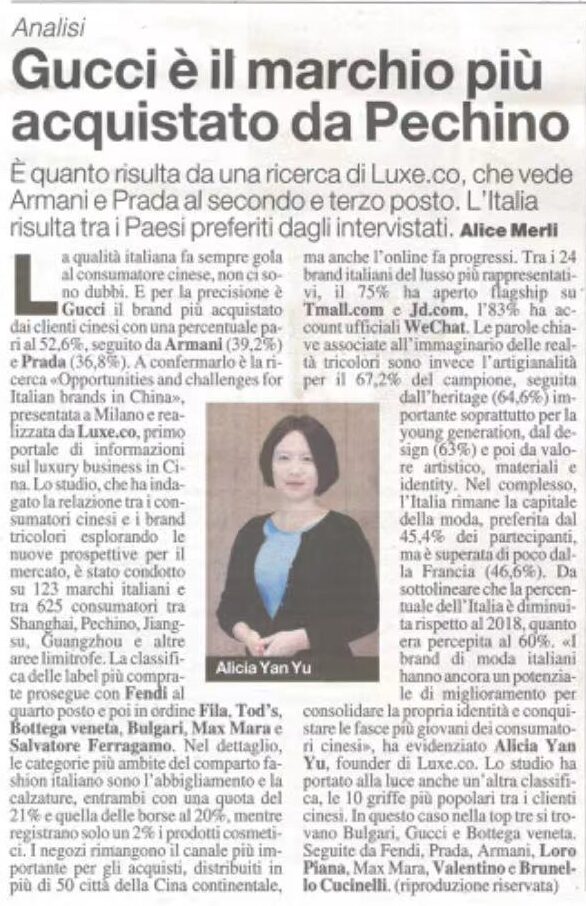 Luxe.CO's Inquiry in the Italian Industry
During this trip to Italy, Yu and the Luxe.CO team attended a series of significant industry events, including Pitti Fragranze in Florence, Vicenzaoro for jewelry, Artigianato e Palazzo for craftsmanship in Florence, MICAM Milano for shoes, MIPEL for bags and leather goods in Milan, and Lineapelle for leather in Milan. They also visited the headquarters and factories of renowned Italian brands such as Max Mara, Ferrari, and Lamborghini. Additionally, they engaged in extensive discussions with representatives of many iconic Italian luxury brands like Ferragamo, Brunello Cucinelli, and Etro, as well as unique boutiques in various cities, such as 10 Corso Como in Milan and LuisaViaRoma in Florence, and the management teams of luxury hotels like Belmond Villa San Michele in Florence.
In the Luxe.CO Investment Research column, Yu wrote:
"Italy, both the starting point and the endpoint of my journey, presents numerous investment opportunities in the fields of luxury, fashion, and lifestyle. This is evident from the comprehensive transaction records covered by Luxe.CO. However, what lies beneath the glamorous facade of 'Made in Italy'? What are Italy's true comparative advantages in this field? How do successful brands leverage these advantages and effectively translate them into performance and corporate value?
Boldly innovating at the intersection of art and science, addressing universal human needs and desires, is where the true charm and advantage of 'Made in Italy' lie. It may appear whimsical, but it is very down-to-earth and universally relatable.
In the realm of luxury, if brand identity, symbols, and scale growth are the 'ends,' then craftsmanship, design, and operational management are the 'means' to achieve those ends. Italians excel at the 'means' but are not always adept at defining the 'ends,' perhaps because they are too close to the source and do not see their true identity. This has led Italian brands to lag behind France in terms of global influence and corporate development.
As Italians often lament: our weakness lies in brand marketing, the French are better at storytelling than we are. Failing to tell a good story means that a brand lacks a clear identity and struggles to establish effective communication and interaction with global consumers.
Only by continuously connecting with consumers worldwide through sincere and compelling modern 'narratives' can Italian brands convey the intricacies of Italian craftsmanship. It is through this 'narrative' that brands can engage in ongoing product innovation and iteration, transforming their intrinsic advantages into tangible brand assets and corporate value.
This challenge is not unique to Italian brands; it's one that Chinese brands are also facing."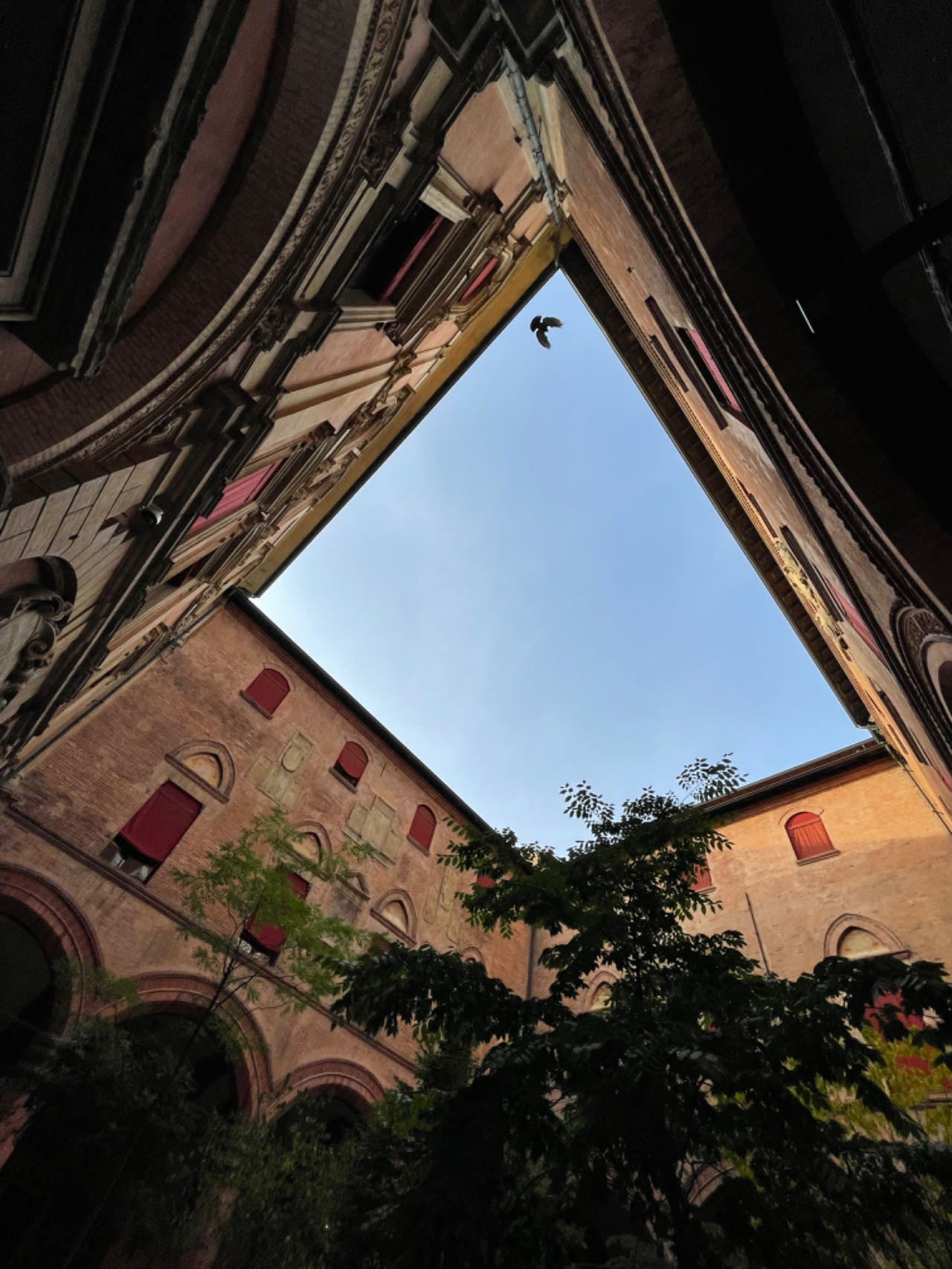 | Image Credit: Luxe.CO, Attila&Co., photos taken by event attendees.
| Editor: Maier