Recently, Luxeplace.com conducted an exclusive interview with Marco Palmieri, the Chairman and CEO of the Italian luxury leather goods group Piquadro, which owns the French luxury leather goods brand Lancel.
Piquadro Group currently owns three major brands:
1. PIQUADRO, focusing on creating innovative and high-performance business bags and accessories.
2. The Bridge, a Florentine leather goods brand that specializes in full-grain, vegetable-tanned Italian leather products.
3. Lancel, a French luxury leather goods brand with a century-long history.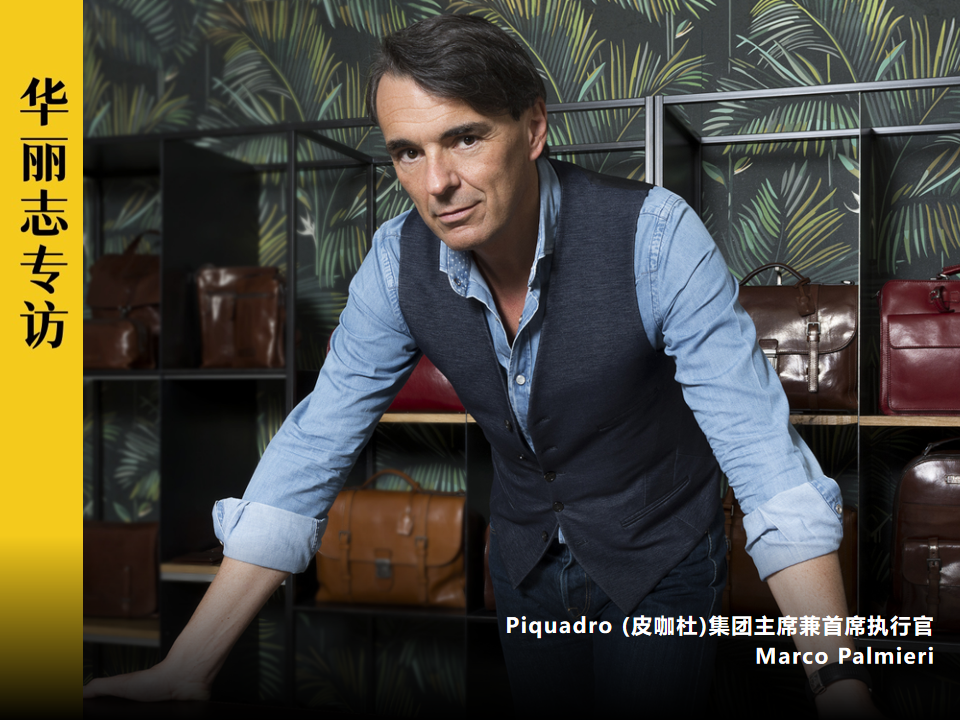 At the end of October, Piquadro Group announced its financial results for the first half of the 2023/2024 fiscal year ending September 30: a 7.1% increase in turnover to 85.9 million euros, compared to 80.2 million euros in the first half of the 2022/2023 fiscal year.
Europe and Italy remain the main markets for the Piquadro Group, accounting for 51% and 46.3% of sales, respectively. However, Asia, especially the Chinese market, has become key to the group's global expansion.
This was Marco Palmieri's first visit to China in nearly five years. He said, "China is always an exciting place; everything is changing here. I hope this wonderful change continues because it means a tremendous amount of energy."
In the interview, Marco Palmieri shared his market insights from his trip to China and discussed strategies for deploying the three major brands in the China market.
"To manage a multi-brand conglomerate… you have to be very flexible."
Luxeplace.com: What are your respective focuses on the development strategies for the three brands under the conglomerate?
Marco Palmieri: The Bridge is a niche brand with a strong identity, and that's our advantage because some consumers, especially the most sophisticated consumers, are looking for niche brands.
Lancel is a very complete brand with a history of nearly 150 years, and many brands from her era have disappeared, but she has never stopped. Lancel's flagship store at Place de l'Opéra in Paris has stood there since 1929, surviving through World War II, which is quite remarkable. We need to make consumers aware of the wonderful story behind this brand and fall in love with it. So, our plan is to host a brand archive exhibition next year, starting in Paris and then moving to 2-3 other cities.
As for PIQUADRO, I am the founder of this brand, and it holds a special place in my heart. It's a brand that adheres to social values, sustainability, and is committed to supporting local community development. I believe that the new generation of consumers is not only interested in the brand's history and story but is also increasingly focused on the brand's ethical values.
Luxeplace.com: What challenges do you face in managing a multi-brand conglomerate? Do you plan to acquire other brands in the future?
Marco Palmieri: You must be extremely flexible and invest resources immediately when you see an opportunity. For example, when you see the potential to launch a product in a certain market, you should invest in it right away because no one knows what will happen, and consumer tastes change every day. All we can do is seize the opportunity.
In the future, we will indeed acquire other brands.
"I hope that in the next 5-6 years, the revenue from the Chinese market will account for no less than 20%."
Luxeplace.com: How has Piquadro Group performed after the pandemic, and what is the role of the Chinese market in the group's global strategy?
Marco Palmieri: Over the past 2-3 months, our revenue has seen a significant jump. Currently, the group's primary markets are concentrated in Europe, where we have been progressing very well, and our brand recognition is high.
However, we must consider the Asian market, especially China, as it is a massive market for luxury brands, as is well known.
So, even before the pandemic, we had plans to expand into the Chinese market. During the pandemic, we opened 8-9 stores for the Lancel brand in China, and in the next 1-2 years, we will continue to push forward with our store expansion plans.
Luxeplace.com: What development goals has Piquadro Group set for the Chinese market?
Marco Palmieri: We hope that in the next 5-6 years, the Chinese market will account for no less than 20% of the group's total revenue. To achieve this goal, we have started building a completely new team and investing in areas such as store openings, operations, advertising, and marketing.
Luxeplace.com: Regarding store openings, what are your plans?
Marco Palmieri: We are focusing on major cities or other important urban centers, but what's even more crucial is finding the right locations.
Similar to the situation in China, luxury and premium brands in Europe are also expanding into second-tier cities. In Europe, many people are leaving major cities like Milan and Rome and moving to smaller cities, where they enjoy a change in lifestyle. Brands are following their customers and opening stores in these medium-sized cities.
"Consistency is the key to winning over Chinese consumers."
Luxeplace.com: What kind of brand is The Bridge? What feedback did you receive from consumers after launching flagship stores on JD.com and Tmall?
Marco Palmieri: The Bridge is described as "fascinating," "natural," and "boiled leather." This brand was founded in 1969, and its production base is located in the central region of Tuscany. Even today, 80% of its revenue comes from leather of the same color, which means that over the past fifty-four years, it has survived by solely producing one color of leather, which is quite incredible.
What surprised me greatly is that The Bridge doesn't have any physical stores in China, and we hadn't done any advertising. However, its sales on JD.com and Tmall have been doing very well, incredible, much better than expectation, and most of the consumers purchasing The Bridge are young. This is why we want to accelerate The Bridge's store expansion plans.
(*Note: The Bridge opened its official Tmall flagship store in March 2021 and its JD.com flagship store in July 2022.)
Luxeplace.com: Where is The Bridge considering opening its first store in China?
Marco Palmieri: It may be in Shanghai.
Luxeplace.com: What kind of brand is PIQUADRO, and what is the core consumer profile in China?
Marco Palmieri: PIQUADRO is a brand that combines "performance," "design," and "technology." Through this brand, we aim to develop innovative functional products.
PIQUADRO advocates a "Leisure Culture." Nowadays, people's work and life pace is fast, and post-pandemic, there's a greater emphasis on a healthy lifestyle.
PIQUADRO backpacks have a very clean appearance but offer great functionality, suitable for various occasions. You can put a lot of things inside them: laptops, notebooks, even shoes and shirts. You can use them for work, but when you unzip the bottom layer, it's for your running shoes.
Currently, most of PIQUADRO's customers in China are professionals, young urbanites, with ages ranging from 30 to 40 years, accounting for 80% of the total.
Luxeplace.com: For both PIQUADRO and The Bridge, which are just starting in China, what do you think is the biggest challenge?
Marco Palmieri: Both The Bridge and PIQUADRO are very unique in terms of brand image and products.
On one hand, you need a lot of time to build brand appeal, and on the other hand, you have to introduce the functionality and brand essence to consumers, which is the most challenging part. Regarding PIQUADRO's products, it's challenging to fully describe their functionality on a single page.
The competitive environment in Asia is much more intense than in Western markets. However, PIQUADRO is currently selling very well in South Korea.
Luxeplace.com: Lancel has already opened stores in first-tier cities like Beijing and Shanghai. What do you think is most important when creating brand stores?
Marco Palmieri: Lancel is a joyful, creative brand from France, and its stores need to reflect these qualities in details such as pillar decorations and product displays.
Luxeplace.com: In the highly competitive Chinese market, what is the key to Piquadro Group's brands winning the favor of Chinese consumers?
Marco Palmieri: Consistency, whether in product quality, style updates, or brand content communication.
For niche brands, creating a solid base of customer with strong fidelity is crucial, and loyalty comes from maintaining consistency season by season. It is very important to bring styles that surprise and delight your customers.
"In our communication with Chinese consumers, we emphasize that we are a real brand, Italian-made brand."
Luxeplace.com: In terms of communication in the Chinese market, what is the focus of Piquadro Group?
Marco Palmieri: First and foremost, it's about letting consumers know that our brand is authentic and not randomly put together.
Secondly, we emphasize that our products are "made in Italy." Take Lancel, for example. Although it's a French company, the brand's design, marketing, and communication headquarters are in France, but all of its production takes place in Italy, just like many luxury brands.
"Made in Italy" signifies that our craftsmanship and artisanal dedication are top-level, and we can ensure the delivery of incredible products, especially leather goods. Approximately 90% of luxury leather goods worldwide come from Italy, and this is something we want to communicate.
Luxeplace.com: What communication initiatives can we expect from Piquadro Group in the Chinese market going forward?
Marco Palmieri: Next month, we will be participating in Paris Fashion Week, where we will introduce our brand history to key opinion leaders (KOLs) and digital marketing platforms.
In the second half of next year, we plan to hold an exhibition in China, which will last for about a month.
Luxeplace.com: Do you still believe that exhibitions are the best way to communicate with consumers?
Marco Palmieri: Brand communication should involve a mix of different media, and social media is very important. While it may not be the best way to convey brand history, it is the fastest way to reach younger audiences.
However, offline interactions remain essential. Personally, coming from a factory background, I believe that touching and smelling a product is a magical experience that is hard to replicate on a screen.
About Marco Palmieri and Piquadro Group:
Marco Palmieri founded an industrial control system development company, Mediacom, when he was 20 years old. In 1987, he transitioned into the leather goods manufacturing industry and founded Piquadro in Bologna, Italy. In the initial decade, the company mainly produced leather goods for other large Italian groups.
In 1997, Palmieri sold Mediacom and focused on managing Piquadro, launching the PIQUADRO brand during this time.
In 2007, Piquadro went public on the Italian Stock Exchange.
In 2016, Palmieri acquired an 80% stake in The Bridge, a Florentine leather goods brand founded in 1969. In 2022, Piquadro Group acquired the remaining 20% stake, becoming the sole owner of the brand.
In 2018, Palmieri acquired the century-old French luxury leather goods brand Lancel from the Swiss Richemont Group.
Driven by a passion for discovering new talent, Palmieri founded an investment company, Piqubo SpA, in 2005, primarily providing funding support to entrepreneurs and businesses in the luggage and fashion accessories industry.
In addition to his business pursuits, Palmieri is actively involved in the revitalization efforts of the local community in Bologna. During the pandemic, he invested in the local skiing resort Corno alle Scale, ensuring the financial turnover of the ski resort and minimizing the impact on employees.
 | Image Credit: Piquadro Group and the brands' Instagram account
丨Reporter: Zuoxiaoli
 | Editor: Zhu Ruoyu