Large shopping malls and shopping centers, especially those with high-end luxury brands, have always been a battleground for brands from both domestic and international markets to establish their presence in China. For independent designer brands with limited resources, securing prime retail locations often seems like an unattainable goal.
However, amidst the labyrinthine streets and alleys of Shanghai, within elegant townhouses, cafes, and various street-side shops, designers and entrepreneurs have found ideal places to set up shop, offering them a relatively unrestricted space for development.
According to incomplete statistics from the fashion business database under Luxe.CO Tong, a total of 14 Chinese designer brands, has opened street-side stores, all in Shanghai, since 2023.
In actuality, brands like Short Sentence, CALVINLUO, and ATTEMPT, among others, had chosen to establish their offline direct sales channels in the streets and alleys of Shanghai much earlier, entering a new phase of growth.
In 2020, ATTEMPT opened its first store at 5 Yuqing Road in Shanghai, which was transformed from a three-bedroom old house and hidden under residential buildings. At the end of 2021, ATTEMPT opened its fourth offline store in Shanghai on Julu Road, where the surroundings exuded a sense of history and a youthful atmosphere. The all-black interior design continued the brand's style, making it stand out in the nearby lane-style buildings.
Short Sentence opened its first offline store on Anfu Road in early 2021. The brand's founder, Guan Lin, believes that the neighborhood allows for a more complete representation of the brand's character. Short Sentence has also turned this store into a public space, integrating it into the surrounding community and bridging the gap between the brand and consumers.
In August 2022, CALVINLUO opened its first offline store on Yongjia Road. This two-story store is located in the culturally rich historical area of Hengfu in Shanghai, surrounded by upscale communities, providing a diverse high-end clientele for CALVINLUO's contemporary and avant-garde fashion products.
In early autumn this year, Luxe.CO made a special visit to three newly established brand stores in the streets and alleys of Shanghai, including CHIC CHOC, HIDEMI, and lost in echo. We explored how these designers leverage the community environment to create unique retail experiences.
Although all three brand stores are located on the street side, their different brand positioning and development paths have also influenced the differentiation in their choice of location and interior design.
Anfu Road is located in Shanghai's famous historical and cultural district, and it has now become a "hotspot" in the streets and alleys of Shanghai, attracting many trendy young men and women who come for a city walk. The offline flagship store of lost in echo is located in the middle of this road.
On this road, which is less than 1 kilometer long from east to west, there are various commercial forms such as cafes, bars, fashion brand stores, and cultural venues like the theater center. The sides of the road are also lined with old residential buildings. Here, fashion seamlessly blends with daily life, adding a touch of casual and leisurely charm.
CHIC CHOC's flagship store is situated at 85 Shaanxi South Road in Huangpu District, where a vibrant commercial atmosphere prevails.
The CHIC CHOC store is located near the intersection of Shaanxi South Road and Huaihai Middle Road. At this intersection, you'll find large shopping malls like Printemps, IAPM Mall, and Parkson, as well as office buildings, parks, hospitals, hotels, and a variety of other amenities. Heading northward along the streets and alleys from this intersection, you'll come across a multitude of diverse shops. The upper floors of these shops are often residential, but they don't dampen the liveliness of the area.
In contrast, HIDEMI's store is located in a quieter neighborhood. Both sides of Yanqing Road, extending east from Changshu Road, are mostly residential areas. While it's not far from lost in echo's store, it lacks the bustling commercial atmosphere and exudes a sense of tranquility and simplicity that's more characteristic of everyday life.
Product Categories: From Ready-to-Wear Clothing to Accessories, Footwear, and Fragrances.
Apparel is not the sole focus in these brand stores; jewelry, handbags, footwear, and even fragrances are also attracting customers' attention, adding to the appeal of the stores.
The "DEMI" in the HIDEMI brand name means "half," and the Yanqing Road store fully embraces this theme. The store features two large-diameter curved columns, each cleverly transformed into fitting rooms. The overall color scheme of the store is dominated by beige, creating a warm and gentle ambiance. The grey-toned stone used for the columns adds a touch of calm and stability to the space.
Within the store, the latest 2023 autumn and winter apparel and footwear are displayed around the columns and on the walls, creating an autumn and winter atmosphere with products in shades of brown, coffee, and white.
Near the cashier counter, you can also find necklaces, earrings, and other jewelry items.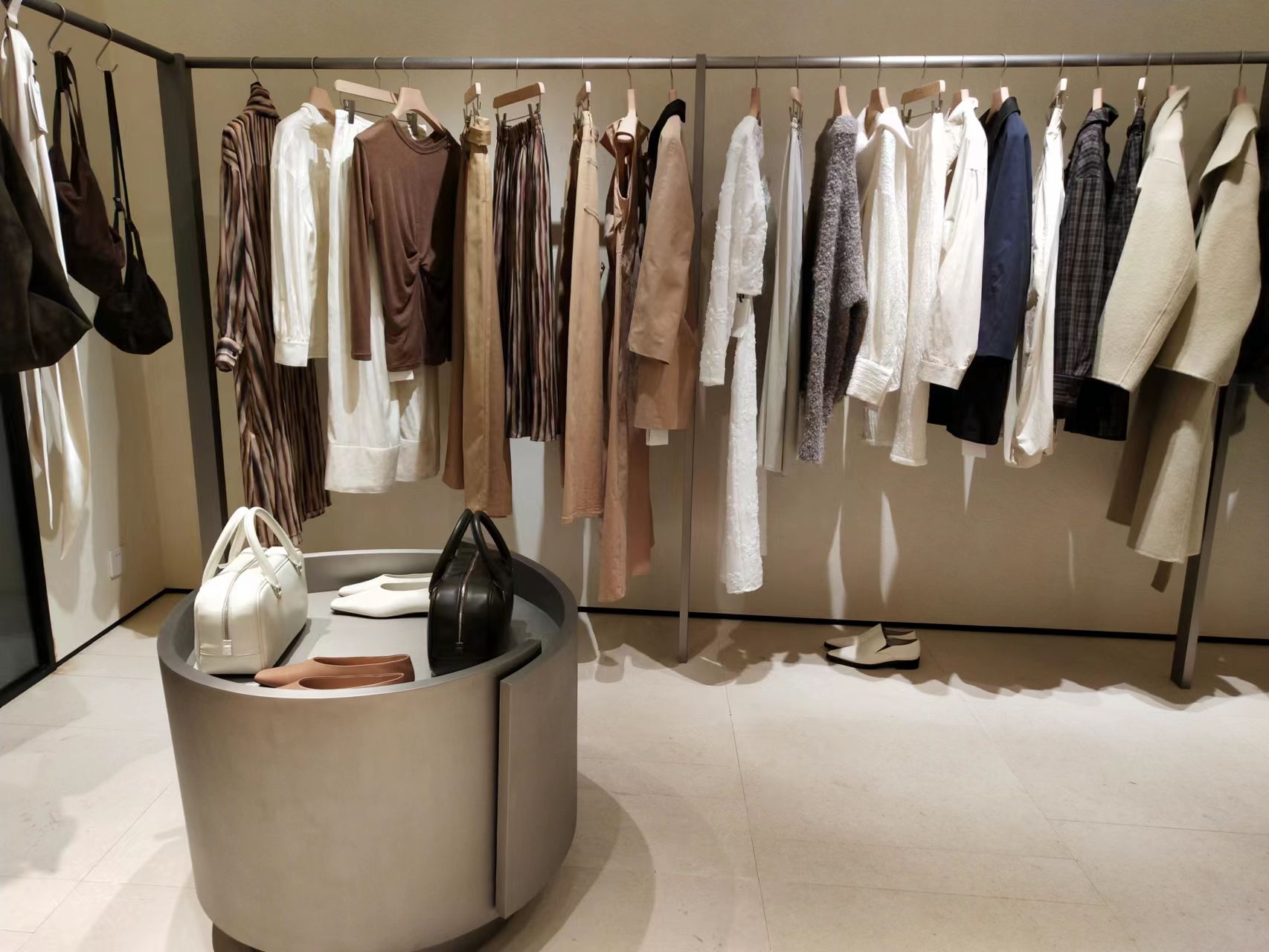 In contrast to HIDEMI, lost in echo places a greater emphasis on jewelry in its store. Toward the back of the store, on both sides of the walls, you can find displays of jewelry items from the 2023 spring-summer collection "ANOTHER" and the collaborative MIKA NAKASHIMA✖️lost in echo M-tone series.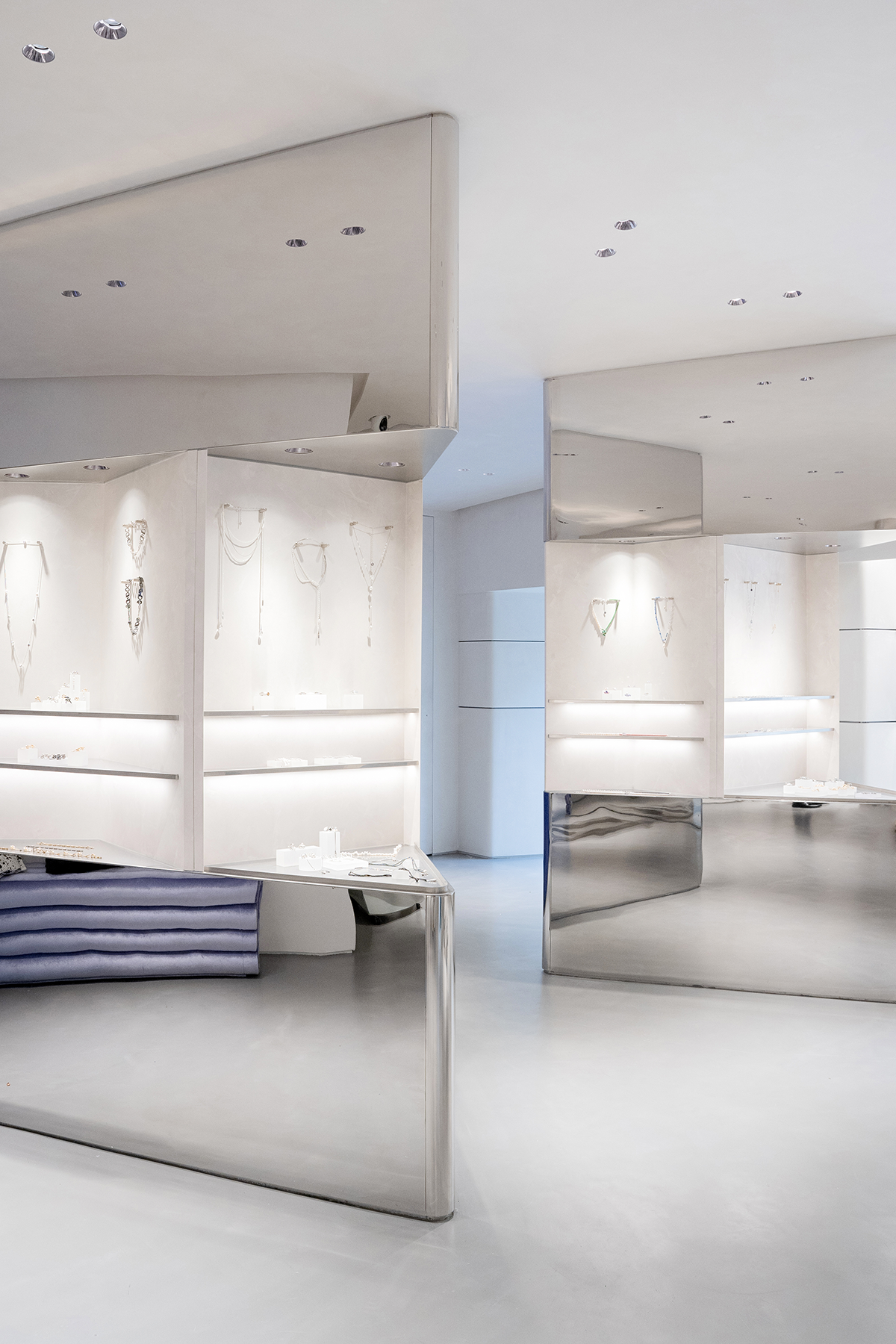 As you move toward the entrance, the left-hand wall features the brand's latest loafers, Martin boots, and knee-high boots, all in dark colors like black and brown, aligning with the brand's modern and trendy positioning. In the center of the store and on the other side, apparel and handbags occupy most of the space, offering a variety of styles and creative designs that attract young, fashionable, and trendy girls exploring Anfu Road.
CHIC CHOC's flagship store has a fresher and more elegant overall style. The three-story building features an exterior and interior dominated by beige tones. In the center of the ground floor is a wooden staircase, and throughout the store, from the coffee tables to the left wall near the entrance to the wooden tables on the west side of the second floor, you'll find the brand's exclusive fragrances: local fragrance brand Chunshan and the niche Korean fragrance brand COSMIC MANSION.
On the first and second floors, new products in different color schemes and styles, including pink, blue, and black, are neatly displayed along the walls.
Enriching Store Layouts Beyond Retail Functions
Fashion stores today have evolved beyond traditional retail spaces and have gradually incorporated diverse elements such as gardens, dining areas, VIP rooms, and more.
Both CHIC CHOC and HIDEMI have created dedicated plant spaces within their stores to add a touch of greenery and vitality.
CHIC CHOC has a semi-outdoor, semi-indoor garden that consists of a pergola in front of the cashier counter on the ground floor and an adjacent side entrance. The indoor flower arrangements exude elegance and romance, while the outdoor garden boasts vibrant flora even towards the end of summer. This addition provides a tranquil and cozy space, enhancing the overall shopping experience.
CHIC CHOC utilizes the entire third floor as a VIP room where home furnishings are showcased, offering customers exclusive and private services.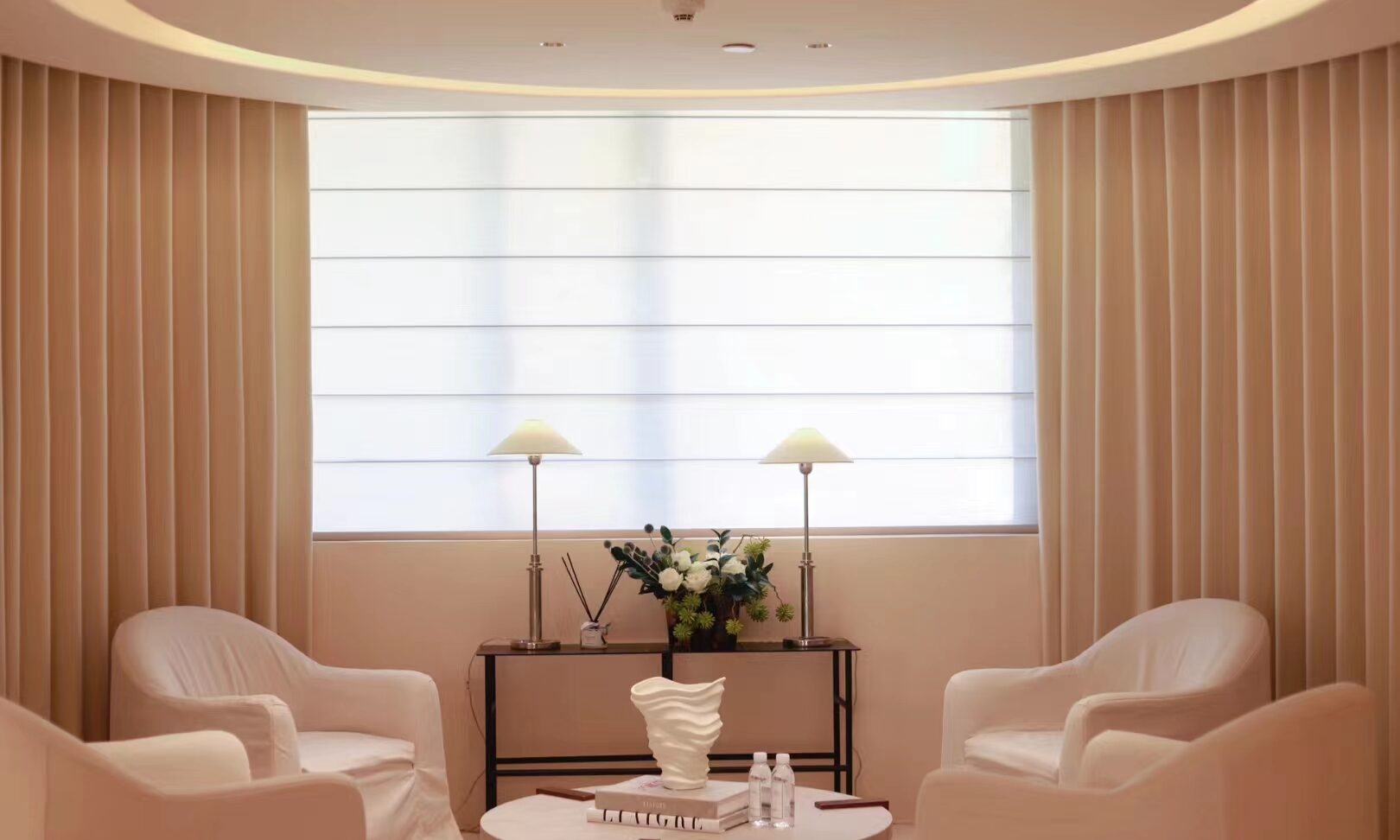 HIDEMI's outdoor garden is almost enveloped within the store, occupying almost half of the shop's area. The wall facing the entrance has been replaced with glass, allowing an unobstructed view of the garden. While the garden was undergoing renovation during Luxe.CO's visit, one can imagine that during spring and summer, the lush green grass surrounding various flowers, plants, and trees along the walls would transform the entire store into a natural and inviting display space.
lost in echo has set up a pop-up dessert station called Yetti's House at the store entrance, selling ice cream in collaboration with the Japanese dessert brand ZAKUZAKU, including a limited edition purple adventure ice cream. The brand has also opened a lost in echo × RAC BAR pop-up store at the starting point of Anfu Road, offering limited-edition purple drinks.
The floor and walls at the entrance have been painted in the brand's signature purple color, and there is a giant doll installation featuring the brand's IP image.
Different Development Paths: Primarily Offline vs. Starting Online
CHIC CHOC is the oldest brand among the three, and it's the only one that has primarily relied on physical offline stores since its inception.
In 2009, two Shanghai natives, Gigi and Lucy, opened the brand's first store on Shaanxi South Road. At that time, the store was located near Changle Road on the north side of Shaanxi South Road, and it had a small area of just over 30 square meters. The brand was initially named "CHANGE" and was later renamed "CHIC CHOC" when they opened their second store.
Over the next decade, CHIC CHOC gradually expanded with nine direct-owned stores in iconic areas of Shanghai, including Xintiandi, Huaihai Commercial Circle, Lujiazui Financial Center, and West Nanjing Road Commercial Circle.
With the opening of this new store, the founders returned to their initial starting point and relocated the store to a three-story standalone building closer to the city center. The store's area has expanded to 580 square meters, marking the brand's transition from version 1.0 to 2.0.
Both HIDEMI and lost in echo started as online brands.
lost in echo, founded by Shirley Yu in 2018, rapidly grew, leveraging her nearly ten years of experience in the high-end fashion industry and collaborations with domestic and international luxury brands like Chanel, Jimmy Choo, and Gores Group. The brand gained particular prominence by harnessing platforms like Xiaohongshu (Little Red Book) and the support of social media influencers. In 2020, lost in echo achieved a single live-streaming sales record exceeding one million RMB.
The Anfu Road store represents the first step for lost in echo transitioning from an online to an offline presence. To celebrate this milestone, the brand hosted a themed event, using the brand's signature purple color.
Similarly, in 2018, internet sensation hidemi founded the eponymous brand HIDEMI. In 2021, HIDEMI opened its first offline store in Shanghai's Grand Gateway 66. Later that year, it expanded to Shenzhen's MixC Shopping Center, and in June of the following year, it opened its first store in Chongqing's MixC City. The brand's products are also available through various multi-brand boutiques like LABELHOOD and SND.
The newly opened Yanqing Road store is the brand's first street-side store, with upgrades in both store size and format.
| Image Credit: Official brand accounts, On-site photography by Luxe.CO
| Editor: Zhu Ruoyu