In the field of luxury watchmaking, Hublot, a Swiss luxury watch brand founded in 1980 under the LVMH Group, is a relatively new player. According to Hublot's CEO Ricardo Guadalupe, being young is an advantage. In some ways, Hublot is constantly bringing freshness and vitality to the watchmaking industry, much like a startup company.
"Fortunately, we're still very young," Guadalupe said in an exclusive interview with Luxeplace.com. "We are committed to blending watchmaking craftsmanship with the materials we excel in, in a more instinctive, contemporary, and creative way. We are not bound by the past; our tradition is innovation." Guadalupe joined Hublot in 2004 and became CEO in 2012.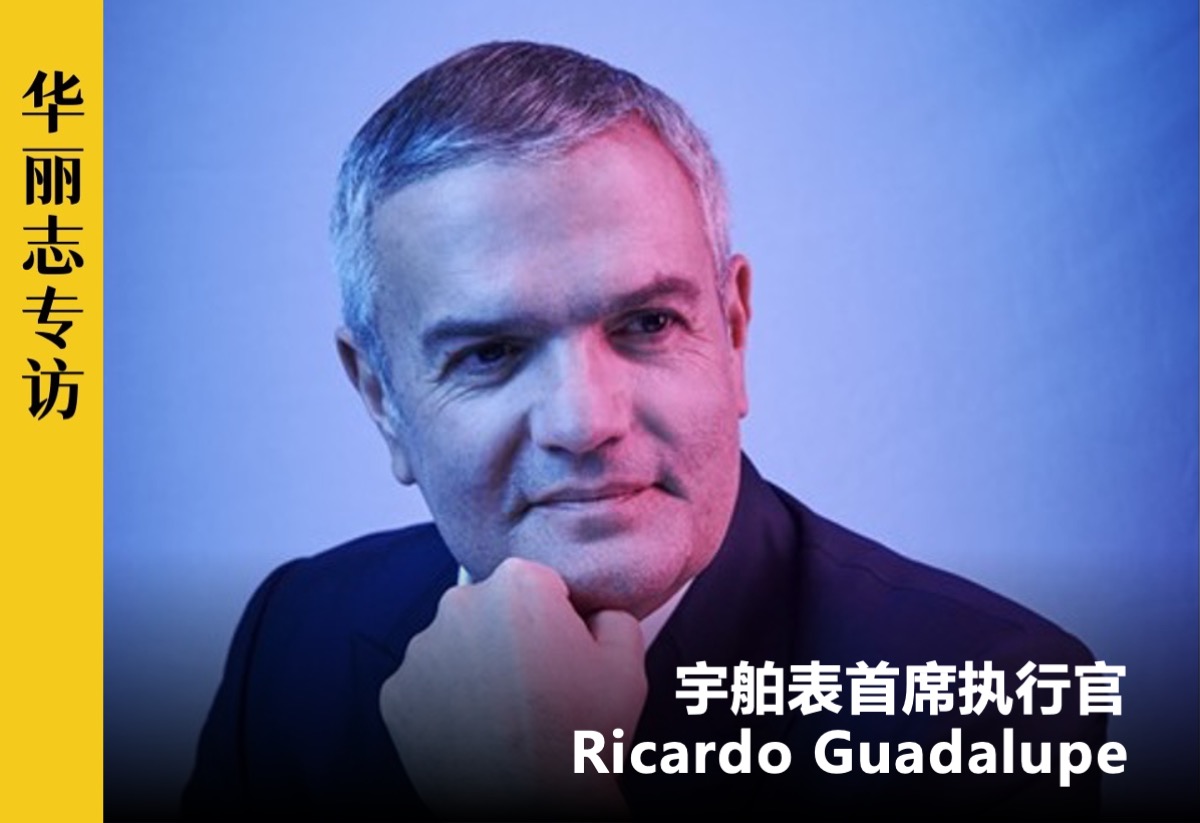 Recently, Hublot announced its partnership with the South Ocean "Polar Pod" exploration project. Seizing this opportunity, Luxeplace.com conducted a rare and in-depth conversation with Ricardo Guadalupe and renowned polar explorer Jean-Louis Etienne. This article includes the following sections:
1. "Leading the Way in Mastering Unprecedented New Materials"
2. "We Never Know Where Collaboration Will Take Us"
3. "The Transformation of the Watchmaking Industry Primarily Lies in Digitization"
4. Breaking Boundaries! Venturing into the Ocean and Space
Appendix: Interview Transcript with Polar Explorer Jean-Louis Etienne
"Leading the Way in Mastering Unprecedented New Materials"
The perception of time is abstract, but watches are like artists. They not only record time on their dials but also imbue time with a more tangible texture through boundless imagination: as precious as gold, as enduring as titanium alloy, as radiant as ceramics, as colorful as enamel.
Hublot has been a pioneer in material innovation since its inception in 1980. It became the first brand in the history of watchmaking to use rubber, crafting watch straps from rubber collected from trees and watch cases from metals mined underground. This fusion of two vastly different materials on a single timepiece inspired the concept of "The Art of Fusion" introduced by Hublot in 2004. Since then, Hublot has made remarkable strides in material innovation:
In 2011, Hublot, in collaboration with the Swiss Federal Institute of Technology Lausanne (EPFL), developed a patented material called Magic Gold, which consists of 75% gold and 25% ceramic, making it the world's first 18K gold alloy with scratch-resistant properties. Hublot's patented King Gold, composed of 95% 18K gold and 5% platinum, reflects a rose gold-like luster that doesn't fade over time. In 2013, Hublot pioneered the world's first patented bright red ceramic, overcoming the challenge of achieving vibrant colors in ceramics through firing processes.
In an interview with Luxeplace.com, Guadalupe expressed that Hublot's research and development department is continuously striving to push the boundaries of "The Art of Fusion." He himself closely collaborates with various departments and personally engages in all processes.
Luxeplace.com: Why is Hublot so committed to incorporating unconventional materials into watchmaking?
Ricardo Guadalupe: Hublot boasts a cutting-edge research and development department, and we take great pride in that. We focus on experimenting and developing innovative materials, without necessarily calculating the return on investment for R&D products. Sometimes, it takes us several months or even years of trial and error to find the perfect color or material, but the ultimate reward is priceless. The reward is that we can be the first to master an unprecedented new material, and that's what makes Hublot truly unique.
Mechanical watches have become a form of art, so they must be reimagined, including in design, materials, and movement structure.
"We Never Know Where Collaboration Will Take Us"
In recent years, an increasing number of high-end watch brands have been trying to break free from their established images by bringing innovation through cross-brand collaborations. Due to their multiple attributes encompassing timing functions, mechanical artistry, and decorative accessories, watches have found their way into various fields, including sports such as swimming, running, and racing, mechanical military industries like ships, yachts, and aircraft, and the diverse and colorful realm of fashion.
Rooted in the concept of "The Art of Fusion," cross-brand collaborations are the foundation of Hublot's innovation. During Hublot's 40th-anniversary innovation live event, Guadalupe mentioned, "Football is our most crucial partner. As early as 2006, we had a small collaboration with the Swiss national team, and later we signed a contract with UEFA to sponsor the 2008 European Championship held in Switzerland. It was a very important partnership for us, and we realized that we needed to delve deeper into the world of football, as it was the way for Hublot to become a big brand."
Starting from the world of football, Hublot opened the doors to cross-brand collaborations, and now its reach extends to other sports, arts and culture, lifestyles, social responsibility, and more. Hublot has introduced a variety of co-branded watch products, sponsored numerous sports events and teams, and invited many prominent figures to become brand friends, hailing from various fields including sports, arts, music, cuisine, lifestyle, and more.
Luxeplace.com: What do you believe is the key to the success of co-branded products for the brand?
Ricardo Guadalupe: Over the years, we have collaborated with numerous partners in the fields of sports, arts, and culture, conducting hundreds of different collaborations. These collaborations bring diversity to our brand, and each special edition watch targets a specific niche market. Hublot brings together these different talents, which truly enrich our knowledge and experience. Most importantly, each collaboration results in a unique and distinct new watch, and we never know where these collaborations will lead us. It's always a pleasant surprise.
Luxeplace.com: How does Hublot choose its collaboration partners?
Ricardo Guadalupe: Hublot's collaborations always begin with friendship and connections. The partnerships we select are based on mutual cooperation, and we work closely with brand ambassadors to undertake projects that make sense for both sides. Our aim is to establish long-term partnerships in areas where joint projects can be proposed. It is through mutual learning that we can harvest something entirely new and unique.
"The Transformation of the Watchmaking Industry Primarily Lies in Digitization"
According to data from the Federation of the Swiss Watch Industry, mainland China became the largest export market for Swiss watches starting from 2020. The China Horologe Association reported that in 2020, the import value of Swiss watches reached $3.045 billion, with Switzerland accounting for 80% of all imports.
LVMH Group, in its 2021 report, stated that Hublot had performed exceptionally well, especially in the Chinese market. Currently, Hublot has 13 directly operated boutiques in China. Guadalupe explained that the brand has developed a comprehensive retail strategy in China, including catering to the digital demands of the new generation of consumers and expanding online availability. He added, "Hublot is currently experiencing strong double-digit growth in China, and we have the potential to achieve double or even triple growth in the coming years."
Hublot has always been at the forefront of digitization. At the 2022 Swiss "Watches and Wonders" high-end watch exhibition that concluded on April 5th, Hublot unveiled two NFT digital watch creations in collaboration with renowned Japanese artist Takashi Murakami. In February of this year, Hublot also partnered with the global digital asset management platform Ledger to explore the cryptocurrency field.
Luxeplace.com: After the outbreak of the pandemic, what changes have you observed in the watchmaking industry?
Ricardo Guadalupe: It is certain that since 2020, the watchmaking industry has undergone significant changes, and we should follow the natural progression of these developments. Like most industries, the transformation in the watchmaking industry is primarily in the realm of digitization. We have noticed increased demand from consumers for e-commerce channels and the emergence of a new type of user group. Consumers are using digital platforms to access brand information, read digital news and magazines, and follow internet influencers. We are delighted to offer exclusive e-commerce services to an increasing number of customers who are accustomed to using digital platforms.
Luxeplace.com: How does Hublot understand and influence today's Chinese watch consumers?
Ricardo Guadalupe: Chinese watch consumers are typically aged between 25 and 40. They are young, successful, and accustomed to using digital products, even 100% digital ones. They are seeking innovative brands like Hublot that are interesting, distinctive, and highly recognizable.
We have been working on expanding our online product offerings while also paying close attention to the WeChat channel. Additionally, we collaborate with brand ambassadors who have extensive influence and a large fan base in the Greater China region.
Luxeplace.com: How do you view the second-hand watch market?
Ricardo Guadalupe: The second-hand watch market is very important as it helps us track and understand the value of watches.
Luxeplace.com: Hublot's sales in 2021 have exceeded pre-pandemic levels. What are your expectations for this year's performance?
Ricardo Guadalupe: We believe that the development trend in 2022 will be even better than in 2021.
Breaking Boundaries! Venturing into the Ocean and Space
— Connecting Watchmaking Craftsmanship with Professional Science
Through collaborations with fields such as oceanography and aerospace, Hublot not only maximizes the value of its own technology but also develops and refines its watchmaking craftsmanship through industry interactions.
Guadalupe stated, "Hublot has always been committed to developing unique technologies, which is why we naturally decided to establish partnerships in the fields of oceanography and space. The Hublot Exploration program is a way for us to connect watchmaking craftsmanship with professional science."
Many watch brands have deep connections with the ocean. During the early eras of maritime exploration, timekeeping instruments were essential for navigation, and the invention of marine chronometers was closely tied to the history of watchmaking. Hublot is no exception, as Jean-Louis Etienne, the leader of the "Polar Pod" project, an explorer, expressed to Luxeplace.com, "Ocean exploration is part of the DNA of this watchmaking brand."
The watchmaking industry also has roots in the aviation and even aerospace sectors, with pilot instruments and aerospace chronometers sharing commonalities with watchmaking craftsmanship.
Driven by these industry characteristics, Hublot initiated the "Hublot Xploration" program, breaking further boundaries of "The Art of Fusion" and exploring broader domains. Their support for the "Polar Pod" South Ocean expedition is part of this exploration program. Previously, Hublot also designed components for the Space X Exomars Martian rover probe as part of its involvement in the European and Russian-led ExoMars mission.
— Promoting Environmental Conservation through Brand Influence
In addition to ocean and space exploration, "Earth Protection" is the third major area of the "Hublot Exploration Program." Regarding the role of luxury brands in environmental conservation, Guadalupe stated, "The mission of international brands is to spread the message globally and actively drive change."
The "Polar Pod" is an emission-free ecological vessel designed by Jean-Louis Etienne for exploring the waters around Antarctica. To this day, humanity knows very little about this mysterious area, and this is the world's first scientific expedition focused on the waters of the Southern Ocean surrounding Antarctica. The ecological data collected by the "Polar Pod" will provide crucial references for the international scientific community.
The construction of the "Polar Pod" research vessel will begin in June 2022, and it is set to be officially launched by the end of 2023. The entire expedition project will span three years, concluding in 2026. Hublot will create a series of behind-the-scenes videos for the expedition program and disseminate the content to the public through various media channels, helping establish global influence for environmental research projects.
Since 2019, Hublot has also partnered with the SORAI (Save Our Rhinos Africa and India) Rhino Conservation Initiative. Hublot utilizes the global influence of its brand to conduct a global advertising campaign to raise awareness about the status of rhino conservation. It also allows people to make direct donations to SORAI through the Hublot official website. Hublot and SORAI have created several limited-edition watches, with a portion of the sales proceeds dedicated to the Care for Wild organization, the world's largest rhino conservation organization.
---
Interview Excerpts with Explorer Jean-Louis Etienne
Luxeplace.com: How did you become connected with Hublot and collaborate with them?
Jean-Louis Etienne: I was awarded the Hublot Prize for Seaman of the year during my tenure as Director-General of the Oceanographic Institute in Paris. The award ceremony held at the Yacht Club of Monaco was unforgettable.
Luxeplace.com: What is your perspective on luxury brands' cross-industry collaborations and their support for environmental conservation?
Jean-Louis Etienne: Like all other industries, luxury brands must also contribute to environmental conservation efforts. They allocate a portion of their profits to support research projects related to climate change and biodiversity preservation, which is appreciated by the scientific community. In this sense, I am very grateful for Hublot's support for the "Polar Pod" expedition project.
Luxeplace.com: You were the first person to reach the North Pole alone, and now you are spearheading the first scientific expedition focused on the waters of the Southern Ocean. Could you provide a brief overview of this work for those who are not familiar with the field?
Jean-Louis Etienne: The "Polar Pod" is a tower-like research vessel known for its stability, making it suitable for studying the turbulent waters surrounding Antarctica, referred to as the "Furious Fifties" by sailors. As a major oceanic carbon sink on Earth, this area plays a significant role in climate change, and we will monitor various changes occurring here. The "Polar Pod" is powered by the Circumpolar Current and drifts quietly. It will be equipped with hydrophones for passive acoustic detection to record marine life.
Luxeplace.com: What changes have you observed in the natural environment in recent years? What impact do you hope to create through your collaboration with Hublot?
Jean-Louis Etienne: In April 2010, I crossed the North Pole in a hot air balloon, and despite it being late winter, there were extensive ice-free areas in the Arctic Ocean, which surprised me greatly. I had never seen such a situation during my Arctic expeditions in 1986. In this Antarctic expedition, we are unable to replicate the mode of travel where I mushed dogsleds over a 600-kilometer ice shelf along the Antarctic Peninsula in 1989-90, as the ice shelf we traversed back then had disappeared by 2000-02!
Communication technology (referring to Hublot's dissemination of information about the scientific expedition) will allow us to share real-time updates on the expedition. The "Polar Pod" project is an extraordinary adventure aimed at providing education in life sciences, earth sciences, and environmental sciences to students and the public.
| Image Credit: Provided by Hublot
| Editor: Zhu Ruoyu