From "One City, One Strategy" to "One Store, One Strategy," luxury brands in the China market are accelerating their localization efforts, and Chengdu undoubtedly gathers the most examples of this localization.
From pandas, bamboo, and old residences to Sanxingdui, from Hermès, Louis Vuitton, and Rolex to Arc'teryx, more luxury brands in Chengdu are thinking outside the box, cleverly integrating their brand DNA into the local historical and cultural scenes through stores, pop-up spaces, and limited-edition products:
In addition to the well-known symbols of Sichuan, more brands are looking at local cultural IPs to find points of connection with their brand DNA.
In terms of location selection, the city's ancient buildings and old residences are being discovered and utilized by an increasing number of brands, creating unique domains for brand narratives.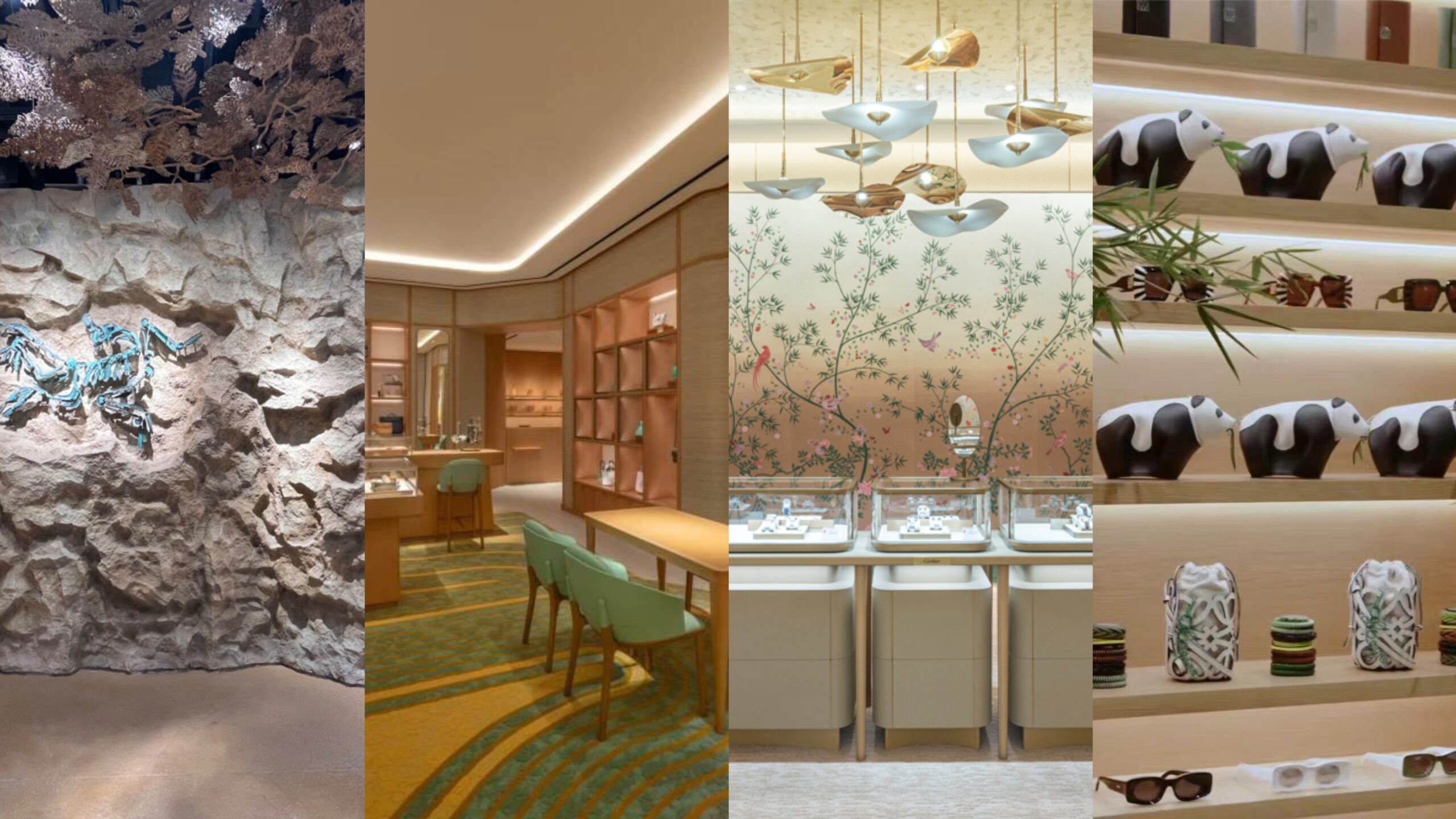 The National Treasure, Panda, Continues to Inspire Creativity
The giant panda, a super cute native of Sichuan, never fails to capture the hearts of millions of people nationwide and globally. It is Chengdu's most exceptional "star ambassador."
Many overseas brands have drawn inspiration from giant pandas to launch special products as a tribute to the Chinese market. In Chengdu's stores, giant pandas are a constant presence. Some brands, coinciding with the opening of their Chengdu stores, have introduced brand-new or updated iterations of panda-themed products, making Chengdu consumers feel "privileged" and leaving consumers in other regions envious.
This year, the French luxury leather goods brand MOYNAT opened two new stores in Chengdu, located in Taikoo Li and SKP. MOYNAT Paris headquarters specially designed panda limited-edition bags for the Chengdu stores, with the main character being not just any panda but the most popular one at the Chengdu Giant Panda Breeding Research Base, "Hua Hua." The designs include a reclining Hua Hua, a hammock Hua Hua, a stamp Hua Hua, and a bamboo-holding Hua Hua, among others.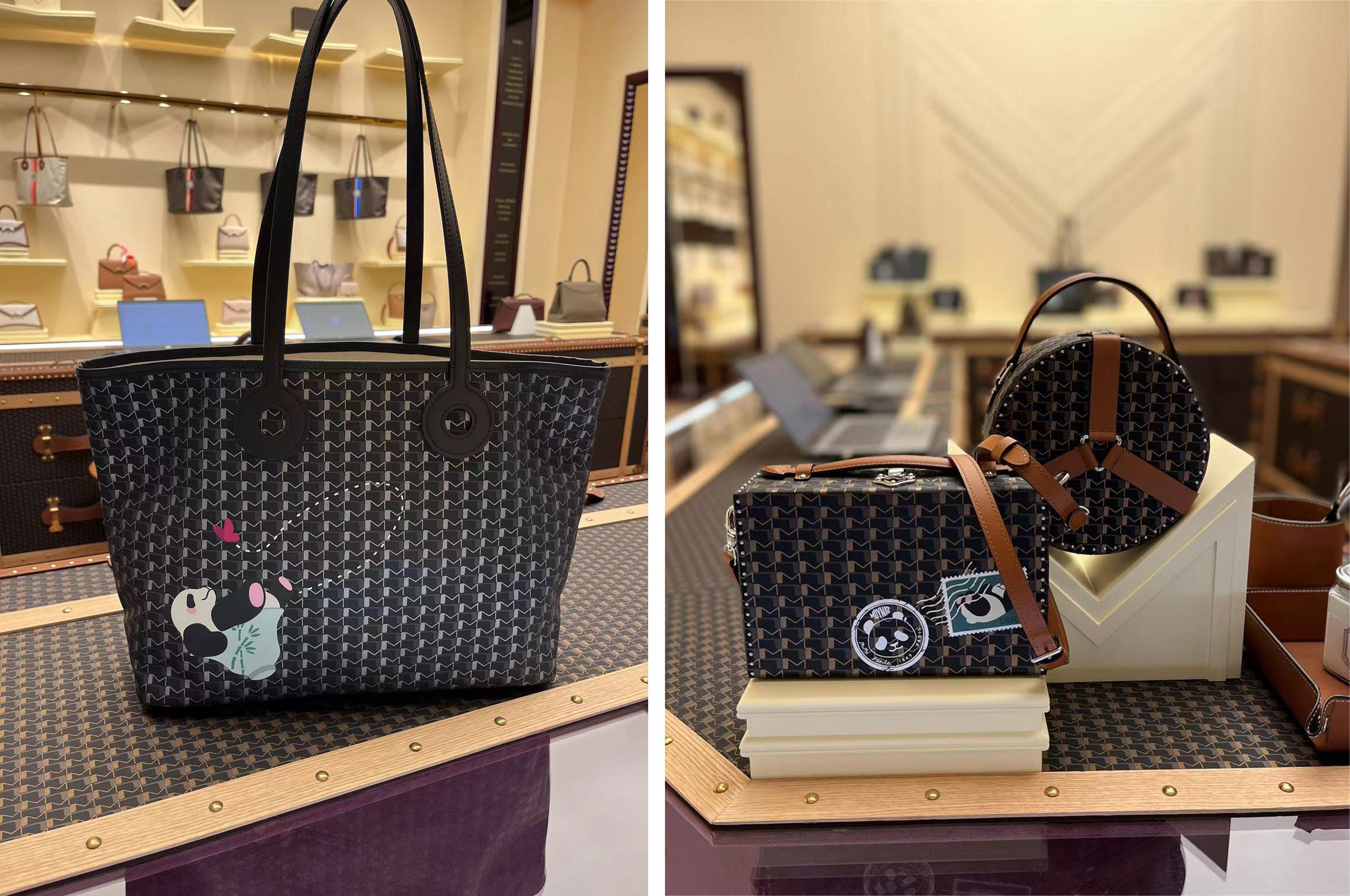 At the Taikoo Li store opening, MOYNAT also created a coffee cart "driven" by the panda cart conductor, offering "panda" coffee and "mahjong" iced Americano.
In January, LOEWE opened its first CASA LOEWE in Chengdu at IFS GOLDCREST, which is the third LOEWE Casa in the country.
For the store opening, LOEWE created 100 limited-edition panda bags adorned with mischievous bamboo leaves, as well as panda felt pendants and panda sieve DIY pendants, which were first sold at LOEWE Casa Chengdu.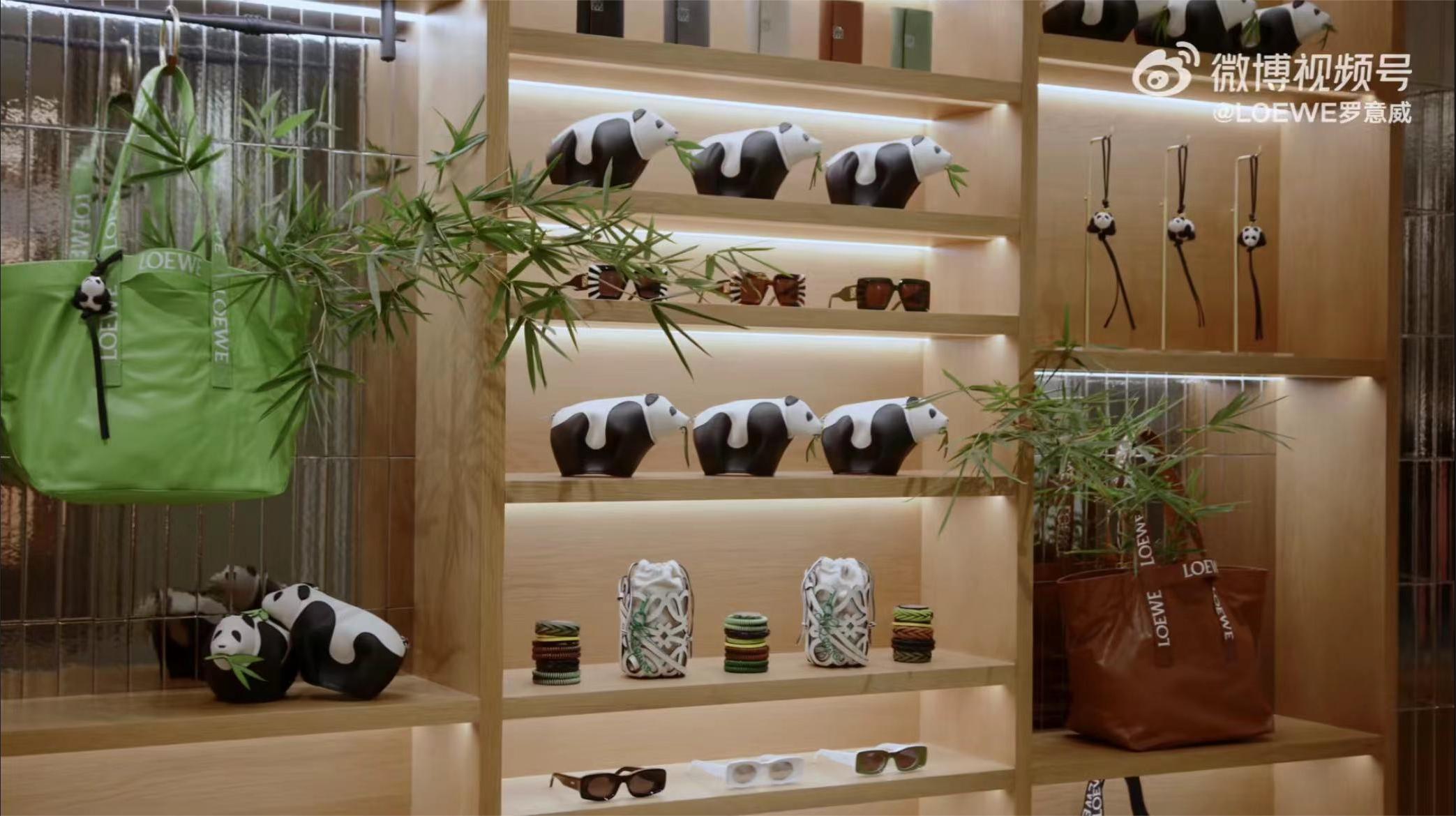 On social media, netizens jokingly referred to these items as "LOEWE's Chengdu specialties."
In late October, Hermès opened its second store in Chengdu at SKP. This store specifically selected an Arceau Sichuan watch featuring a panda motif.
Hermès had previously introduced panda-themed tableware and handcrafted ornaments.
Ancient Landmarks Open New Stores, Attracting Visitors from All Walks
In the heart of Chengdu's central business district, Taikoo Li, old buildings have been preserved or rebuilt, making them a preferred choice for many luxury brands to establish flagship stores and pop-up spaces.
In November of last year, Louis Vuitton Maison opened in Taikoo Li, transforming the Guangdong Clubhouse adjacent to the flagship store into Louis Vuitton's first restaurant in China. They also created a one-of-a-kind coral leather crystal chandelier, which was inspired by Sichuan's traditional hotpot.
The Guangdong Clubhouse, with its green bricks and grey tiles, and the modern-style Louis Vuitton flagship store, old and new, collide, sparking a blend of the city's history and contemporary commercial vitality.
In September of this year, Zegna debuted in Chengdu's Taikoo Li Gaozhai and opened an exclusive collaboration series pop-up store called OASI CASHMERE. It became the first brand to open a pop-up space in this "old residence."
In Kuanzhai Alley, the most vibrant part of old Chengdu, L'Oréal China held the "Beauty · A World of Marvels" themed exhibition, showcasing brand philosophies and the latest technologies from its various brands. They also collaborated with several well-known domestic and international artists to present rich art pieces.
The simple courtyard gate of Courtyard No. 2 in Kuanzhai Alley was decorated with rainbow bead curtains, and the courtyard featured artistic installations inspired by rainbow threads and dry landscapes. The building's historical charm was meticulously preserved.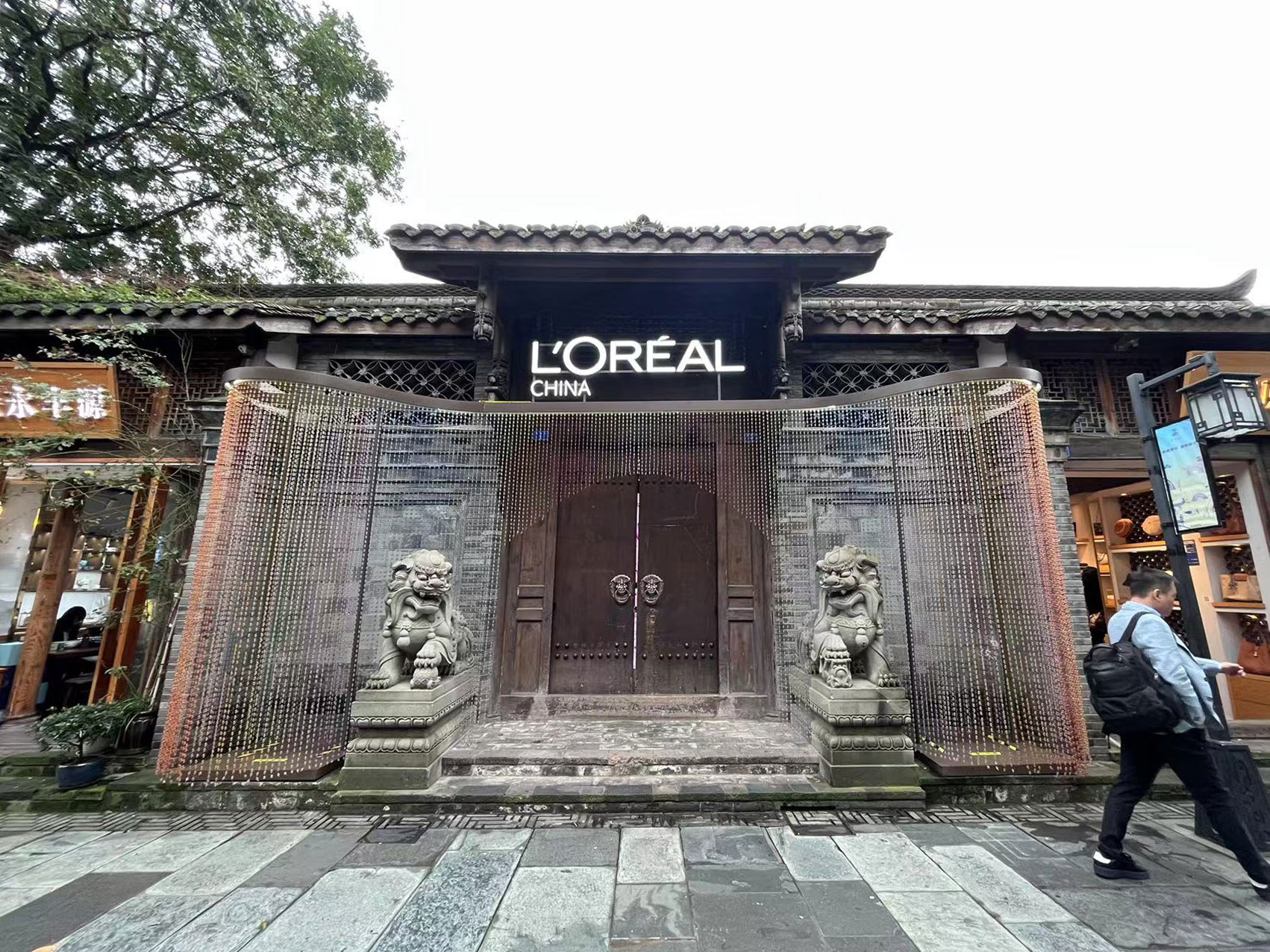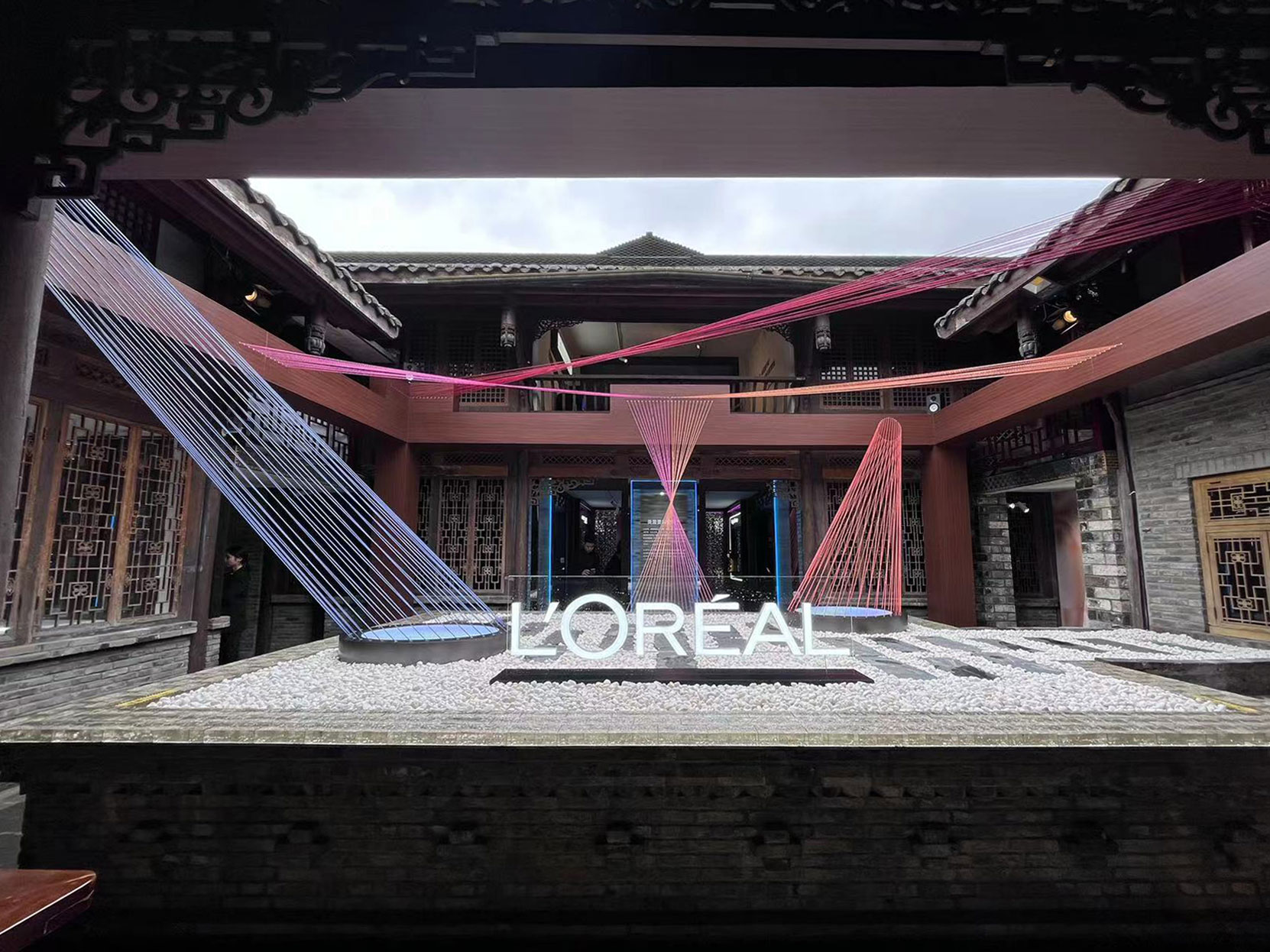 Just one kilometer away from Kuanzhai Alley, in June of this year, Chengdu's Citang Street, with a history of over 300 years, was reopened after renovation, attracting outdoor brands like Patagonia and local fragrance brand to summer to establish their presence.
Each old house has its unique history and stories that draw visitors from all walks of life. In these quaint old buildings, the spaces created by brands have a more heartfelt warmth.
The human history inspires brands to tell stories, and in such unique settings, brands exhibit a more inclusive attitude. Visitors, regardless of age or gender, whether or not they are consumers of the brand, are willing to come in and explore, finding places within the space worth lingering.
Finding Points of Connection Between Brand DNA and Cultural IP
In October of this year, ARC'TERYX's "Arc'teryx Center" in Taikoo Li, Chengdu, fully opened, with the theme of "Cave Exploration," creating an incredibly immersive shopping space.
In terms of showcasing Sichuan culture, the most eye-catching aspect of this store is the two large street-facing windows that recreate the Sanxingdui archaeological excavation site. Brown stone walls are embedded with enormous bronze masks and ceremonial objects, along with the bronze-textured ARC'TERYX Archaeopteryx fossil logo.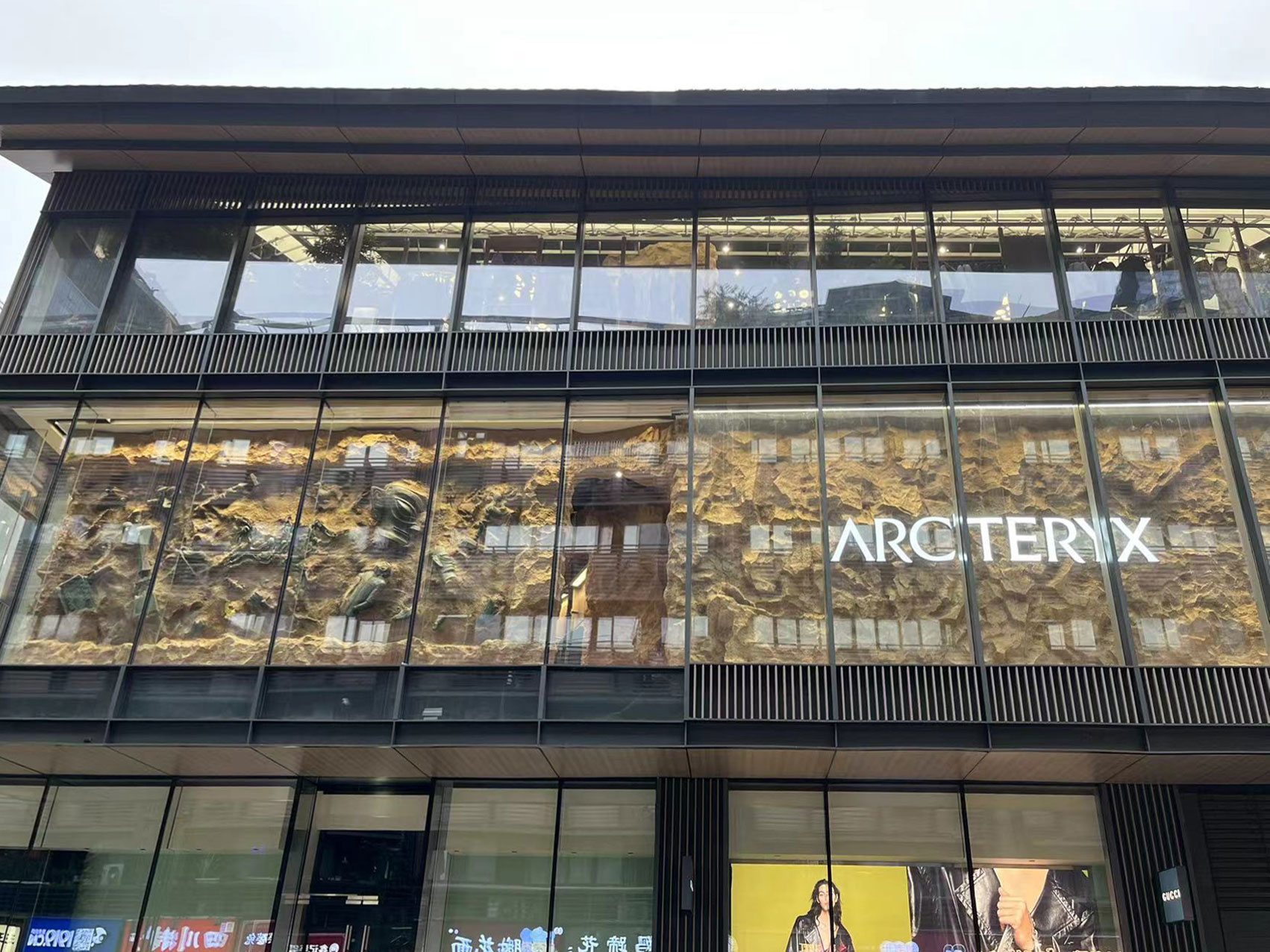 The Sanxingdui archaeological site is located approximately 40 kilometers from Chengdu. It is not only hailed as "one of the greatest archaeological discoveries of the 20th century," but in recent years, with the popularity of cultural and creative products from the Sanxingdui Museum, "Sanxingdui" has become a highly sought-after cultural and creative IP.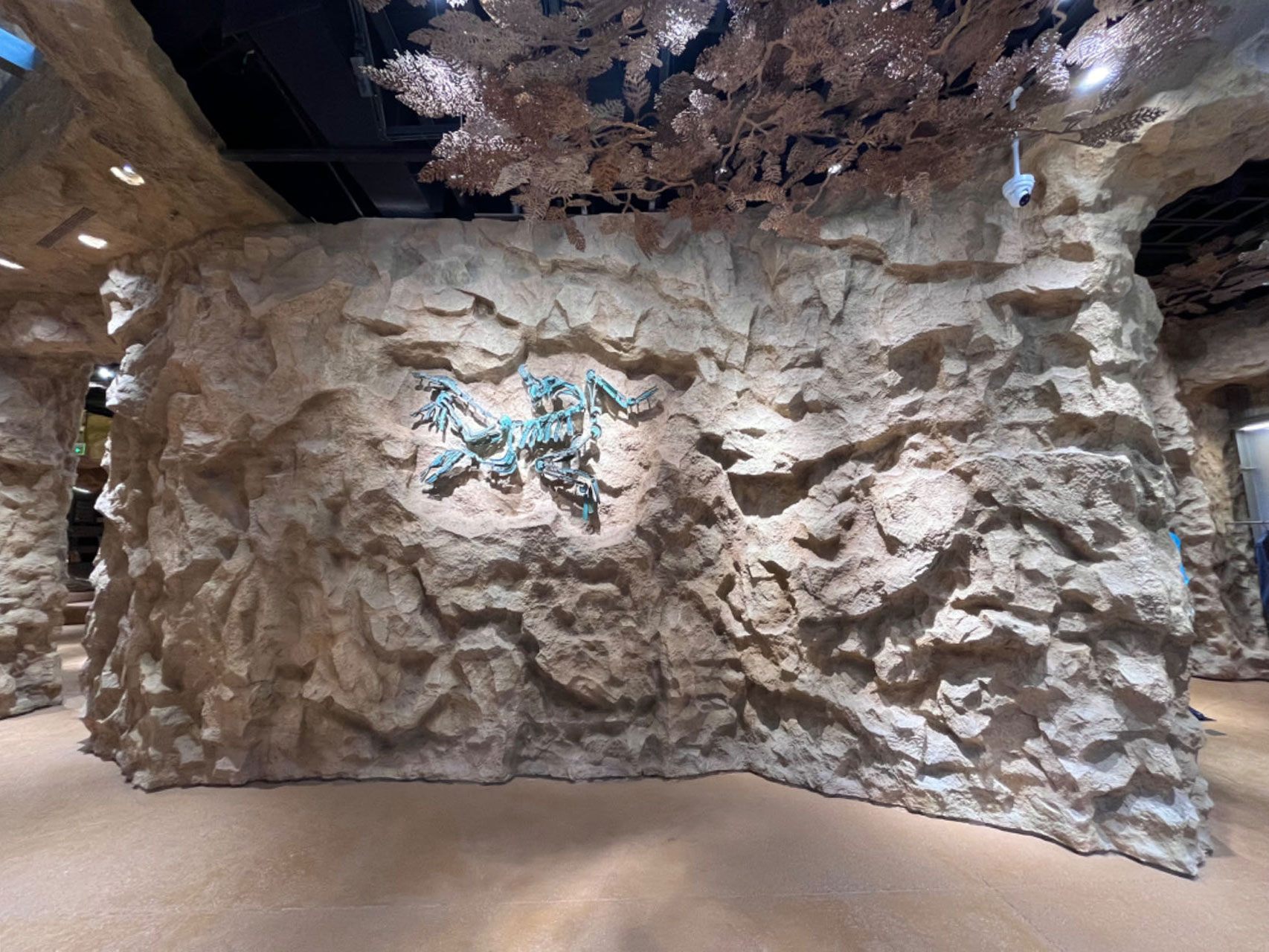 While elements like bamboo and pandas, deeply ingrained in Sichuan's culture, have been repeatedly referenced and reimagined by brands, this year, including Arc'teryx, more brands are exploring new elements and starting to look towards certain IP symbols.
The Sanxingdui site is referred to as "one of the most significant archaeological discoveries of the 20th century." Whether it's the bronze artifacts or the ancient Shu civilization, the mystery and uniqueness of Sanxingdui hold a strong appeal for people.
For ARC'TERYX, the integration with the Sanxingdui IP is particularly clever. ARC'TERYX's logo design is derived from the archaeological discovery of the Archaeopteryx fossil. This fossil represents the world's oldest known bird, symbolizing a breakthrough in the evolution of dinosaurs from land to sky in the history of biology. It signifies the brand's intention to create a breakthrough innovation with evolutionary significance in the outdoor field.
ARC'TERYX found a point of connection between its brand DNA and Sichuan culture, namely Sanxingdui. In familiar Chengdu scenes, its brand image and story are interpreted in a way that's closer to the hearts and minds of people.
Integrating Hidden Cultural Elements into Classic Store Images
Luxury brands typically place a strong emphasis on a globally consistent store image to create a uniform, distinct, and classic brand feel.
For example, Hermès has opened 33 stores in China, almost all of which were designed by the Parisian architectural firm RDAI, exclusively for Hermès. When you step into any Hermès store, you can see echoes of its flagship store on Faubourg Saint-Honoré in Paris.
However, in each city, Hermès explores and incorporates local culture into its store design.
While some local elements may be quite subtle or abstracted into very contemporary forms for Chinese consumers, they can be seen as the collision of inspiration between the brand's international creative team and Chinese culture, an exploration of spatial art.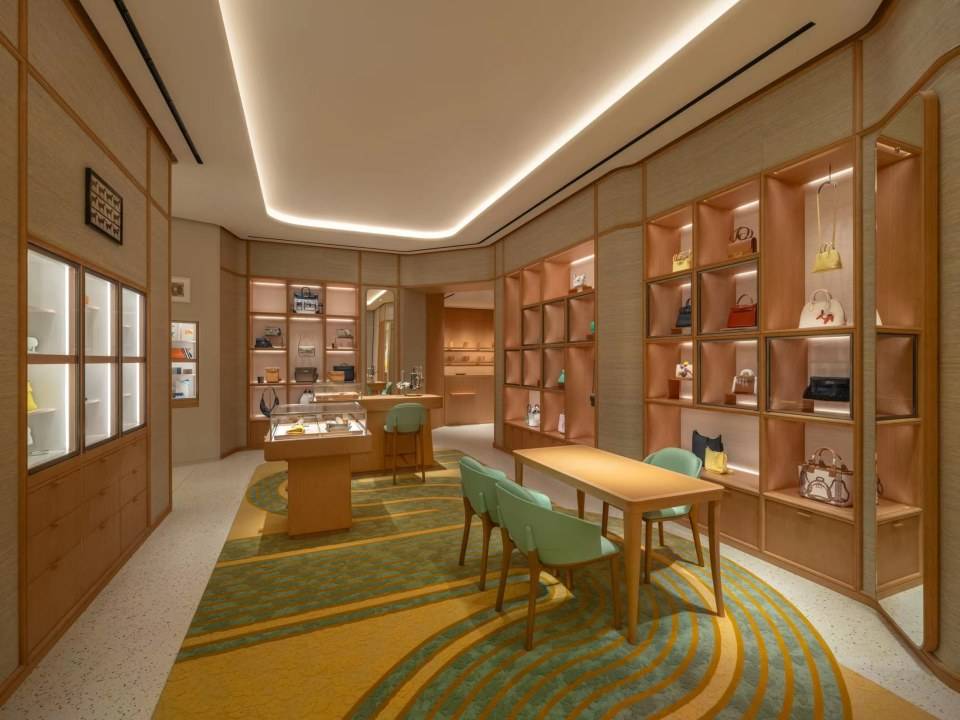 Cartier's boutique store in Chengdu SKP also draws heavily from Chengdu elements while preserving its usual exquisite opulence.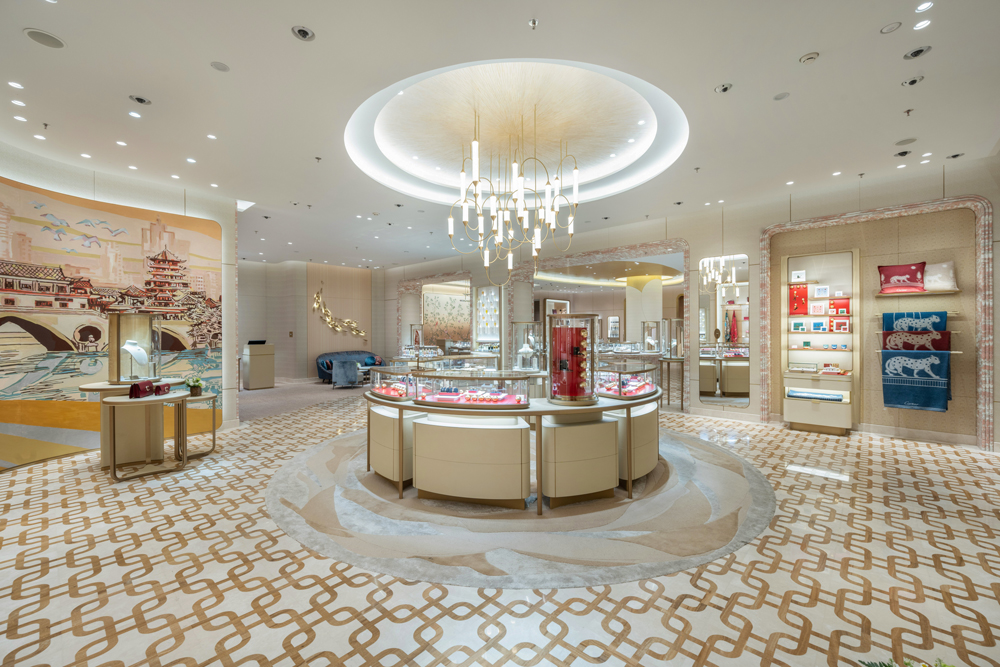 Every individual takes great pride in their city's life and is delighted to see international luxury brands exploring local culture. Some seasoned consumers particularly enjoy discussing the details of local elements within the store and are moved by the brand's dedication and respect for culture.
LOEWE has set an excellent example in the Chinese market. The LOEWE Casa in Chengdu features an art installation with strong Chinese elements – a cylindrical "bowl wall" displaying single-color glaze porcelain bowls created in collaboration with Deng Xiping, a national-level representative inheritor of intangible cultural heritage.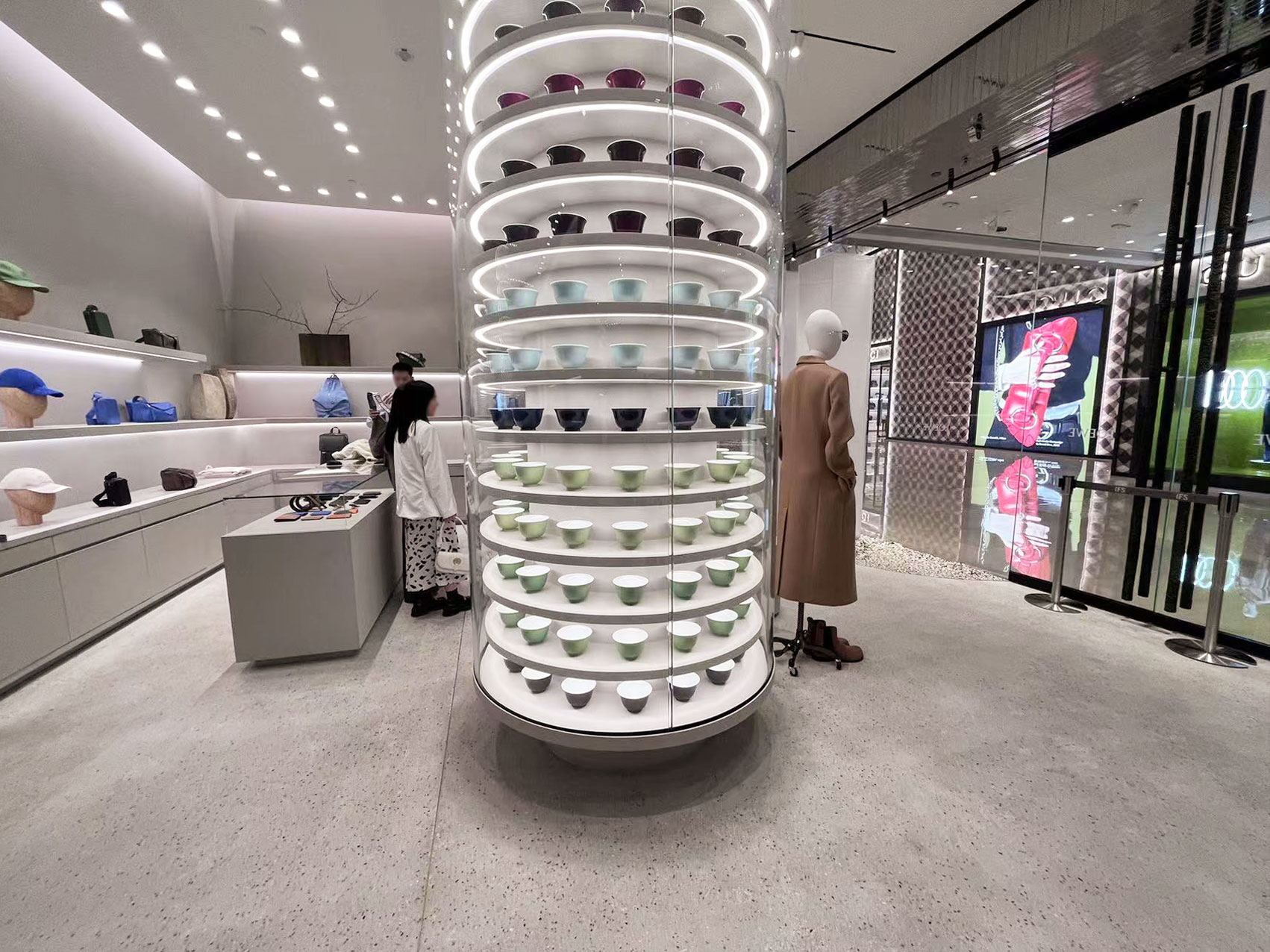 Both the 2023 Early Spring China Single-Color Glaze Series bags, inspired by traditional Chinese monochrome glaze art, and the careful arrangement in LOEWE's Chengdu store have received wide acclaim from Chinese consumers.
The ARC'TERYX Center in Taikoo Li, Chengdu, also has a "hidden gem" with local characteristics. At the top of the terrace on the northeast side of the second floor, a large lighting installation made of bamboo tubes forms the ARC'TERYX logo with tiny dot-like light sources. From the terrace, you can see Chengdu's iconic 339 TV tower.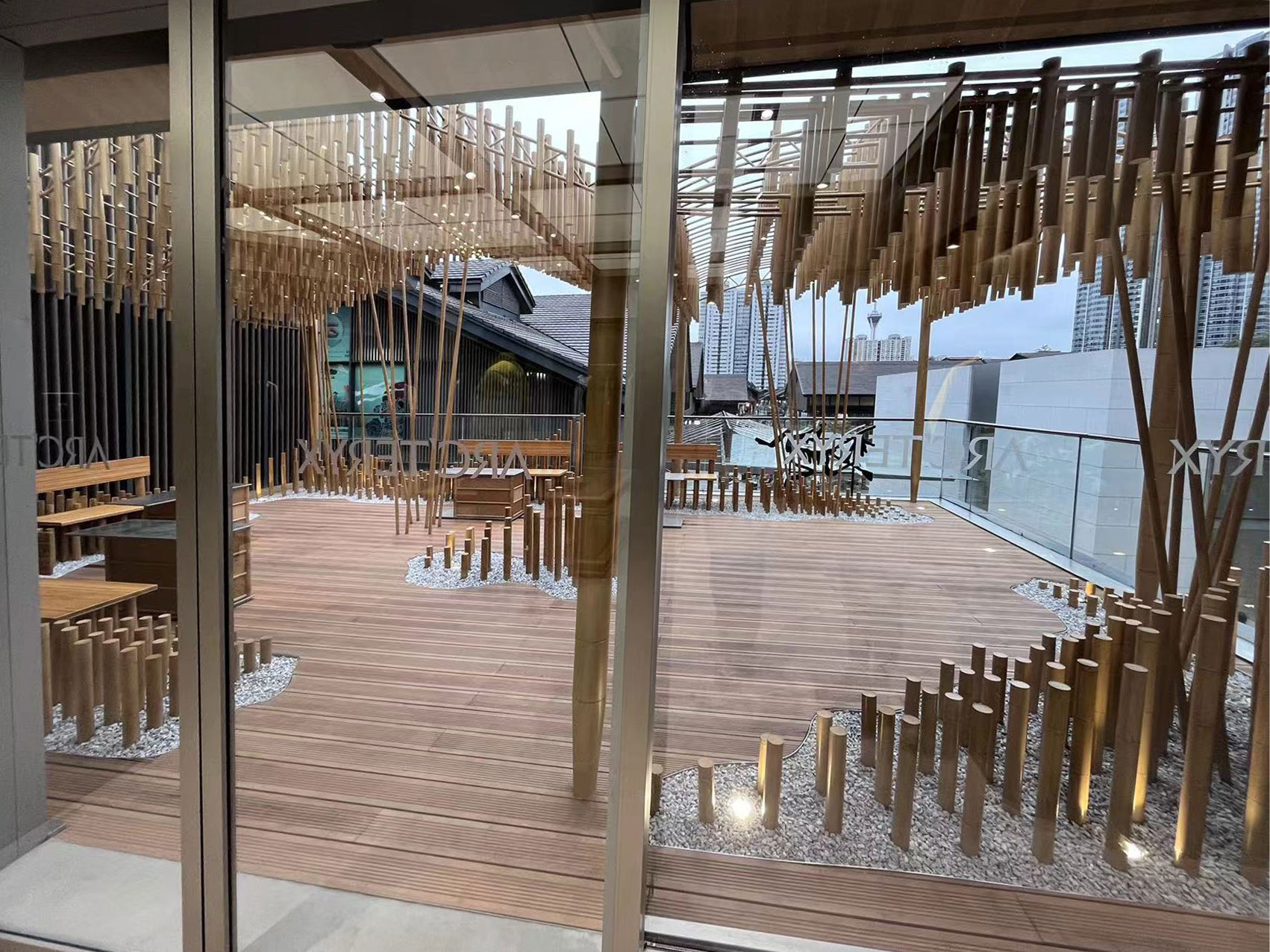 | Image Credit: Luxe.CO On-site photography, Cartier official website, Hermès official press release, LOEWE Weibo video screenshots, Zegna official Weibo
| Editor: Zhu Ruoyu