Sustainability has become a major trend in the fashion industry in recent years, with brands exploring every stage of the cycle from processing and products to usage and recycling.
From November 5th to 10th, the 6th China International Import Expo (CIIE) was held in Shanghai. Under the concept of "Zero Carbon and Zero Plastic, Green and Smart Travel," the CIIE has also become a platform for international fashion brands to showcase and exchange ideas on circular economy and sustainable development.
On November 6th, the team from Luxeplace.com delved into the CIIE, visiting the consumer goods and food and agricultural products exhibition areas. They researched several major sectors, including luxury goods, fashion, beauty, and alcoholic beverages, witnessing the sustainable practices of major brands in booth layout, installation design, products, packaging, recycling, and more. Many brands brought first-launch patented technologies or innovations, attempting to address the chronic issues in the fashion industry.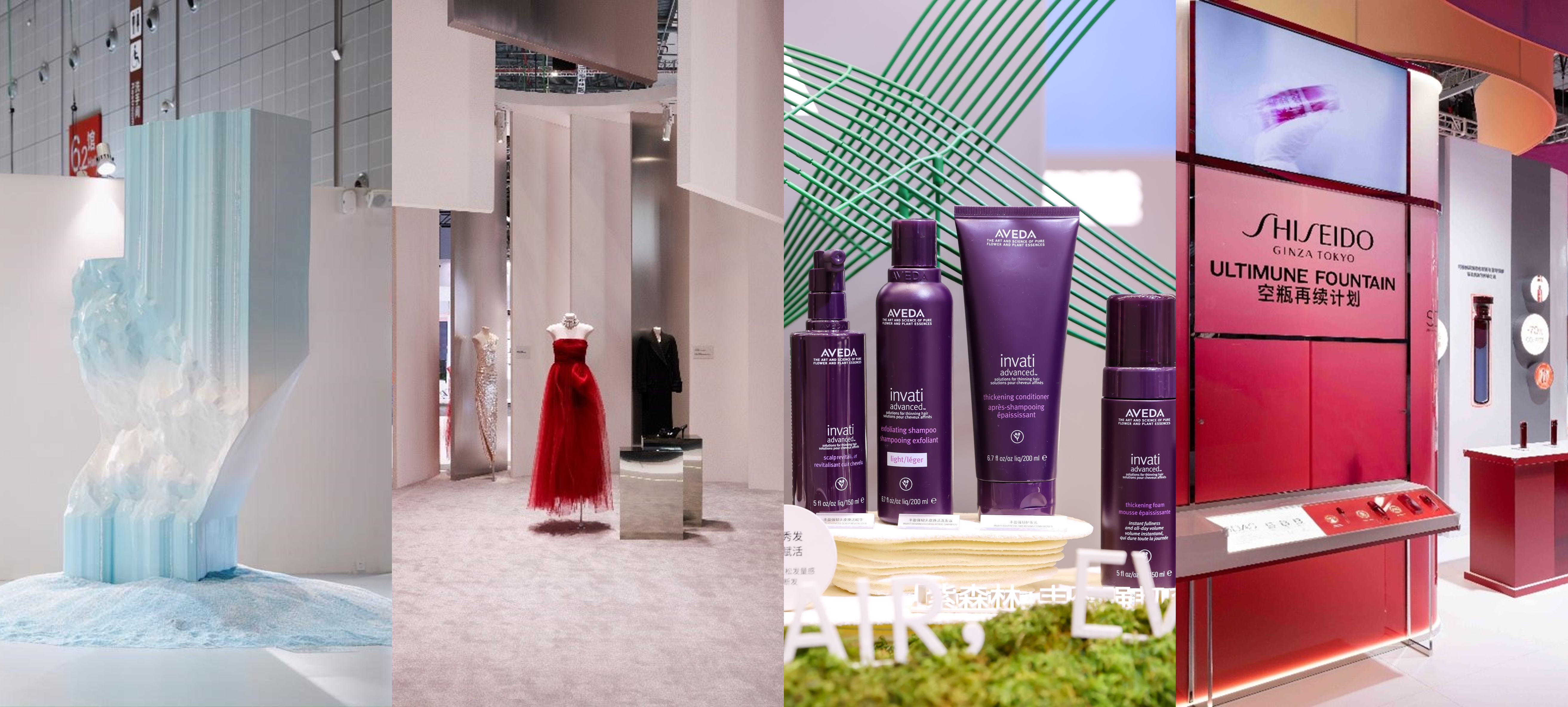 Products Combining Fashion, Functionality, and Sustainability
The product is the core of a brand and crucial in practicing sustainability.
Fashion brands have been tirelessly exploring the integration of eco-friendly materials with style and functionality, from developing and using innovative raw materials.
At this CIIE, Luxeplace.com noticed many brands applying mature eco-friendly materials to their products, enhancing their style, comfort, and functionality to perfectly replace non-eco-friendly materials.
Canada Goose showcased products built on a commitment to sustainability in its HUMANATURE sustainable section (pictured below), including the Kind Fleece series made from sustainable wool and bio-based fibers, and the Cypress and Crofton series of down jackets, lightweight jackets, and vests made from 100% sustainable nylon.
H&M Group presented its latest H&M Studio collection (pictured below), made extensively from sustainable fabrics, including dresses from 100% recycled polyester and accessories from recycled aluminum.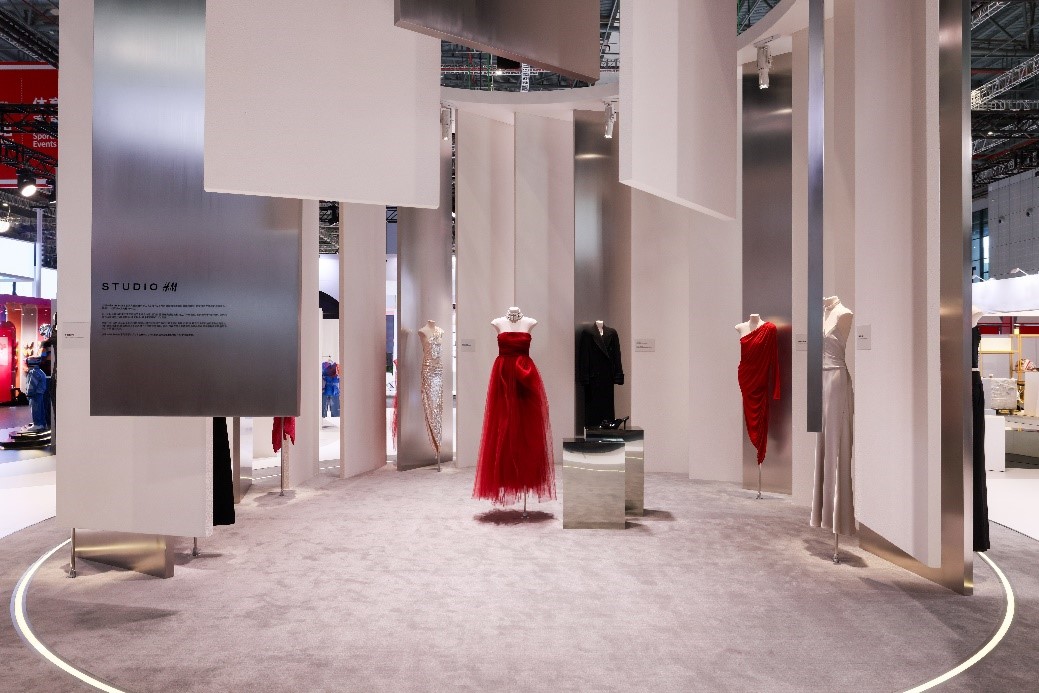 Bailian Group's fashion store, the bálancing, displayed eco-friendly products from brands like Viròn from Paris, using plant materials like apple pomace for footwear, and Danish brand BAUM UND PFERDGARTEN, whose sustainable products feature green earth tags and are made from recycled materials.
the bálancing collaborated with Chinese designer Hanqing Ding to create 7 eco-friendly bags (pictured below) with an "ocean protection" theme, using Eastman's Naia™ Renew fiber, made from 60% sustainably sourced wood pulp and 40% hard-to-recycle waste from landfills or incinerators.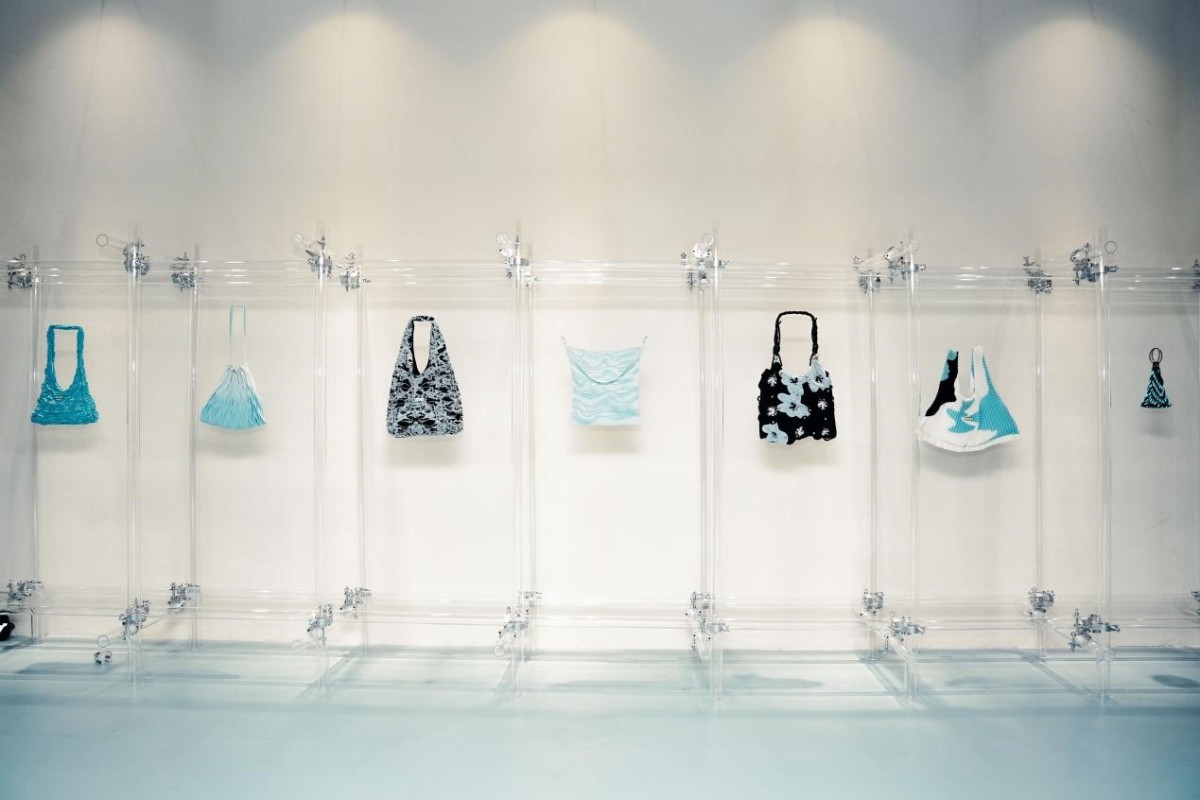 UNIQLO brought new products using recycled polyester fibers, developed in partnership with fabric manufacturer Toray Industries, from recycled plastic bottles, achieving the same functionality as virgin polyester.
Their new PUFFTECH air cotton clothing (shown below) includes 20% recycled polyester in the filling, and a special double weaving technique that reduces the use of seams and needle holes, making it waterproof while preventing the filling from escaping.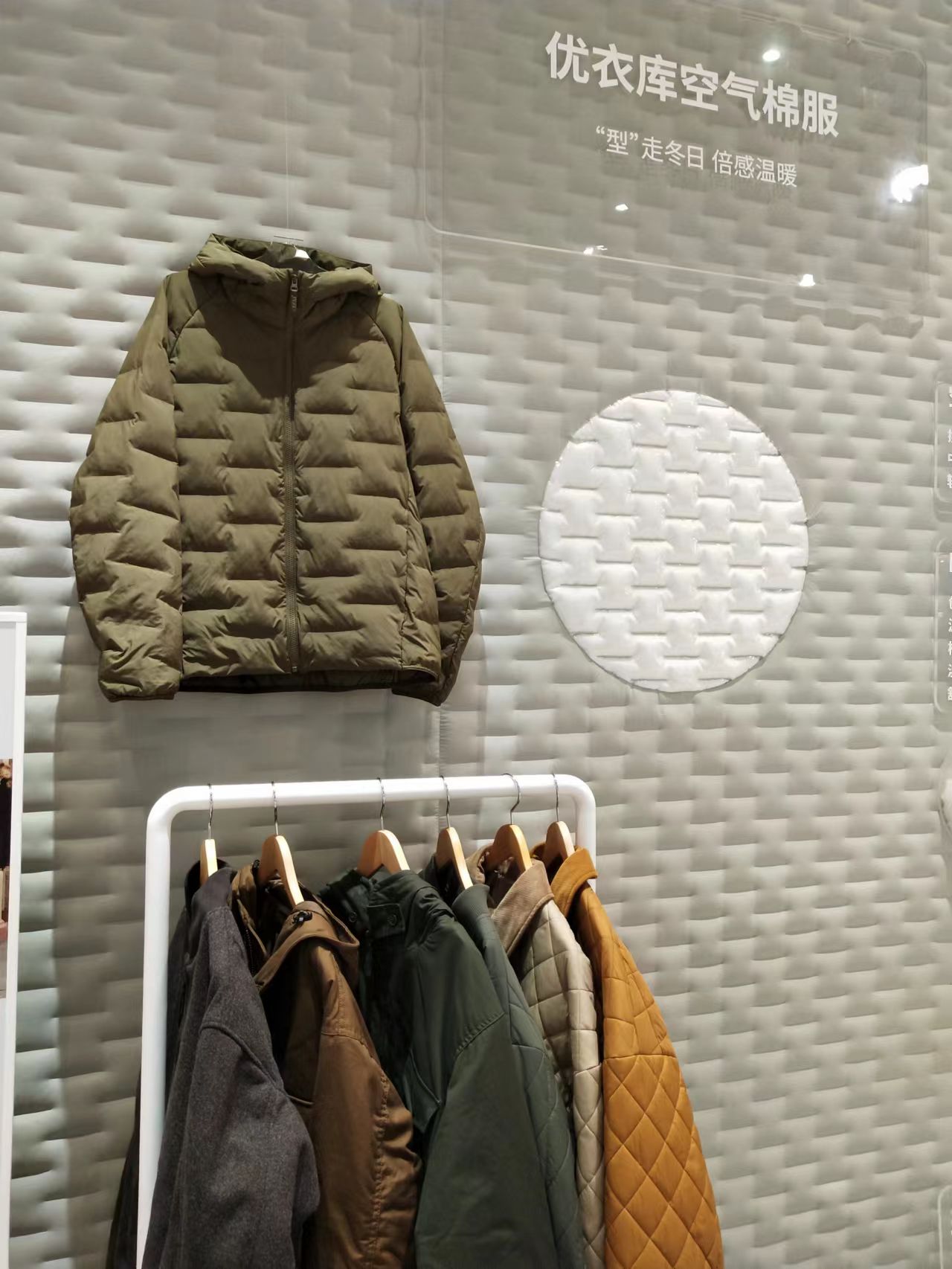 UNIQLO's updated fleece jackets for Fall/Winter 2023 feature 16 models using 100% recycled polyester. Their annual sales of recycled fabric clothing exceed ten million pieces, contributing to sustainable development.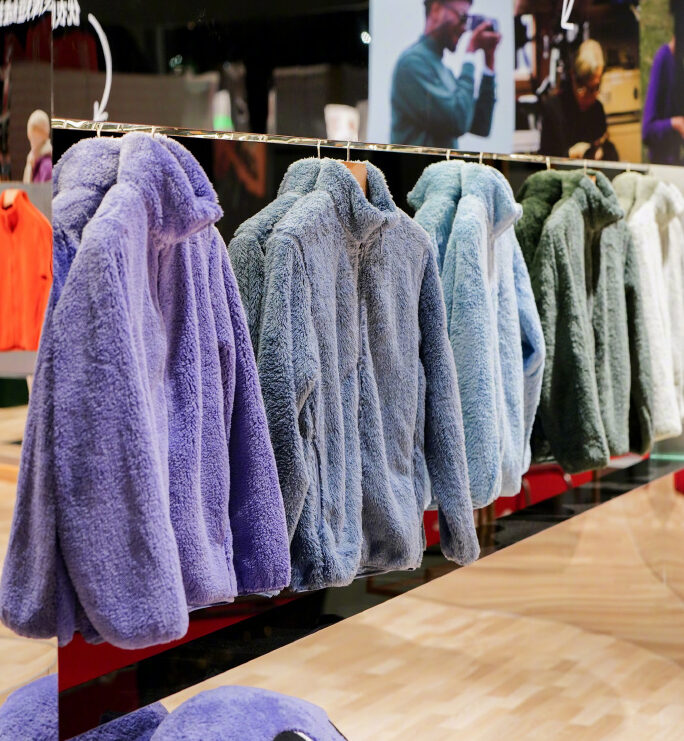 In beauty products, sourcing is considered in two ways: natural ingredients have a smaller environmental impact in harvesting, use, and recycling, like Estée Lauder's high natural content products, including the new Red Pomegranate series (over 92% natural, shown below), and others with over 90% natural ingredients.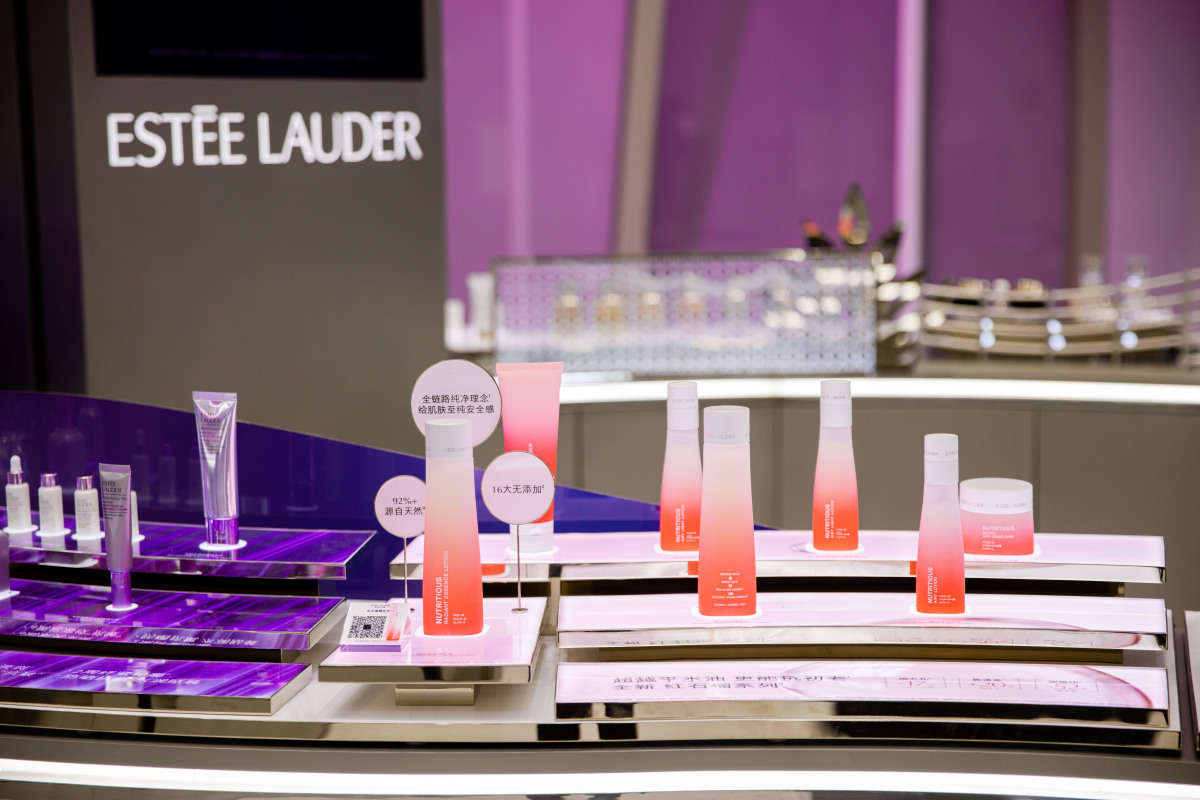 Additionally, brands like Coty are using innovative materials based on "waste-to-wealth" principles, such as their latest Gucci Alchemist's Garden A Chant for the Nymph fragrance in China. This perfume uses CarbonSmartTM ethanol, a sustainable material developed by LanzaTech, which captures and converts carbon from industrial emissions into ethanol.
The Path to Sustainable Packaging
Packaging waste has long been a criticism of the beauty industry for its environmental impact. Brands are adopting two common approaches to sustainability in packaging: using alternative materials and promoting the recycling of packaging materials. On one hand, brands are expanding the use of sustainable materials in packaging, and on the other hand, developing new materials reflects the commitment and investment of large corporations in sustainability.
SKECHERS, a comfort technology company, stated at the exhibition that the brand is continually increasing the use of environmentally friendly materials in packaging. This includes sourcing, printing, and recyclability, with 99% of their shoe boxes originating from FSC® certified sustainable forests and 93% printed using soy or water-based inks.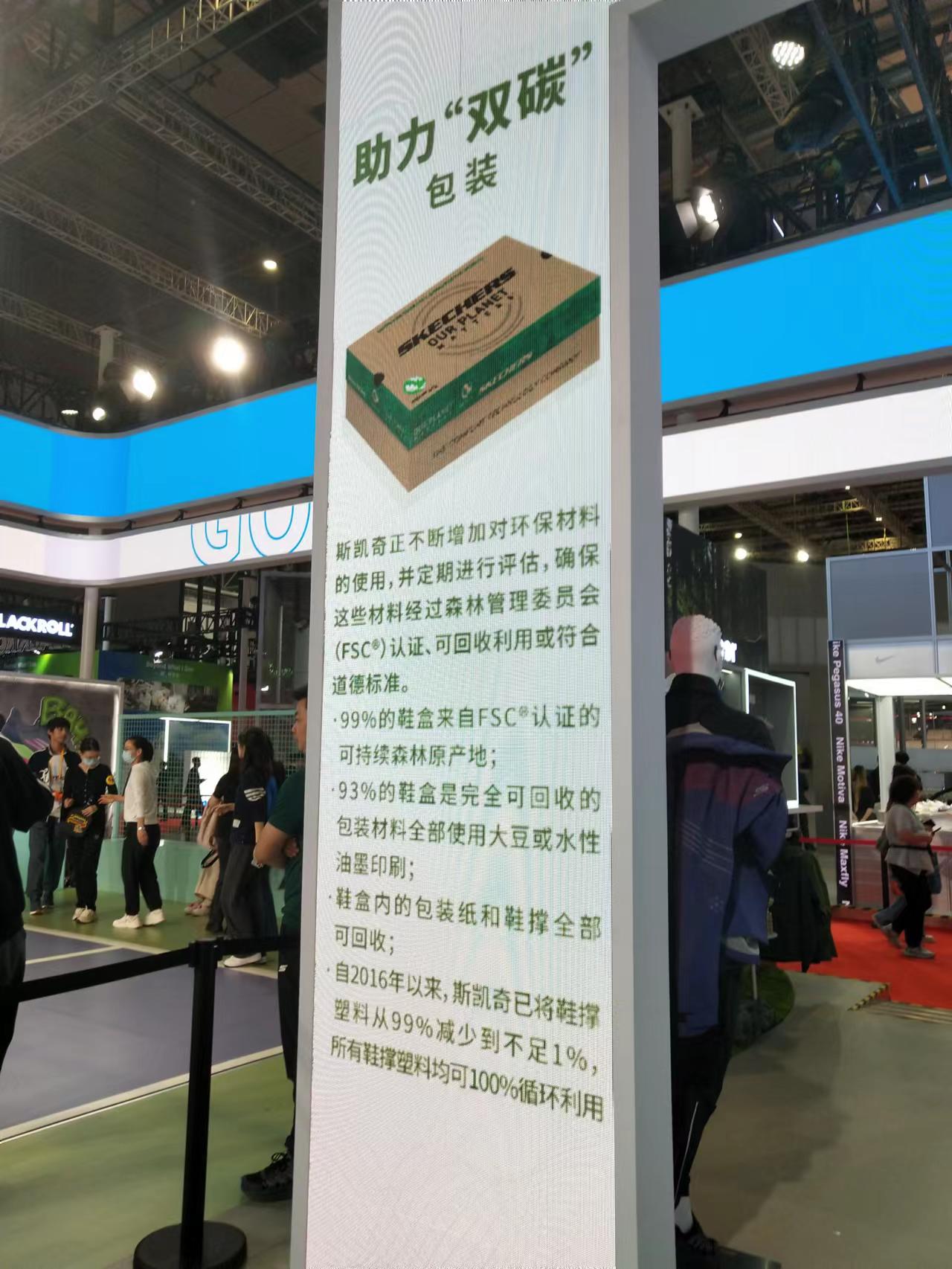 The Estée Lauder Companies is extensively using eco-friendly glass bottles across its brands to replace traditional plastic packaging and actively promotes replaceable core designs. For example, Aveda's "Purple Forest" Strengthening Series products (shown below) use bottles made of 95% PET from 100% post-consumer recycled plastic, and Origins' anti-aging firming lotion features eco-friendly and replaceable core design, reducing plastic waste by over 20%.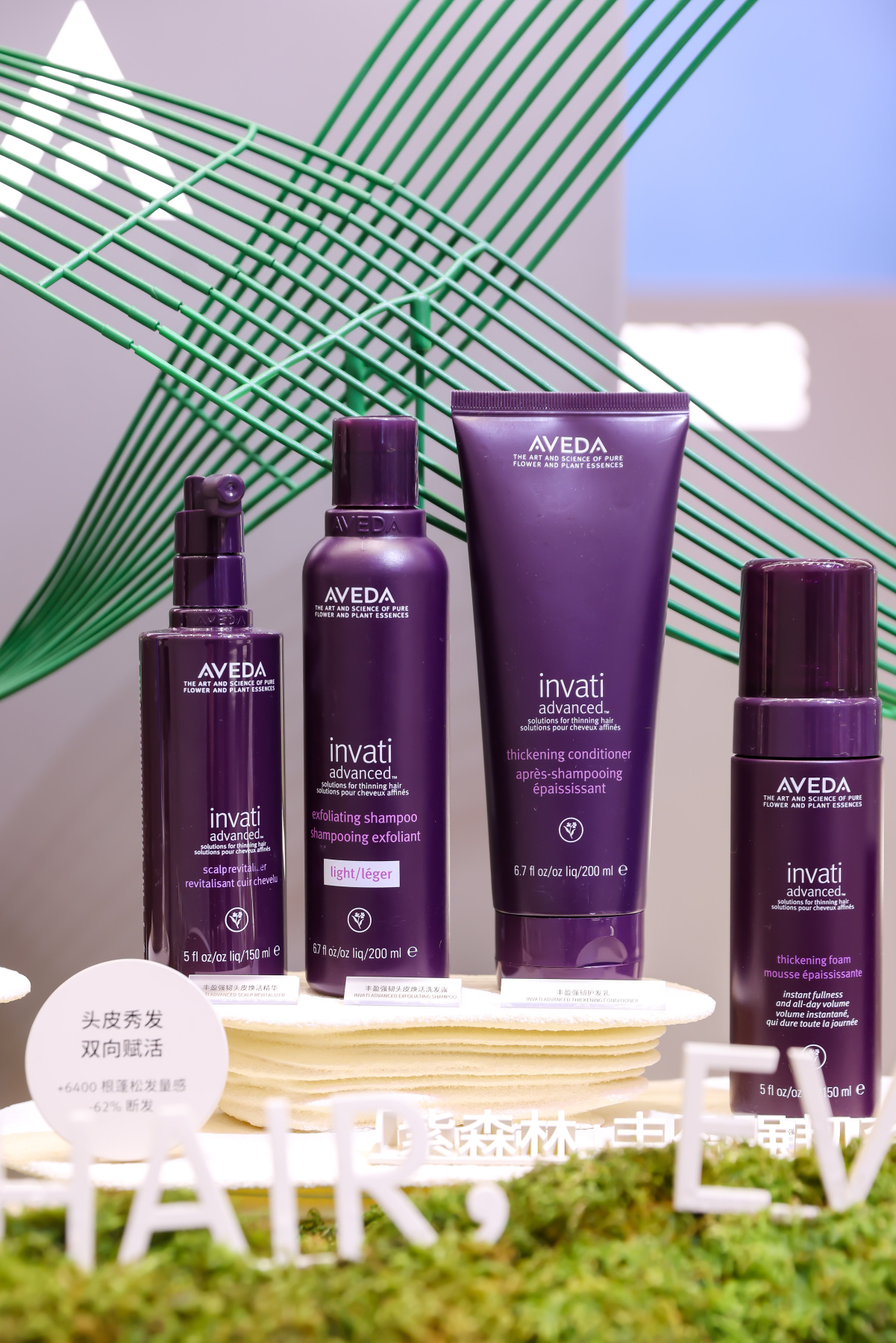 Shiseido Group from Japan introduced replaceable core technology. Their 9th generation Shiseido Elixir Superieur Lifting Moisture Lotion is the first in the industry to use replaceable gel core packaging technology (shown below). This technology injects liquid instead of compressed air into the bottle, shaping and filling the plastic container in one step, reducing carbon dioxide emissions by 70% and plastic usage by 92%.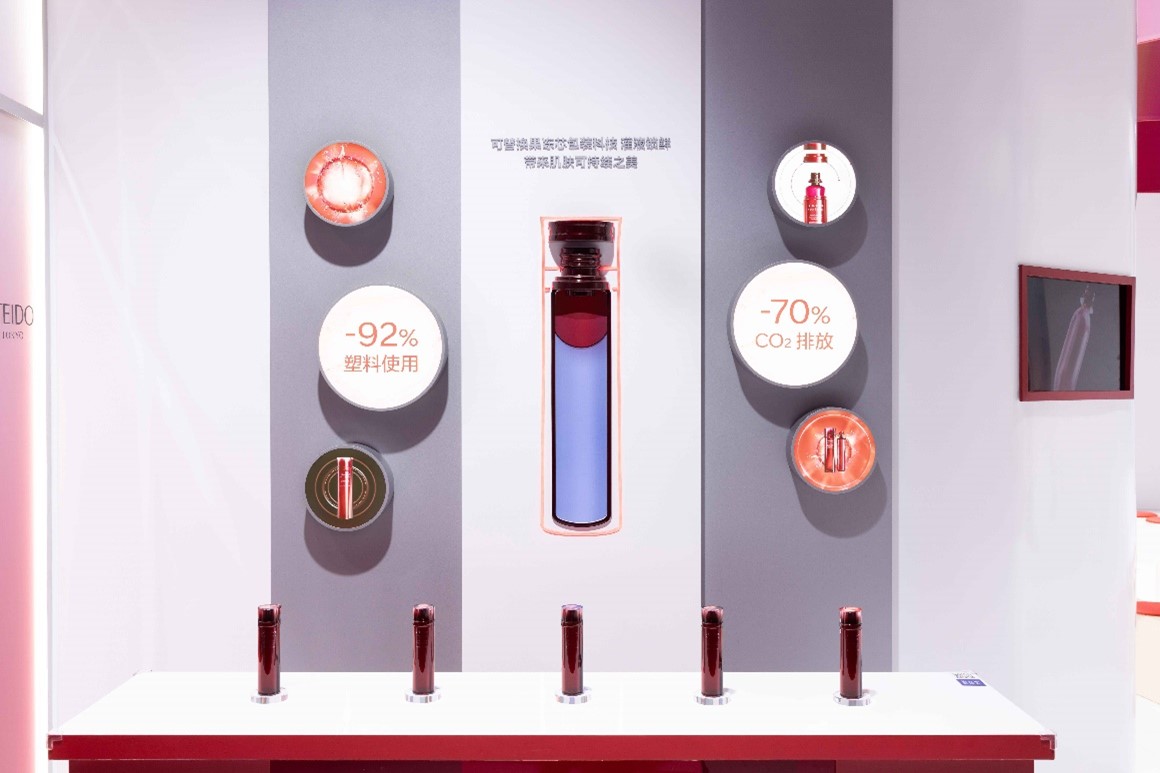 Procter & Gamble Co., an American consumer goods giant, globally launched its innovative paper-based flexible packaging Versafill Honeycomb (shown below) at CIIE. This packaging material, made from recyclable paper, features a honeycomb-like stretch structure that can reduce the volume of material storage and transportation by up to 85%.
How to Discover and Cultivate a New Generation of Sustainability Talents?
Leading companies in the fashion and luxury goods industry are going beyond their own sustainability efforts to discover and cultivate a new generation of entrepreneurial and innovative talent, using their influence to drive longer-term sustainable development in the industry.
At this CIIE, French luxury giant Kering mentioned their long-standing Kering Generation Award at the opening ceremony, a sustainable innovation award (as shown below). This award is part of the Group's 2025 sustainability strategy and focuses on China. It aims to recognize and support Chinese startups that positively impact the field of sustainability, promoting industry-wide change.
In October, the third Kering Sustainable Innovation Award was announced in Shanghai.
The H&M Foundation also set up a special booth in the innovation incubation area at CIIE (shown below), showcasing the winners of the 2023 Global Change Award. These solutions, ranging from bio-based materials to dyeing techniques, address key challenges in the clothing industry, such as materials, recycling loops, and carbon emissions.

Returning to the Origin of Products: The Importance of Land to Fine Wines
For wine brands that originate from the land, the importance of the land is self-evident. Hence, giving back to the land becomes a prudent decision made by these brands for long-term considerations.
French luxury giant LVMH's Hennessy booth introduced the brand's "Cultivating our Forests, Cultivating our Future" initiative launched in 2020 (as shown below). The plan aims to rebuild 50,000 hectares of forest globally by 2030. By protecting forests and promoting soil regeneration, the initiative seeks to mitigate the impacts of climate change. In China, Hennessy has reforested several hundred hectares in Hulun Buir and Chifeng grasslands, as well as in Guizhou.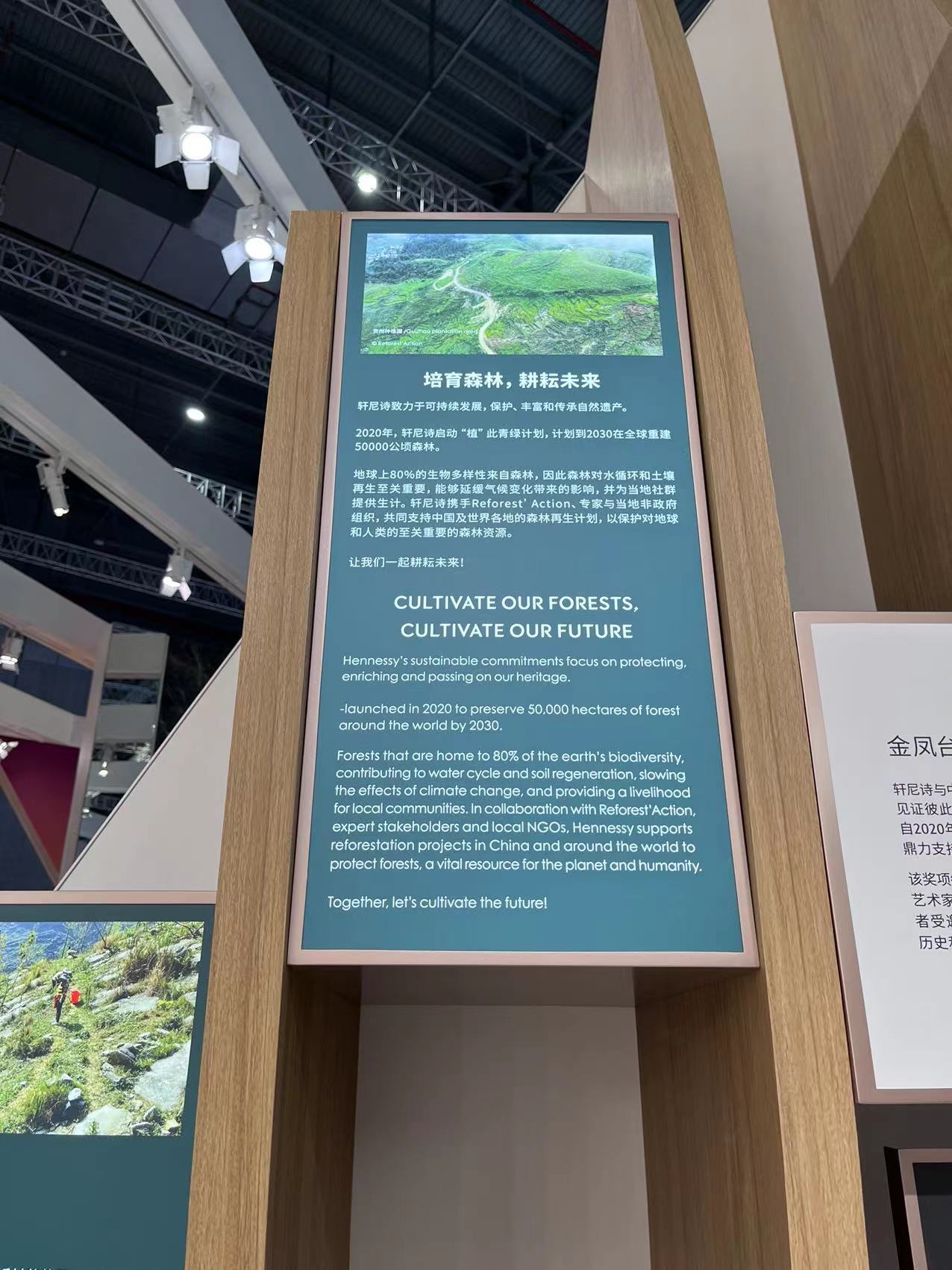 French wine group Pernod Ricard showcased a series of initiatives at CIIE to nourish the terroir in China, including mangrove ecosystem protection projects in Yangjiang, Guangdong, and Sanya, Hainan, and promoting the transition to regenerative agriculture in the Helan Mountain East wine region in Ningxia.
How to Create a Booth that is Both Glamorous and Eco-Friendly?
Vibrant and glamorous booths are focal points for audiences entering an exhibition hall. However, behind these displays, questions arise about the types of materials used and their disposal post-event.
Fashion brands, known for organizing events like pop-ups and dinners, face a significant challenge in ensuring the sustainability of materials used for setting up these venues.
At this CIIE, Luxeplace.com took note of the solutions provided by brands.
The booth of American luxury beauty giant Estée Lauder Companies Inc (shown below) utilized renewable, recyclable eco-friendly paper and eco-friendly white gauze, crafted into a blooming flower-like structure.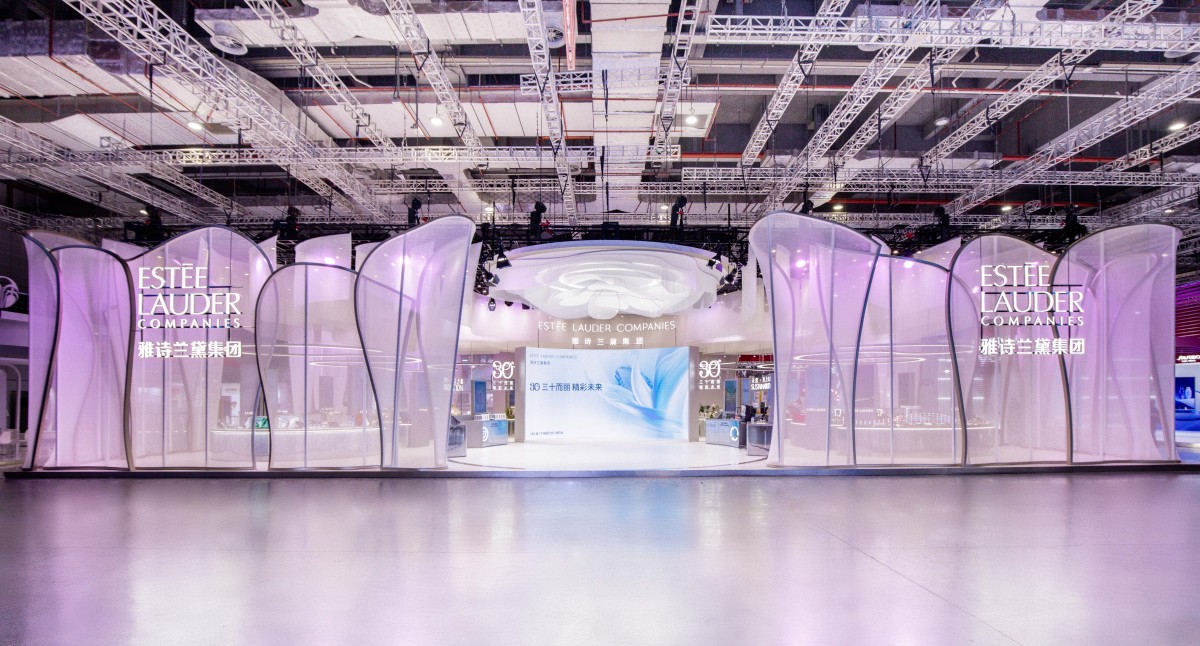 The booth of French Rémy Cointreau Group (shown below) incorporated sustainability in its design and construction materials. 95% of the materials used for the booth are recyclable, reducing carbon emissions by over 80%. The main frame was constructed with metal, which has a high recycling rate and reduces the need for repairs and wastage during reuse.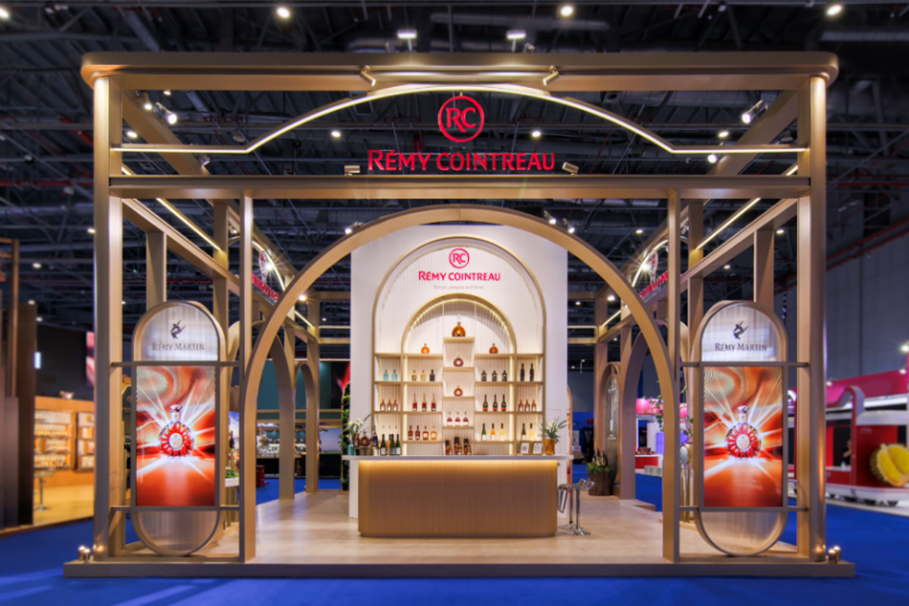 Bailian Group's booth featured an ecological art sculpture "Plasticity" (shown below) in its ocean protection section. This piece was conceived and designed by Italian interdisciplinary architect Niccolo Casas in collaboration with Parley for the Oceans, an environmental organization and global collaboration network. Parley for the Oceans converted ocean plastic waste collected from remote islands, beaches, and coastal communities into a catalyst material, which was then constructed into a sculpture by cutting-edge 3D printing company Nagami.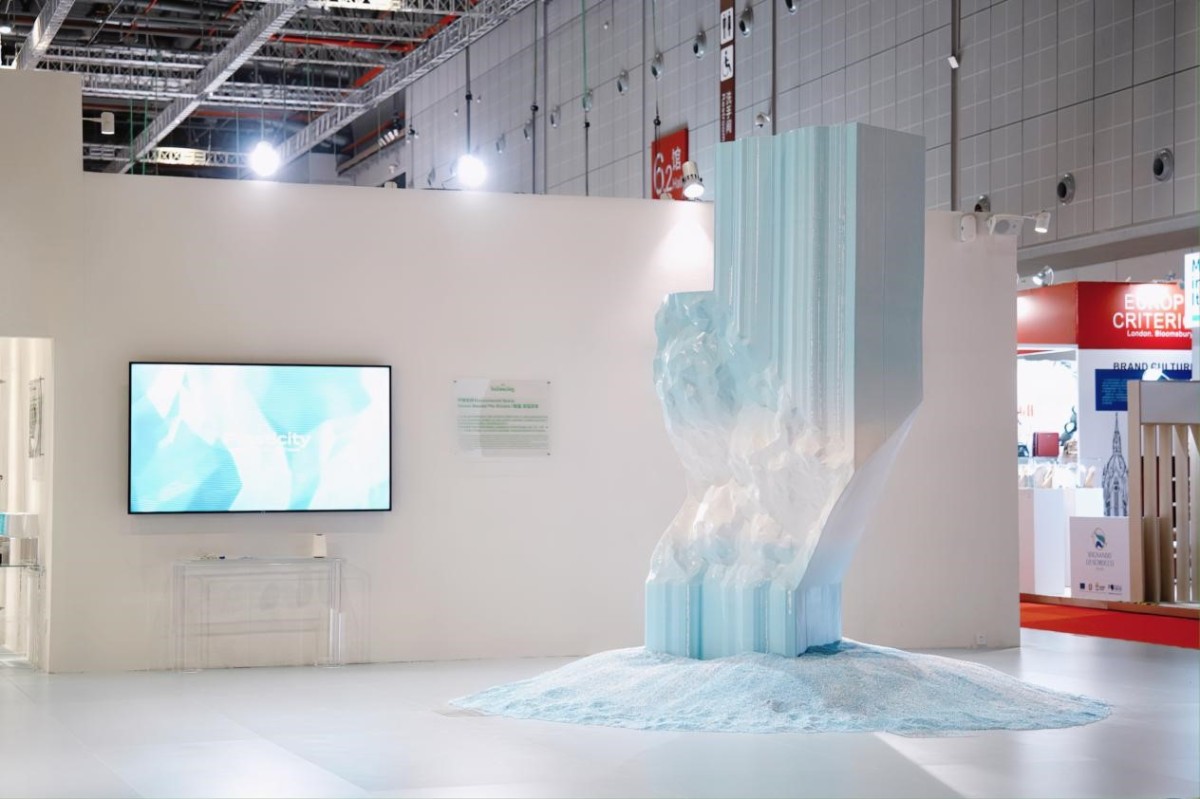 Breathing New Life into Discarded Materials
The industry has been exploring ways to turn "waste" from production and post-consumption, such as leftover materials, empty beauty product bottles, and damaged clothing, into valuable resources. At the CIIE, we witnessed several brands' attempts:
American luxury group Tapestry, Inc.'s subsidiary, Coach, launched a new sub-brand "Coachtopia," making its debut in China at the CIIE. Coachtopia's products, including handbags, accessories, clothing, and footwear, are made from waste materials from the production process. These products, like the Ergo and Wavy Dinky handbags, are created using upcycled leather and techniques like patchwork, weaving, pressing, and appliqué.
The H&M Foundation and the Hong Kong Research Institute of Textiles and Apparel (HKRITA) have long collaborated in the "textile-to-textile" recycling field. At CIIE, they shared their latest progress (shown below): The Green Machine, a green hydrothermal separation system for separating and recycling waste poly-cotton blends, has entered its second phase. The sustainable system Acousweep uses sweeping sound waves to separate microplastics from wastewater, innovations that will impact the fashion industry's transformation.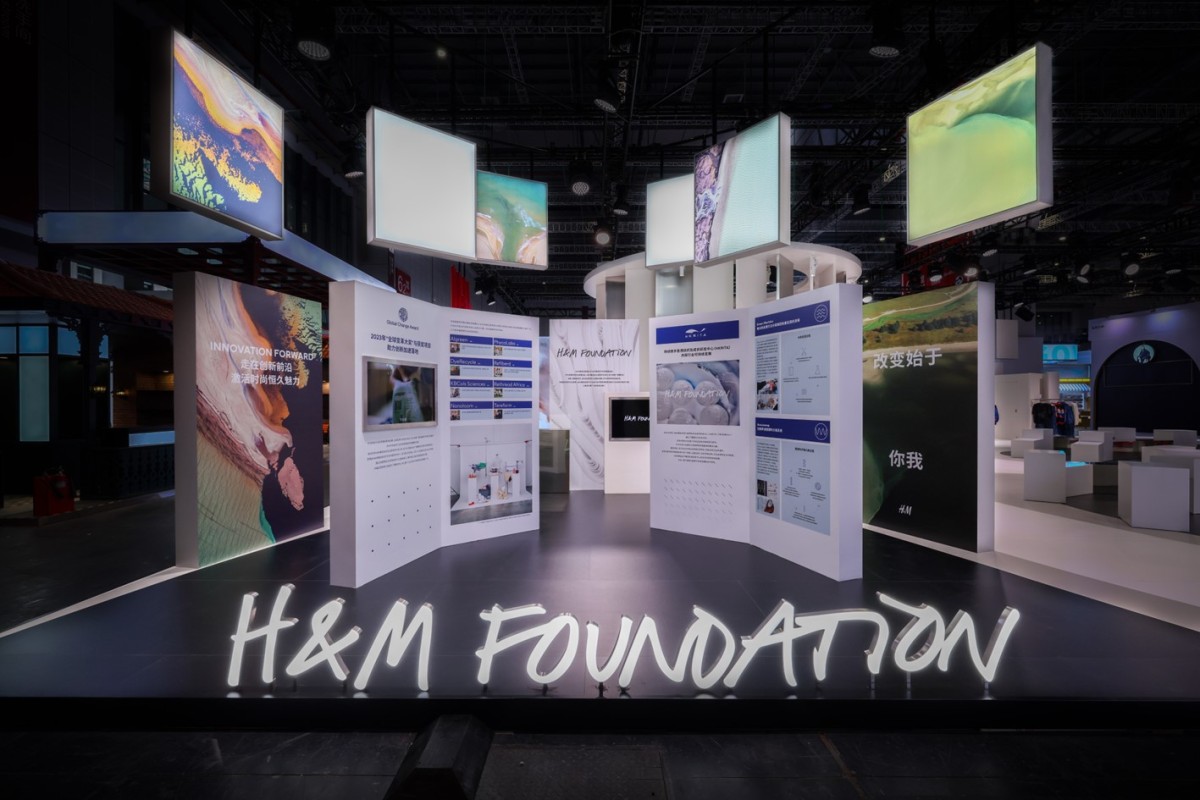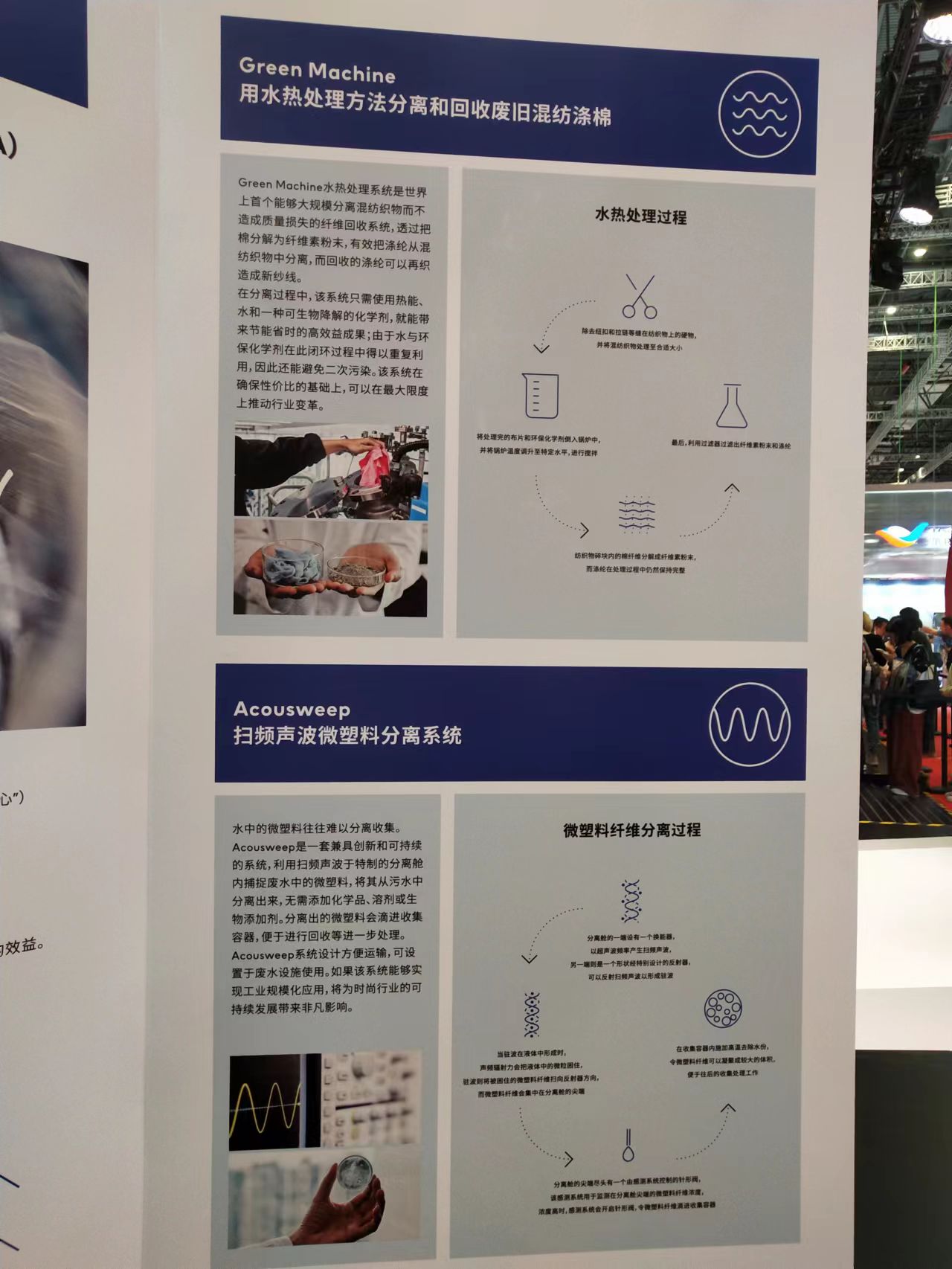 UNIQLO's RE.UNIQLO Clothes Rebirth Workshop made its first appearance at the CIIE (shown below). The workshop offers clothing repair and creative transformation services, using creative embroidery to rejuvenate old clothes and extend their lifespan. In April, UNIQLO China's first RE.UNIQLO Clothes Rebirth Workshop opened at the Shanghai Huaihai Middle Road Global Flagship Store.
Shiseido's "Ultimune Power Infusing Concentrate Bottle Reuse Program" made its first overseas debut in Japan at the CIIE (shown below). Customers can bring empty Ultimune bottles to the store, where staff in a clean space clean and refill the bottles. After CIIE, the program officially launched at the Shiseido counter in Shanghai's Pudong NEXTAGE.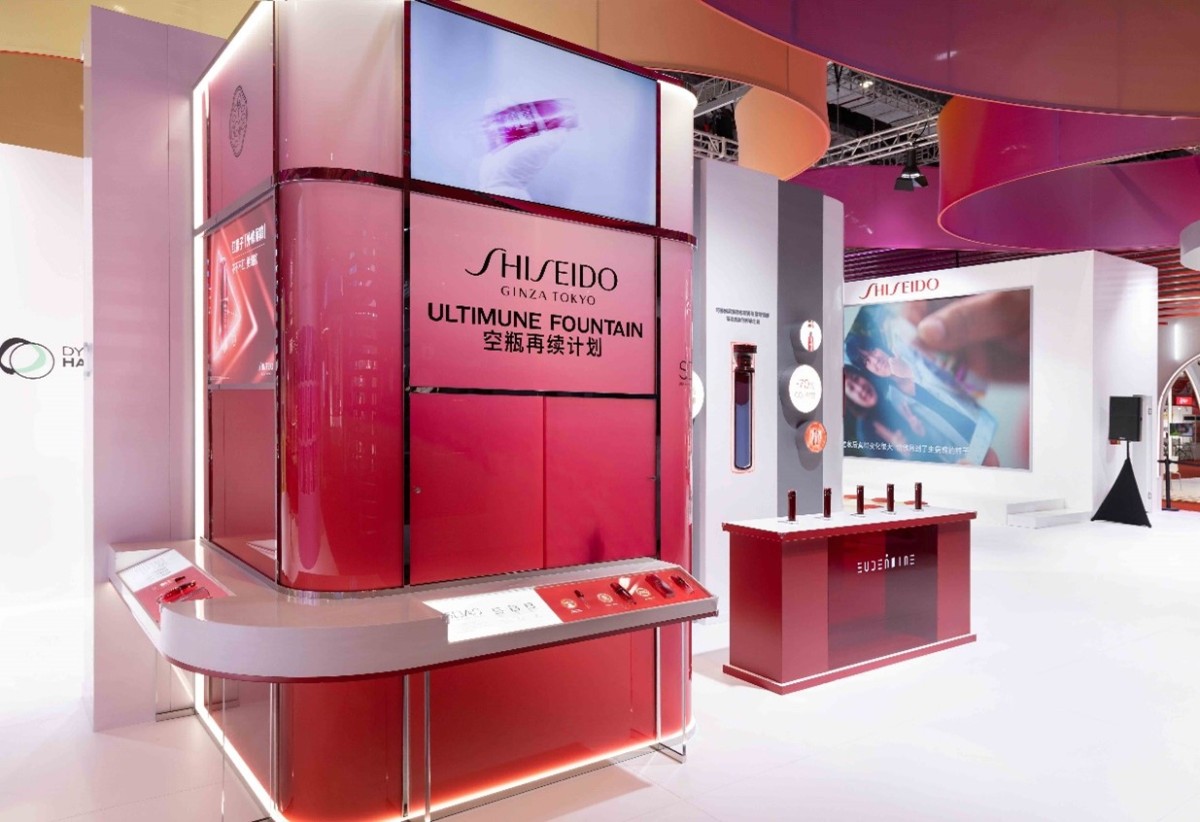 | Image Credit: Provided by each brand, official brand accounts, and on-site photography by Luxe.CO
| Editor: Mireya