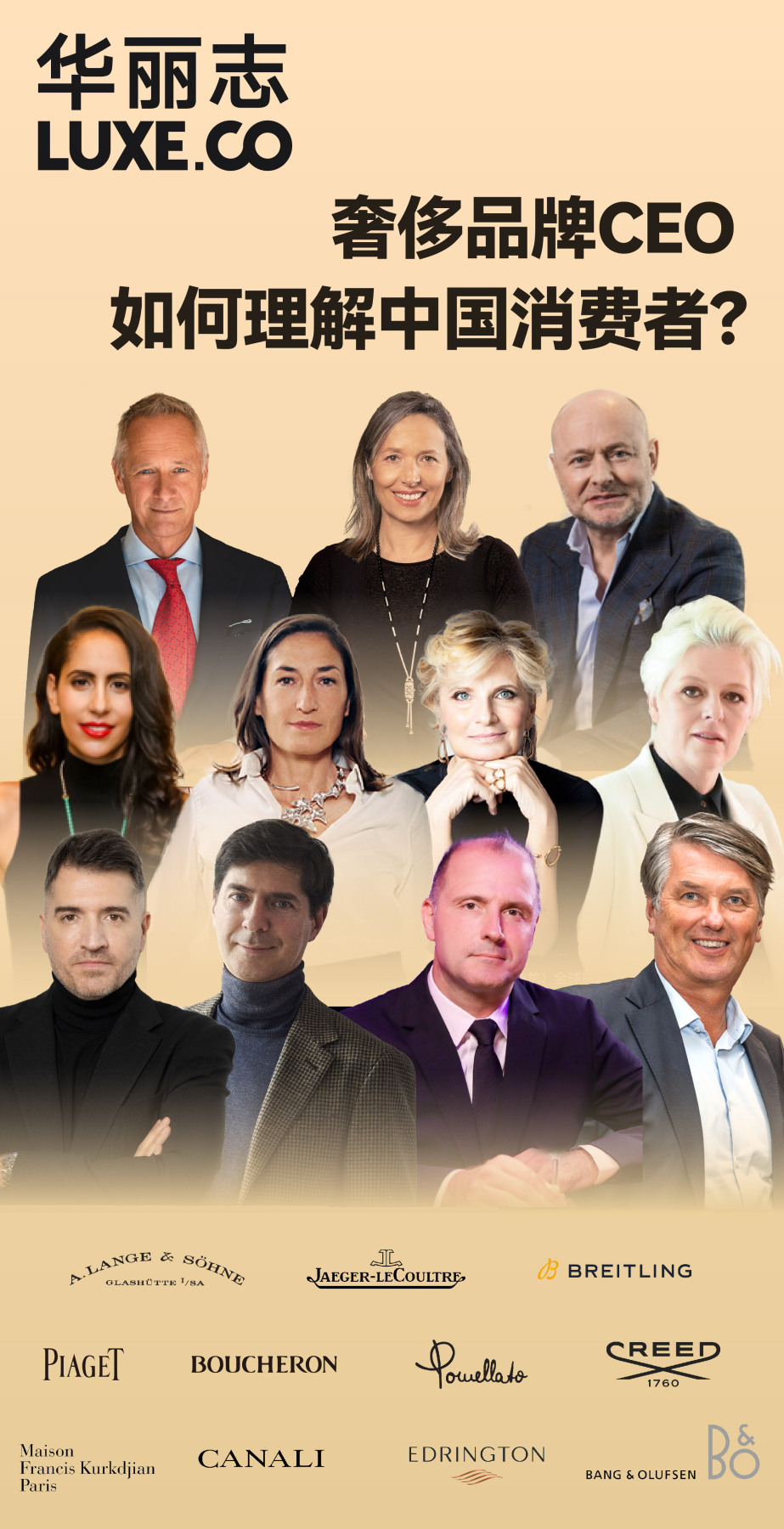 China has become a vital engine driving the global luxury goods market's development. Chinese consumers not only constitute the main force of luxury goods consumption but also have a strong desire to explore and delve deeper into brands and their stories.
Since the Spring Festival this year, a significant number of executives from international luxury goods and beauty companies have embarked on trips to China. They have tirelessly participated in various brand events, toured brand stores, and conducted research visits. In our conversations with the CEOs or presidents of these brands in Luxplace.com, we have also sensed their emphasis on the China market and their eagerness to gain a deeper understanding of local consumers.
This article has selected quotes from 11 executives of these 11 brands, providing insights into their understanding of Chinese consumers and niche markets.
Breitling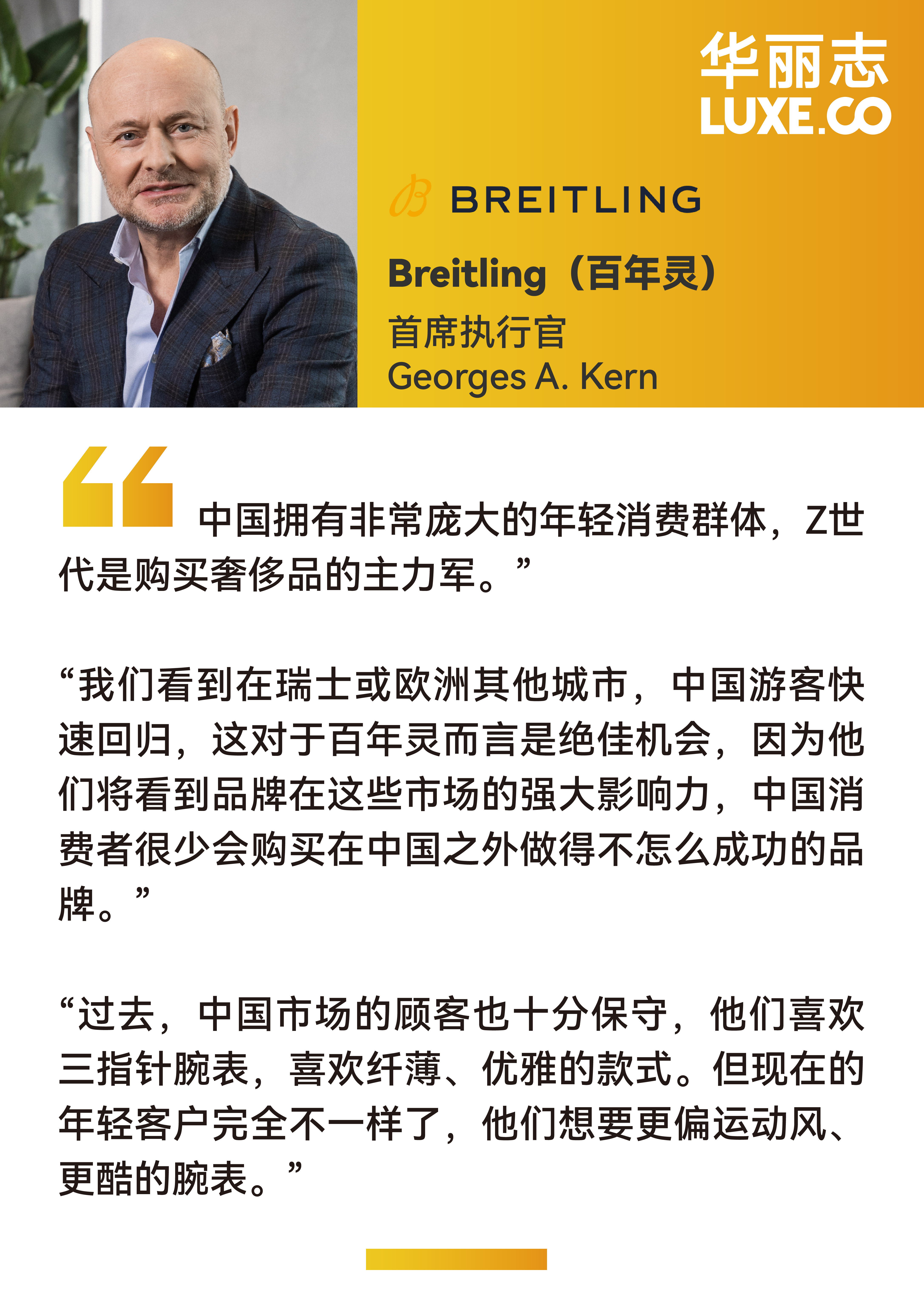 "China market boasts a significant young consumer base, with Generation Z which is buying luxury goods."
"We are seeing in Switzerland or other European cities, Chinese tourists are coming back, and this is a great opportunity for Breitling because they will see the huge power of the brand in these markets, and Chinese consumers rarely buy brands that are not very successful outside of China."
"(In the past), Chinese customers have historically exhibited a conservative inclination, favoring the three-hand watches and slender, elegant models.
But nowadays the younger customers are quite different, as they are looking for something sportier and cooler. From product development and design aesthetics to the embodiment of brand values, Breitling embraces a distinct departure from the convention, which also sets it apart from its traditional counterparts."
In 2017, Georges A. Kern took on the role of Global CEO at the Swiss independent watch brand Breitling, where he not only serves as the brand's CEO but also holds a 2.8% stake in Breitling.
In July of this year, Kern embarked on his first visit to China since the outbreak of the pandemic and granted an exclusive interview to Luxeplace.com. This seasoned professional, with over twenty years of experience in the watch industry, shared his insights into brand development, the Chinese watch market, and consumers.
For more details from the interview, please refer to: Luxe.CO Exclusive | Breitling CEO: Chinese Consumers Rarely Buy Brands That Are Not Very Successful Outside of China
A. Lange & Söhne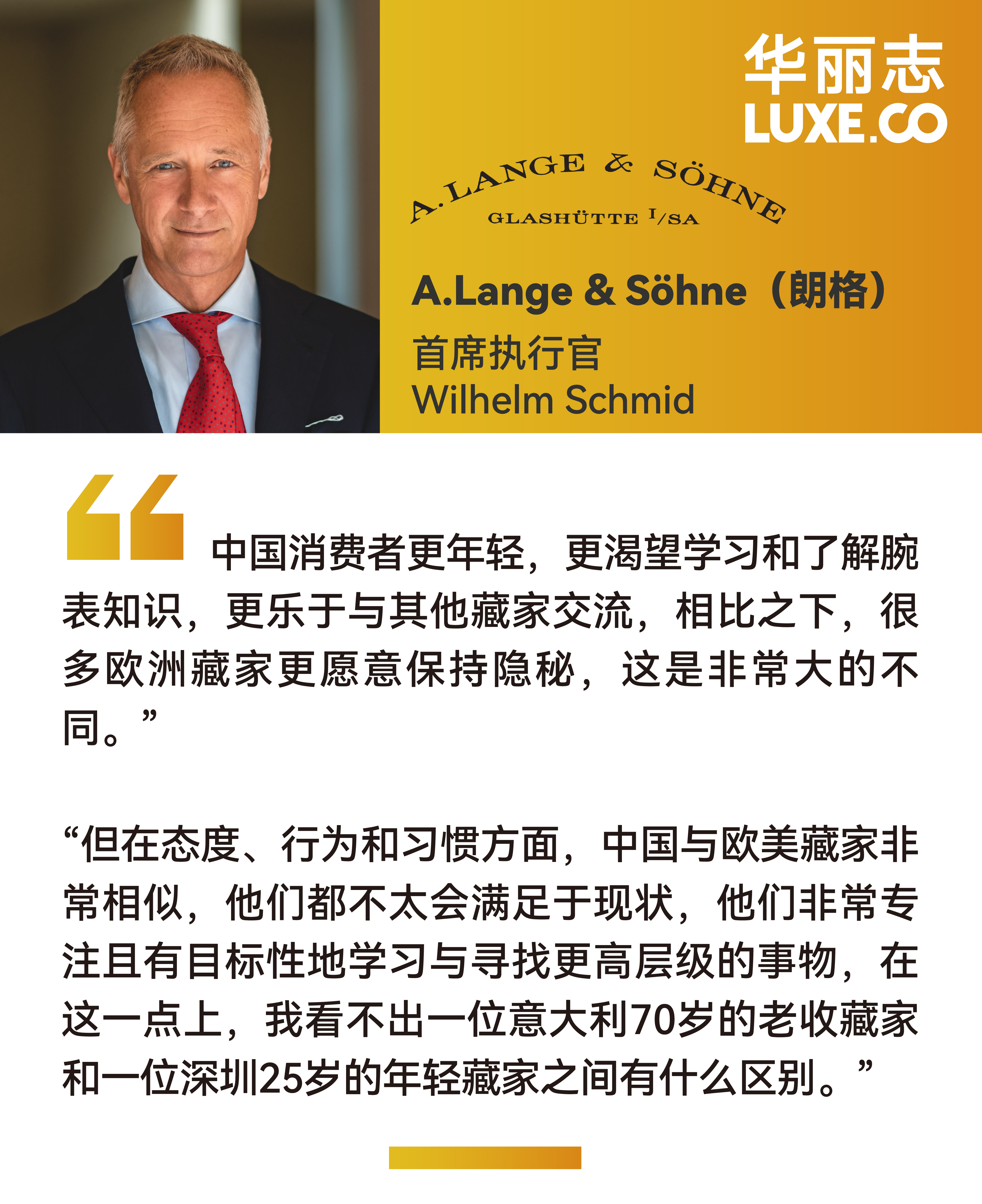 "Chinese consumers are younger and more eager to learn and understand watch knowledge. They are also more willing to engage with other collectors. In contrast, many European collectors prefer to maintain secrecy, which is a significant difference."
"But in terms of attitude, behavior, and habits, Chinese collectors are very similar to their counterparts in Europe and the United States. They are not easily satisfied with the status quo. They are very focused and goal-oriented in their pursuit of knowledge and higher-level items. In this regard, I don't see much difference between a 70-year-old Italian collector and a 25-year-old collector from Shenzhen."
From September 13th to 17th, 2023, the "Watches and Wonders" Shanghai Fine Watch Exhibition was held at the West Bund Art Center in Shanghai.
During this exhibition, A. Lange & Söhne, the high-end German watch brand under the Swiss Richemont Group, made its debut in China with the new LANGE 1 perpetual calendar watch in platinum 950. The brand's Global CEO, Wilhelm Schmid, attended the event.
Taking this opportunity, Luxeplcae.com conducted an exclusive interview with Wilhelm Schmid. He has been serving as the Global CEO of Lange since 2011, playing a critical role in leading the brand's development. During the interview, Schmid shared insights into Lange's store planning in China and the brand's strategy in the Chinese market.
Jaeger-LeCoultre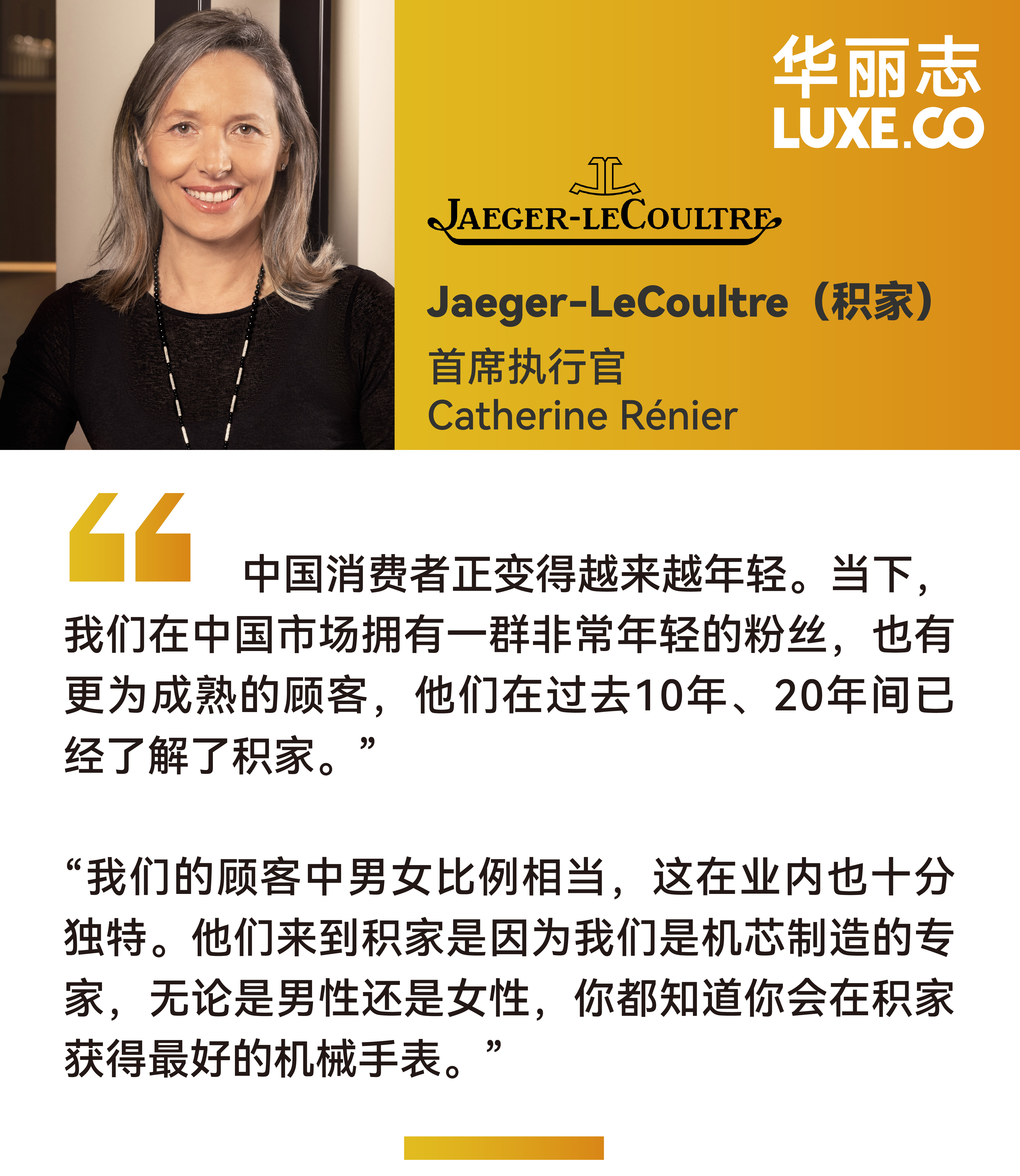 "Chinese consumers are indeed becoming increasingly younger. In the current market, we have a diverse group of fans in China, including a very young demographic and more mature customers who have been familiar with Jaeger-LeCoultre for the past 10 to 20 years."
"Our customer base has a balanced gender ratio, which is highly valuable in the industry. Currently, we have a very young consumer group in China. Nowadays, consumers are getting younger.
Most people choose Jaeger-LeCoultre because we are experts in watch movements, and whether you are a man or a woman, you will find a watch that suits you at Jaeger-LeCoultre."
In late August of this year, Catherine Rénier, the Global CEO of the Swiss high-end watch brand Jaeger-LeCoultre, granted an exclusive interview to Luxeplace.com in Beijing.
As a female leader, she shared her unique perspective on what she brings to the watch brand, her vision for the Jaeger-LeCoultre brand, and her observations regarding Jaeger-LeCoultre's Chinese customers during the interview.
For more details from the interview, please refer to: Luxeplace Exclusive | Catherine Rénier, CEO of Jaeger-LeCoultre: Emotional Connection and Artistic Expression are Crucial for Watches
PIAGET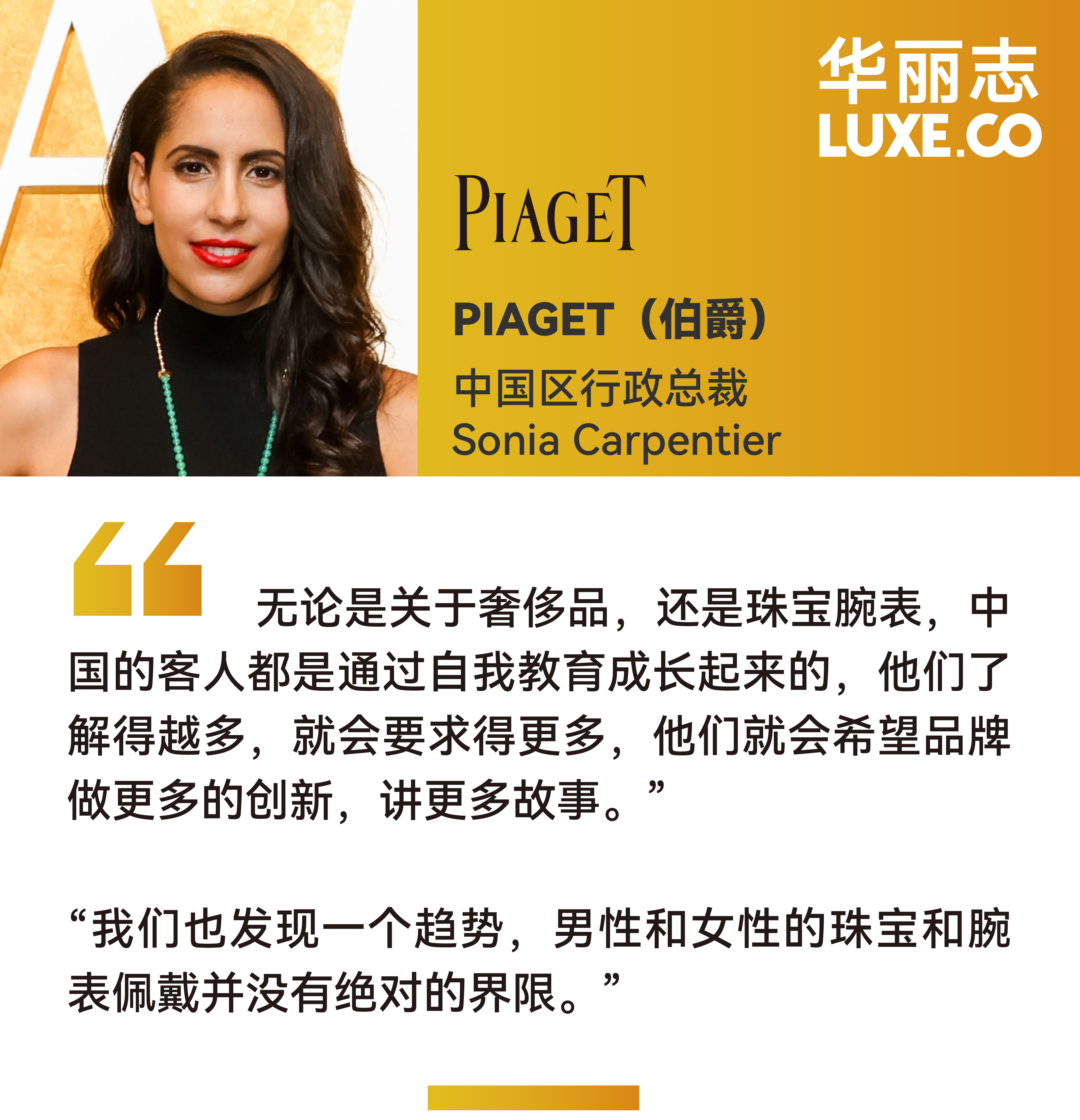 "Whether it's about luxury goods or jewelry and watches, Chinese customers have grown through self-education. The more they know, the more they demand. They expect brands to innovate more and tell more stories."
"We have also noticed a trend where there are no strict boundaries when it comes to men and women wearing jewelry and watches."
On June 9th, the 25th Shanghai International Film Festival (SIFF) officially opened its doors, and as an official partner and designated jewelry brand, the Swiss jewelry and watch brand Piaget held several events during the festival.
To mark the opening of the Shanghai International Film Festival, Sonia Carpentier, the newly appointed CEO of Piaget China, sat down for an exclusive interview with Luxeplace.com. She shared her insights and experiences from her time working and living in China and also discussed Piaget's connections with the film industry.
Boucheron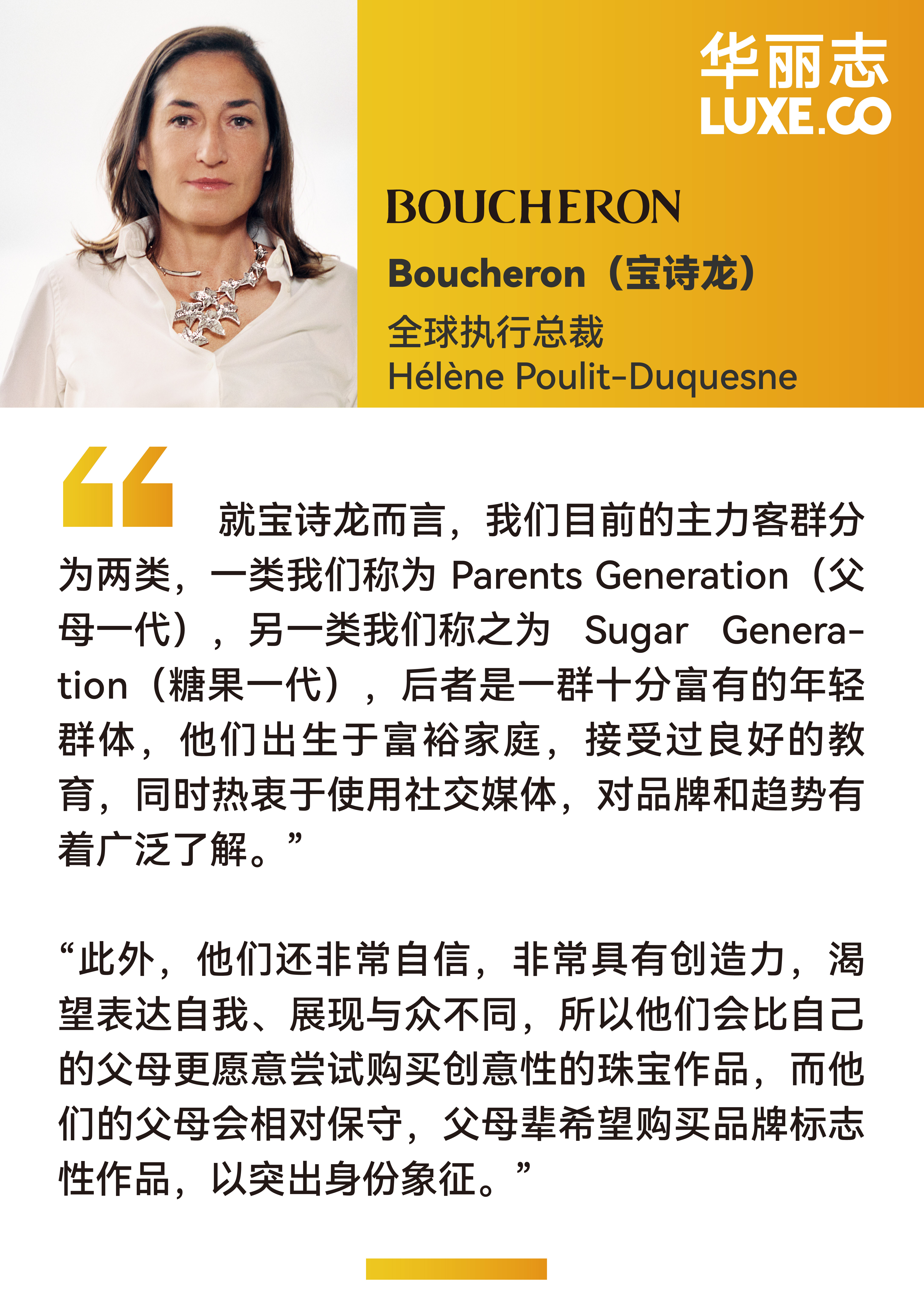 "For Boucheron, our primary customer base can be divided into two categories: the "Parents Generation" and the "Sugar Generation." The former refers to the older generation, while the latter represents a wealthy and young demographic. The Sugar Generation individuals were born into affluent families, received excellent education, and are enthusiastic users of social media, which gives them broad knowledge about brands and trends."
"Furthermore, they are highly confident and creative, eager to express themselves and stand out from the crowd. This is why they are more willing than their parents to explore and purchase creative jewelry pieces. In contrast, their parents tend to be more conservative and prefer to buy iconic pieces from the brand, emphasizing status symbolism."
Boucheron, the high-end French jewelry brand, is the first major jewelry brand on Place Vendôme to be led by two women in charge of business and creative aspects. In late March this year, Hélène Poulit-Duquesne, the brand's Global CEO, visited China. When Duquesne took office in 2015, Boucheron did not have a directly operated boutique in mainland China, but now they have 13.
During her visit to China, Luxeplace.com conducted an exclusive interview with her. She shared insights into Boucheron's strategy in China, the significance of the brand's boutiques, and her perspectives and plans regarding boutiques. She also talked about how she collaborates with the Creative Director, another female leader at Boucheron.
Pomellato
"I think that China will switch slowly to a lesser influenced purchasing attitude from influencers, because when you are a qualitative, discerning client that has traveled the world, has understood what it means to be in a five-star hotel, in Venice or in Paris or in Dubai, why would they need to listen to a KOL telling them which cosmetics to buy and which shoes to wear? No."
In late April of this year, the Italian luxury jewelry brand Pomellato hosted the "Milano 'Art' Meets Chengdu Art Forum" in Chengdu. The brand's CEO, Sabina Belli, attended the event and granted an exclusive interview to Luxeplace.com.
During the interview, Belli shared her definition of the term "new women" and discussed how Pomellato, as a jewelry brand, empowers today's "new women."
For more details from the interview, please refer to: Why are Women Buying Pomellato? | Interview with Sabina Belli
House of Creed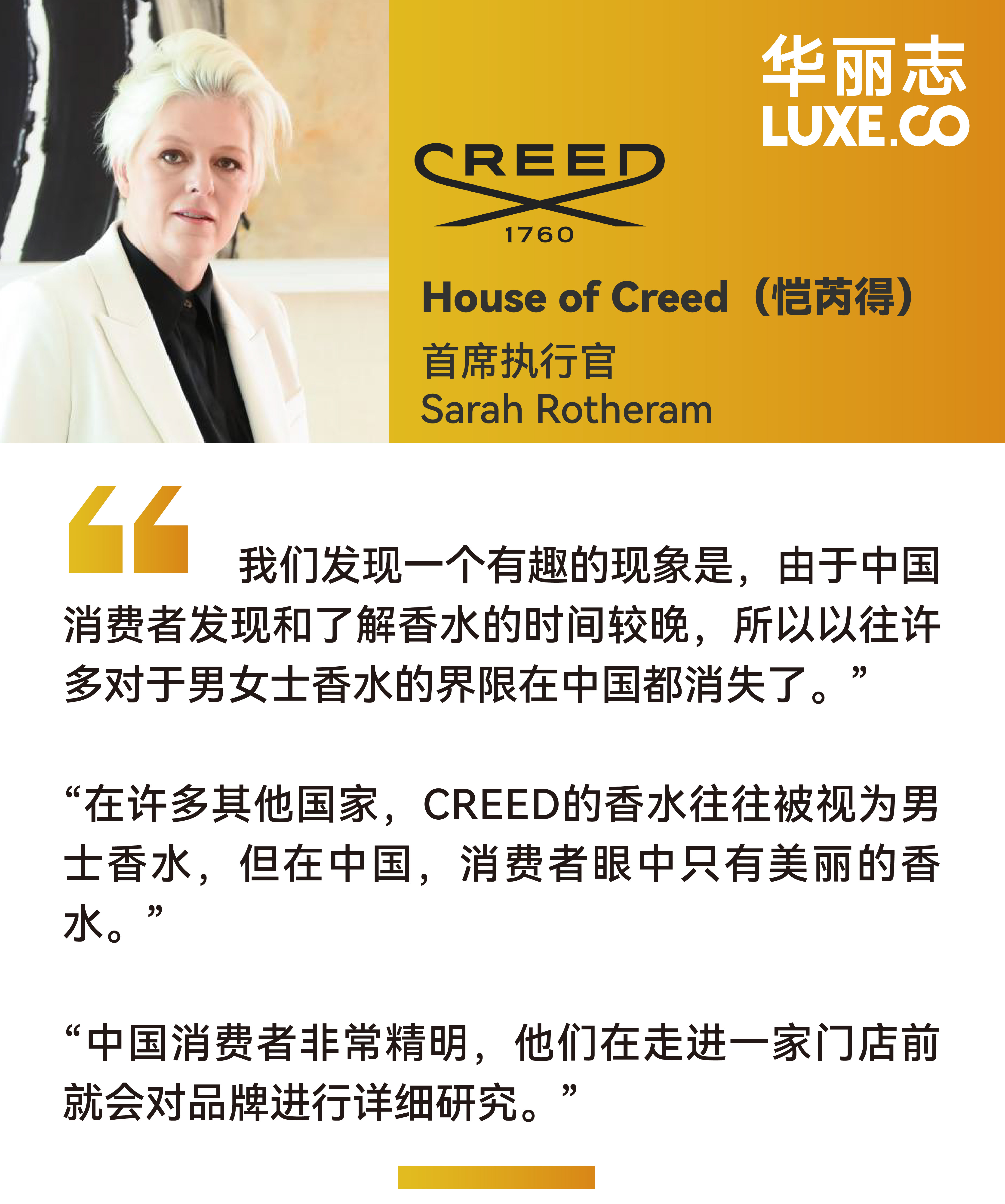 "We've observed an interesting phenomenon where, due to Chinese consumers discovering and learning about perfumes relatively late, many of the traditional boundaries between men's and women's fragrances have disappeared in China."
"In many other countries, CREED perfumes are often considered men's fragrances, but in China, consumers only see beautiful fragrances."
"Chinese consumers are very savvy; they conduct detailed research on brands before stepping into a store."
In June of this year, the French luxury conglomerate Kering announced that its beauty division, Kering Beauté, had completed an all-cash acquisition of all the equity of the British fragrance brand House of Creed. This acquisition marked the first transaction for Kering Beauté since its establishment in February of the same year.
At the end of August, Sarah Rotheram, the CEO of Creed, along with the brand's top executives, embarked on their first post-pandemic trip to China. During this visit, she granted an exclusive interview to Luxeplace.com and shared insights into the history of Creed, its unique assets, the focus of its expansion in the Chinese market, and Chinese consumers' fragrance preferences.
Maison Francis Kurkdjian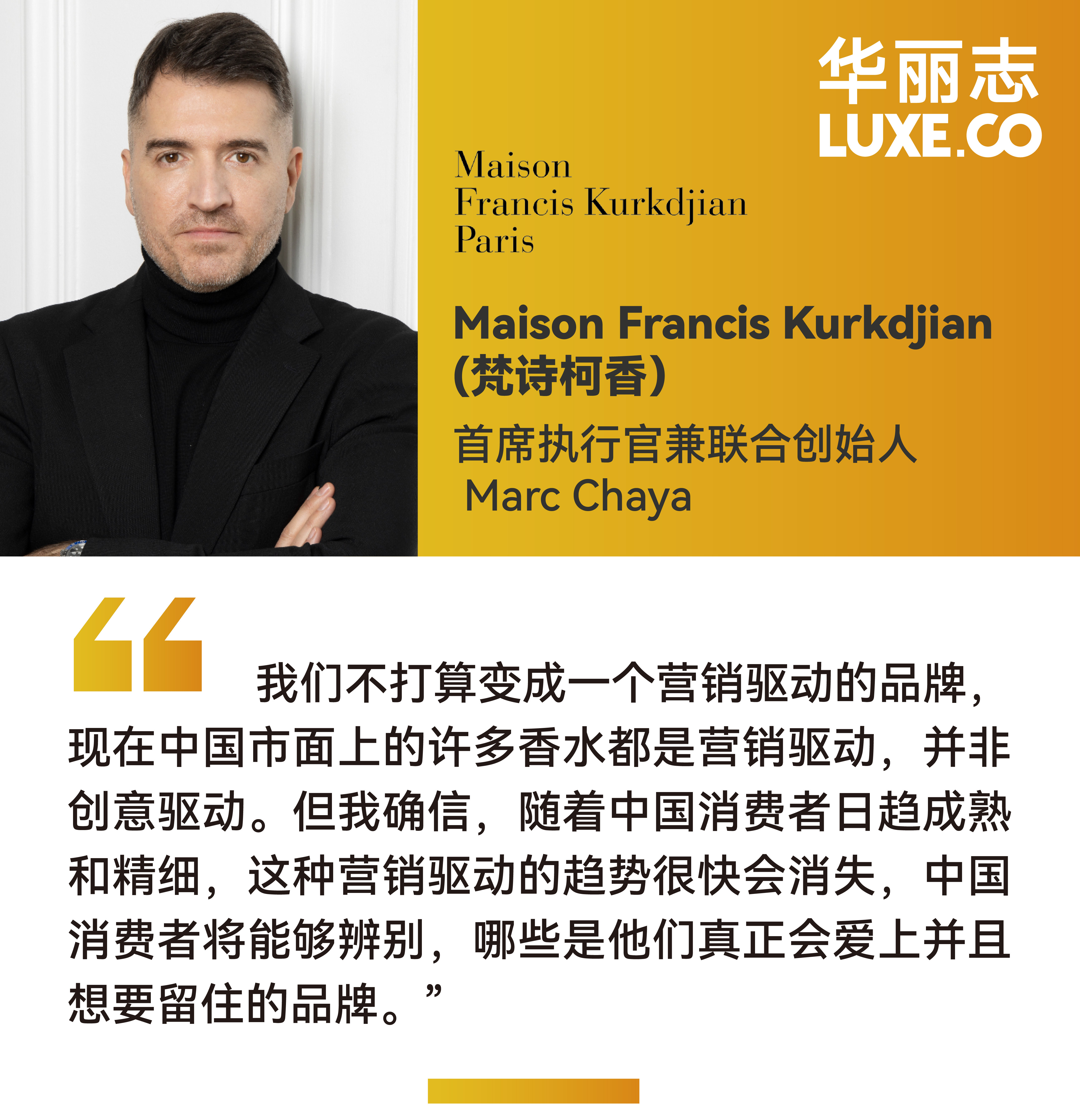 "We are not willing to change our identity to become marketing-driven, especially since the current trend in China leans more towards marketing-driven perfumes than creatively driven ones.
However, I know for sure that due to the sophistication and level of education of the Chinese consumer, this trend of marketing-driven focus will quickly fade and disappear. The Chinese consumer is extremely sophisticated and has the ability to appreciate various scents. Those that they fall in love with will be the brands they want to keep."
In late August of this year, Marc Chaya, the CEO and co-founder of Maison Francis Kurkdjian, the French haute parfumerie brand under the LVMH group, visited China to attend the launch event for the new 724 fragrance collection. During his visit, he granted an exclusive interview to Luxeplace.com.
In the interview, he shared insights into how he met and collaborated with the creative director, Francis Kurkdjian, how they balance business and creativity in their daily work, and his perspectives on the Chinese fragrance market and consumers.
For more details from the interview, please refer to: Luxeplace Exclusive Interview | CEO of Maison Francis Kurkdjian Under LVMH Group
CANALI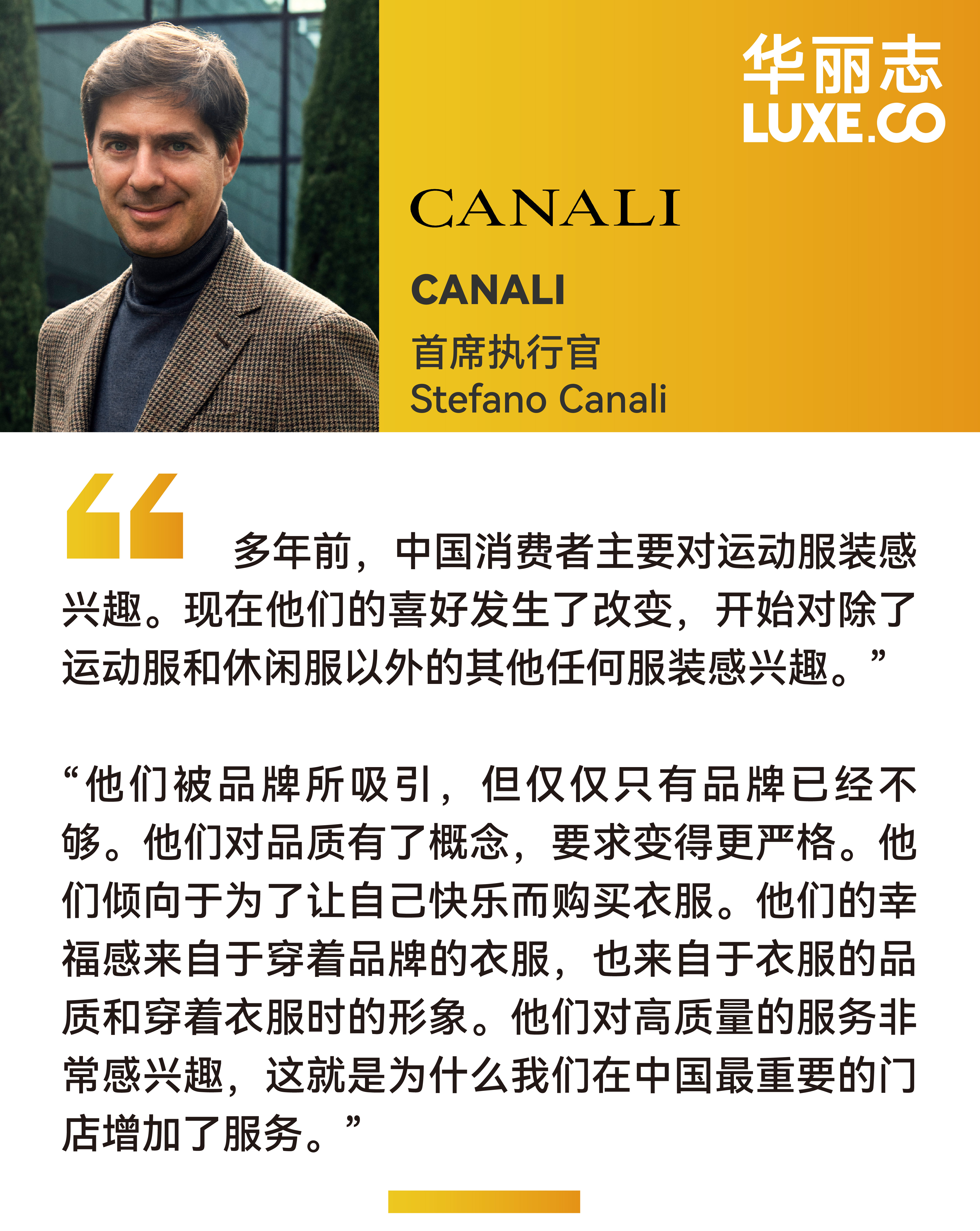 "Chinese consumers were mostly interested in sportswear pieces of garments many years ago. Then they have changed, increasing their interest in whatever is not sportswear and casual wear. They're becoming and have become more demanding. So they know what quality is all about. They are attracted by brands, but the brand is not enough anymore. They tend to buy for themselves rather than to buy to make themselves happy. Happiness comes from the brand they're wearing but also comes from the quality of the stuff they're wearing and the way they look while wearing that stuff."
"Service-wise, they're very interested in having high-quality service, and that's the reason why we're increasing the services in the most important stores we have in China."
In late July of this year, Stefano Canali, the CEO of the Italian luxury men's fashion brand CANALI, gave an exclusive interview to Luxeplace.com during his visit to China.
Stefano Canali is the third-generation heir of the Canali family. During the interview, he introduced us to the brand's latest project in the sustainable field, the CAre Project. He also shared his insights into the menswear industry, the Chinese market, and the brand's future plans.
For more details from the interview, please refer to: LuxePlace Exclusive Interview with CEO | Third Generation Heir of Canali Family Talks about Italian Craftsmanship and Sustainability in Men's Fashion
Edrington Group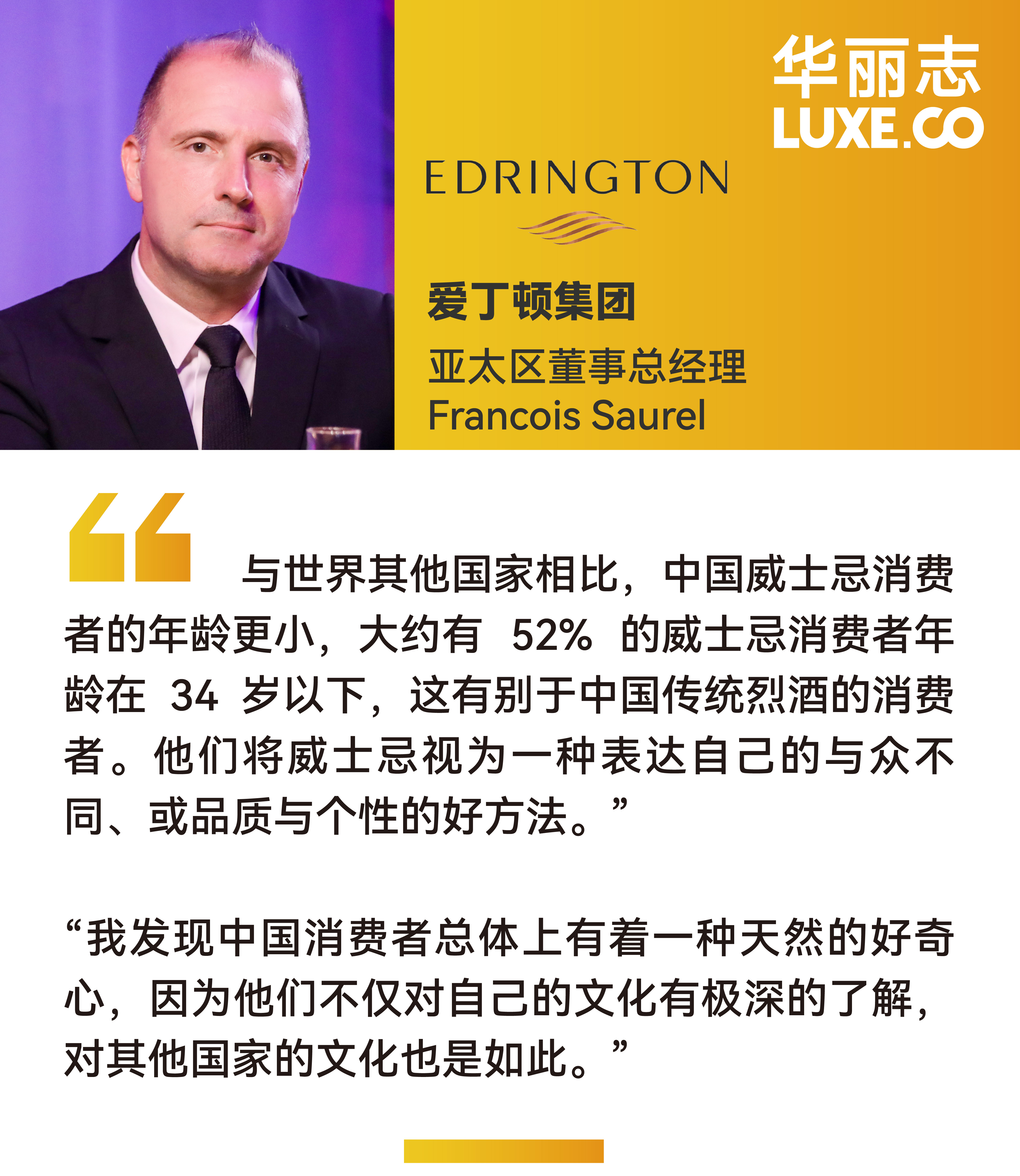 "In China, I think about 52% of consumers are under the age of 34, if I remember correctly. So, it's a younger age group compared to the rest of the world that is choosing whisky, probably as a way to do a couple of things, perhaps to differentiate themselves from what used to be the traditional consumption of spirits in China. It doesn't mean that they will reject the more specific Chinese liquors, as these liquors play an immense role in a very important part of the occasions for consumption. However, they see whisky as a complementary and appealing way to express their distinct qualities or personalities."
"What has perhaps been a hallmark of my journey in Asia is the natural curiosity I've observed in Asian consumers in general. They possess a profound understanding of their own culture and a curiosity about the cultures of others."
In early August, the globally renowned spirits company, Edrington Group, held an event in Shanghai to launch the new product "The Macallan Litha," a high-end Scottish single malt whisky under The Macallan brand.
Before the launch event, Luxeplace.com conducted an exclusive interview with Francois Saurel, the Managing Director of Edrington Group Asia Pacific. He introduced us to the craftsmanship of whisky making, the brand's origin, insights into the high-end whisky market in China, and the brand's strategy in the Chinese market.
For more details from the interview, please refer to: Exclusive Interview | Managing Director for Asia-Pacific of Edrington Group: " Whisky Can Coexist Harmoniously with Baijiu"
Bang & Olufsen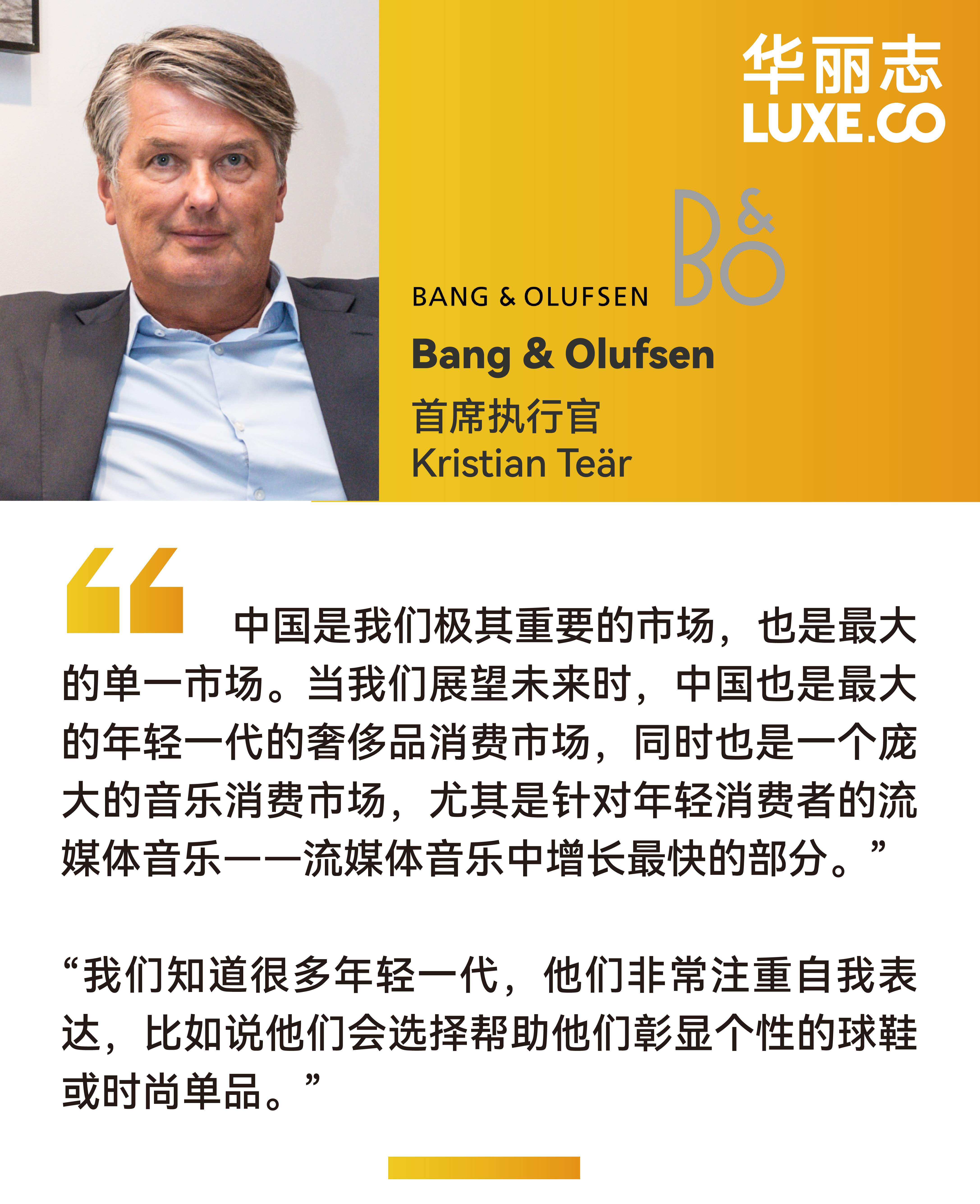 "It is our most important market, and it is also our number one market. Looking into the future, it is the largest market for luxury consumption among the young generation, particularly Gen-Z. Additionally, it is a significant market for music consumption, especially in streaming music, which is experiencing rapid growth among the youth."
"…particularly among the younger generation, we understand their desire for self-expression. They want sneakers and fashion items that reflect their individuality."
In late June, the Danish premium audiovisual brand Bang & Olufsen (referred to as "B&O") held an event in Shanghai to launch their new portable speaker, Beosound A5. During the event, Kristian Teär, the CEO of the brand, sat down for an exclusive interview with Luxeplace.com at the Plaza 66 in Shanghai.
In the interview, he shared insights into B&O's brand positioning, their plans for the Chinese market, and the story behind their new product.
For more details from the interview, please refer to: Luxe.CO Exclusive Interview | Bang & Olufsen CEO: It's Actually a Luxury Play
| Image Credit: Provided by respective brands, Produced by Luxeplace.com
| Editor: Zhu Ruoyu